News
Tiger Woods is in the playoffs for the first time in five years, a milestone he—and fans—are soaking in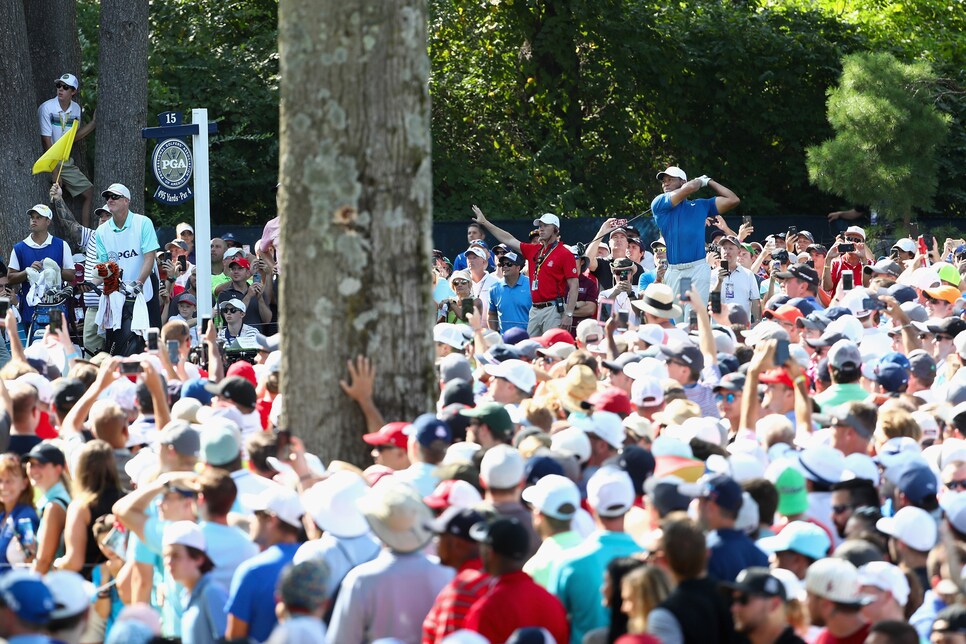 PARAMUS, N.J. — Tiger Woods rolled into his interview on Tuesday at Ridgewood Country Club a bit sleepy-eyed, a look familiar to 40-something parents. But while most players view these media sessions with all the excitement of a dentist visit—particularly ones at 9 in the morning—Woods was, well, slightly upbeat. There was even a hop in his step as he strolled to the dais. For his presence at the Northern Trust marks another milestone—his first appearance in the FedEx Cup Playoffs since 2013. And though Woods used to breeze by such markers without much notice, this season, this Tiger, has been more grateful for where he's gone.
"To go through what I've gone through … I didn't know if I was going to play last year," Woods said. "I didn't know if I was ever going to play again. I was just hoping to be able to play golf with my kids and with my buddies at home. I wasn't thinking about the tour, and now here I'm contending in major championships and had a chance to win a couple major championships.
"This has been a blessing, but man, it's been so special to have this opportunity again."
It's not the first time Woods has expressed this outlook—hardly a tournament goes by, actually, where he doesn't—and there were plenty of pauses and stories and pitfalls to support that sentiment. But the words carried with them a sense of relief. While Woods has proved much to himself and his critics in his impressive comeback season of 2018, reaching the season-ending playoffs for the first time in five years and being an almost certain captain's pick for the Ryder Cup team is an accomplishment not lost on him.
"I'm certainly not taking it for granted, that's for sure," Woods said.
Lest you think Woods has turned mawkish, well, this is still Tiger Woods we're talking about. Still as cold-blooded as Cruella de Vil, against his competition and in self-evaluation. Offered a chance to romanticize about his performance at Bellerive, Woods was pragmatic.
"I didn't—it was exciting to make a run, but I lost by two at the end," Woods said. "I did make a push on Sunday, which was nice. I just couldn't, you know, I shot a low round but it just wasn't enough. On a golf course that soft, we needed to make a few more birdies."
Perhaps Woods doesn't view his PGA as a turn-back-the-clock performance, because that implies something sinister about the present. And make no mistake, Woods is very much in the present. Tiger discussed Sam Snead's tour-win record and Jack Nicklaus' major mark on Tuesday not in the abstract, but achievements in his sights.
"I want to make that happen. I'm close," Woods said of the touchstones. "I have been close to winning tournaments this year. I think if I keep giving myself opportunities, I'll get the job done."
There's also Woods' fate in the PGA Tour playoffs. He starts this week 20th in the FedEx Cup standings, in the running for a berth at the Tour Championship at East Lake, to say nothing of the aforementioned trip to Paris at Le Golf National. There is tough sledding is ahead.
"That is a lot of golf," Woods said about the possibility of five events in the next six weeks. "As I was explaining to you guys back in Akron, it's about pacing myself and making sure I don't practice too much, don't overdo it, and make sure my training schedule goes well. That's one of the hard things this year, is trying to find the right balance. And as the summer has gone on, I've gotten better and felt better, and this is a pretty important stretch."
It will be must-see theater. Of course, that's always been the case when Woods tees it up, whether he was winning nine tournaments a year or hacking his way to an 85 at Muirfield Village. What's changed has been the perception of Woods from those outside the ropes.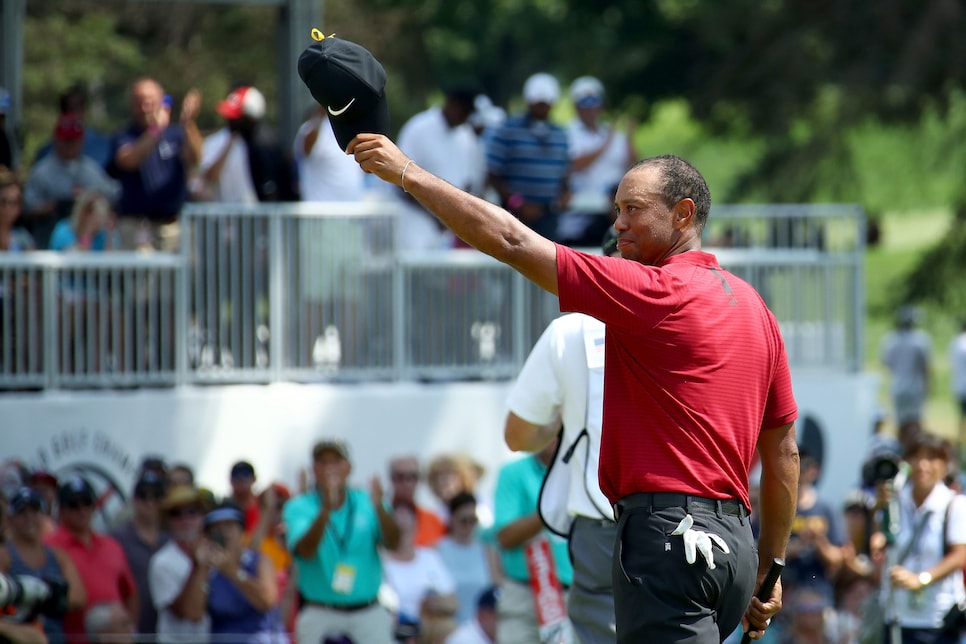 Gregory Shamus/Getty Images
For, while the iterations of Tigermania in the last two decades could be described in many ways, "mutual love" was not one of them. Often there was a disconnect between the two. Fans clapped and cheered, but they didn't pour their souls into it. Not when they knew it wouldn't be reciprocated.
This season has been a contrasting case. Everyone loves a comeback story, sure. But Woods' humanness has been on display, and people have embraced it.
"This has been so different," Woods said. "I've had excitement. I've had people into it over the years, but this has been so different. We go back to how everyone received me at Tampa, that was very special and I had not received ovations and warmth like that.
"This year has been—I guess everyone knows I've struggled and I've had some back pain and I've gone through four surgeries and I'm trying to work my way back, and it's been tough. People understand that."
Which makes sense. Fans know, even with Tiger's newfound vitality, Father Time eventually wins out. They are happy to have him back, enjoying a present they thought was a thing of the past. The idea that he's more relatable than ever doesn't hurt.
"Everyone has got aches and pains, and whether you've had kids or not, you get to your 40s, you're feeling it, and I'm not the only one," he said. "The only difference is I'm an athlete and I'm playing at a high level and one of the best players in the world as what I do for a living."
Asked about embracing the fans' back, Woods joked, "Unfortunately I've gotten to know a lot of them because I've hit a lot of wayward balls. I've signed a lot more gloves this year than I have in the past." Nevertheless, he admitted, at times this summer, he has allowed himself to soak it in.
"I had resigned to [not playing on tour] because I had lived in a pretty difficult situation for a while," Woods said. "It was painful sitting, laying, moving, anything. It was just constant pain in my leg and down my back—in my back and down my leg. I just wanted that to go away, and the fusion solved that.
"So anything beyond that was going to be a plus considering where I was coming from, and so to get to where I'm at, didn't think that would ever happen again. If you look back on those days, I never thought that was going to happen."
And in short order, Woods was off, smiling and waving to a host of volunteers as he made his way to the practice area. Woods had work to do. He seemed cheery for the opportunity to do it.