News
Tiger Woods brings the circus, but Brooks Koepka and Dustin Johnson put on a show at Northern Trust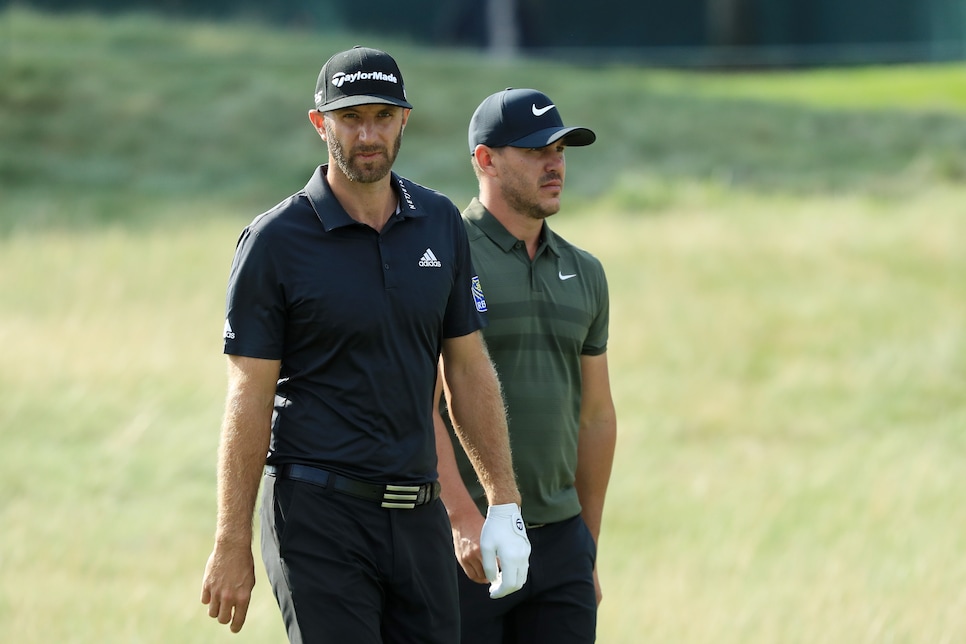 PARAMUS, N.J. — The fans were following Tiger Woods on Thursday morning in New Jersey, visions of Woods' Bellerive revival still fresh in their heads. It was a shame, though, since the real show at Ridgewood Country Club was right behind. Dustin Johnson and Brooks Koepka turned in a pair of 67s to sit one shot off the early lead in the first round of The Northern Trust.
The Nos. 1 and 2 ranked players in the world, with Justin Thomas rounding out the threesome, played in relatively anonymity. There were crowds, sure, although most were sprinting ahead to see the next shot of Woods rather than the ones about to be played. But Tiger failed to muster much of merit, sluggish in his even-par 71, while golf's Bash Brothers provided their share of impressive shots.
Better yet, in dissonant fashion. Although Johnson paced the early wave with seven birdies, and Koepka posting five red figures of his own, they broke par together on just one hole (the par-5 13th). Much has been made about the workout regimens Koepka and Johnson, almost to a fault. And yet, trading blows on the score card against the backdrop of their physiques, you're forgiven for thinking the match resembled a prize fight.
Early on, Johnson was well on his way to winning Round 1, racking up four birdies in his first eight holes. However, that invincibility snapped, along with his drive, on the par-5 17th, his tee shot sailing into a forest, OB. That wasn't his only bad swing on the hole; his fifth shot from 95 yards found a greenside bunker, and he failed to get up-and-down. The final damage was a triple-bogey 8.
"The triple was just so bad," Johnson said afterwards. "I'm trying to hit a high cut and to the right side [on the drive]. I hit that ball 70 yards left of where I was looking, and in general, if I'm trying to hit a high cut, if anything, I'm going to over cut it to the right. It came off low and hooked. So I just laughed. I literally just laughed the way I hit the shot. I haven't hit that shot in a long time, so it was kind of funny.
"Wasn't funny when I made a triple, though."
The driver was a recurring issue for Johnson on Thursday. Usually his Mjölnir (first in strokes gained/off-the-tee this season), he found just six fairways and ranked near the bottom of the field in driving. "I haven't had the driver go this crooked in a long time," Johnson said. "It had nothing to do with the driver. It was the drivee."
Yet if you think DJ's game is strictly predicated off power, Thursday showed why you're mistaken. He ranked in the top five in both approach and putting on the day, with his wedges rescuing him from some precarious spots.
To say nothing of his bounce-back ability. The triple was his only blemish on the card, responding with three birdies and six pars over his final nine for a four-under score. That included a near ace on the par-3 sixth from 232 yards.
"When I saw everybody behind the green started to go crazy, I knew it was close," Johnson said. Although, he admitted, he didn't know if the fans were cheering for him or Tiger's drive at the seventh. Nevertheless, Johnson—as stoic and self-deprecating as an Elmore Leonard character—was upbeat, happy with his position despite lacking his fast ball.
"It was exciting, it was a good round," Johnson assessed. "I can figure out a way to get around the golf course like I did today, even though I didn't have my best stuff."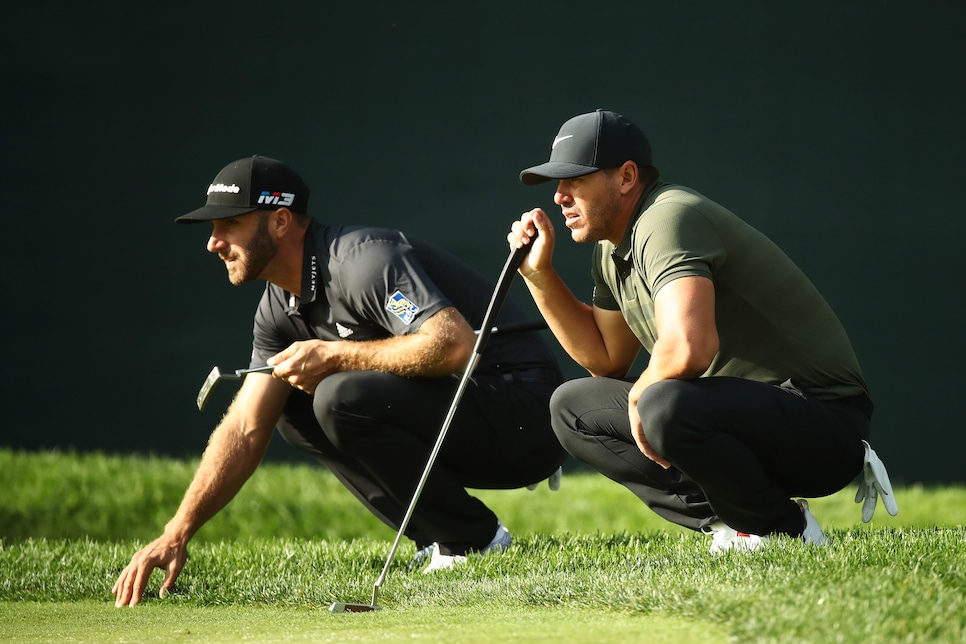 The same could not be said for Koepka. He wasn't flawless, carding two bogeys on the day, but if his competitors were hoping for a drop in play from his PGA performance, their wishes didn't come true.
Koepka was darn-near perfect with the driver, leading the morning wave in strokes gained/off-the-tee. And though his irons and putter weren't quite as stellar, his distance gave him multiple scoring opportunities, highlighted by an eagle at the 17th—the same hole Johnson made his triple.
"I drove it really well and these fairways, there's a couple holes where you just need to hit the fairway to really take advantage of the length with wedges in your hand and really get some birdie opportunities," Koepka remarked. "But I did a good job of that. Maybe on the back side or the front side, our back, didn't really do the best of jobs at that. Even when I did miss the fairway, we've got wedges. So it wasn't too big of a deal."
If that seems like a carefree remark, well, it matches his demeanor. In spite of his whirlwind summer, Koepka remains relaxed. He took a week off following his Wanamaker triumph, wanting to stay fresh with four playoff events and the Ryder Cup on the horizon. In the past 15 months, the 28-year-old has gone from prized prospect to prime-time player. To reach the next echelon, Koepka says, it's such preparation outside the ropes that will take him there.
"My routine is starting to really evolve off the golf course, so I'm trying to bring that and make sure it's here each and every week," Koepka said. "I feel good riding the momentum from St. Louis, which is nice, and any time you come back, the next time you tee it up, you're very focused and ready to win. It just makes you that more hungry."
He looked like it at Ridgewood, unsatisfied with his three majors in tow. Koepka, Johnson and Thomas were asked earlier this week if they considered skipping this week, eschewing the grind to focus on other ambitions. For his part, Koepka took it as personal affront. He has his sights set higher, in the direction of his friend Johnson.
"I'd love to knock him off, and I'm sure he'd love to keep me where I'm at," Koepka said about the No. 1 world ranking. "You know, it's fun. … I'm trying to out-perform him and he's trying to do the same thing."
Neither Johnson or Koepka seemed bothered by the commotion from Tiger's group—although both, and Thomas, had to step away multiple times from shots due to moving galleries ahead. They have bigger obstacles to tackle. Mainly, each other. Although Tiger says otherwise, Koepka and Johnson insist Player of the Year honors remains up for grabs.
"Obviously Brooks has had a great season winning the U.S. Open and the PGA. I think it kind of depends on what happens the next few weeks, too, that could—I just don't know. You never know what happens," Johnson said on Wednesday. Echoed Koepka: "As of right now it's open. I don't think it's a lock at all."
At the end of their round, they were tied, with another matchup scheduled for Friday. If Thursday was any indication, a weekend bout also might be on the docket. Let's hope the fans don't miss the next show.