News
Tiger Woods makes $9 million match with Phil Mickelson official on Twitter (and Phil hilariously responds) (UPDATE: Additional details announced)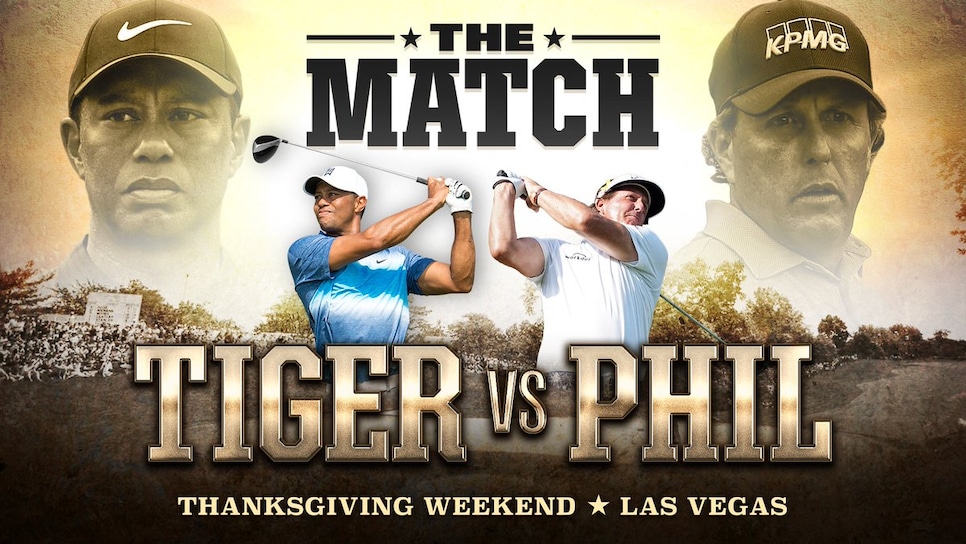 Fast forward six hours later and now it all appears to make sense, as Tiger Woods sent out a tweet of his own, making "THE MATCH" officially official. It's ON indeed:
Mickelson, now a seasoned Twitter veteran, quickly responded for his already 54,000-plus followers to see:
Of course, Woods had to come back with a left hook of his own (by the way, this is totally not Tiger sending these tweets, but it DEFINITELY is Phil):
These two certainly know how to put on a show. Just imagine what the actual "THE MATCH" will be like?
As you can see from Woods' tweet, exact details are still not clear. While previous reports pinned it as a winner-take-all affair for $10 million, Woods makes no mention of that, and Mickelson referring to him losing "$9 million" just makes it more unclear. What we do know for sure is that it is on Thanksgiving weekend and it is in Las Vegas. Which day is still unknown. Come on guys, there's a lot of football on that weekend and people need to schedule their lives around that and "THE MATCH" accordingly.
UPDATE: Though the exact time and date of the Tiger-Phil duel has still yet to be revealed, we now know how you'll be able to watch it, as it was announced that WarnerMedia's Turner division has secured worldwide media distribution rights to "The Match." The made-for-TV match will be a live pay-per-view event distributed through Turner's B/R Live, the company's new premium live-sports streaming service. It will also be available on AT&T's DIRECTV, AT&T U-verse, and other on-demand platforms.
In addition to live coverage of "The Match," HBO Sports 24/7 reality franchise will capture all the excitement leading up to the showdown. As far as we know, this will be the first time HBO's 24/7 series wades into golf, as it's been a mostly boxing-focused show, though it also gave a behind-the-scenes look at the two teams competing in the NHL Winter Classic in recent years, but not since 2014.
Bleacher Report's "House of Highlights" social-media platform, which recently surpassed 10 million followers on Instagram, will offer comprehensive highlights and behind-the-scenes content as well. Following the Tiger-Phil duel, TNT also will televise programming with select content from the match.
As for the host site and prize money, Shadow Creek in Las Vegas was confirmed on Wednesday, and so was the dollar figure, with the winner taking home $9 million. Another interesting element that was revealed—as was hinted at in a report by Golf Digest's Dave Shedloski earlier this month— is that Woods and Mickelson will selectively make side-challenges against one another during the match. According to the Turner press release, this could happen at any moment throughout the match:
"For instance, Woods or Mickelson could raise the stakes by challenging the other to a long-drive, closest-to-the-pin or similar competition during a hole as they play their match, with money being donated to the winning golfer's charity of choice."