News
As Tiger Woods-Phil Mickelson "Match" begins to take shape, some crucial sticking points remain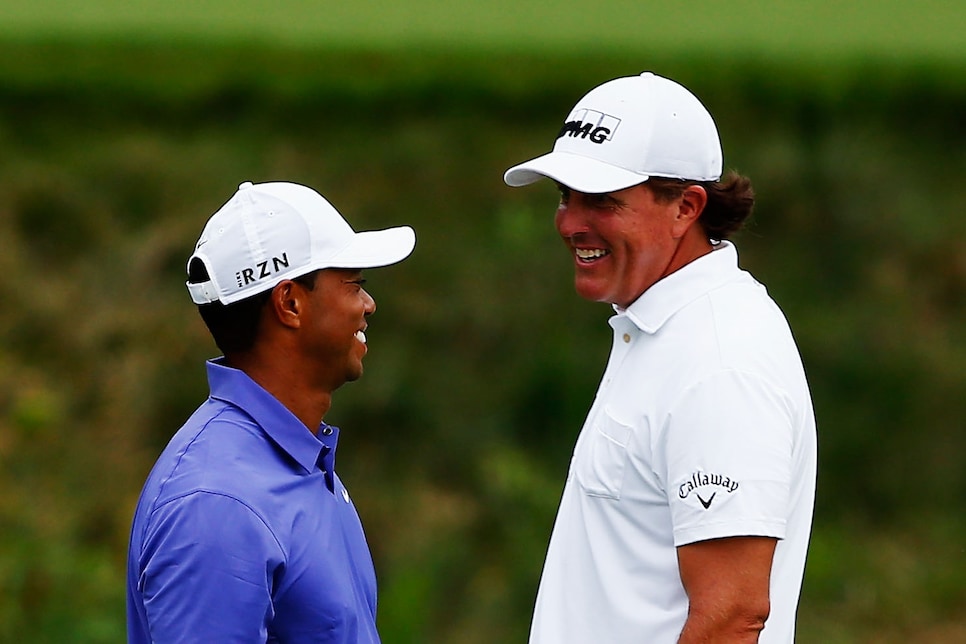 The working title for now is, simply, "The Match," but it's a misleading designation. When Phil Mickelson and Tiger Woods square off in their winner-take-all duel on Thanksgiving weekend in Las Vegas, it will not be a one-time occasion.
Golf Digest has learned that the power duo is proceeding with plans to create a series of high-stakes head-to-head matches featuring many of the world's top-ranked players, perhaps occurring twice per year—once around July 4 and once at Thanksgiving. Two-man team events also are being contemplated—including Woods and Mickelson partnering in future four-ball matches.
While many pieces to the puzzle are still missing, a television contract has been finalized. Cable network TNT, which shares the rights to this week's PGA Championship with CBS, has agreed to broadcast the showdown across its multiple platforms.
Though he hedged, Woods appeared to confirm that additional matches are an option.
"I don't know, we'll see," Woods said Friday at Firestone Country Club in Akron, Ohio, while competing in the WGC-Bridgestone Invitational. "The plans are for this one and possibly more, but you just never know. When we first did the Showdown at Sherwood, it was basically only a one‑time deal, but it ended up going more than that. So, we'll see what happens with it this year."
Added Mickelson: "We're both realizing that we can get a lot more done together than on our own. It's been fun to work with him [Woods] on Presidents Cup and Ryder Cup as well as our match—and potentially other things."
The concept of made-for-TV matches is nothing new, but one significant difference this time is the amount of cash potentially on the line; the proposed figure is $10 million, equal to the purse at the WGC-Bridgestone Invitational won by Justin Thomas. Sources familiar with the ongoing contractual talks say the PGA Tour is not comfortable with that payout, because it potentially "overshadows" the total purse at all but a handful of its tournaments.
Asked if the tour might have an issue with the sum Mickelson first put forth at the Players Championship, the tour's Andy Pazder, executive vice president and chief of operations responded via email: "The purse has not been finalized for the Tiger V Phil (sic) match and no agreements have been signed at this stage."
Hard to not read between the lines. One could speculate that it's a point of contention.
Another is whether or not the two very wealthy players would—or could—put at risk some of their own money. Sources say the subject has been broached, though to what extent is unclear. It would not be included in the primary stake, but the two might give at least passing consideration to reaching into their own pockets for some kind of press or a side bet to goose interest levels.
"Let's face it," said one television spokesman, "for this to work, to get people's attention, they have to play for some of their own money somehow. Who wouldn't watch that?"
Pazder did not respond to a follow up question regarding the tour's stance on this issue.
Another wrinkle to be ironed out is avoiding a conflict with the World Cup of Golf, scheduled for Nov. 21-25, Thanksgiving weekend. A likely scenario is a 6 p.m. EDT start to the Woods-Mickelson match that would require the final few holes at Shadow Creek, the reported site, to be played under the lights—not unlike the Monday Night Golf matches that Woods starred in from 1999-2005.
"There is a lot of nuanced bullsh-- still to figure out," said one person familiar with discussions, who added that the rivals, whose relationship has visibly thawed in recent months with practice rounds together at the Masters and again last Wednesday at Firestone, started discussing a potential high-stakes match more than two years ago. That would be long before Woods underwent spinal fusion surgery and began his comeback last December.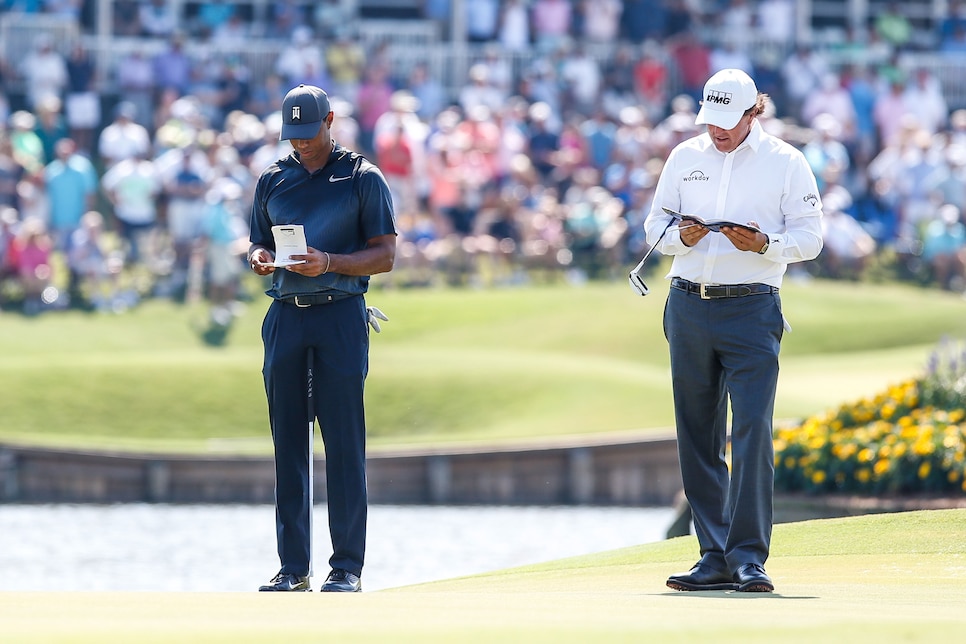 A common criticism of "The Match" and potential sequels is that it is little more than a recycled idea, which is why outside observers express a desire to see golf's two most famous and popular players slap some of their own cash on the table.
Previous iterations of TV matches include Shell's Wonderful World of Golf, Challenge Golf, Big Three Golf and the CBS Golf Classic, the latter two which were contested at Firestone.
Then there was Monday Night Golf on ABC, which rode the mania surrounding the emergence of Woods, the most dominant player since Jack Nicklaus. Ratings were solid for the first four years—averaging 6.4 with a high of 7.6 for the 2000 match pitting Woods against Sergio Garcia. But numbers slid precipitously thereafter. Mickelson appeared in the final three years in team formats. The final show, featuring major winners Woods and John Daly against Mickelson and Retief Goosen drew a 3.0 rating.