News
Report: Tiger Woods, Phil Mickelson match set for Thanksgiving weekend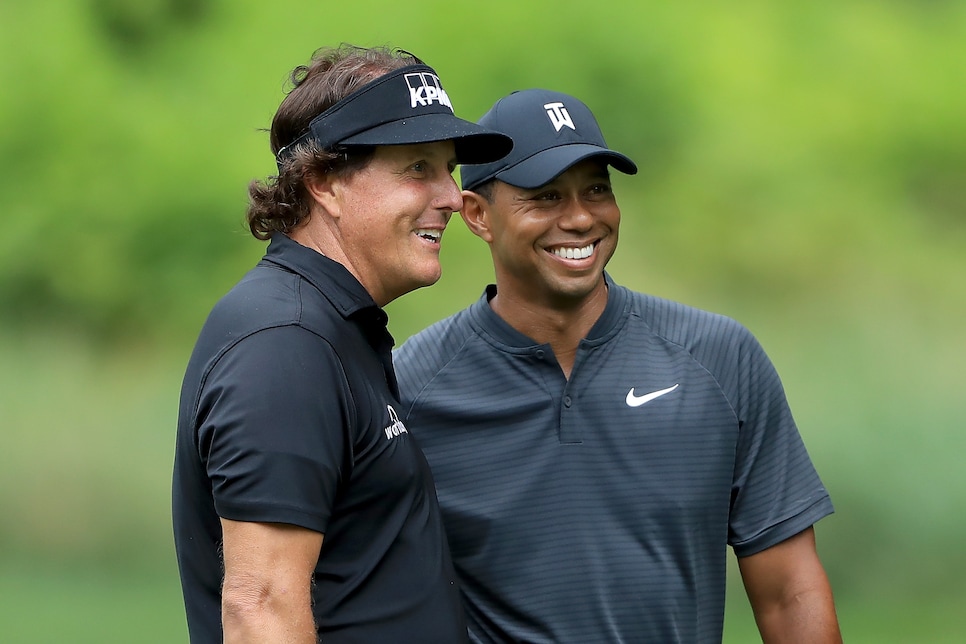 Tiger Woods and Phil Mickelson played together during Wednesday's WGC-Bridgestone Invitational practice round, with Tiger reportedly nipping Phil for a few casual bucks. Their next match will have slightly more cabbage on the line.
According to ESPN, the much-hyped battle between Woods and Mickelson is scheduled for Thanksgiving weekend. ESPN's Mike Greenberg reports the showcase will be either Friday, Nov. 23 or Saturday, Nov. 24. Previous reports touted a $10 million winner's payout, although the purse is reportedly still being determined.
As for the host site, Shadow Creek Golf Course in Las Vegas is said to be the reported venue. The Tom Fazio-designed track ranked 26th on the latest Golf Digest Top 100 U.S. Courses list.
The two titans' relationship, which was acrimonious and icy at times in the past, has thawed in recent years, turning into a friendly rapport. They famously played a practice round together at this year's Masters, and both have addressed the possibility of a made-for-TV exhibition at varying points this season.
"The excitement that's been going on around here, it gets me thinking: Why don't we just bypass all the ancillary stuff of a tournament and just go head-to-head and just have kind of a high-stakes, winner-take-all match," Mickelson said at TPC Sawgrass in May. "Now, I don't know if he wants a piece of me, but I just think it would be something that would be really fun for us to do, and I think there would be a lot of interest in it if we just went straight to the final round."
To which Woods replied: "I'm definitely not against that. We'll play for whatever makes him uncomfortable."
Both Woods and Mickelson are likely to participate in the fall's Ryder Cup in Paris. The 14-time major winner is already signed up as a vice captain, although continues to vie for a playing spot, while Mickelson, who is just outside an automatic selection with two weeks remaining, is expected to earn a captain's pick.