News
Tiger Woods, Phil Mickelson planning $10 million made-for-TV match, according to report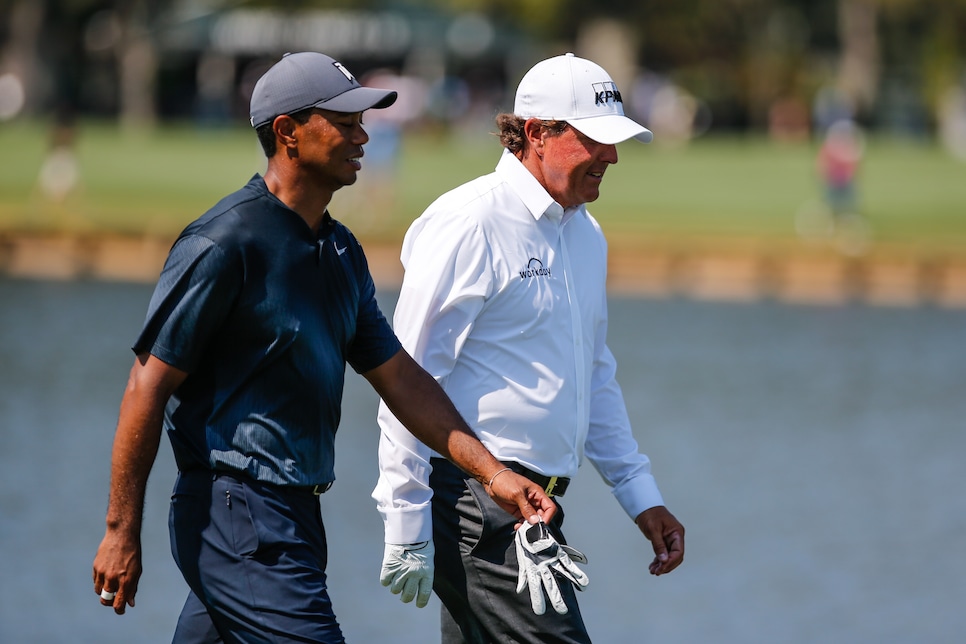 Negotiations involving Mickelson, Woods, a TV network (Because of course an event like this would have to be televised), and other sponsors have been ongoing, according to Golf.com's Alan Shipnuck. And as Mickelson tells it, the big-money match nearly already took place on July 3.
"We're working on a different date," Mickelson told Shipnuck on Thursday. "I thought it was done for the 3rd but obviously it wasn't."
Woods and Mickelson are clearly the two best players of this generation, but it's been well documented they haven't always been the best of friends. However, the two have grown closer in recent years as they've morphed into elder statesmen on the PGA Tour, and now they appear poised to become business partners as well. Mickelson told Shipnuck he hopes to play a couple exhibitions with Woods each year (not always against him) and that the two are trying to own the rights to them. Las Vegas' Shadow Creek is the anticipated venue for the first match -- a perfect spot for these couple of, um, high rollers.
Although Woods' representatives declined to comment to Shipnuck on the story, the 14-time major champ had this to say in response to Mickelson's bold suggestion at the Players.
"I'm definitely not against that," Woods said in May. "We'll play for whatever makes him uncomfortable." Apparently, $10 million is that number. Wow.
Of course, made-for-TV matches in golf aren't unprecedented. Shell's Wonderful World of Golf series lasted for more than 40 years, the Skins Game was a Thanksgiving tradition for 25 years, and Woods was involved in several matches as part of a Monday Golf series, including the 2005 "Battle at the Bridges," in which Woods and John Daly lost to Mickelson and Retief Goosen.
Mickelson and Woods sent the golf world into a tizzy when they played a Masters practice round together in April. A month later, their Thursday-Friday pairing at the Players seemed to draw more attention than the tournament itself.
"The excitement that's been going on around here, it gets me thinking: Why don't we just bypass all the ancillary stuff of a tournament and just go head-to-head and just have kind of a high-stakes, winner-take-all match," Mickelson said at TPC Sawgrass in May. "Now, I don't know if he wants a piece of me, but I just think it would be something that would be really fun for us to do, and I think there would be a lot of interest in it if we just went straight to the final round."