News
Phil Mickelson wants a head-to-head, high-stakes match against Tiger Woods: 'I don't know if he wants a piece of me'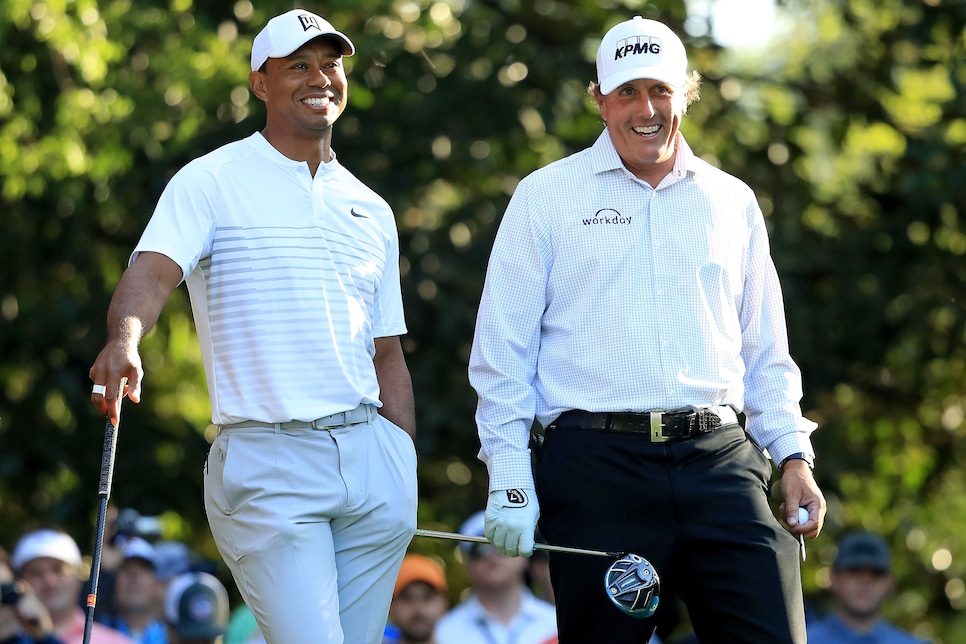 Andrew Redington/Getty Images
Phil Mickelson, nearing 48 years old, remains golf's greatest showman. From purposefully hitting shots off rocks to holding court at a press conference like a late-night crooner, he is always on, propelled by an urge to entertain. His act will be on full display this week at TPC Sawgrass, as Mickelson is paired with former adversary Tiger Woods for the first two rounds of the 2018 Players Championship.
This is far from the first time these two Hall-of-Famers have teed it up together: more than 30 times, in fact, on the PGA Tour. (And we'd be remiss in forgetting their celebrated practice round at this year's Masters.) However, as both have regained semblances of formidability in the late stages of their careers, the grouping is the rare showcase of living legends with something left in the tank.
Speaking to the media on Tuesday, Mickelson was asked the prospects of playing with Tiger, and, somehow, the five-time major winner managed to further hype the vaunted pairing.
"As I look at the cover of the newspaper and the pairing is on there, and the excitement that's been going on around here, it gets me thinking: Why don't we just bypass all the ancillary stuff of a tournament and just go head-to-head and just have kind of a high-stake, winner-take-all match," Mickelson said. "Now, I don't know if he wants a piece of me, but I just think it would be something that would be really fun for us to do, and I think there would be a lot of interest in it if we just went straight to the final round."
Sounds like we got ourselves a reboot of "Shell's Wonderful World of Golf" waiting in the wings. And, while the tour has strict enforcement on gambling, our kingdom for Tiger to drop a stack of Benjamins on the first tee come Thursday afternoon.
Woods and Mickelson, along with Rickie Fowler, begin their Thursday round at 1:52 p.m. ET. All three are former Players winners.