News
Tiger Woods jokingly fires back at Phil Mickelson: 'First of all, big picture'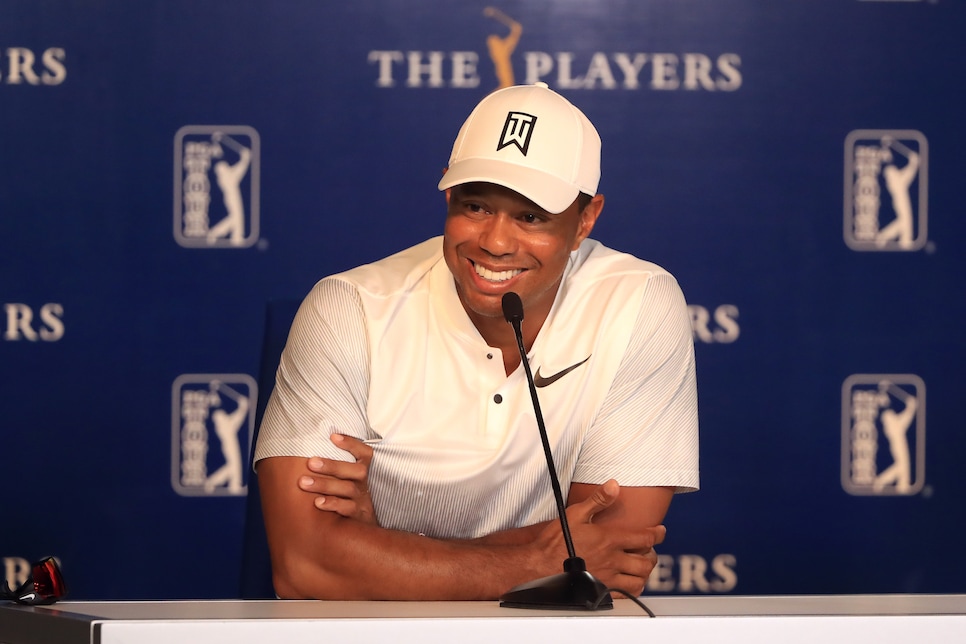 PONTE VEDRA BEACH, Fla. — If the Tuesday trash talk has been any indication, this Tiger Woods-Phil Mickelson pairing at the Players Championship deserves to be a mic'd up, pay-per-view event.
On Tuesday morning, Mickelson was up to his usual, playful antics, claiming "I don't know if he wants a piece of me," in reference to a potential head-to-head, high-stakes match with Woods. While he was obviously joking, there's also a bit of truth to it considering Mickelson is enjoying a revival of sorts in 2018. The five-time major champion won for the first time since 2013 at the WGC-Mexico Championship, defeating the red-hot Justin Thomas in a playoff. He's also finished in the top 10 five other times, and ranks second on tour in strokes-gained/putting. With the way Woods looked with the flat stick at Quail Hollow, maybe Mickelson had a point.
But Woods wasn't going to go quietly into the night, and when he was asked about Mickelson's comments during his press conference on Tuesday afternoon, the 14-time major champion hilariously fired back:
"Well, first of all, big picture," Woods said.
After a long pause, the same reporter followed up, telling Woods he's only one up on Mickelson "head-to-head." As Woods began to respond, the reporter said they had faced off head-to-head 32 times, but that's not what Tiger was talking about.
"How many times have we both -- No, no, have we won on tour?"
Sorry Phil, but 79-43 is a literal mic drop. Once Woods got in his body blow, he was able to put this hyped-up, long-time coming pairing in perspective.
"No, no, as I said, it's going to be fun playing with him again. We have both done this throughout our careers. We have always looked at each other and said, Where is he on the board? That's what Arnold and Jack used to do all the time. They'd always try and find, OK, what's -- what's Jack at. And the same thing with Jack, Where's Arnie at? It's been either way for our entire careers.
"Now that we have an opportunity to play against each other again on the first day when the gun blows, it's going to be fun. I enjoy either competing with him on the first or second day or if it's the last day. It's always been a blast, and he's one hell of a competitor, and it's always going to be a challenge to try and beat him."
As for Mickelson's idea of a high-stakes, winner-take-all contest, Woods is not opposed.
"I'm definitely not against that. We'll play for whatever makes him uncomfortable."