News
United States Ryder Cup bubble watch: Is Tiger Woods a lock for Paris?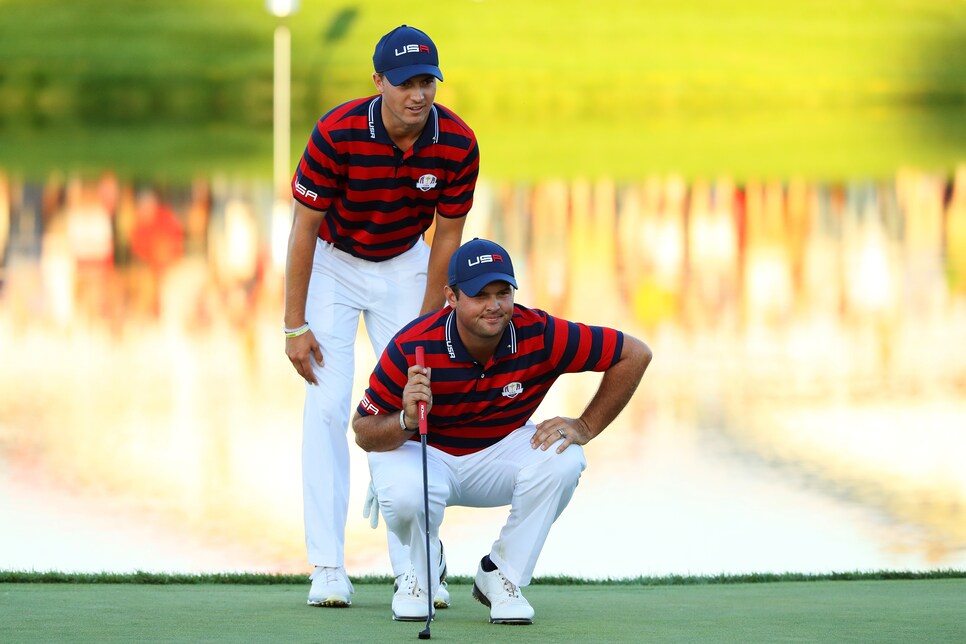 Only three weeks remain for aspiring players to automatically qualify for the 2018 Ryder Cup. Hope is not lost for those who fail to grab one of the eight selections; following the PGA Championship (the final chance for an automatic bid), candidates have another four tournaments to prove their mettle to United States captain Jim Furyk, who will announce three of his picks after the Dell Technologies Championship, with the final slot filled at the BMW Championship's conclusion.
However, with almost a full season of evidence at our disposal (and two years of major performances in tow), the American picture is coming into focus. And, somewhat amazingly, there's a chance only half of 2016's juggernaut team returns this fall. With time winding down, here is a bubble watch for the 2018 U.S. Ryder Cup roster.
LOCKS
Brooks Koepka, Dustin Johnson, Patrick Reed, Justin Thomas, Bubba Watson, Jordan Spieth
No need for speculation; these six have already earned their invitation based on points accrued.
All these names were slotted for Paris before the season began save for Watson, who's enjoyed a revival (Bubbaissance?) in 2018 with three wins. Though he hasn't played on a U.S. team since the 2015 Presidents Cup, the 39-year-old Watson does have three Ryder Cups on his résumé, owning a 3-8 record in 11 matches. The only real question involves possible pairings with Bubba, although Webb Simpson (more on him in a moment) seems like a natural fit.
Thomas is the only one in this group without Ryder Cup experience, just missing the team in 2016. However, the reigning Player of the Year was a tour de force at the 2017 Presidents Cup, winning 3.5 points in four matches.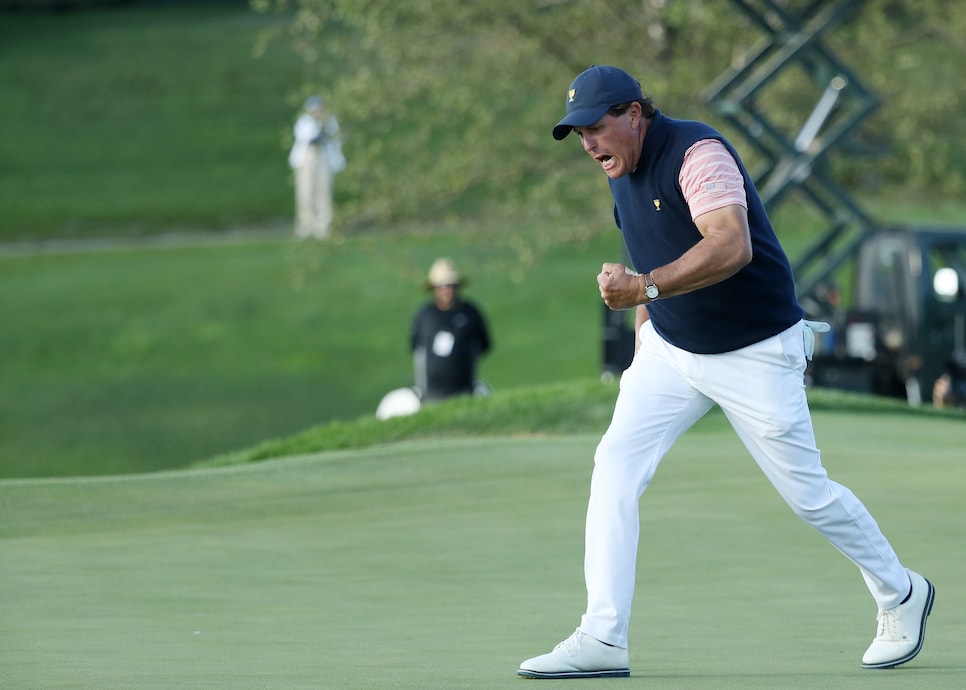 SHOULD BE IN
Rickie Fowler, Phil Mickelson, Webb Simpson
Something would have to go seriously wrong down the stretch for Fowler not to make the club. He's enjoying another solid year (10 top 25s in 16 starts, highlighted by a runner-up at the Masters), and while his strokes gained figure is off from his historical output, he's been a core member of the last three U.S. winning teams. Coupled with his successful partnership with Thomas at Liberty National, Fowler should keep the final weekend of September open on his calendar.
It's easy to dismiss Simpson's current eighth-place standing on the Ryder Cup list as an aberration, a sole byproduct of his Players Championship victory. That Sawgrass is Simpson's only win in the past four years is true; conversely, the former U.S. Open champ has quietly cobbled together a nice 2018. Simpson has six top 10s on the season, with respectable showings in the first three majors (T-20 Masters, T-10 U.S. Open, T-12 British). Combined with his second-shot prowess and fine short game (20th in sg/approach, fifth in sg/putting), Simpson would be a nice add to a power-laden U.S. roster.
As for Mickelson, yes, it would be a shock if wasn't playing in France. Not only does his sit 10th in the current standings and play an integral part of the U.S. task force, the last time this dude missed a U.S. team event was 1993. However, since his smoking start out of the gate (five top-six finishes, including a win, in his first eight starts), Mickelson has looked very much like the 48-year-old that he is, submitting just one top 10 since March. That he's made headlines for reasons other than his play haven't helped. Again, it would be a stone-cold stoner if he didn't make the team, but with the biennial event two months out, Mickelson's game is in need of a tune-up.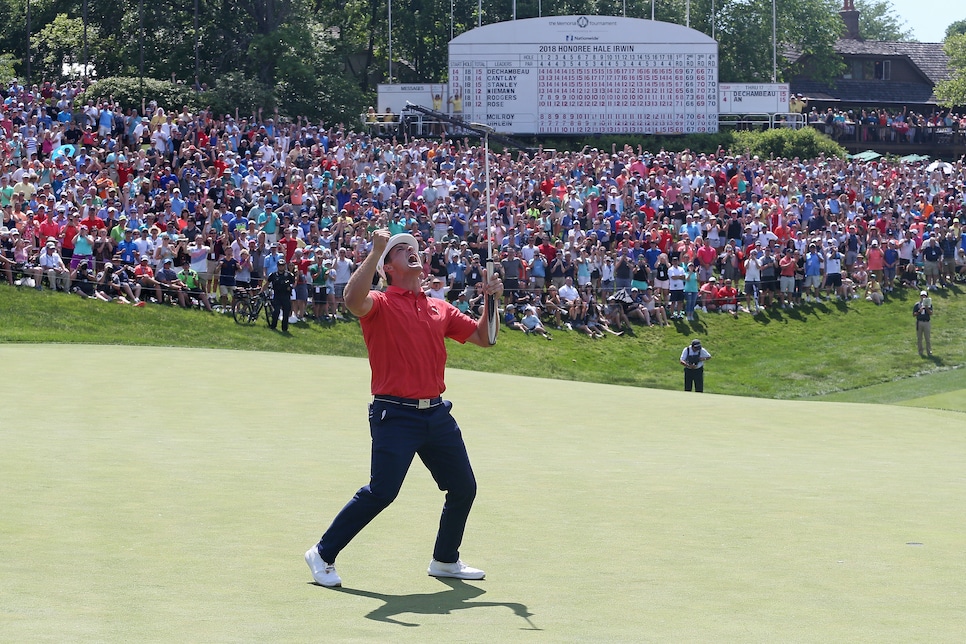 WORK LEFT
Bryson DeChambeau, Xander Schauffele, Tony Finau, Matt Kuchar, Brian Harman, Kevin Kisner
This underlines the depth of American golf. Each listed is a formidable player with a viable argument for inclusion. Yet the nine aforementioned players are safe bets to make the team, and there's a chance only two, even just one, from this class get the call. Their cases:
—DeChambeau: Phenomenal all-around game (10th in strokes gained), seven top 10s (highlighted by a win, runner-up and third place) and ninth in the current standings. Also the most likely to start an international incident, which can't be overlooked.
—Schauffele: How about this big-game experience: in six career majors, the X-Man has three top-six finishes. And, it should be noted, a T-2 at the "fifth major" this May.
—Finau: More than just muscle, with top 10s at all three majors this year. Also, shot a 68 at Augusta National the day after dislocating his freakin' ankle. Pretty sure that's the type of cat who won't be fazed by raucous crowds.
—Kuchar: Has struggled a bit in 2018 (48th in strokes gained, 64th in FedEx Cup). Did play well at Carnoustie (T-9) and, given America's youth, might earn the requisite "veteran pick."
—Kisner/Harman: It's unfair to encapsulate their games into the clichéd "bulldog, grinder" label, although their scrambling dexterity is something this U.S. roster lacks. Harman has a nice track record in match play, while Kisner acquitted himself well at last year's Presidents Cup.
Clearly multiple names will be left off, but expect especially vocal blowback if any of the DeChambeau/Finau/Schauffele trio is omitted.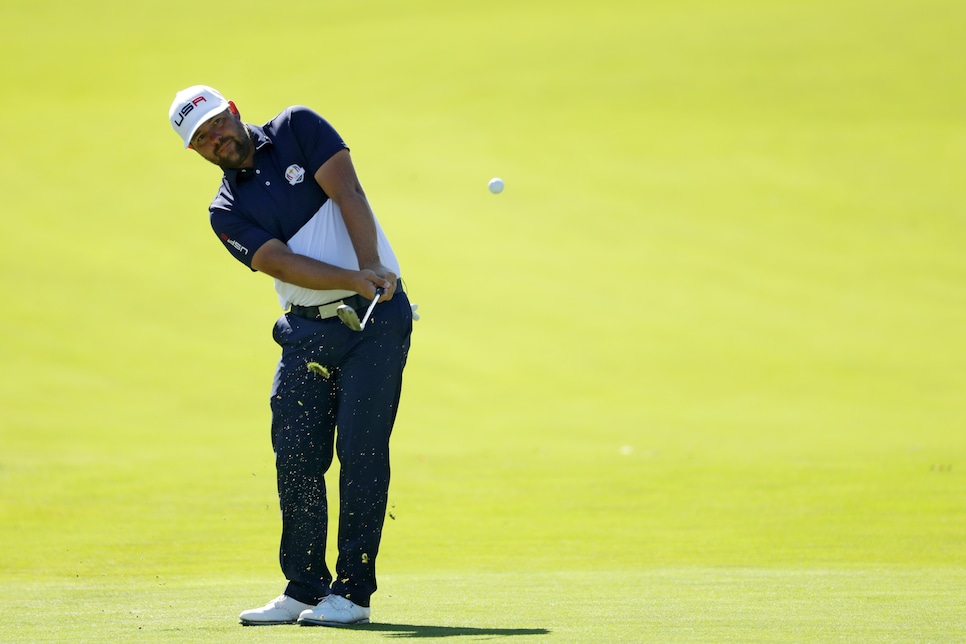 OUTSIDE LOOKING IN
Aaron Wise, Zach Johnson, Charley Hoffman, Jimmy Walker, Kevin Chappell, Kevin Na, Patrick Cantlay, Ryan Moore
There do have experience—Johnson, Walker and Moore played at Hazeltine, while Hoffman and Chappell made appearances at Liberty National—and Wise and Cantlay are fledgling stars, but not going to sugarcoat it: if they don't win the Wanamaker, this group needs a lights-out August to earn a trip overseas. In that same breath, this group can also be viewed as spoilers, the 18-14 NCAA basketball team that wins its conference championship and bursts someone's March Madness bubble. That's what Moore did in 2016, winning the John Deere, logging top 10s at playoff events in the Barclays and Deutsche Bank before earning the final captain's pick with a sudden-death loss at the Tour Championship.
Cantlay is the one to watch, as he had a promising outing at Carnoustie (T-12). Bellerive suits his game well, and his tee-to-green game (ninth in that strokes gained category) is a much-desired attribute in all Ryder Cup formats.
Woods' stunning display at Carnoustie vaulted him to 20th in the latest standings, but—unless he wins in St. Louis—he won't qualify via points. Has his play warranted a roster spot? This time last week, that could be argued to varying degrees; even now, it's one that could be countered, as he ranks 43rd in the FedEx Cup. But Woods does boast six top-12 finishes in his last 10 starts, and ranks sixth in strokes gained. That he's become a mentor and guiding voice as vice captain in the American locker room cannot be overstated. He would be far from a ceremonial pick.
Keeping that position in mind, professional sporting events are just that, a business. And the Ryder Cup, despite its heightened popularity and importance, remains an exhibition. In economics and commerce, to say nothing of marketing and outreach, excluding the most popular player on the planet makes zero sense. The only way Woods doesn't play is if he takes himself out of the running, citing the toll of the season on his health or well-being. A totally valid excuse, and frankly, one very much on the table.
As illustrated, the competition for 12 spots is fierce. But unless the man himself says differently, expect Tiger Woods to be teeing it up for the red, white and blue.
This year's Ryder Cup begins on Sept. 28 at Le Golf National. The Americans are the defending champs, but haven't won in Europe in 25 years.