News
British Open 2018: Tiger Woods teases, then falters, but still takes away positives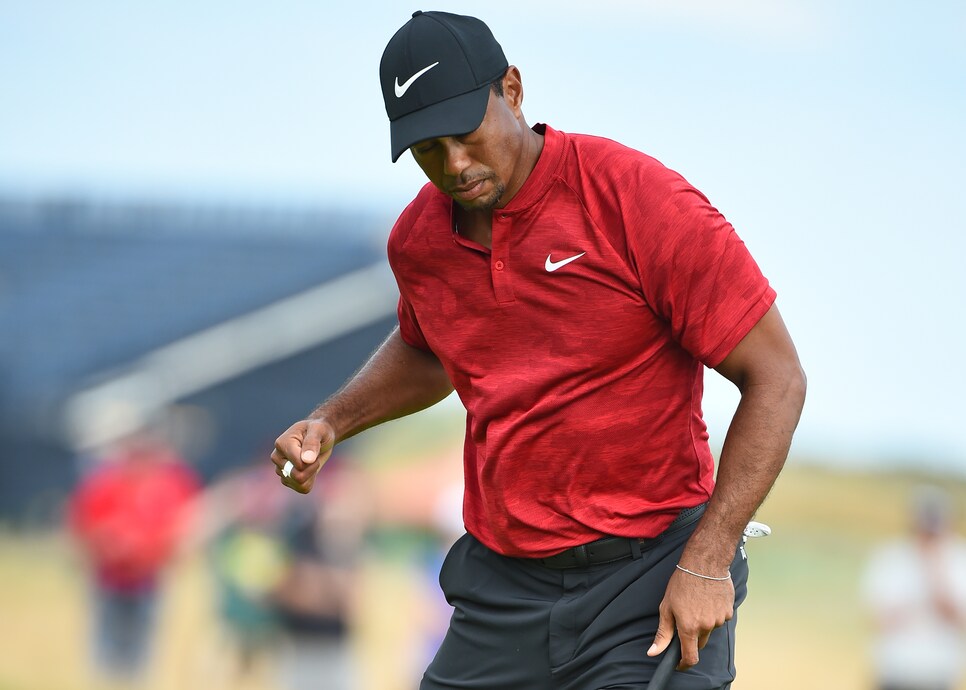 CARNOUSTIE, Scotland — He had the lead alone on the 10th hole at Carnoustie Golf Links, and he looked the calmest and most composed of all the contenders for the Claret Jug. Tiger Woods appeared to truly be back. Truly and fully. Until he wasn't. But, oh man, didn't he shake the earth for a few fleeting moments? The "doable" of which he spoke on Saturday night—overcoming a four-stroke deficit—was getting done. He was leading the 147th Open Championship, and the world seemed to be spinning backwards.
"It was great, just to be a part of it and hear the roars, [and] Tiger being back in the mix," Rory McIlroy volunteered, assessing a surreal Sunday along the coast of the North Sea. "For a while, I thought Tiger was going to win. My mindset was go and spoil the party here. It was cool."
And Tiger Woods looked cool, too—in that calm, collected way he has exhibited so many times in a major championship. The little moral victories of his comeback season appeared to be the seedlings of a real one, a big one, a 15th major title more than 10 years after his last, the 2008 U.S. Open. There was not a hint of nerve in his swing nor a flinch in his putting stroke.
"Oh, yeah," Woods said when he was asked if he felt those old vibes coming back. "It did. It did. It didn't feel any different. It didn't feel any different to be next to the lead and knowing what I need to do. I've done it so many different ways. It didn't feel any different. It felt great to be a part of the mix and build my way into the championship. Today was a day that I had a great opportunity."
Instead, he took away another learning experience. Which is like winning a golf shirt for a door prize; useful, but hardly something for him to savor. Playing his final eight holes in two over par, Woods carded an even-par 71 on the windswept links and finished at five-under 279, three strokes behind his playing partner, champion Francesco Molinari. His tie for sixth represents his best in a major since an identical finish in the 2013 Open Championship at Muirfield.
Before the hiccups on the 11th and 12th holes, where wayward swings led to a double bogey and bogey, respectively, that extinguished his bid for a nearly unparalleled comeback in history, Woods seemed in command and on his way to an historic accomplishment.
No, he would not have eclipsed the remarkable tale of Ben Hogan, who won the Open Championship here at Carnoustie in 1953 in his only appearance as part of a miraculous comeback from a near-fatal auto accident. But after missing nearly two full years of competition, Woods had the chance for which he had so desperately been pining.
It was glorious while it lasted. It gave the crusty curmudgeon of a golf course a jolt and opened the eyes of both the swollen gallery and his fellow competitors.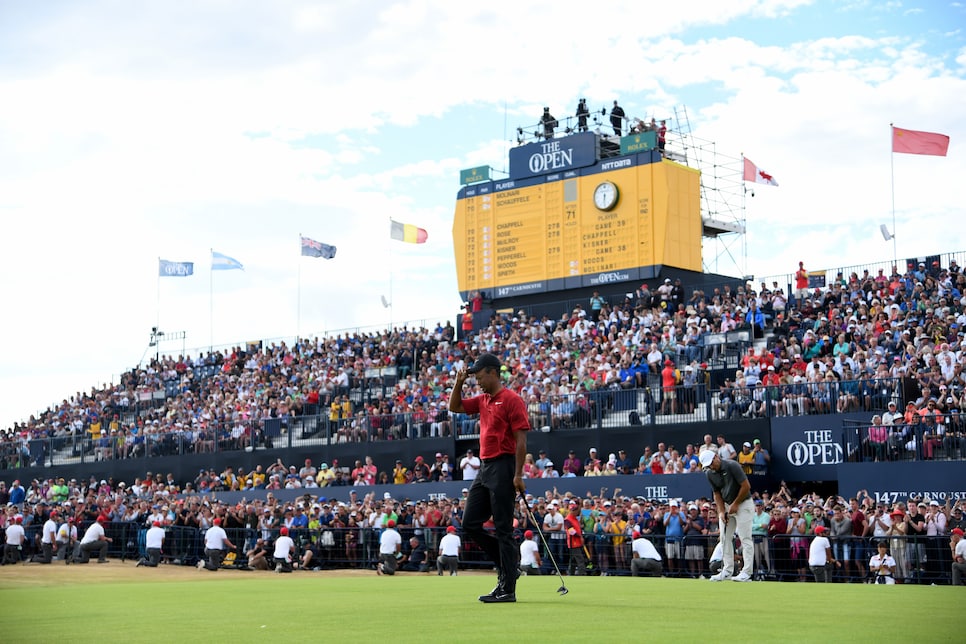 Jordan Spieth, the defending champion and third-round co-leader, saw Woods' name at the top of the board and said to his caddie Michael Greller, "this is what you dream about anyway."
"Oh, it was a blast," said Woods, who swung so ferociously out of a fairway bunker at the 10th that you swore you were seeing a highlight reel from a decade ago and not the 42-year-old man with the surgically repaired back. "I was saying earlier that I need to try and keep it in perspective because, the beginning of the year, if they'd have said you're playing the Open Championship, I would have said I'd be very lucky to do that."
He mentioned his friend, tennis star Serena Williams, who finished runner-up recently at Wimbledon in her first grand-slam appearance after giving birth to a daughter in September.
"I'm sure she'll probably call me and talk to me about it because you've got to put things in perspective," Woods said. "She just had a baby and lost the Wimbledon finals. Just keep it in perspective, and the same thing with me. I know that it's going to sting for a little bit here, but given where I was to where I'm at now, blessed."
Indeed, he has come a long way to have held his first lead in the final round of a major since the 2012 Masters. But his destination still seems off in the distance. Can he build his game ever closer to the player he once was, the impenetrable and impervious champion?
As well as he played and competed and grinded on Sunday, he still was outflanked by his playing partner, Molinari, who was simply impeccable in a final-round 69 that represented the only bogey-free round of the day. He may have recognized those familiar feelings with a major on the line, but his mind and body didn't follow his heart. He erred. And he knew it. "A little ticked off at myself for sure," he admitted. "I had a chance starting that back nine to do something, and I didn't do it."
And there is a reason for that.
McIlroy, one of four men who finished runner-up, provided a brutal assessment when quizzed about having to deal with the rejuvenated Woods.
"I mean, not Tiger that Phil and Ernie and those guys had to deal with. It's a different version," McIlroy said. "But he's right there. He's right there. He's getting himself in the mix. He looked good in D.C. a couple weeks back. He's looked good here. [But] with the Tiger we have to face, he does things that maybe he didn't do 10, 15 years ago. But it's still great to have him back. It's still great for golf. It will be interesting to see going forward, but this was his first taste of major championship drama, I guess, for quite a while. Even though he's won 14, you have to learn how to get back. I'm relearning. I feel like I've won quite a few recently, but you still have to relearn to deal with it."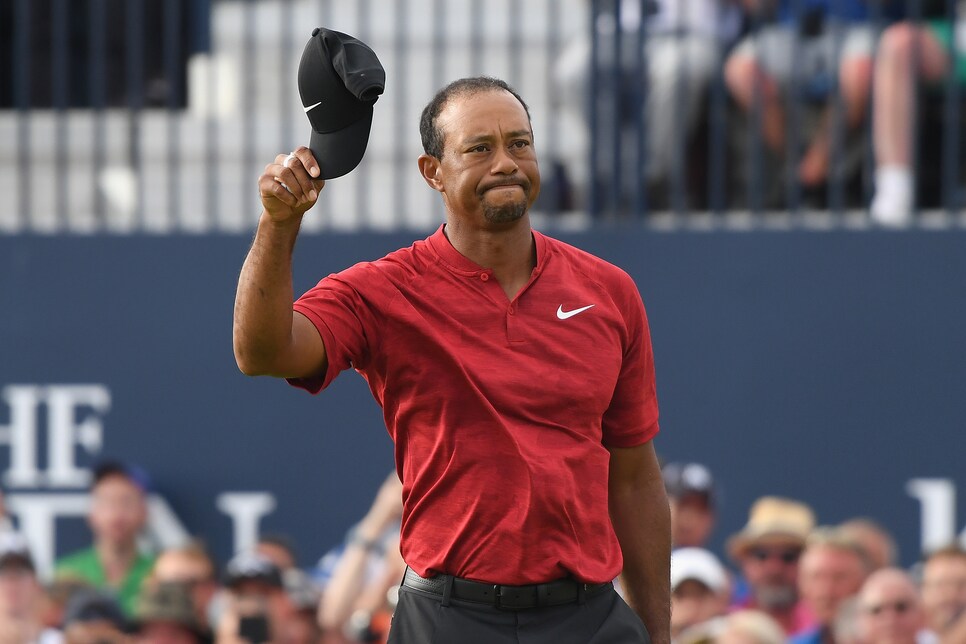 Woods conceded as much. "I'm building on it. Just like this entire week, I felt like I needed to keep building my way into this championship," he said. "And I will do that from here."
There was a consolation prize of immense importance for him at the end. He shook the hand of the winner and then was greeted by his son and daughter, who had been far too young to remember their father thriving in that milieu, that cauldron of pressure that he so often before stared down, seeing through it, in fact, like he would through opponents. They embraced in a lasting hug, and Tiger Woods absorbed the warmth of accomplishment through their arms.
"I told them I tried," Woods said with just the slightest betrayal of his iron facade, "and I said, 'Hopefully you're proud of your pops for trying as hard as I did.' It's pretty emotional because they gave me some pretty significant hugs there and squeezed. I know that they know how much this championship means to me and how much it feels good to be back playing again. To me, it's just so special to have them aware because I've won a lot of golf tournaments in my career, but they don't remember any of them."
The thing is Woods remembers, and the task for him going forward is to reconcile that with the golfer he is now. On Sunday at Carnoustie he learned he is not the dominant force of yesteryear. But he is still viable contender. Somehow, he has to find a way to overcome using the tools still available to him.
This performance proved a lot. And still not enough.