News
The roller coaster round of Tiger Woods, in the words of those who watched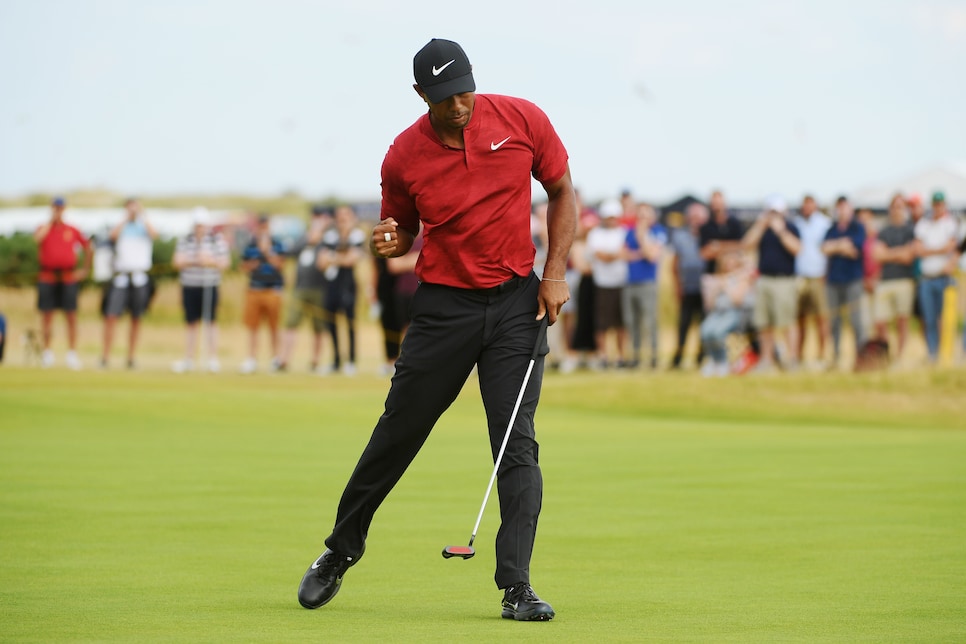 Tiger Woods gave us a ride. Wild and feral, touching every note on the emotional spectrum. The final stop was not the desired destination; that it was even on the manifest is striking. It was a delight to watch.
And, it should be noted, a delight to watch those who watched.
For all its ills, social media provides the perfect communal prism for experiences like Sunday at Carnoustie. At a tournament that markets itself as a global championship, golf fans around the world shared the adventure—in every sense of the word—of Tiger's run at the claret jug. There were shouts and cries, high-fives and head shakes. The tone was zealous and bombastic and heated and...you know what? Let's relive Woods' final round through the eyes of Twitter.
A journey that began not on the first tee but practice area, as the mere sight of Big Cat in Sunday red sent social media into a frenetic state:
His opening tee, which found the short stuff, did little to calm this excitement.
Three opening pars allowed a breath a tranquility. Tranquility that was quickly extinguished with gifs on gifs thanks to two birdies on the next three holes.
Coupled with issues from co-leaders Jordan Spieth and Xander Schauffele, Woods found himself on top of the Open leader board. And though we hate the, "So-and-so broke the Internet" trope, well, Tiger on the prowl seemingly broke the Internet:
Hell, even Ian Poulter got into it:
But, following a string of pars, Woods doubled the 11th and bogeyed the 12th. A fall which turned Twitter turned into a hormonal teenager who just lost car privileges for the weekend.
That Francesco Molinari—more like Moli-par-i, am I right?—was painstakingly shoveling dirt on dreams of No. 15 didn't help.
There was a brief revival of hope following a birdie at the 14th, yet Woods failed to post red figures on the following three holes. Bringing us to the 18th, where Tiger needed a birdie, combined with a Molinari mess-up, to harbor any hope. But in the middle of his backswing a fan cried out, causing Tiger to flail his tee shot right. While it stayed in the fairway, Tiger fans—passionate crowd, those Tiger fans—considered it casus belli.
Ultimately it didn't matter, as Woods stuck his approach on the final hole but missed the putt, while Molinari proved himself an unflappable foe with a closing birdie. For all the twists and twirls, Tiger finished with an even-par 71, leaving him in a tie for sixth. Nevertheless, it was a performance that earned the utmost regard and admiration from his observers.
An experience perhaps best summed up here.
And, just as importantly, one that brings this expansive, provincial world together.