The Loop
Tiger Woods gets called out for being cheap, Wesley Bryan plays the PGA Tour's fastest round ever & the Augusta National of the NFL
Welcome to another edition of The Grind, where we feel even worse about the Atlanta Falcons blowing the Super Bowl after learning their glitzy new Mercedes-Benz stadium is basically the Augusta National of the NFL. For one, like the scenery around Amen Corner, the building is breathtaking. But more importantly, like at the Masters, the Falcons don't gouge fans when it comes to concessions. Check out this rundown of reasonable menu items, courtesy of ESPN's Darren Rovell:
Free refills?! At a sporting event?! That sounds amazing, but what about the lines? Oh, wait, the Falcons thought of that too!
Sweet, sweet soda. Have you ever had a fountain Coca-Cola while in the beverage giant's home city? It's glorious. I'm jealous of the golf fans in Atlanta for this week's Tour Championship. And now I feel a little better knowing those suffering Falcons fans are well taken care of at home games. Now, if just more sporting events would follow the lead of the Falcons and the Masters, the world would be a better place. In the meantime, here's what else has us talking.
Marc Leishman: Two years after nearly losing his wife to a surprising illness and two weeks after losing a back-nine lead in a FedEx Cup playoff event, the Aussie put forth the most impressive performance of his career at the BMW Championship. Leishman let Justin Rose, Rickie Fowler and Jason Day get close at Conway Farms on Sunday before closing the door with a five-shot victory. And the whole family was there to celebrate: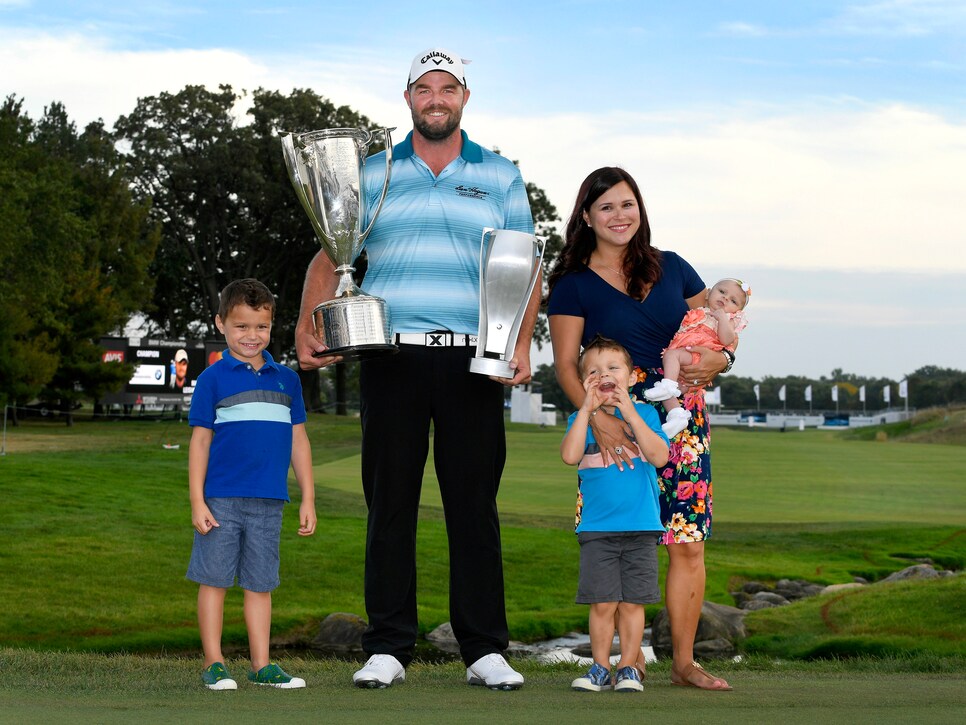 Leishman joked that his boys ran onto the 18th green "a little premature" earlier this season at Bay Hill, but they're starting to get the hang of it now. At No. 15 in the Official World Golf Ranking and No. 4 in the FedEx Cup standings, dad is officially a PGA Tour star now.
European Tour's Beat the Pro: What a brilliant idea by the tour to have several youngsters get a crack at beating the pros on a par 3 during the KLM Open. One 11-year-old, Mattias Henke, even topped Ryder Cupper Chris Wood:
But the event's biggest star was maybe its littlest participant, Tom Hendriks:
Tom may only be 8, but he already displays the tour sauce of a 28-year-old.
Wesley Bryan: With not much to play for Sunday at the BMW Championship, Bryan wrapped up a fantastic rookie campaign with a remarkable display of golf – and hustle. Bryan played his final round in one hour and 28 minutes, easily the fastest PGA Tour round on record. And he shot 69 to boot! Check out this highlight reel that includes Bryan pulling the flagstick himself at times, putting out with a wedge and jogging between shots:
Who says golfers aren't athletes and that a round of golf has to take all day? And now Wesley Bryan will be known for something other than being a trick shot artist -- and making Jim Nantz cringe in the booth.
Well done, Wes. We hereby dub you golf's Patron Saint of Pace.
Anna Nordqvist: The Swede captured her second career major title and her first in more than eight years at the Evian Championship, beating the surprising Brittany Altomare in a playoff. We were also kinda glad Sung Hyun Park didn't win. Nothing against the reigning U.S. Women's Open champ, but someone who got a do-over after starting the tournament six over through nine holes didn't deserve the trophy. And the LPGA might have had a real controversy on their hands if she did. While we're on the topic. . .
Shortened majors: The Evian Championship's partially played first round was wiped clean from the books and the event was shortened to 54 holes instead of the tour trying for a Monday finish -- even though there was no tournament on the LPGA schedule this week. Hmm. This wouldn't be a huge deal except for the fact that the Evian Championship is supposed to be a major championship and now this has happened twice in the past five years.
Eight-shot penalties: Ben Crane wound up being disqualified from the Web.com Tour's Albertsons Boise Open for carrying, but not playing, two non-conforming clubs in the first round, but originally, he was basically given an eight-shot penalty. Which is even worse. First off, Crane's pair of four-shot penalties stemmed from him placing a sticker on his club that had nothing to do with how he hit the ball, but how he kept practice stats. Pretty absurd. Second, once you get an eight-stroke penalty in a low-scoring event with a 36-hole cut, it's better to just be DQ'd. Regardless, Crane handled it like a champ, shooting three under for the rest of his round and then talking about it after:
Missile delays: Yes, MISSILE delays. That's what happened during a Japan Golf Tour event on Friday. Thanks a lot, North Korea:
Just to be clear, shortened major championships and eight-shot penalties aren't as bad as missile delays. But it's close.
The PGA Tour season comes to a conclusion at the Tour Championship, AKA the FedEx Cup finale, AKA the one that brings a Christmas bonus Clark Griswold could only dream about. Five players (Jordan Spieth, Justin Thomas, Dustin Johnson, Marc Leishman, and Jon Rahm) control their own destiny at East Lake.
Random tournament fact: Only two of 11 previous FedEx Cup champs have made it back to the following season's Tour Championship. Rory McIlroy became the latest victim of this curse coincidence. On the bright side for those nine guys who struggled the following year, they still got to keep the $10 million.
RANDOM PROP BETS OF THE WEEK
-- There will be an eight-shot penalty at East Lake: 1 MILLION-to-1 odds
-- Anyone in contention for the FedEx Cup will play in less than three-and-a-half hours: 10 MILLION-to-1 odds
-- Outside of a missile delay, the Tour Championship will NOT be shortened to 54 holes: LOCK
Check out this clever kid figuring out a way to better practice his putting in the rain:
Speaking of kids getting creative. . .
VIRAL VIDEO OF THE WEEK (TRICK SHOT DIVISION)
How did they even think of that?
VIRAL VIDEO OF THE WEEK (CRAZY SWING DIVISION)
Courtesy of Steve Wheatcroft, this is one of the most unorthodox -- yet effective -- golf swings we've ever seen:
The fact that she's able to strike quality golf shots with that swing is actually more impressive than that trick shot.
ARCHIVE VIRAL VIDEO OF THE WEEK
Phil Mickelson cutting off Tiger Woods' lengthy intro at the 2002 Tour Championship never gets old:
We'll miss seeing those two at East Lake this week.
THIS WEEK IN TIGER WOODS SIGHTINGS
It wasn't a Woods sighting, but Darren Clarke appeared on the Dubai Eye Sports Tonight Podcast and praised his buddy. Well, praised him for his golf. When it comes to picking up the dinner tab, apparently the 14-time major champ's record isn't as distinguished. Here's the telling exchange:
"He had a very successful savings account," Clarke said with a chuckle. "He didn't quite pay for too many dinners whenever we were out, I have to say. . . . He couldn't even be coerced into paying for dinners."
"He was as tight with the media as he was with his fellow players?" one of the hosts asked.
"I didn't tell you that, but yes," Clarke responded with another laugh.
Ouch. We're sure Woods would be happy to treat Clarke these days. At least, at his own restaurant.
THIS WEEK IN CELEBRITIES PLAYING GOLF
Wayne Gretzky has a clubhead speed of 99 mph. Obviously.
"I was thinking this is what my playing partners go through most of the time. I was just on other end of it. I've been on his side of it a lot." -- Phil Mickelson, no stranger to on-course adventures, on waiting out Sergio Garcia's 20-minute ruling on the final hole of the BMW Championship.
THIS WEEK IN DUSTIN JOHNSON-PAULINA GRETZKY SERGIO GARCIA-ANGELA AKINS PUBLIC DISPLAYS OF AFFECTION
They're still smiling after nearly two months of marriage. Good sign!
Englishman David Skinns left in the middle of the Albertsons Boise Open to be with his wife for the birth of their second child despite the fact he was potentially two rounds away from earning his PGA Tour card for the first time. But those brownie points he earned at home will come in handy down the line, too. . . . Tiger Woods' D.C.-area event has terminated its contract with Congressional and is in jeopardy of not happening because it can't find a sponsor. This has not been a good year for Tiger. . . . The PGA Tour announced it's implementing a new Integrity Program (AKA Gambling program) in 2018. Not surprisingly, this has caused a rise in Phil Mickelson jokes on Twitter. . . . Jason Day replaced longtime caddie Colin Swatton (Swatton is still Day's coach) with a buddy from high school (Luke Reardon) and finished solo fourth place. Lucky Luke. That's going to be a pretty nice check for a first week on the job. . . . And finally, here's a photo I took of five deer in the rough on the 18th hole at Rye Golf Club: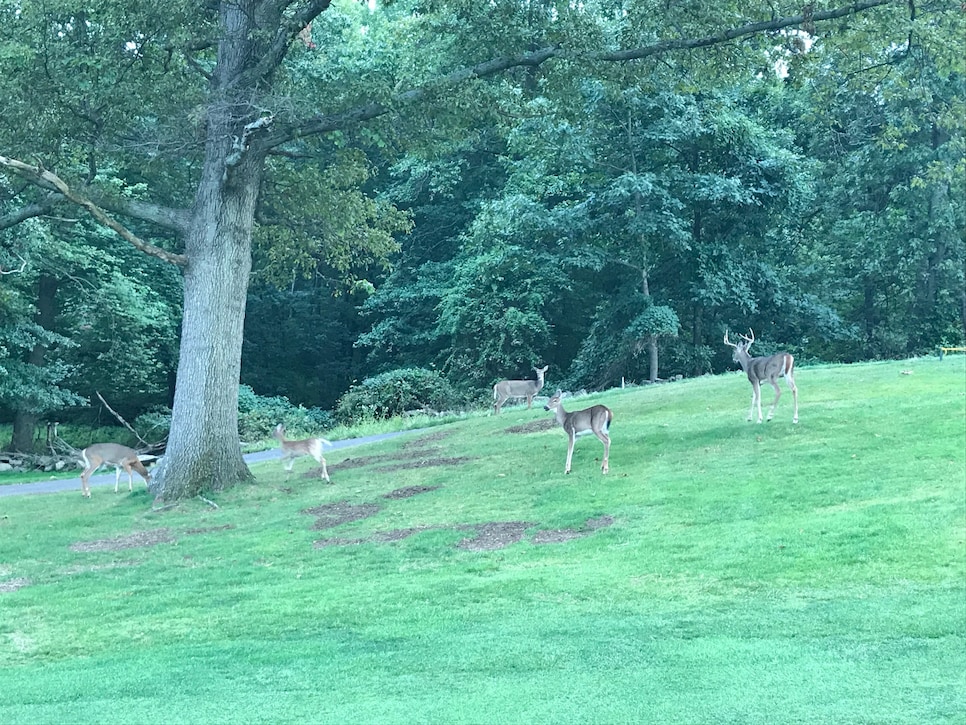 Yes, that was just an elaborate way to tell you that I hit the fairway with my tee shot.
RANDOM QUESTIONS TO PONDER
How fast could you play a round of golf?
Did a specific incident spark the PGA Tour's new gambling policy?
Why couldn't any of my high school friends become PGA Tour stars?