News
Ben Crane handled an EIGHT-stroke penalty better than you would have (UPDATE: Crane gets DQ'd)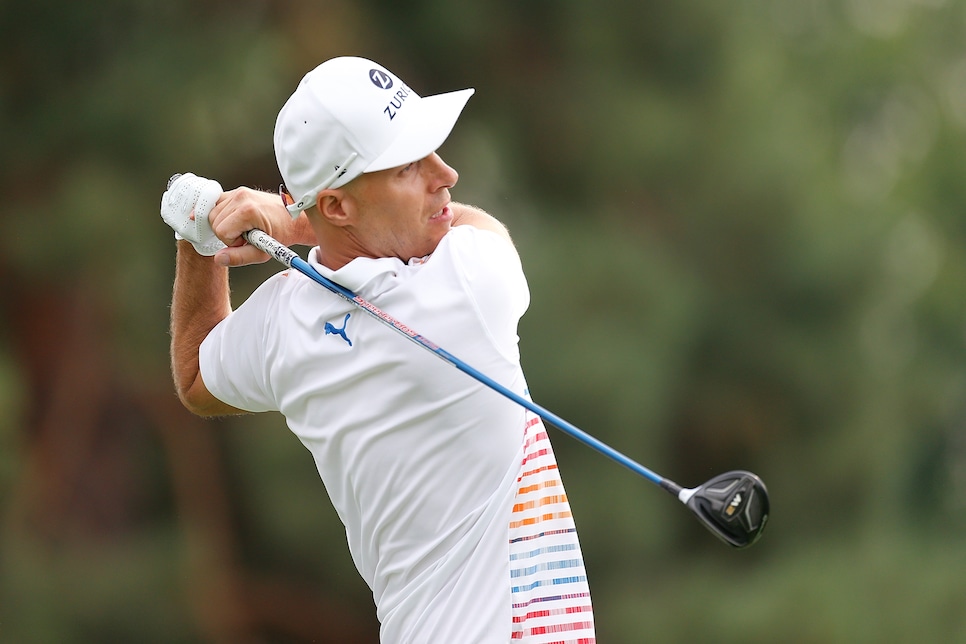 OK, so technically, Ben Crane wasn't assessed an eight-stroke penalty. There's no situation in the Rules of Golf that calls for something that severe, but Crane managed to put himself in a scenario in which he began Thursday's first round of the Albertsons Boise Open with two four-shot penalties on back-to-back holes for what was essentially one breach of golf's guidelines. Talk about a tough start.
You're probably still asking yourself, how is that possible?! We wondered the same thing, but the Web.com Tour's Kevin Prise did a great job explaining. Basically, Crane mistakenly kept training stickers on his driver and 6-iron. The stickers are used to collect data about his shots when he practices, so in addition to this being an unusual penalty, it's also one that could only happen to the modern tour pro.
Since having any attachment on a club -- even one that doesn't affect how it hits the ball -- is a violation of the rules, when Crane reported it after finishing his first hole, he received two two-stroke penalties for carrying (but not using) a non-conforming club. But the situation got even stranger because Crane only reported the decal on his driver at first. It wasn't until a few holes later that he also noticed he'd left one on his 6-iron also and since they were reported at separate times, they went down as separate penalties (You max out at two two-stroke penalties for each infraction) so Crane's opening two pars were turned into quadruple bogeys.
Add it all up, and Crane wound up being assessed eight shots worth of penalties before he teed off on his second hole. Ouch. And yet, Crane, always known for a great sense of humor, took the ruling remarkably well.
"The rules staff did a great job and tried just to make it a four-shot penalty, but the rule stands," the five-time PGA Tour winner said after. "Eight-shot penalty. It's a bummer, but it's the rules."
Here's what Crane tweeted later:
But as well as Crane handled the unusual situation, he played even better. Despite being put behind the eight (stroke) ball, Crane played his final 16 holes in three under par. Here's a clip of his post-round interview:
At second-to-last on the leader board entering the second round, Crane would need a minor miracle to make the cut at the second Web.com Tour Finals. On the bright side, he still has a chance since using either of those clubs while they were non-conforming would have resulted in disqualification. And after paying such a steep price, we're pretty sure he'll never make the same mistake again.
UPDATE: This unusual rules situation got even stranger on Friday morning when Crane was disqualified after telling an official he knew about the second non-conforming club at the time of him reporting that his driver had the training decal on it. Because he knew and didn't declare the club out of play at the time, Crane was disqualified.
"In his defense, I think that when you get assessed an eight-shot penalty, your head is going to be spinning," Web.com Tour Vice President of Rules, Competition and Administration Jim Duncan said on Friday.
We're guessing the head of everyone reading this story is spinning a bit as well.