News
Tiger Woods Updates: Woods finishes with a four-under 68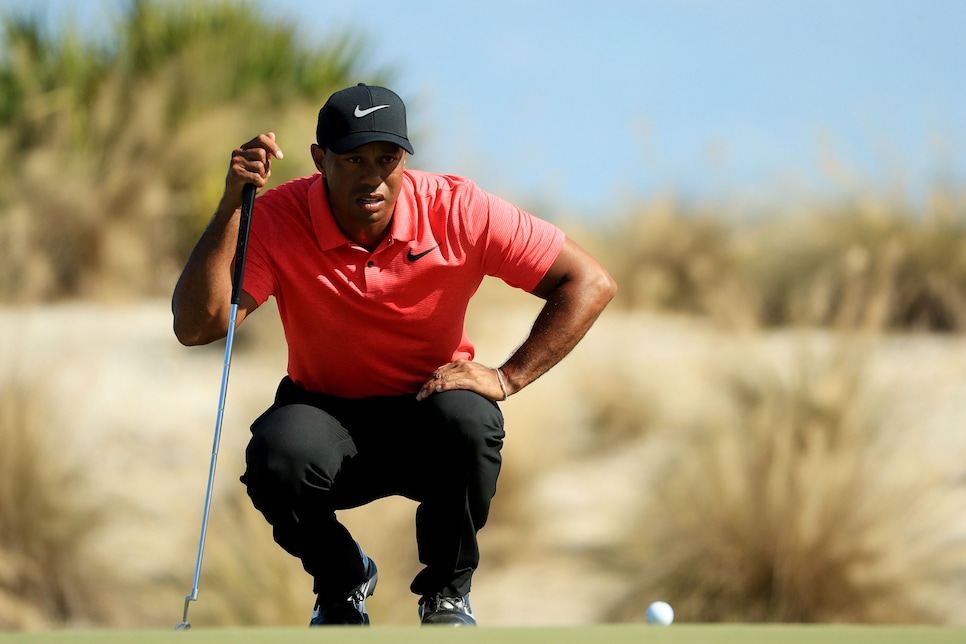 Mike Ehrmann/Getty Images
No more countdowns. No more speculation. Tiger Woods is finally playing for real at the Hero World Challenge after a nearly 10-month layoff. And he's playing pretty darn well after an opening with rounds of 69 and 68 that put him just five shot of Charley Hoffman's lead. Once again, we'll be following every step, swing and (hopefully not) flinch from the 14-time major champ as he plays on Saturday in the Bahamas. Before Tiger tees it up in the final round with Justin Thomas at 11:10 ET, you should check out Matt Rudy's piece on what swing instructors are looking for from Tiger this week, a recap of Woods' second round from our man on the ground, Brian Wacker, and how Vegas quickly reacted to Woods' fantastic front nine on Friday by slashing his Masters odds. Happy watching, everyone! And remember to keep it here for the latest scores, news, and highlights.
3:13 PM: We'll leave you with a few very positive quotes from Tiger on what most of us would qualify as a very successful week, which he knew he would finish.
"I knew I was going to be able to play all four rounds, that wasn't going to be the issue. The issue was how was my scoring going to be, how's my feel, how am I going to get used to the adrenaline in my system for the first time in awhile? That took a little bit of time. I was still scratchy with my irons, I drove it pretty good all week, made some good putts, overall I'm very pleased."
As for his health, Woods seems to be feeling just fine.
"No pain, nope. Maybe pain in my head after some of the shots I hit."
2:32 PM: Tiger went after the birdie putt and it cost him, sliding by four or five feet and leaving a testy par putt, which he also missed. Tough way to finish, but he cards a four-under 68 on the final day and finishes at eight under for the week.
2:27 PM: Another good drive at the 18th, and then a sky high approach shot just over the flag and within 20 feet. Tiger has a chance to roll that in to get back to 10 under and potentially post a 66.
2:20 PM: Woods did well to keep his bunker shot under the hole, but rammed his par putt by and settles for bogey. Back to nine under.
2:14 PM: Tiger makes par at the 16th, then hits his tee shot in a bunker at the par-3 17th. The short game has been solid all day, so we'll see if he can save another par before heading to 18.
1:58 PM: After leaving his approach in a greenside bunker, Woods gets up and down for birdie at the par-5 15th to get to 10 under. For all his struggles on the par 5s this week, Tiger played them in four under on Sunday.
1:48 PM: Tiger's kick-in birdie at the 14th was followed with another piped drive and quick tee grab at the 15th. Aside from the double at the 10th, he's looked very good all day on Sunday.
1:41 PM: Tiger hits his approach at 13 into makeable range, but his putt just slides by. At the 14th, he smokes another driver, just short of the green. Looks like he's in good position to get it back to nine under.
1:26 PM: Tiger's tee shot at the 12th came up woefully short of the green, but he was able to get up and down from a difficult spot and stay at eight under.
1:17 PM: No eagle, but Tiger cleans it up for his fourth birdie of the day to get back to eight under. Strong bounce back as he heads to he par-3 12th.
1:11 PM: That double bogey looks even worse now as Tiger stripes his two iron to get on the green in two at the par-5 11th. Has another very good look at eagle to get back to nine under.
1:06 PM: And just like that, Tiger makes a double bogey at the par-4 10th. Quite the dagger after such a hot start. He falls back to seven under for the tournament, three under for the day.
12:40 PM: Woods cuts his 3 wood into a greenside bunker, but gets his sand shot to within a few feet. He cleans up the putt for another birdie. That's a 31 on the front for Tiger, a hell of a reversal from yesterday's front side. Now nine under for the event.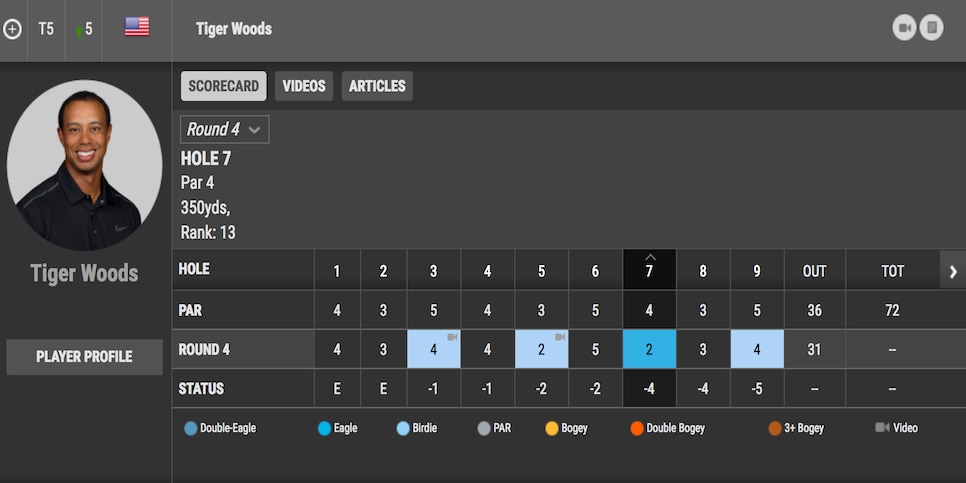 12:35 PM: Tiger makes an uneventful par on the par-3 eighth, one of the hardest holes on the course. Follows it up with another bomb on the par-5 ninth, giving Tiger a chance to get home in two.
12:28 PM: And Tiger drops the hammer for the eagle. Moves to four under thru seven, seven shots better than he was on his first seven holes yesterday.
12:20 PM: On the 336-yard par-4 seventh, Woods sends his shot into the stratosphere, coming down near the green. A big bounce sends it towards the pin, finishing about 30 feet or so from the hole. Arguably his best shot of the week.
12:16 PM: Pulls his putt. After that hot start with the flat stick, was due for a miss. Still two under on the day.
12:12 PM: After laying up, Woods is left with 86 yards. Gets the distance right, albeit with a slight tug left. Still, another chance for bird coming up.
12:04 PM: From here on out, let's just assume, when talking about a Tiger tee shot, it's long and far. Another gigantic drive for Woods at the sixth.
12:02 PM: Give the man credit: For how shaky his putter has looked at times this week, it's cooperating today. Woods drops the birdie putt to go to two under thru five.
11:58 AM: Tiger puts his tee shot on the par-3 fifth to about 25 feet. Nothing special, but should have a nice chance at another par.
11:53 AM: Woods leaves his birdie putt just short, giving Tiger this third par in four holes.
11:49 AM: Solid approach from Tiger, that takes a bit of a bad bounce and leaks to the right side fringe. Still, only 12 feet or so for a birdie on the fourth.
11:46 AM: Another rocket from Woods off the tee. But you already knew that.
11:40 AM: From a brutal spot, Woods chips is to 10 feet, will have that left for his birdie...and he drops it. Woods moves to one under on the day.
11:37 AM: Woods absolutely smokes a 2-iron that just rolls off to the side of the green and down a hill. Still, man went AFTER it, chasing it as it sailed through the sky. If you're looking for moments of hope, this was one of 'em.
11:32 AM: Another bomb from Woods off the tee. Pretty damn impressive distance display this week for a guy who's only been swinging for two months.
11:29 AM: So much for worry: Woods drops the comeback for par. Nice way to get settled in, especially with Rafa Nadal looking on.
11:26 AM: Woods, facing a 50-footer, blows the birdie attempt 10 or so feet by. Not the easiest of holes, but not the way you want to start your round.
11:24 AM: Not a great tee shot from Woods on the par-3 second, misjudging the wind to put the approach miles from the pin. Length putt awaits.
11:23 AM: The real hero today: Justin Thomas. That the young man is playing despite the ominous fate his beloved Alabama Crimson Tide face is true grit.
11:21 AM: Tiger starts walking after it, only for the birdie attempt to lip out. Opening par for Woods.
11:18 AM: Woods puts his approach from 98 yards to 12 feet or so. However, not the straightest of putts coming up.
11:15 AM: Relatively tame conditions today in the Bahamas. Don't be surprised to see a closing 68 from Tiger today.
11:11 AM: Tiger's on the tee, and slightly fading his ball down the pipe. Albany's fairways are monstrous, but for the most part this week, Tiger's driving has been stellar.
11:04 AM: Patrick Reed, at Tiger's event, wearing red-black ensemble on a Sunday. He's the best.
10:56 AM: No matter what happens today, it's good to see Woods back in red. Well, something close to it:
11:45 AM: Woods is set to play again with Justin Thomas in the final day of the Hero World Challenge. Out of the tournament running, it will be interesting to see if Saturday's rough round was an aberration or if Tiger's hitting a wall in terms of getting his proverbial legs underneath him.
4:45 PM Woods was pretty upbeat in his post-round interview with NBC/Golf Channel's Steve Sands. Here's Tiger on his up-and-down day:
"Anything I did right ended up in a bad spot. And everything I did wrong was really bad. It was just one of those days."
His playful bow to the crowd on the 14th hole:
"Well, it's ridiculous it took me 14 holes to make a birdie. At that time, I'd already played four par 5s and nothing happened. But hey, it's one of those days. I fought through it and tomorrow's another fight."
And his overall attitude:
"It feels good. It feels good to be out here fighting again. I've missed the fight and getting out there and competing and fighting against the golf course and the rest of the guys, it's so much fun. I missed doing this."
4:30 PM: Woods nearly makes another birdie on No. 18, lipping out a putt from 20 feet. He taps in for par and a 75. Through three rounds, Woods is four under, 10 shots behind Charley Hoffman, who leads by five. There were plenty of negatives through 11 holes -- most glaringly just two greens hit in regulation -- but he played flawless golf over the past seven holes other than missing a couple makable birdie putts.
4:15 PM: Woods drains a 10-footer for another birdie on the par-3 17th to get back to four under for the tournament.
3:50 PM: Finally! A birdie! Woods rolls in an eight-footer on the par-4 14th after nearly driving the green. After plucking his ball from the hole, Woods doffed his cap and took a bow. Good stuff.
3:25 PM: After another bogey on the 10th, Woods salvages a par on the par-5 11th after having to hack his second shot out of the native brush. He hits the green on the par-3 12th -- his first green in regulation since the fourth hole -- and two-putts for par to remain at five over on the day. Woods is not the only player struggling on a windy day in the Bahamas. Seven other players are currently over par on their rounds, including Henrik Stenson, who is also five over.
2:45 PM: Woods doesn't bogey the par-5 ninth, but a par after another great drive is still disappointing. It caps a frustrating front-nine 40, nine shots worse than his brilliant outgoing 31 on Friday. Woods is currently 3 over for the tournament and in 12th place, 10 shots behind leader Charley Hoffman.
2:30 PM: Woods' first "highlight" of the day is just a par save. After missing the green on the par-3 8th, Woods' difficult pitch barely stayed up on the fringe. But he drained the 15-footer to stay at three over for the tournament.
2:20 PM: Another hole, another bogey for Woods as the wheels have completely fallen off for the 14-time major champ. Adding to the disappointment is that the latest comes on another one of Albany's easiest holes, the drivable par-4 seventh. Woods is now four over for the day and just three under for the tournament, a full 10 shots behind current leader Charley Hoffman.
2:05 PM: Woods' struggles continue as he makes a second straight bogey on a par 5. This time, the big mistake came on his third shot as he blasted a pitching wedge into the wind over the green from 113 yards and failed to get up and down. Woods' playing partner, Hideki Matsuyama, isn't doing much better. His birdie on the sixth only brought him to two over.
1:30 PM: After absolutely piping his drive on the par-5 3rd, Woods hit a 3-wood over the green. Faced with a difficult lie, he comes up short, then hits a nice chip to about three feet. However, for the first time this week, Woods misses a short putt. Two bogeys in the first three holes takes him back to five under and out of the top 10.
1:05 PM: Woods pulls his opening tee shot into the waste area and comes up short with his approach. After a poorly judged pitch, he misses his par putt to drop back to six under.
12:38 PM: Woods will tee off with Hideki Matsuyama in 15 minutes in Saturday's third-to-last pairing, but the Japanese star nearly tumbled down the leader board after Friday's second round. Here's how he avoided a four-shot penalty.
12:10 PM: After making a huge improvement with his short game from Thursday to Friday, it appears Tiger is still showing off a deft touch, according to one person following his practice routine:
Save some of that for the course, Tiger!
11:57 AM: Woods shows up on the practice putting green:
It appears he only packed one belt this week.
--------------------------------Friday---------------------------------
3:33 PM: If you're going by the numbers, Woods' Round 2 was three shots worse than last year's Friday 65. But 2016's tour was in relatively mild conditions. And in truth, the score is secondary this week. Tiger's swing looks far superior than his aborted appearance last winter, and he's pulling off shots that weren't in his stable.
Granted, he still has two days left; as we saw last year, Woods didn't have his legs under him and wore out over the weekend. Nevertheless, as much as one can extrapolate from two days, Tiger earns an early "A" in his return.
3:28 PM: Good line, but he comes up just short and makes his second bogey of the day. That's a four-under 68 to put him four off the lead at seven under. All things considered, incredible first two days from Tiger. He heads to the weekend in contention.
There's also this guy named Jordan Spieth who just made back-to-back birdies to get to nine under. Looks like a pretty good player.
3:24 PM: Distance was there, but Tiger's third shot lands just right of the green. Would imagine he'll take out the putter. Meanwhile, Charley Hoffman dunks one from a greenside bunker at the 17th four his fourth straight birdie to get to 11-under. Tiger is now three of the lead, and in danger of falling four behind.
3:20 PM: The lie was even worse than you could have imagined, and Tiger just hacks it out a little more than 50 yards. He'll need to knock one close to try and save par.
3:17 PM: Oh dear. Tiger's drive at 18 finds the native area that appears to have a ton of footprints from the fans. Could be left with a difficult lie on a long approach shot into the green. Would hate to see him drop a shot just before getting in the clubhouse.
3:15 PM: From the green, Tiger takes a wedge as his path to the hole was blocked by the fringe, and he hits a beauty to tap-in range and saves par. Guy's an artist!
3:07 PM: Tiger's 6-iron finds the green at the par-3 17th, but it's not close to the hole. Going to be a test to get it down in two.
3:03 PM: It was tracking the whole way, but Tiger's birdie effort comes up one revolution short and we all get robbed of another fist pump. Another par to stay at eight under with two holes to play.
3:00 PM: Tiger hits a good one out of the native area that finds the green. Long birdie putt coming up.
2:54 PM: He finally flinches with the driver at the 16th, and it finds the native area. Should be able to still find the green on his second, though.
2:50 PM: Another miss on the birdie putt, and he cleans up the par. Big missed opportunity, but Tiger is in a four-way tie for the lead at eight under.
2:46 PM: Spoke too soon. Woods opts for the putter from just off the green and rams one way past the hole.
2:42 PM: Tiger pulls out a long iron from 229 yards and comes up just a yard short of the green. The way he's chipped today, up and down for birdie looks likely from the spot he's at. If he converts, Tiger will take back the solo lead as Fleetwood makes double bogey at the 10th.
2:35 PM: Tommy Fleetwood, who is leading Woods and co. by one, has run into some major trouble at the 10th. Looking like he could make a big number. Meanwhile, Tiger pipes another drive at the par-5 15th.
2:30 PM: From 84 yards out, Tiger hits one to about 20 feet and misses the putt by a few feet. Another boring par, but pars would be pretty good the rest of the way.
2:26 PM: Tiger takes an iron off the tee and finds the fairway at the 14th. He'll look to knock another wedge close like he did there on Thursday.
2:23 PM: His birdie putt juuust slides by. Onto the short par-4 14th.
2:20 PM: Tiger hits is sand wedge behind the pin, but it doesn't spin like he was quite hoping. Still, good look at birdie to try and grab a share of the lead once again.
2:15 PM: All good, he's back. Stripes another driver in the fairway at the par-4 13th. But he's now trailing, as Hoffman rolls in a birdie at the 11th to get to nine under.
2:11 PM: Tiger Woods is officially human. Three-putt bogey at the 12th drops him to eight under. Still tied for the lead.
2:03 PM: Tiger hits a nice high draw on the green at the par-3 12th. Another hole, another look at birdie.
1:58 PM: Wow. Tiger nearly holes the chip for eagle, and kicks in the birdie putt. He leads Charley Hoffman by one at nine under.
1:54 PM: Woods' approach hits the green, but just rolls a few yards off the back. Will be a tough chip, but if he can get it up and down he'll get to nine under and back in the solo lead.
1:49 PM: Tiger hits his drive and doesn't bother watching it, finding the middle of the fairway again. From here on out, I'll only tell you if his shot doesn't find the short stuff.
1:47 PM: Nice chip from Woods that leaves a tap-in. Woods makes par and heads to the 11th tied for the lead.
1:44 PM: After striping his drive on the 10th, Tiger's approach comes up short and right. Some work to do for par, but nothing too daunting ahead.
1:39 PM: In case you're wondering, Tiger traversed the front nine in 11 putts. That's 11 PUTTS IN NINE HOLES. That's getting it done, son.
1:31 PM: And he drops the eagle. Goes out in 31. Someone call the boys at Augusta and get Tiger's new measurements in.
1:27 PM: With a wood in his hands, Tiger puts it to within 20 feet. Even in the context of today's excitement, extremely impressive. Has an eagle putt to tie for the lead.
1:24 PM: Woods sends his tee shot into another atmosphere on the ninth, carrying 300 yards with a hell of a bounce afterwards. Should easily reach this green in two, giving him a chance to make the turn in four under on the day.
1:20 PM: Well done from Woods off the green, leaving about three feet for his par. Tiger makes it, heading to the ninth two back of Fleetwood and with a clean card through eight.
Now this is how you troll, friends.
1:13 PM: A mis-hit off the tee for Woods at the par-3 eighth, which leaves Tiger with a delicate chip. Has some room to work with, but will put his iffy wedge game to the test.
1:10 PM: Converts the sand save. The rest of the field is doing what they will with the course as well. Conversely, hard for anyone to be scoring better than Woods is at the moment.
1:05 PM: Such a bad lie for Tiger that he has to basically put his ball in a greenside bunker just for a chance to get up and down. From the sand, Woods puts it to four feet. Despite the hole's short length, four is a good score after his tee shot.
1:01 PM: On the short 350-yard par 4, Woods elects to lay up, but hits his worst tee shot of the day, a hook that barely scoots out of the waste area. Not what you want with an iron in your hands.
12:54 PM: Tiger's third shot is miles from the pin, but is able to lag his putt from the fringe to almost-gimme range. While the par 5s gave Woods fits yesterday, nothing wrong with a par on this hole today.
12:44 PM: First small error from Tiger, as his drive finds the rough. However, with the par 5 playing into the wind, he wasn't reaching the green anyway.
12:40 PM: Tiger hits the lip hard on his birdie putt, leaving about three feet for the par. Can't fault a guy for being aggressive.
12:38 PM: Let's check on my friend and colleague Alex Myers, an unapologetic Tiger fan. Sure he's taking this development in stride...
12:35 PM: Another quality shot from Tiger, putting his tee shot at the par-3 fifth to 15 feet. If this doesn't get you going, you and I aren't friends.
12:30 PM: Almost drops his second shot into the pin, making the birdie putt to go to three under thru four. He's now tied for the lead. IT'S ALL HAPPENING.
12:25 PM: Again, it's somewhat hard to get a feel for how well Tiger is driving it, given the large confines of Albany. But no denying the power behind these shots and relative control. Given the importance in today's game on the tee ball, can't understate his performance with the big stick.
12:20 PM: Bad news: Tiger, putting it off the fringe, blows his eagle try eight feet past. Good news: He sinks the comeback. Woods is now two under thru three, and just one shot back of Fleetwood's lead.
12:15 PM: Sign of rust: Tiger busts out a club twirl, only to see his shot on the par-5 third come up short. Hey, even the greats need reps.
12:09 PM: Tiger smokes another drive, carrying it 280 or so on the third hole. Granted, the runways are gigantic at Albany, but these drives aren't skirting the edges.
12:05 PM: A moment after announcers say Tiger had "great pace control" yesterday (FYI, he didn't), Woods blows his birdie putt five feet past. Woods does convert the par attempt and leaves without incident.
12:01 PM: Tiger's tee shot on the par-3 second finds the green. Good distance, but about 25 feet left of the pin.
11:54 AM: Woods converts the bird, pulling him to two back of Tommy Fleetwood. Should be noted that Tiger went low at last year's second round, and we all know how that comeback played out. But now is not the time for reason.
11:50 AM: According to Bones, Tiger's drive traveled 335 yards. That's non-wind aided, folks. Woods sticks his wedge from 97 yards, leaving just a four feet for a birdie.
11:44 AM: AND WE'RE OFF! Tiger hits a nice drive that finds the right center of the fairway, one that draws a "So MONEY!" call from the gallery.
11:35 AM: According to those on the grounds, Tiger's range session has been a stripe show. Tiger Tracker says Woods hit 10 drives, nine of which were perfect fades.
11:22 AM: Tiger's rocking an all-white ensemble today, including his belt. A look that has drawn some laughs from Twitter, but A) Tiger's far from the only player wearing a white belt B) When you've won 14 majors, you can wear whatever you damn well please.
11: 00 AM: On the Golf Channel, Brandel Chamblee just summed up our collective fascination with Woods: "If Shakespeare was here, you'd want to watch him write. In 100 years, Woods will be viewed like Shakespeare." The hype train left the station at 12:05 PM on Thursday afternoon and it's already off the tracks.
10:30 AM: Woods' return is already having a huge impact in the world of fantasy golf. According to daily fantasy site FanDuel, activity was up 22 percent from the RSM Classic, the last official PGA Tour event of 2017, two weeks ago. And of those playing, a large amount backed Big Cat, with 46 percent of participants in the site's biggest contest selecting Tiger. For one day, at least, he was worth the pick.
----------------------------THURSDAY-------------------------------
4:30: Woods sounded more confident in his post-round interview with the media. "It was nice to not only get the first round out of the way," Woods said, "but I'm only three shots out of the lead." Woods added that if not for his sloppy play on the par 5s that he could/should be in first. Easy there, big guy. There's three more rounds, but certainly, there's no reason for him not to like his chances -- even if Vegas isn't fully sold yet:
Hmm. . . 25-to-1 odds, eh?
4:10: Woods spoke with Golf Channel's Todd Lewis following his round. "For me, I thought I did great. . . To go out there and score like I did, that was nice." No arguments here. So was Woods surprised by his performance?
"I didn't know what I could do," Woods said. Well, now we know. And golf fans everywhere are excited to see him do it some more the rest of the week.
4:03: After just missing left with his approach shot on 18, Woods was faced with an awkward little chip. He put it five feet past the hole, but made the comebacker for par to end on a high note.
The final numbers? Five birdies, two bogeys and an opening 69 to match playing partner Justin Thomas, the reigning PGA Tour Player of the Year. Another bright side for Tiger? He only played Albany's five par 5s in one over. Woods currently sits at T-7, three shots behind clubhouse leader Tommy Fleetwood.
3:55: Woods finds the right side of the fairway with his tee shot on Albany's closing par 4. It's a big tee shot considering Woods played the hole in six over (three double bogeys) during last year's tournament.
3:53: Woods' approach on the short par-3 17th is right on line, but comes up short. Faced with a similar chip shot to the two he chunked earlier, Woods decides to belly a wedge instead and rolls it to tap-in range. Three under with one hole to go.
3:45: Woods misses right again off the tee on the par-4 16th, but hits a great approach over the flagstick to 15 feet. Woods misses the birdie putt, but taps in for par to stay at three under. Playing partner Justin Thomas makes a great par save from in front of the green. The two are tied with two holes to play.
3:30: The par-5 15th was a bit of a disaster for Woods, but he survived with just a bogey. Woods hit his first bad drive of the day and had to take an unplayable. He hit a great third shot back to the fairway, but couldn't get up and down from about 100 yards. With the dropped shot, he falls back to three under.
3:07: After laying up off the tee on the short par-4 14, Woods hits a dart to tap-in range from 88 yards. Moments later, he taps in for the birdie to get to four under. We're trying not to get carried away, but this is pretty impressive stuff. . .
2:55: Tiger didn't look happy on his approach shot to the par-4 from the rough, but he was certainly happy after he made the birdie putt to get to three under for the first time. Playing partner Justin Thomas also birdied the hole -- his third birdie in a row -- to get to three under. The pair are currently two shots behind co-leaders Rickie Fowler and Tommy Fleetwood.
2:43: Woods misses right on the par-3 12th, but makes a spiffy up and down from the rough after hitting a pitch shot to about five feet. It was a big improvement from his two earlier chunked shots around the green, but it also wasn't from a tight lie. So far, Woods' chipping has been by far the shakiest part of his game, but he remains a solid two under, three back of current leader Kevin Chappell.
2:33: Woods makes a somewhat disappointing par on the easy par-5 11th, but it could have been worse. After piping his drive, Woods missed the green way right with a 3-iron, badly short-siding himself to a tucked pin. He played a safe third shot to the back of the green, but raced his birdie putt some six feet past the hole. However, Woods converted the putt to stay at two under.
2:15: Woods makes a bounceback birdie on the par-4 10th, converting a 10-footer after a nice approach shot from the fairway.
He's back to two under par on the day.
2:00: Woods makes a sloppy bogey on the par-5 ninth, his first of the day. After hitting two great shots, Woods chunked another chip and then three-putted from the fringe. Still, a one-under 35 is a nice start. And even Graeme McDowell, who was skeptical of Brad Faxon's claim that Woods was outdriving Dustin Johnson on half the holes, seems to have come around.
1:46: After finding the front of the green on the par-3 8th with a 4-iron, Woods drains a 30-footer for his second birdie of the day.
After his second fist pump of the day, he's two under heading to the par-5 ninth.
1:37: After a long delay due to a wild Justin Thomas tee shot, Woods settles for par on the drivable par-4 seventh a day after eagling the hole in the pro-am. Woods found a greenside bunker with his tee shot, but hit a mediocre sand shot to 20 feet and two-putted to stay at one under. Thomas wound up chipping in, but for bogey, to drop to one over.
1:20: It's Bo Jackson's 55th birthday, but even Bo knows today is Tiger Day:
1:15: Woods lips out a 20-footer for birdie on the par-5 sixth hole, but makes the short comebacker to stay at one under. Woods found a bunker off the tee, but gave a club twirl after hitting his second shot back to the fairway on the long hole that was playing even longer into the wind.
1:00: Woods two-putts from about 50 feet on the par-3 fifth hole to stay at one under. And if you think you're the only person paying close attention to Tiger's round, you're not. Check out these tweets from two of the world's most famous athletes:
Yes it is, Steph. Yes it is.
12:48: If you guessed we'd see Tiger's first big fist pump on the fourth hole, you were correct! Woods chunked his third shot on the par 4, but he drained a 20-footer from the fringe to stay at one under.
12:35: Woods hits a nice lag putt to set up a tap-in birdie to get to one under through three holes. It's a pretty good start for someone who hasn't played competitively in 301 days.
12:30: After another bomb off the tee, Woods unleashes a laser 2-iron approach on the par-5 third. "Be good," he says. And it is. Woods' ball settles about 30 feet from the hole to set up an eagle attempt.
12:25: Woods hits it to about 15 feet again on the 180-yard, par-3 second. He also narrowly misses left on his birdie putt again. Two holes. Two stress-free pars. We're not sure if Woods is satisfied, but we'll take it.
12:15: After out-driving playing partner Justin Thomas by a good margin, Woods hits a nice approach to about 15 feet below the hole. Woods' attempt just slides by, but he taps in for a solid opening par. Here's Woods' approach and putt:
12:05: And. . . we're off! Tiger Woods' opening tee shot finds. . . the fairway! (After an incredibly fortunate bounce.)
12:00 p.m.: We are five minutes from Tiger Woods' opening tee shot. Speaking of which, you can bet on whether he'll hit the fairway or not. Here's the line from BookMaker.eu:
Will Tigers Woods hit fairway on first round tee shot on Hole No. 1 of 2017 Hero World Challenge?
And here's the line on what score he'll post on his opening hole:
Tiger Woods score on Hole No. 1 during first round of 2017 Hero World Challenge
Birdie +250 Par -120 Bogey or worse +160
11:22 a.m.: Since there's not much going on until Woods tees off, here's a look at the weather forecast for the rest of the day and week:
A little breezy, but overall, looks pretty good. The Bahamas seems like a decent spot, eh?
11:19 a.m.: Try to stay calm, people, but. . .
Is this a sign of things to come?! Probably not. But it's not a bad sign, either.
11:15 a.m.: So there's still a countdown. . . At least, for a few more minutes. . .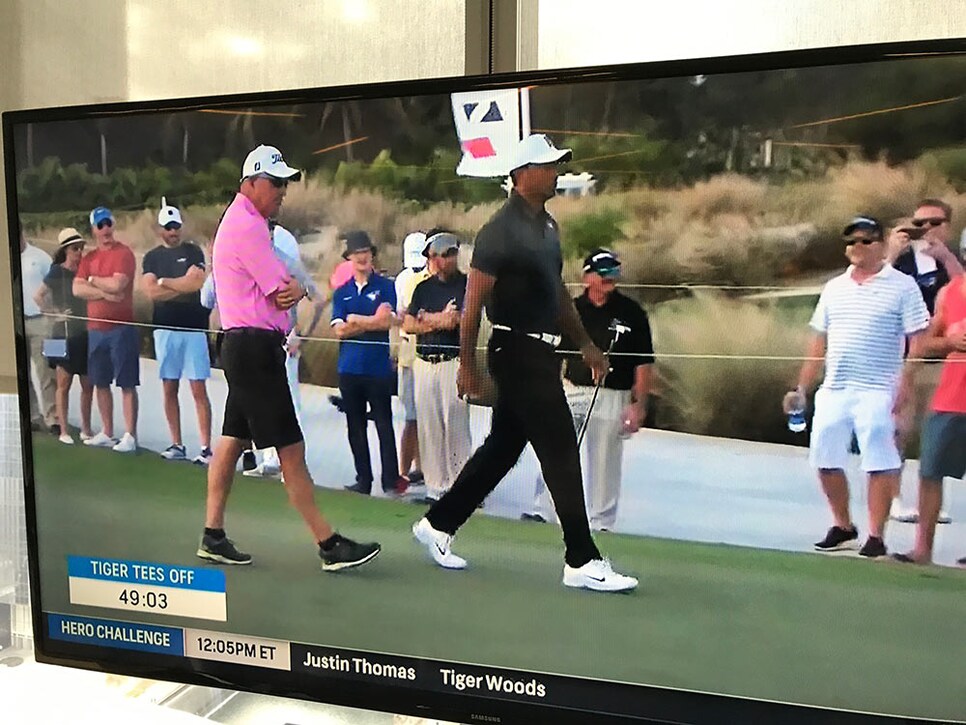 How about Tiger's outfit by the way? Going with the white belt is a pretty bold move. Discuss among yourselves. . .
8:00 a.m.: Looks like Tiger is ready: