The Loop
The Tampa Bay Rays might have created a genius new pitching strategy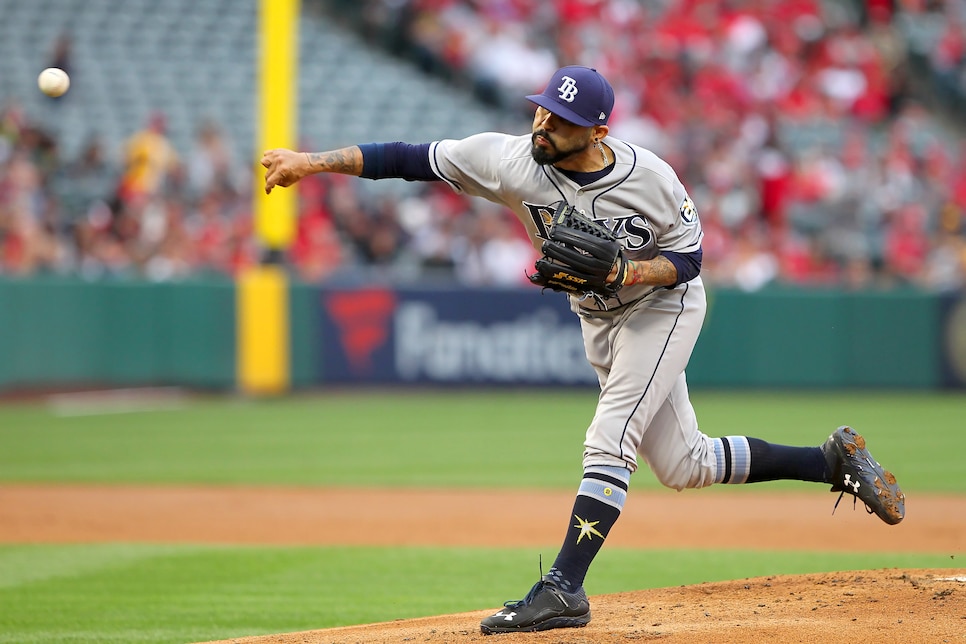 Tampa Bay Rays closer Sergio Romo struck out the side against the Angels in his lone inning of action on Saturday, but what made it unique is that for the first time in his long and successful career, Romo actually started the game. The idea behind the novelty was a strange one, at least by conventional wisdom, but it made a lot of practical sense—the Angels' first three batters are righties, so it gave Romo a match-up advantage, and it protected their starting pitcher, a lefty, from facing those three batters more than twice in the game. Here's how it went:
In short, it worked. Romo did his thing, Yarbrough pitched 6.1 quality innings, and the Rays won 5-3. They tried it again Sunday, and again Romo pitched a scoreless first inning.
This is the kind of thing that seems crazy until you actually do it, and with traditional thought in baseball dying a rapid death with the advent of advanced statistics, we could be looking at the start of a trend that spreads like wildfire. The first inning is just as important as the ninth, and if you can guarantee that your best pitcher will face the best part of the opponent's lineup, it makes perfect sense to turn a great closer into a great opener.
Alexander Zverev is the Prince of Clay, and King Rafa is nervous
If it hadn't rained in Rome at the perfect moment, Alexander Zverev would have won the biggest match of his career. It would not have been his first title, and it would not even have been his first Masters 1000 title—the tier of ATP tournaments just below the grand slam level, boasting incredibly strong fields. The hypothetical victory, over Rafa Nadal, would not even have been his greatest scalp, since he's beaten Roger Federer twice.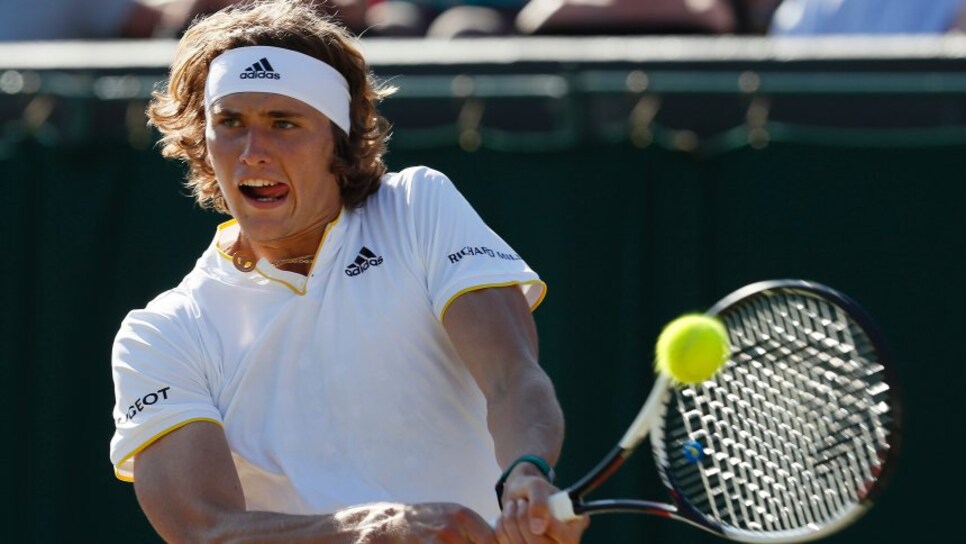 But it would have been his greatest triumph, because it would have meant beating Rafael Nadal on a clay court in a final. We're not used to seeing that. In fact, it hasn't happened since 2011, and he has never lost a clay court final to anyone not named Andy Murray, Novak Djokovic, or Roger Federer...or Horacio Zeballos, once, but that was Rafa's first tournament back in 2013 after missing seven months due to injury. I've gushed plenty about Rafa on clay, and if you want the full paean, go here. For now, I'll just point out that he's improved with age, somehow—the last two years, heading into Roland Garros, he's lost exactly one match in four clay tournaments, both times to Dominic Thiem.
And Zverev had him dead to rights. After losing the first set 1-6, he came back and dealt Rafa an almost unthinkable blow, winning the second 6-1. That just doesn't happen on clay, and Rafa looked appropriately flustered. Then, with a light rain coming down, Zverev broke him again to start the second set. Before long, he was up a break and leading 3-2, and that score didn't tell the story of his dominance—he controlled the match completely, his groundstrokes were overpowering, and Rafa was on the defensive.
That's when the light rain turned into a downpour, the Italian fans donned their plastic rain suits, and the chair umpire sent both players back to the locker room. When they emerged 50 minutes later, the spell had broken. Rafa used every bit of experience and old-man wisdom to regroup, he was helped by a slower court, and Zverev helped him some more by losing all focus and quickly blowing a game point at 40-30 on his serve. Instead of going up 4-2, he lost that game, and the next three, and the King of Clay kept his throne with yet another title. This picture, from the rain delay, basically sums it all up:
But he was so damn close! And in the last two years, Zverev has taken every non-Rafa opportunity to win on clay. Last year, he won at the BMW Open in Germany when Rafa didn't play, and when Thiem stunned Rafa in Rome, who was there to pick up the title? Zverev. This year, it's been a repeat—he won again at the BMW, again with no Rafa, and when Thiem took down the king in Madrid, who was there to defeat Thiem in the final? Zverev. This victory, in Italy, was going to be the crown jewel in an excellent clay court season, and only the weather stymied him. There is no dispute that he is the current Prince of Clay.
Of course, there's one more chance, and it's the grand-daddy: The French Open. To this point in his career, Zverev has disappointed routinely at all the grand slams, not yet reaching a quarterfinal. That's bound to change, and I'd bet anything that he'll reach his first quarter, and first semi, and maybe even his first final in Roland-Garros. The prince is playing terrific tennis, and the king's crown looks very, very heavy.
The "Wait A Second, Who IS This Dude and Why is He So Good Now?" Golfer of the Week: Aaron Wise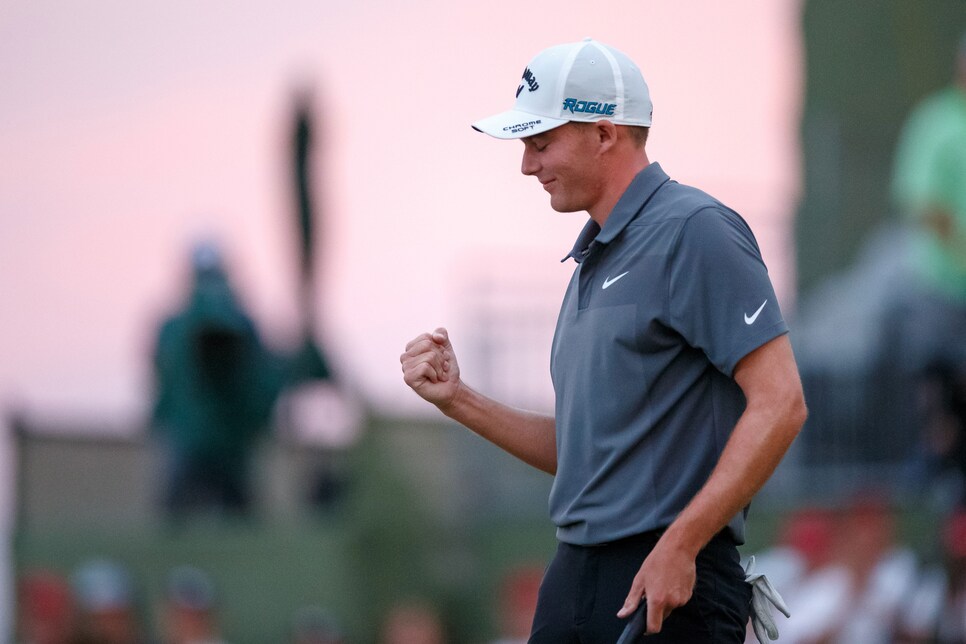 OK...who is 21-year-old Aaron Wise, and why is he coming close to winning a bunch of tournaments out of nowhere? I ask this question a little bit tongue-in-cheek, because I was at the Wells Fargo two weekends ago and forced myself to learn about him. I wrote a story on the eve of his first real chance to win a Tour event, and another about an after he came agonizingly close, showed a ton of heart under pressure, and only finished second because Jason Day is super-human right now.
As I'm writing this, two weeks later, Wise is minutes from starting his final round at the Byron Nelson, where he stands in a tie for first with Marc Leishman at 17-under (he went on to win). It's the first time he's held a share of the lead after 54 holes in his PGA Tour life, which makes this his best chance yet to grab that maiden win. And the reason I'm writing about him today is that I think he's a secret stud-in-waiting. He's gotten no attention from the media, but this dude won an NCAA title with Oregon, both individual and team, he's won on the Web.com and the Canadian Tour, and he doesn't show an ounce of fear. I'm not saying he belongs in the discussion with the other young stars of the game—at least not yet—but I am saying that his days of being anonymous are just about over.
At the very least, please get the dude a Wikipedia page. Please.
Best Weather for a Sporting Event: The Fog and Mud at the Preakness
Rain and mist give horse racing a sort of epic ambience, and I would like to make this permanent. Look how awesome this is:
"In the fogggg at Pimlico!"
I never want to see a horse race without fog again. Make it artificially if you have to. And by the way, fog is the only thing that could also save the NFL.
Happiest Sporting Event of the Week: The Belmont Stakes
You know what the worst and most pointless event of the year is roughly 60% of the time? The third leg of the triple crown. When there's no crown at stake, the Belmont only matters to people who are either inveterate gambling junkies or weird horse people. But if the same thoroughbred wins the Kentucky Derby and Preakness, and the crown is in play? Suddenly, it's a huge deal, everybody watches, and some sports columnist with a smug-looking headshot has at least a fighting chance to be the guy in December who insists that a horse should be sportsman of the year.
For the Belmont, this is one of the good years: Justify took the Derby and Preakness, and could become just the second horse in the last 40 years to win the Crown. So congrats to whoever makes money off the Belmont being popular, which I guess is mostly NBC. Your audience just doubled, and maybe tripled, in size.