News
Aaron Wise's victory preordained? 'The guy just knows how to win'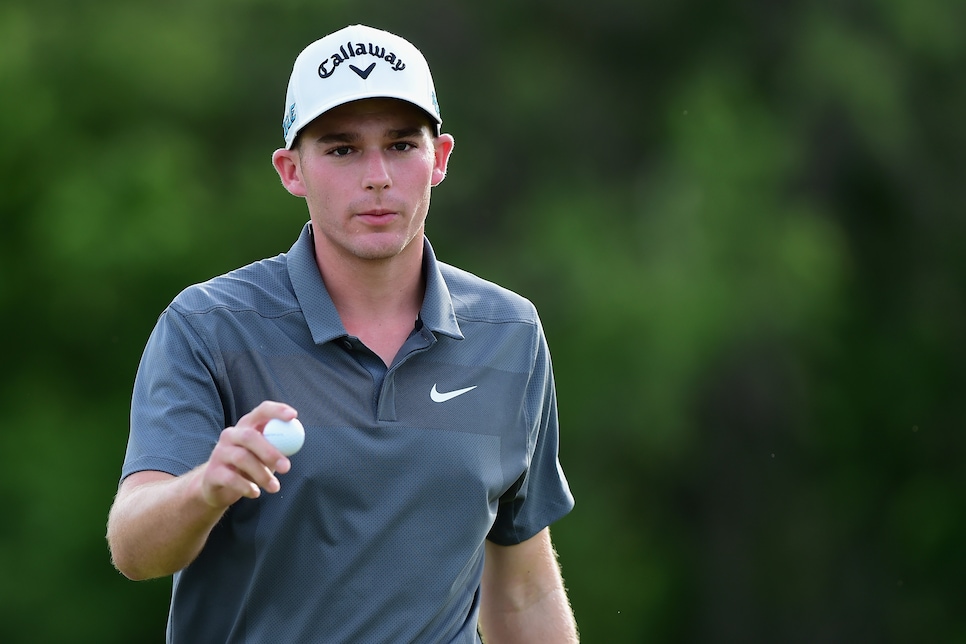 Photo By: Jared C. Tilton
There are those in professional golf for whom a learning curve was largely unnecessary, linear their more likely ascent. Jon Rahm most recently set the course, and Aaron Wise is now following it.
This comes as no surprise to one man who could see Wise's victory in the AT&T Byron Nelson on Sunday coming from more than a mile away, from 1,600 miles away, as it were, even from two years away.
Casey Martin, Wise's college coach at the University of Oregon, was at home in Eugene on Sunday watching the inevitability unfold on television.
"When you look back at the spring of his sophomore year [2016], he was toe to toe with Jon Rahm," Martin said. "They were One-A and One-B. You see what Jon's doing, and if Jon can do it, Aaron can do it, too."
Rahm, two years older than Wise, took the express to No. 2 in the World Ranking and won for the first time on the PGA Tour, the Farmers Insurance Open, at 22.
Wise is only 21, the latest in the youth assault on the tour and a winner in only his 18th event of his rookie season. He entered final-round play at Trinity Forest Golf Club tied with Marc Leishman, shot 65 and won by three only two weeks after tying for second in the Wells Fargo Championship. He should be a senior at Oregon, had he not turned professional in 2016 after winning the NCAA individual title at the end of his sophomore season.
He was guided by an even keel that presents an inscrutable aura, revealing nothing about how his day might be going. Only a small fist-pump following a par-saving putt on the front suggested he had a pulse.
"Aaron has a lot of self belief," Martin said. "He's extremely mature for his age, very poised. He's just very emotionally stable on the golf course. Nothing phases him, good or bad. It's a good trait to have to be successful.
"There are so many ups and downs in golf, but he's always in control of his emotions. He looks like he's doing what he loves to do. He doesn't freak out. And obviously, he's got the shots."
He's had them for a while. Wise won five times at Oregon, including the NCAA individual title in 2016. After he turned pro, he won on the Mackenzie Tour-Canada that year and the Web.com Tour the next.
"He was special the day he showed up on campus," Martin said. "The guy just knows how to win."
Even a four-hour weather delay was unable to unnerve him. Wise played a bogey-free round. He birdied six of his first 10 holes to open a four-stroke lead, then unflappably parred his way to the trophy presentation for a 65.
"I felt like when it rained today I was really going to tear the course up just because it allowed me to hit driver, which is my strength," he said. "I hit the ball incredible all week long and it got better as the week went on. That was fun for me to see. It continued today. I absolutely striped it. Hit it incredible.
"I had a talk with my putter there on three a little bit, because I missed a couple chances early. 'You need to cooperate for me.' It got red hot in the middle of that round and kind of shot me off to a huge lead."
Liftoff, would be a more accurate description, for a man headed toward a possible future among the stars.