News
Aaron Wise, 21, a former NCAA champion, has first real chance to win on the PGA Tour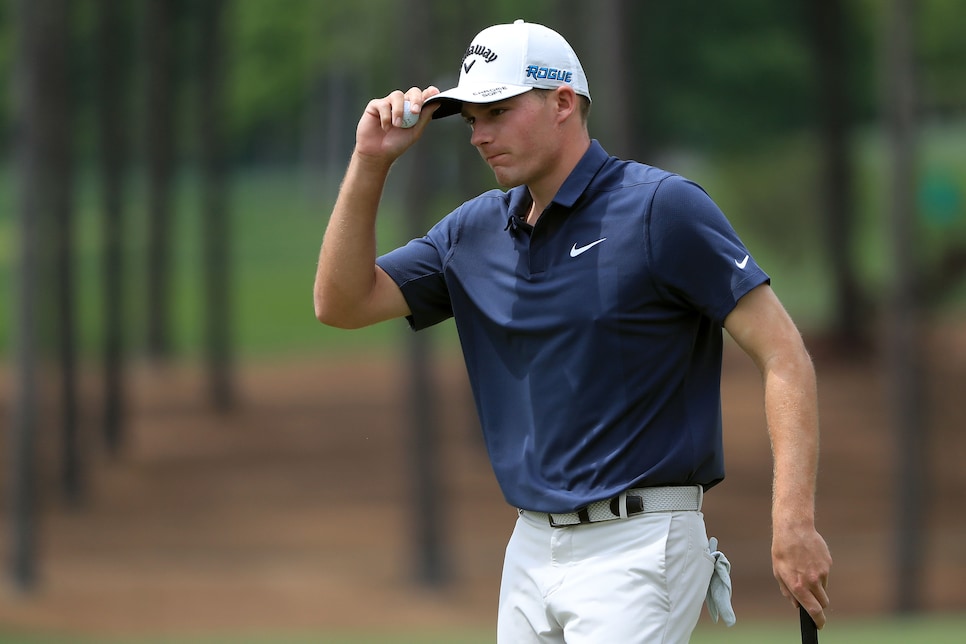 CHARLOTTE, N.C. — Contemplating his third shot on the 18th hole Saturday at the Wells Fargo Championship, Aaron Wise didn't know he was just moments from living a nightmare. Stuck on the far bank of the nameless creek surrounding the hole at Quail Hollow Club, with very little green to work with across the water, his practice swings indicated he was planning a very ambitious mini-flop in an attempt to save par and remain in second place. The indications were correct, but the results were disastrous—his club actually passed beneath the ball, striking a few blades of grass but not much else. The ball barely moved, and the moans from the gallery were tempered by an unspoken question: Was that a practice swing?
It was not. Wise overcompensated on his second attempt, and the ball rolled to the intermediate rough 40 feet past the hole. Then, as if the hole hadn't been bizarre enough to that point, he stepped up and buried his chip for a weird, improbable bogey. The miracle save kept him at seven under, in third place, and within distance of tournament leader Jason Day heading into Sunday.
Tomorrow will mark Wise's first legitimate shot to win on the PGA Tour, but winning itself is not a foreign concept. His most famous victory to date came at the 2016 NCAA Championship, where he took the individual crown and helped Oregon win the team event days later. He's also a Pacific Amateur winner (2015), and after turning pro following his sophomore season, he won the "Oil Country Championship" on Canada's Mackenzie Tour, which helped him reach the Web.com Tour, where he won the Air Capital Classic (the trophy is a giant propeller) to pave his way to the PGA Tour. There were some questions about the wisdom of leaving school so early—as many questions as there can be for a player without much of a profile—but he is content with his trajectory so far.
"It's pretty crazy to see myself where I am now," he said on Saturday. "I was playing high school golf four years ago. It's pretty insane. It's a ton to handle at my age, but I think I've done a great job. I'm learning."
Part of that calm comes from Phil Mickelson, who advised him in a practice round early in his PGA Tour career to remain patient, to understand that a life in golf is long (ideally), and that over-emphasizing the importance of each week can only lead to stress and failure.
"That's helped me through this year," he said, looking back on Phil's advice, "because even at the beginning of this year I didn't do great. I haven't been playing incredible."
The other part of his calm comes from his own life, which is marked by unusual volatility. Wise's parents, both South African, moved to America from Cape Town when he was 3, and though he's quick to clarify that the family didn't endure outright depravation—his parents worked in financial services—they also couldn't afford to fly their son around the country playing junior golf events. His own game fluctuated, and at least one of the down times in his childhood was bad enough to convince him to quit the sport and take up tennis.
That cold-turkey departure didn't last (nor did his desire to be a defense attorney after watching the show "Suits") and his career to date has been a steady climb upward. With a decent round Sunday, the Wells Fargo will mark his best tournament yet, and perhaps his first top ten. Whether he has the necessary experience to actually win, with juggernauts like Jason Day to contend with, remains to be seen.
"It's a golf tournament at the end of the day and I've won many, many, many of those throughout my career," he said. "I've just got to think of it like that. Try to tune out some of the other stuff that goes on out here and just play it like it's a golf tournament and I'm trying to win it."
Two late bogeys turned his third round from solid to just decent, but the dramatic chip on the last hole kept him in the thick of contention. Tomorrow may be another stepping stone for Wise, or it might be something more spectacular. In either case, he remains confident of the larger picture that Phil outlined for him two years ago:
"My time's going to come eventually."