News
Aaron Wise's courageous near-miss at the Wells Fargo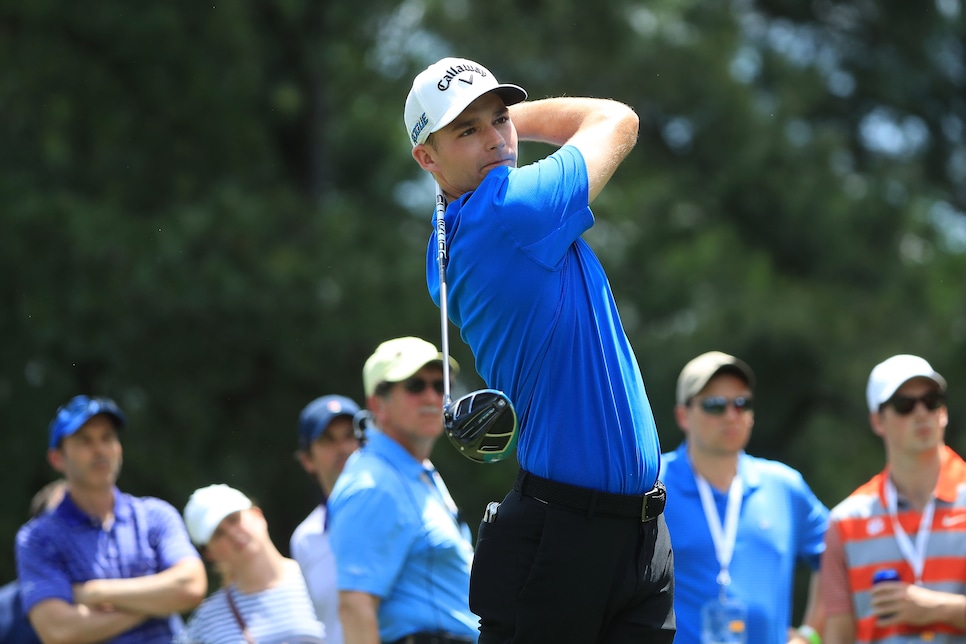 CHARLOTTE, N.C. — There is a moment in every surprise win when a slight shift of fortune expands the realm of the possible, and a competitive round of golf changes from something agonizingly nervous into something of such bracing importance that it must happen outside the body. That moment for Aaron Wise came on the 16th tee on Sunday at Quail Hollow Club. After a bogey on the second hole, he had played steady, occasionally excellent golf—accomplishment enough for a rookie with his first real chance to win on the PGA Tour. But a group behind, Jason Day had stayed ahead by two to three strokes all around, and it never seemed like Wise had issued a real threat.
That changed on 16. At 10 under, Wise stood in a virtual tie with Day, who was in the water on 14 at 11 under. Whether Wise knew it or not, a victory had become tangible for the first time. And win or lose, what happened over the next three holes would echo into his future. The former NCAA champion had experienced trial by fire before, but not quite like this—not with so much at stake.
The 21-year-old Wise is a very slight figure, with a face that angles downward (the features a combination of Matt Every and Martin Kaymer), and he holds his tension in his shoulders, which perpetually rise to his ears. He's quick to smile, quick to laugh, but there's a seriousness behind the expression. In other words, unreadable—nothing about him, not even the eyes, gave away how he'd fare in the biggest moments of his life.
His tee shot on the par-4 16, the first of Quail Hollow's final three holes dubbed "The Green Mile," flew down the long slope and came to rest near the lake running along the left side of the fairway. Waiting for Paul Casey to play, Wise stood beneath a lonely white oak, whose bare trunk rose forty feet to the crown before branching out in bright green leaves—a fiery green torch framed against white clouds, while the whiter planes flying in and out of Charlotte Douglas International split the silence with their distant drone. Before he hit his approach, the scoreboard across the water confirmed that Day had indeed bogeyed the 14th. For the the first time in his life, Wise held a share of a PGA Tour lead on Sunday.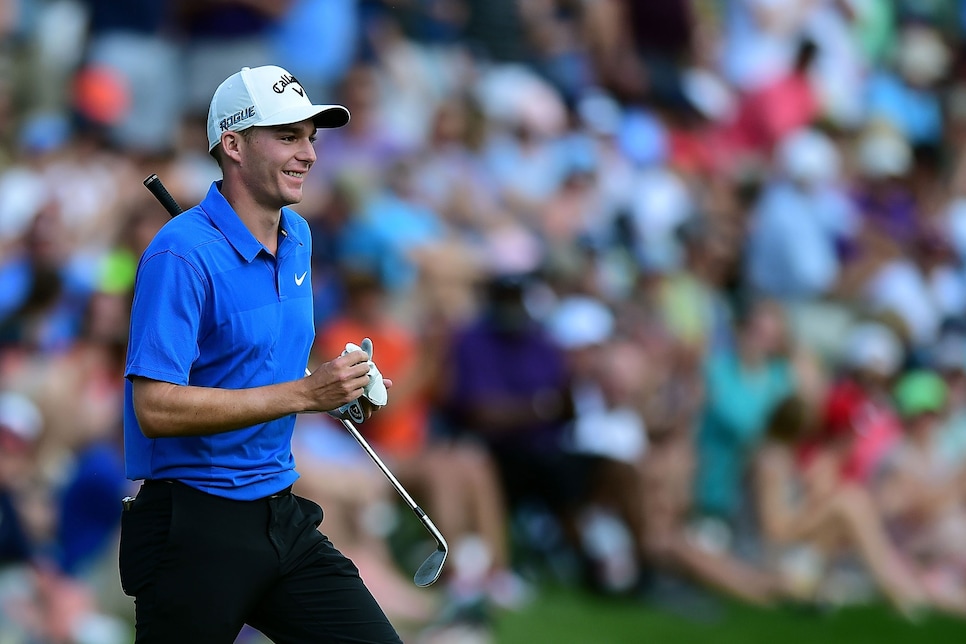 Jared C. Tilton/Getty Images
A solid approach left him a 19-foot downhill putt, but his birdie putt coasted four feet past, leaving him a more difficult par attempt than he would have wished. In his bright blue shirt and black pants, Wise cut a solitary figure standing against the lake as Casey lined up his own attempt, and somewhere behind him, invisible beyond a rising bank, Jason Day was playing the par-5 15th—his last great shot at a birdie, it seemed, and a hole Wise would have to survive.
Wise made his par putt, exhaled with relief, and muttered something about a "gut feeling" as he walked with his caddie to the 17th tee, slapping five with every kid along the ropes. You got the sense that Wise was obliging not out of a sense of duty, but because the feeling was new to him and he genuinely enjoyed the attention—a contrast with Tiger Woods, who spent his Saturday round avoiding the desperate hands as though they each contained a fatal poison.
He lined up his tee shot on the 223-yard 17th, standing between the miniature red Wells Fargo stage coaches that CBS seemed compelled to display at least 15 times per hour. Wise had spent his night watching basketball—after a decaf coffee from Dunkin' Donuts and some Chipotle—and he stayed up long enough to watch LeBron James hit his running bankshot buzzer beater against Toronto. The moment inspired him, and his caddie Brian Dilley invoked the Cleveland superstar as they made the turn—"it's crunch time, like the second half with LeBron."
The tee shot came up a little short and a little right, settling off the green, and Wise was talkative with the laconic Dilley as they strode along the water to the green. The fans, seeing his relative anonymity as an invitation to shout at him, made their diverse feelings known:
"I'll be rooting for you next year, but it's not your week!"
And from a man with one of those obnoxious voices that pierces just not space, but also, I suspect, time:
"Aaron, this is the shot of your life … but don't worry about it!"
Wise had a delicate touch shot, and before he took it, the electronic leaderboard confirmed that Day had not made birdie on 15. They were on level footing. Wise's chip caught the downslope but checked quickly, and the slow greens hindered the ball's progress. It stopped six feet, seven inches from the hole, and worse, above it. Wise straddled his line, duck-walked three steps forward, straddled it again, backed up, placed his ball, backed up some more, crouched, approached the ball, exhaled, and stroked it in the hole.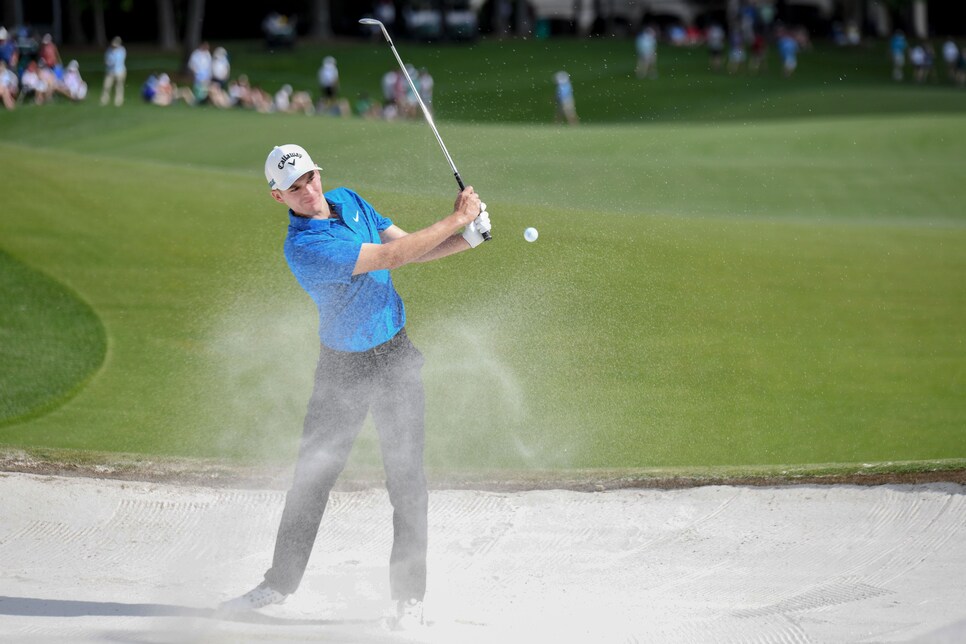 On the way to the 18th tee, he touched every hand that offered itself, adults and children alike this time, and he even went back for one he'd missed in an act that bordered on superstitious. Looking out to the fairway, and to the stadium theater beyond, the world seemed to narrow by gradual degrees, and as it did the density of the fans increased. It was an intimidating panorama for what it said about the future, and maybe that's what made Wise's tee shot veer just slightly to the right, where it came to rest on a bed of pine straw just off the fairway, beneath a pine and a cluster of live oaks. Wise let out a "damn," and bent down to pick up his tee just to throw it down again.
Dilley moved the crowd back by degrees, and when they'd made their decision, he confirmed some specific bit of info with his player: "You're going to overdo it, right buddy?"
"Got your numbers all set?"
And then he exited stage left, and Wise stood over the biggest shot of his life. The low, driving ball clipped one of the live oaks—a small storm of the thin leaves cascaded down in its wake—but it still covered the necessary distance, ending up hole high and off the green, but safe from the water.
Jared C. Tilton/Getty Images
Then, as he left the woods and moved up the fairway, a pair of leader boards gave him the news: Day had made birdie on 16, and now led by one.
Wise now faced an enormously difficult up-and-down, the hole 35 yards away and too close to the water for comfort, and even with a par, he'd need help from Day to make a playoff. Opening his clubface, Wise struck what might have been the most brilliant shot of his round, judging the downslope correct and stopping the ball seven feet past the hole—leaving a final uphill putt for par. Even from behind, it was easy to tell from how the shape of Wise's face changed that he was smiling.
But golf frequently denies us the pleasure of clean drama, and just before Wise took his critical putt, on stage in front of thousands, the video boards above the 10-deep gallery showed Jason Day's smiling face. His tee shot on 17 hit the pin and stopped three feet away—a distance from which he makes the putt roughly 180 percent of the time.
Wise didn't know, though, and with the kind of courage that's rare to rookies in his situation, he buried his third straight testy par putt to finish at 10 under. Day went on to par the 18th for his latest win—the human yo-yo on the rise—but if it's true that Wise's first performance in the cauldron of PGA Tour contention will echo into his future, then the resonance will be fine.