News
Tiger Woods prospers in isolation at Quail Hollow, yet still searching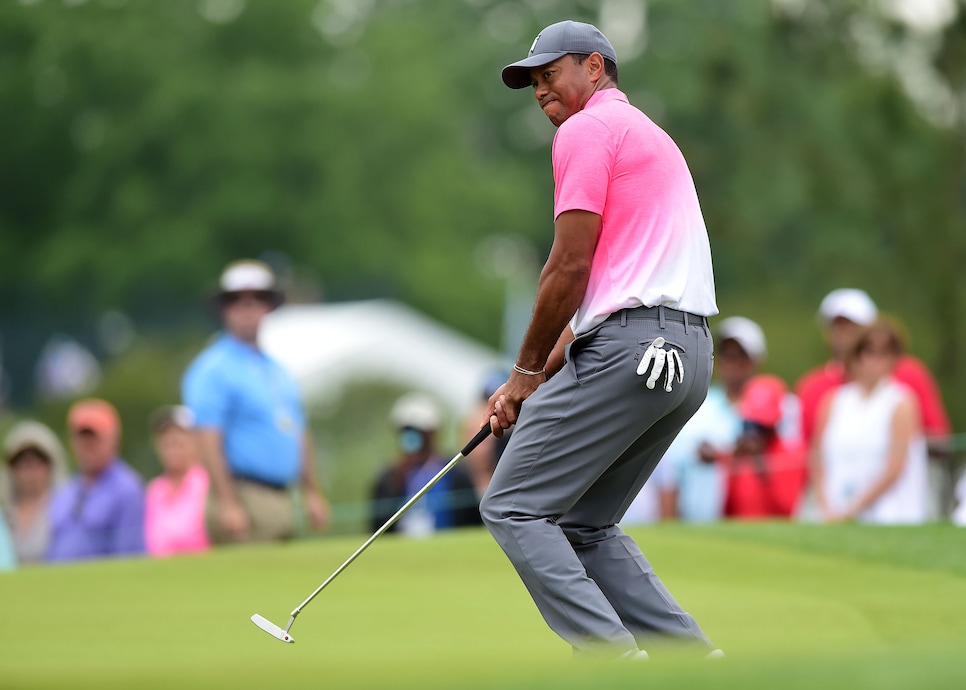 Photo By: Jared C. Tilton
CHARLOTTE, N. C. — Each time Tiger Woods walks even a single hole on the PGA Tour, a small tragedy plays out—thousands of people bear active witness, hoping for even the slightest fleeting bond with the legend in their midst, and Tiger stonewalls them to preserve whatever uncompromised remnants of himself he wishes to keep in isolation at this late stage. They cry out, they reach, they raise their phones to commemorate the mundane, and he strides on—middle of the fairway, middle of the ropeway, seen but not touched. Once in a while he may nod, but it's only a reminder of the connection they're not making. So they shout, and the things they shout are nonsense or worse:
If you're walking along the ropes you'll hear these exclamations echoed as you go.
"Tiger tracker!" a woman will repeat, astonished, as if she's just translated the Rosetta Stone of pure comedy.
Imagine yourself in the aisle of a grocery store, and all eyes are on you. You have to finish out your list, check out, and go home, and so you have to ignore them. But this feigned ignorance arouses something in them, and so they begin to scream your name. "Tim! Tim!" Some of them ask for high fives. Some of them don't even ask, and reach out to slap your shoulder as you walk past. If you're annoyed, too bad—reacting will make you look bad, not them.
That's a taste, and it's what we saw over the back nine Saturday at the Wells Fargo Championship. And it's what we've seen before, and it's what we'll see again as long as he continues to play.
The one real possibility of connection—the only time he drops the remoteness and makes himself accessible—is when things are going well on the course. Particularly on the greens. The long putt that falls is the moment of union between man and mob—when the roars engulf him, and he feeds the fire with a fist pump. That's when we're joined at last with Tiger, however briefly.
So it seems cruel for both parties when the moment flounders. On the 18th hole, after a strong round, he left himself a 27-footer for birdie. He had left putts on 11, 14 and 17 short, and he watched Brooks Koepka's own attempt "hit a wall" a moment before, so he sent a screamer at the hole. It missed, to groans, but gave him a long enough comeback par (eight feet) that it opened the chance for another act of player-crowd symbiosis. Par roars are the exception, but Tiger is the exception, too. The marshall held up his hands, yelled out "Hold please, quiet please!," and only the birds defied him. But Tiger missed, to more groans, and for the thousands packed into the stadium seats, surrounding the green and the murmuring creek, the sensation was of a collective, aborted sneeze.
Tiger left, ignored the screams of the children lining the route to the scoring tent—he's John Lennon for the children of recreational golfers—and made his media rounds. If you managed to get a glimpse of his face, anytime from the 16th hole on, you would see a weary quality: heavy eyes, and the slightest forward tilt of the shoulders that spoke to a fatigue more mental than physical, but definitely both.
There's good news, too. Despite the misadventure on 18, Tiger putted well for the first time all week—he made some of the mid-range putts that he couldn't buy on Thursday and Friday, or really all year. A 13-footer on 5, an eight-footer on 7, another on 8, another on 15. His ball-striking remained good enough to produce birdies without any great green feats—an iron stuck to five feet on 13, a drive to the green on the par-4 14th. As he noted afterward, a few more made putts from the 10- to 15-foot range, and his Saturday round alone could have been good enough to put him near the top of the leader board. Instead the slow greens fooled him enough to keep the really great round at bay. He sits in 33rd, too far off for anything but a miracle, but gradually inching his way back to the day when he'll win again.
But that's only if you believe he'll recover the putting stroke. Post-round, Tiger sounded iffy on the subject:
"We were kind of trying to figure it out, how could I hit the putts hard enough. I changed my stroke a little bit and went a little more old school, how I used to putt, a little more handsy, a little more wristy, toe moving a lot more, and it worked."
Later, he was more succinct: "It's not fun. Trust me, it's not fun."
Of course, Tiger is in the phase of his career when he's not allowing himself much optimism, even after an objectively strong round like his Saturday 68. It's almost like an act of pre-emptive defense, keeping the hope at bay until the time comes when he can unleash the primal roar again. Until then, it's the near-miss and the lost sneeze—the distant hero and his dormant masses, waiting to be joined again.