The Loop
Rafael Nadal is better on clay than any athlete has been on anything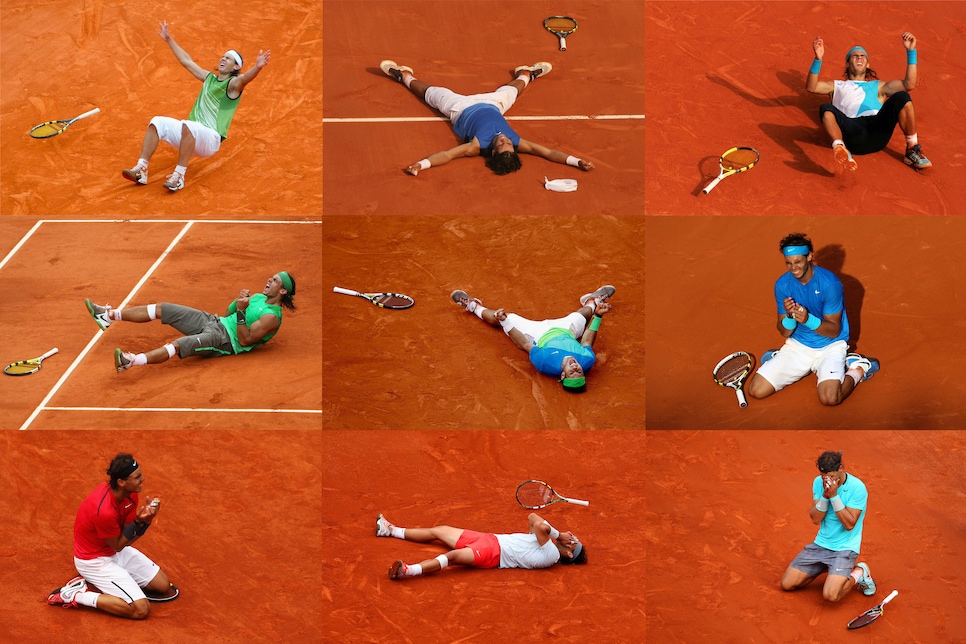 Rafa Nadal is the only man to have won the same tennis title 11 different times in his career. He is the only man to have won a single tennis title 10 times in his career. He is the only man to have won a Grand Slam tournament ten times in his career. He is the only man who is so insanely good at tournaments like these that for the past two years, he has actually scared the greatest tennis player of all time away from said events.
What does all of this have in common? Clay. Sweet, red clay. As of Sunday, Rafa has now won 11 Monte Carlo titles, and he'll be going for no. 11 in both Barcelona and Roland-Garros (the Grand Slam) in the next two months. And just for kicks, he'll also be going for no. 8 at the Italian Open, and no. 6 in Madrid. Brad Gilbert, one of the smartest men in tennis, gives him a 40% chance of winning them all. Digest that—when given the choice between one man and the rest of the tennis world, over five tournaments, Gilbert thinks that the one man is at nearly even odds.
Want some more superlatives? The dude has a career 91.9 % winning rate on clay (396-35). He's won one out of every five French Opens ever contested. He's 79-2 at the French Open. He's 84-17 career against top-ten players on clay.
I'm just going to stop, because the list gets too ridiculous. The point is, Nadal is more dominant on clay courts than any modern athlete has been on anything, ever. That sounds emphatic, but there's actually no debate—you can't even begin to imagine anyone who has done that well for that length of time. He only dropped 21 games in five matches en route to winning at Monte Carlo (that's an average of 6-2 every set), and at age 31, he almost seems better than ever before. Roger Federer won't even bother playing on clay, and part of that is to control his schedule and avoid injuries, but a major part is also that he knows it's hopeless—Rafa is king on clay, and there's no room for second-best.
These are the most wide-open NBA playoffs in years—and maybe decades
Before I get to my historical argument, here's the one-sentence summary of why every team in the NBA playoffs is going to lose, starting out west:
Houston: Harden super unreliable in playoffs, no championship experience, already showing weakness vs. T-Wolves.
Warriors: Curry still out, won't be in game shape when he returns, lost seasons series to Rockets.
Blazers: Already eliminated by Pelicans.
Thunder: Sum lesser than the parts, already down 2-1 to the Jazz.
Jazz: Steady, with one great player, but no match for the firepower of Warriors/Rockets.
Pelicans: I mean, they're the 6-seed, it can't happen no matter how good Davis is...right?
Spurs: As of this writing, down 3-0 to the Warriors, likely bound for a sweep.
T-Wolves: They're the T-Wolves.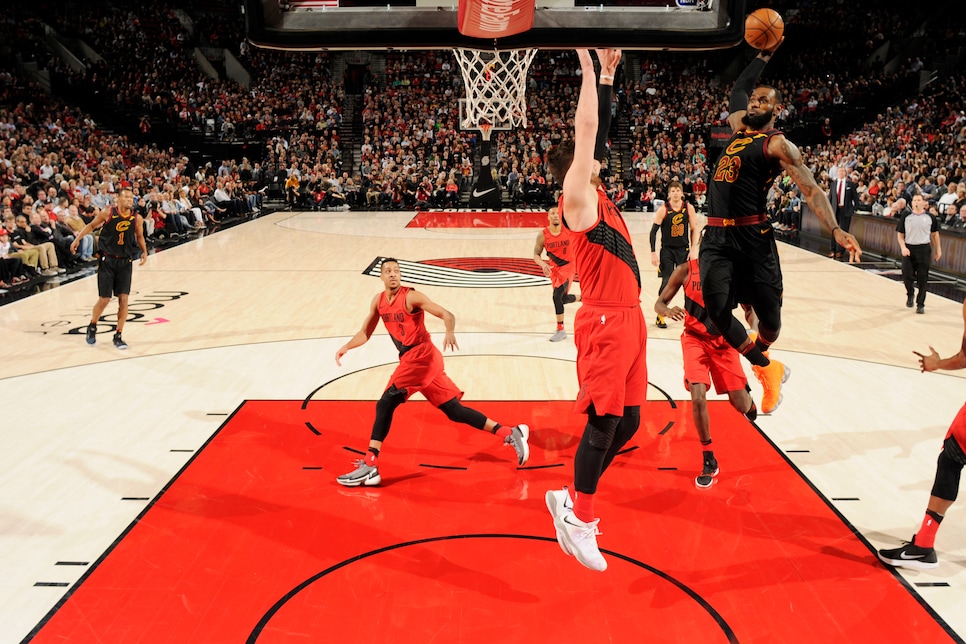 Raptors: Legendary playoff chokers, even their own fans don't believe in them.
Celtics: Might not get past the Bucks (2-2 currently), dead men walking with Kyrie out.
Sixers: Embiid is the walking wounded, can't win a title when your best guard can't shoot.
Cavs: Even LeBron can't re-discover the lost mojo, may not make it past the Pacers.
Pacers: Still too young, too inexperienced, even if they upset the Cavs.
Heat: Already down 3-1 to Sixers, ran into hottest team in the league.
Bucks: One genius (Giannis) does not a title team make, supporting cast isn't there.
Wizards: Destined to fall valiantly to Toronto in seven games, breaking basketblogger hearts.
So that's the negative way to look at it. Obviously I am wrong about one of those teams, but the larger point is that this year's playoffs lack even one true juggernaut. Last year? You knew it was probably going to be Golden State and Cleveland in the finals, and a stretch you could imagine the other 1- and 2-seeds, Boston and San Antonio, making it. That's the norm—there's very rarely much drama about the potential title teams in the NBA, both because there's a long season in which a clear pecking order is established, and because professional basketball is the sport that's least prone to volatility in the postseason. Fun fact: Only two teams lower than a 3-seed have ever won a title, and both—the 1969 Bill Russell-led Celtics (4-seed) and the 1995 Houston Rockets (6-seed)—were defending champs. Clearly, this is a sport for favorites.
Which is what makes the 2018 playoffs so unique and interesting. Not only can we form a negative argument for each team; on the positive side, it's possible to imagine so many of them reaching the finals.
Humor me: With the way the Jazz are playing, would anyone be shocked if they beat Houston in the next round as Harden chucks his way to a couple 3-18 nights? Would it be a big surprise if a young, hungry Pacers team, fresh off beating the Cavs, took down the Raptors? Or, conversely, if the Cavs come back and advance, would Toronto even be favored in that eastern semifinal? What about the Pelicans riding one of basketball's best players to a stunning sweep over 3-seed Portland? (Checks notes.) Wait, that already happened. What about the Pelicans over the Warriors in round two? It's so possible, especially in the absence of Curry, which means there's at least a chance of a Jazz-Pelicans conference finals. Meanwhile, Kyrie's injury probably dooms the Celtics, which opens things up for the Sixers to waltz into the eastern conference finals.
Point being, there's a slew of teams with a legitimate shot at the finals, and that is not normal. I asked two of my NBA-crazy friends (hi Brandon, hi Craig!), both of whom know more about the league than I ever will, if they could pinpoint the last year when things were so wide open. After some thought, they independently arrived at 2011, LeBron's first year in Miami. That year, the Bulls, Thunder, Lakers and Spurs all had a chance to make the finals, which saw the Mavericks beat the Heat. That's six teams with a real chance at the title, and a very good, probably definitive answer to my question.
But just for fun, let's compare the two—this year, the title hopefuls are the Rockets, Warriors, Raptors, Cavs, and Sixers, and it's a very good debate as to whether there's a sixth team in there. The Jazz or Pelicans in the west? The Pacers or Celtics-minus-Kyrie in the east? At a stretch, maybe, but none quite resound with the same legitimacy as the six contenders from 2011. In that sense, 2018 falls short. But the fact that the question can even be asked might give 2018 a different kind of edge over 2011—maybe there's one fewer obvious title contender, but there are way more spoilers. And if one of those spoilers actually goes the distance, hindsight will tell us that we arguably just saw the most unpredictable season ever.
It's only going to get more exciting. And now that I've committed this jinx into words, I look forward to Steph Curry's return, and the Warriors impending 16-0 run to the most dominant and lopsided NBA championship in history.
The "If Dunks Were Titles, He'd Be Drowning in Rings" player of the week: Giannis, of course
Every game, there's something like this. EVERY. GAME.
I mean, look what the guy did to Aron Baynes on Friday:
Hell, look at what he's done to Baynes all season:
THAT'S AN INNOCENT MAN, GIANNIS.