Betting Analysis
The Match 4 picks: Our 5 best bets, plus how we're fading Bryson DeChambeau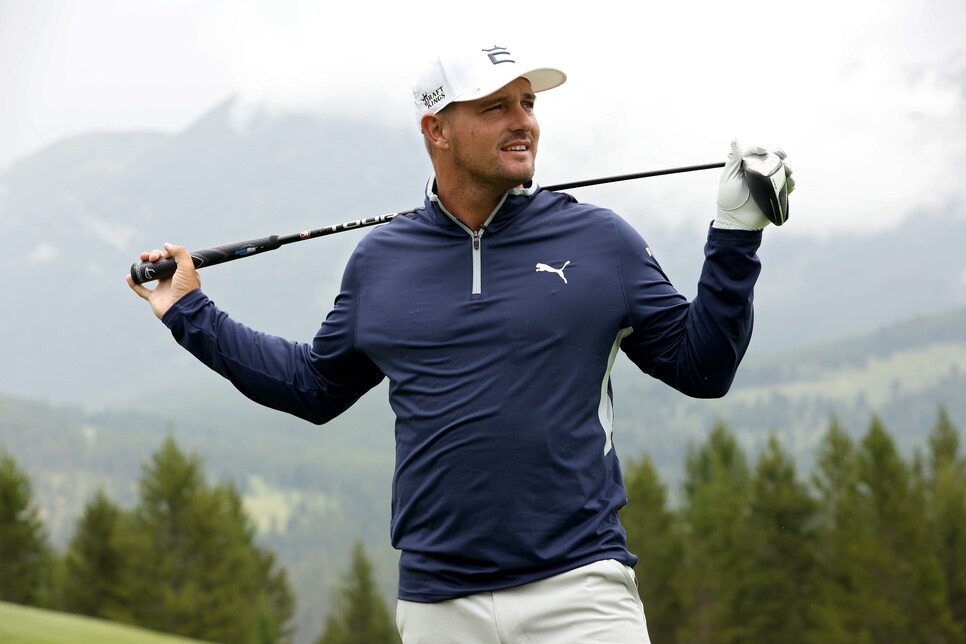 Joey Chestnut's Hot Dog eating prowess is not the extent of our gluttonous made-for-TV contest options this week. The Match is back—with Bryson DeChambeau and Aaron Rodgers challenging Phil Mickelson and Tom Brady on Tuesday at The Reserve at Moonlight Basin in Big Sky, Mont. Phil brings his 2-1 record in these matches into Tuesday, with his lone defeat coming with Brady in the May 2020 edition against Tiger Woods and Peyton Manning.
Phil and Brady will have the chance at redemption against two newbies to this format. Before you focus your betting dollars on the MLB All-Star Game or this week's John Deere Classic and the upcoming Open Championship, there's a chance to pad your wallet with some cash at The Match 4.
If you're in a state where online betting is available, we've learned that these contests provide a great opportunity for in-play wagering. Last May, while Brady was riding the struggle bus hard early on, you could've profited by fading his tee shots, for example. Same thing with fading Stephen Curry at the last edition of The Match. Keep that mind—save some dollars to fade whichever competitor can't seem to find the fairway. Most books will offer a "Hit the Fairway, yes or no" wager. Being an educated golfer and a bettor can be helpful in these live matches.
Before you put some live action down, though, here are our five favorite bets for The Match 4 at The Reserve at Moonlight Basin.
Phil Mickelson/Tom Brady to win: +138 (William Hill)
Amazingly, Phil Mickelson has been the underdog in every edition of The Match. He was +150 when he defeated Tiger Woods in the first match at Shadow Creek. And criminally, Phil and Charles Barkley were the underdogs (+140) against two amateurs, Stephen Curry and Peyton Manning, in the last edition. Though the books won't respect Phil, we should. He's got the experience over Bryson DeChambeau in this format. And mostly importantly to me, he and Brady will be seeking revenge for their lone loss (to Tiger and Peyton) when, again, they were underdogs. I don't want to get in the way of TB12 when he's hyper-focused. Plus, I know Brady has been grinding away at Yellowstone Club or Gozzer Ranch over the past couple of weeks—while Aaron Rodgers says he's barely played golf all year. That's big reason to go with the underdog Mickelson team yet again. –Stephen Hennessey, deputy managing editor
Phil Mickelson/Tom Brady to win: +138 (William Hill)
If we've learned anything from these made-for-TV events, it's that you might as well take the underdog, especially when a pro golfer is involved. Plus, Tom Brady seems to be taking this much more seriously than Aaron Rodgers and has probably wanted to avenge that awful front nine at Medalist since it happened. –Christopher Powers, assistant editor.
Will a QB hit the fairway on Hole 1? No. (+210, DraftKings Sportsbook)
Pure #nerves play here. Expect some arms-y swings early from the QBs. They'll settle in eventually, but the first-tee jitters will still be there. –CP
Closest to the pin on the par-3 third hole: Mickelson/Brady (+118, FanDuel Sportsbook)
We've seen Bryson's biggest weakness being his approach shots and short irons, and that doesn't seem to be factored into the line here. Bryson is 95th on tour in strokes gained/approach over the past 24 rounds, whereas Mickelson is 83rd. And give me Brady, who has been taking this more seriously, over Rodgers, who will likely need a few holes to warm up. --SH
Bryson DeChambeau to hit longest tee shot on Hole 8 (-200, DraftKings)
The eighth hole is a par 4 that will play about 500 yards on the card. Even though the fairway narrows at about the 150-yard mark, Bryson will have a chance to go past that being at elevation—where there's more width coming into the green. I think he'll have a legitimate chance to hit this one 400 yards … and if it goes straight, we'll have a winner. --SH