The Loop
The Loop's 2019 Golf Festivus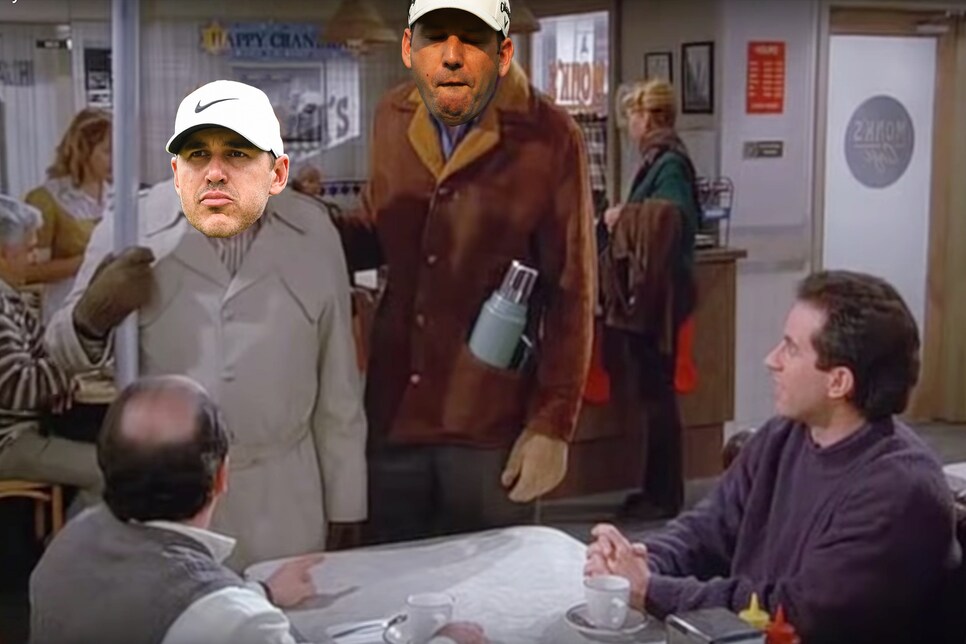 Another cold, dark, joyless year on this floating landfill in the sky has come and gone, and it's time once more to celebrate The Loop's holiest of holy days: Golf Festivus, a tip of Bubba's visor to the most angry, absurd, morbidly entertaining moments to happen on country club property this year. So without further ado, put your hands together and give Frank Constanza a warm welcome for the annual Passing of the Aluminum Pole!
Was there a grumpier SOB in all of golf this year than Brooks Koepka? To be fair, Koepka did become the PGA Tour's Rodney Dangerfield this year. Whether getting left out of a Fox U.S. Open promo despite being the back-to-back defending champ, getting identified as "Bruce" Kopeka at the Masters, or getting pipped by Rory for Player of the Year, Brooks got no respect. But between waging a holy war on slow play, admitting he only cares about majors, repeatedly destroying Brandel's soul, and denying his girlfriend a kiss on live TV, Koepka gave as good as he got in 2019. Whatever you do, however, just don't ask him if he likes golf.
Perhaps motivated by the prospect of our Master of Ceremonies pulverizing him into oatmeal the next time he takes more than 40 seconds over a putt, this fall Bryson DeChambeau started hitting the gym HARD. And like anyone who hits the gym HARD, he started posting videos of hitting the gym HARD to Instagram about once every 15 seconds. Our favorite moment is the super spontaneous, totally-not-fabricated-for-the-babes hair flip in this one. A true classic of the genre.
Non-Golf Mention: On September 19th, tied 31-31 with Houston with 27 seconds remaining, Tulane pulled off a fake kneel and a hail mary on their final drive to win the game. At the time we called it the "most shocking" college football dubya of the season, and it still is. Ride that green wave, folks.
A Donation Has Been Made in Your Name to the Human Fund
To the security guard who nearly took out Tiger's achilles at the Masters, nearly spoiling the greatest individual comeback in sports history, a donation has been made in your name to the human fund. We know you probably won't find this letter buried beneath all the death threats, but if you do, merry Festivus and Happy New Year!