News
The incredible Official World Golf Ranking stat that Tiger Woods probably won't catch Phil Mickelson in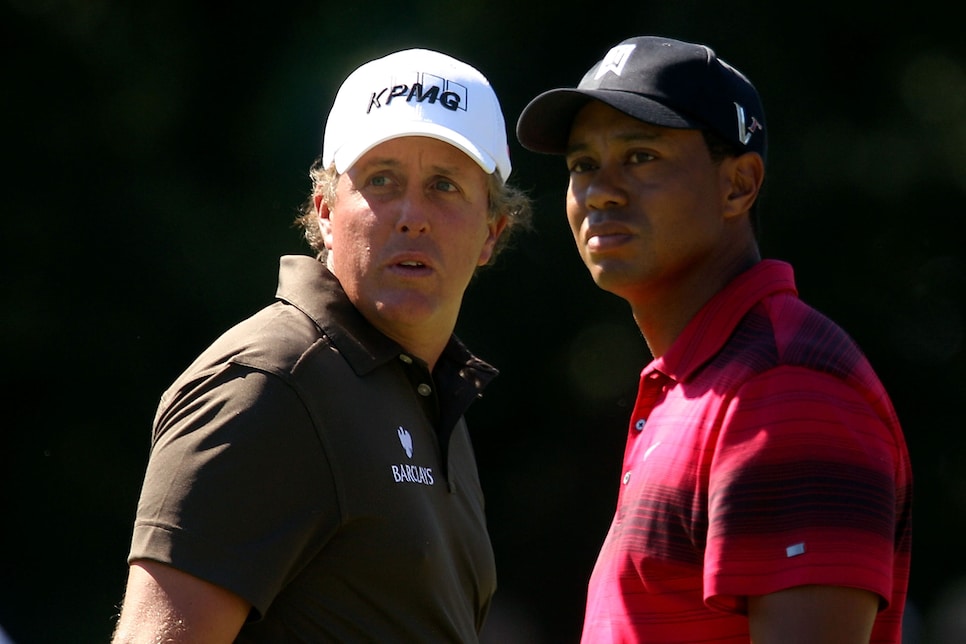 "Big picture" is the two-word, drop-the-mic retort Tiger Woods has used when comparing his career to Phil Mickelson. And with huge leads of 14 to 5 and 80 to 43 in majors and PGA Tour titles, respectively, Woods has a convincing case that not even Mickelson entertains debating. However, there's one actual big picture — technically, it's a graph — in which Tiger will have a tough time topping Phil.
Woods hit another milestone when the Official World Golf Ranking was released on Monday, marking the 1,000th week of his illustrious career he's spent inside the top 100. That means Tiger has spent more than 19 years ranked that high, but he still has a lot of work to catch his left-handed rival, who has spent 1,314 weeks in the top 100, the most of anyone since the OWGR was created in 1986. Check out this cool chart from OWGR guru Nosferatu that shows the 14 men who have spent at least 1,000 weeks in the top 100:
Mickelson's large lead over Woods and Sergio Garcia, the only two players under age 50 on this list with any realistic shot of tracking him down (Sorry, Jim Furyk and Lee Westwood) certainly jumps out. And how about Mark Calcavecchia? Talk about a sneaky-good career.
Tiger, who turns 43 at the end of December, trails Phil, 48, by more than six years (314 weeks) in the stat . Of course, Mickelson was spotted four of those years by turning pro in 1992 as opposed to Tiger's, "Hello, World," in 1996. But he's widened the gap thanks to remaining relatively healthy while Woods has racked up surgeries in recent years almost at the same rate he racked up majors in his 20s.
But as impressive as all that is, Tiger probably looks at those achievements and thinks that's cute. After all, Woods has spent 683 weeks (more than 13 years) at No. 1, which is 352 more than No. 2 on the list, Greg Norman, and 683 more than Mickelson, who, remarkably, never got above No. 2. Sorry, Phil. Big picture.