The Loop
Phil Mickelson's $9 million haul, Jordan Spieth's competing wedding, and the legend of Ho-sung Choi grows
Welcome to another edition of The Grind, where we're tired of hearing people complain about THE MATCH. First, it was Tiger Woods and Phil Mickelson were playing for too much money. Then the money didn't mean anything. And then it was taking away from the World Cup of Golf, which wasn't even on at the same time! Also, last time I checked, you are allowed to watch multiple sporting events on the same day.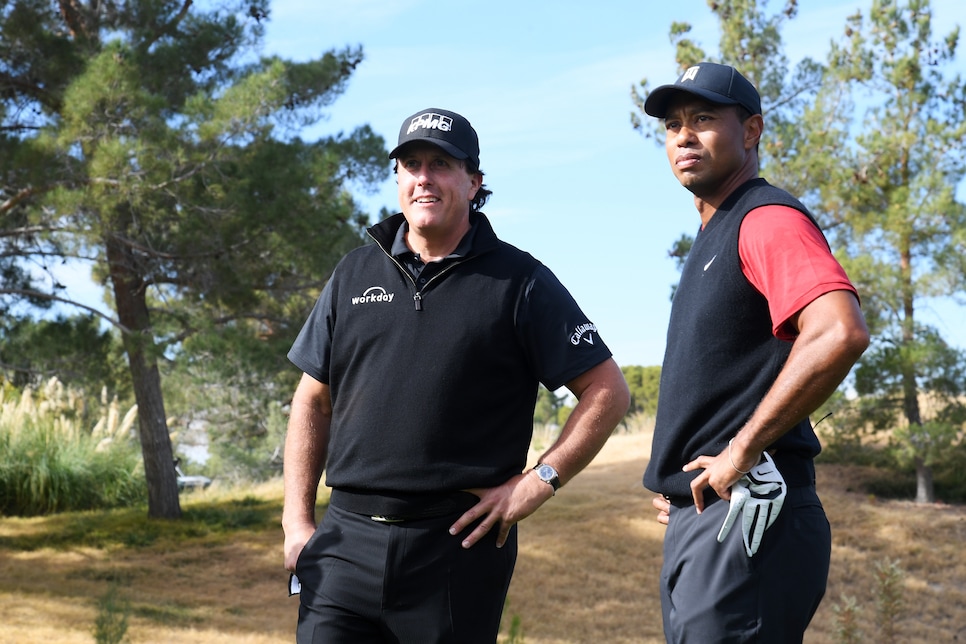 So pipe down, people. It wasn't the prettiest golf or the best and most innovative broadcast (more on that later), but THE MATCH was still worth watching. Of course, I'm a bit biased with my obsession for anything Tiger does. I mean, I'd watch Tiger Woods go grocery shopping for $19.95 (come to think of it, does Tiger Woods do his own grocery shopping?). . . Anyway, we've got a healthy helping of leftovers from THE MATCH to serve up and more from an eventful Thanksgiving weekend. Let's get cracking.
Phil Mickelson: Golf's ultimate showman topped Tiger in THE MATCH and walked away with that $9 million prize and sweet, sweet bragging rights.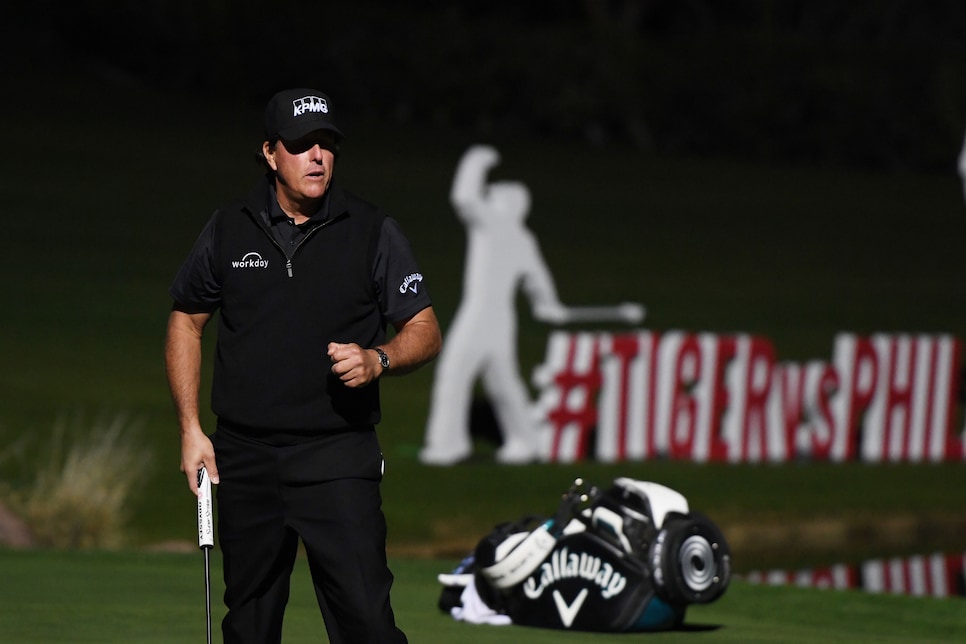 Lefty didn't earn any Official World Ranking Points for his win — he's probably pretty satisfied walking away with 9 LARGE—but staying at No. 27 allowed him to hit an incredible milestone. Mickelson has now been ranked inside the top 50 for 25 consecutive years. Not 25 consecutive weeks or even months, but YEARS. An amazing athletic achievement—especially for someone who breathes so heavy walking around a golf course. Seriously, Phil, maybe do a little cardio this off-season.
Ho-sung Choi: Forget about Phil, though, because this was the best story of the week and these are the most exciting back-to-back shots of the season:
Golf weddings: It wasn't quite the drama of THE MATCH (at least, until more Dustin Johnson-Brooks Koepka fight rumors break out), but two big-time golf weddings squared off over the holiday weekend (that's a savvy move to cut down your guest list). Congrats to Jordan Spieth and Annie Verrett, both on tying the knot and for keeping the wedding photos under wraps for the most part. But here's a group photo (not involving the lovely couple):
And the Dallas-Fort Worth Curling(?) Club shared this pre-wedding pic of Jordan and the guys:
So we've learned two things: People curl in Texas and Jordan Spieth is one of them.
And then there was the wedding of Austin Johnson (Dustin's brother and caddie) and Sam Maddox:
Congrats to them as well. Also, it was nice of someone to transcribe DJ's entire best-man speech.
THE MATCH's announcers: There were standouts to be sure, in particular Pat Perez and Charles Barkley, but for the most part, we got a pretty normal golf broadcast after being promised something different. And as I feared last week, the guys in the booth yapped way too much, including talking over a mic'd up Tiger and Phil. If I were Peter Jacobsen, I wouldn't check my Twitter mentions for awhile. . .
THE MATCH finish: A 93-yard "hole" from the putting green to the 18th green? Under the lights? That's how $9 million was settled? Really?! Why not light up the 17th hole, an actual par 3? Anyway, can you imagine Johnny Miller on the call talking about how much Tiger and Phil were choking those first couple attempts? "IT'S A FLIP WEDGE!" Also, once we found out it was a made-up, short wedge over water, I had nightmarish flashbacks to that Quicken Loans National media day when he dunked three in a row in the water. Tiger had no chance.
Aaron Rai's iron headcovers: The 25-year-old Englishman won his first European Tour title (There is literally no off-season on the Euro Tour) at the Hong Kong Open, but drew more attention for what's in his golf bag—specifically, what's on his golf clubs. Rai is the rare golfer who uses iron headcovers:
Woof. These things are a standard joke when discussing how to spot clueless golfers, but they're so infrequently seen that the joke doesn't even make sense to most people anymore. I, for one, have never seen these bad boys out in the wild. And yet one of the best golfers in the world is using them? Let's hope this doesn't start a movement.
The PGA Tour's silly season rolls on with the Hero World Challenge, AKA Tiger's event in the Bahamas where he usually starts his latest comeback from injury. This year, however, Woods didn't even need to use one of the event's two sponsor invites on himself to complete the 18-man field. In fact. . .
Random tournament fact: Tiger Woods arrives at Albany at No. 13 in the Official World Golf Ranking and he would move all the way up to No. 6 with a win. Not too shabby considering he was ranked No. 1,199 at this point last year.
RANDOM PROP BETS OF THE WEEK
— Tiger Woods will feel more pressure in the Bahamas than in Vegas: 9 MILLION-to-1 odds
— Tiger Woods will win this week: 9-to-1 odds (Actual odds, )
— Tiger Woods will be asked a few times if he wants a partner for the next MATCH: LOCK
Trophy photos are usually quite boring, but not if Ho-sung Choi is involved. Presenting the greatest trophy photo of all time: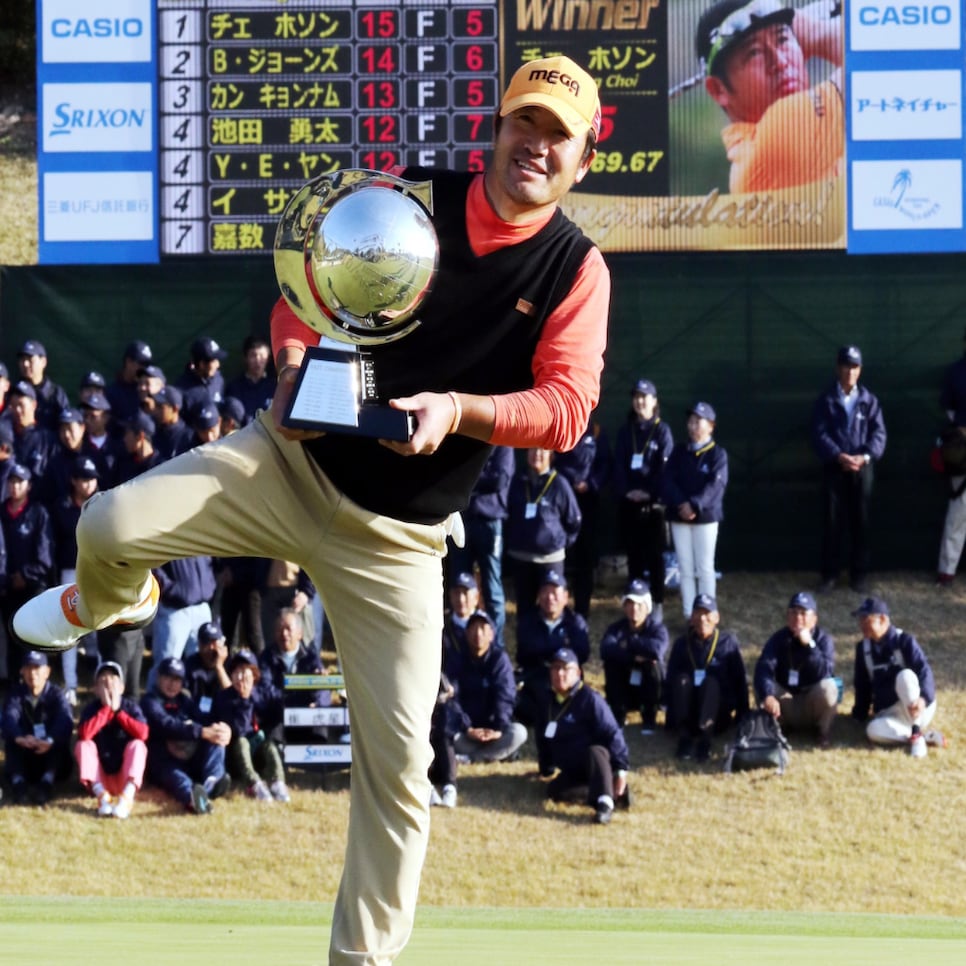 PHOTO(S) OF THE WEEK (NOT INVOLVING HO-SUNG CHOI)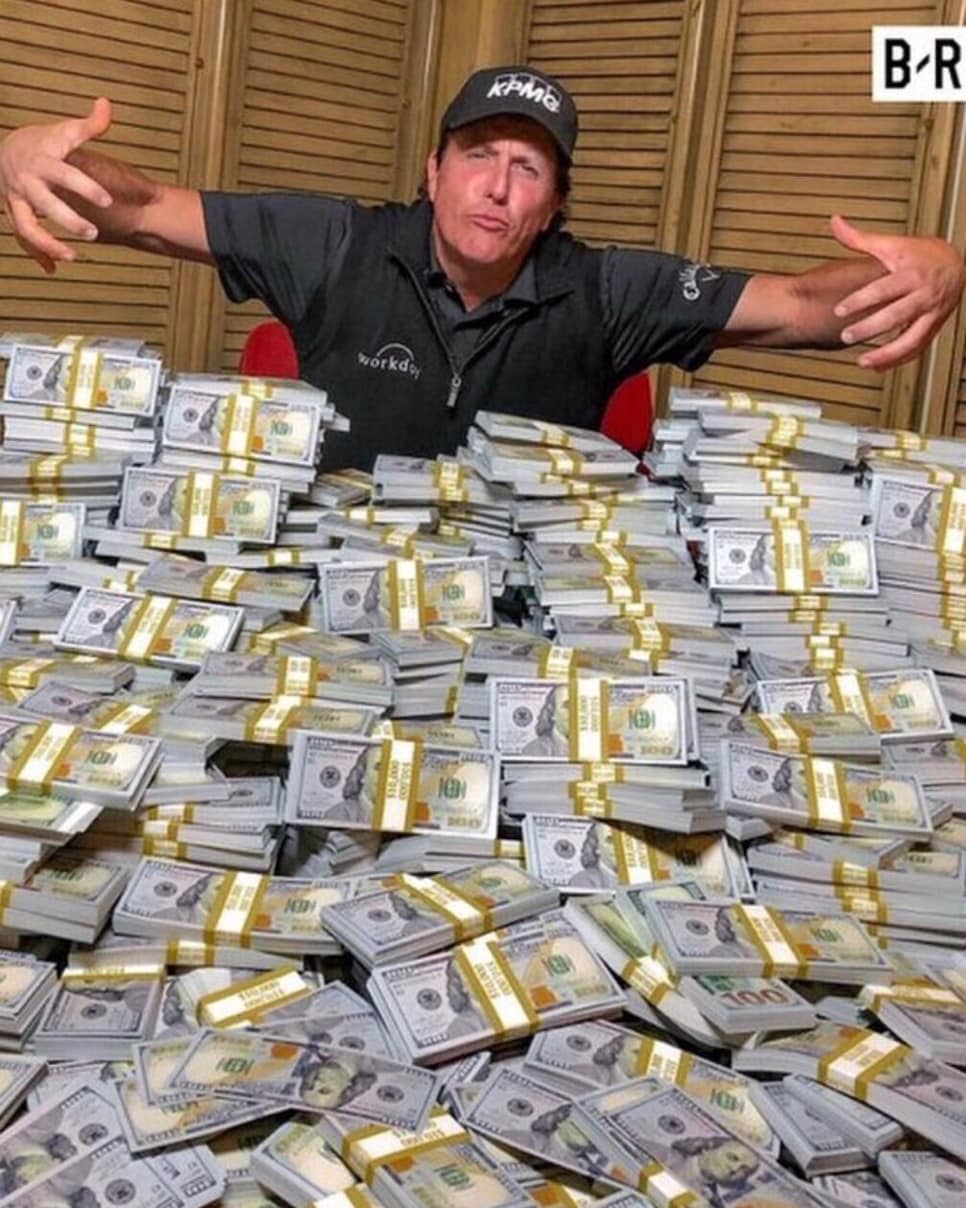 OK, so maybe that was a bit much. . .
While we're in full Ho-sung celebration mode, or "CHOI to the world!" as The Fried Egg put it, here's a look back at this instant-classic created by Skratch TV:
I could watch that all day.
VIRAL VIDEO OF THE WEEK (NOT INVOLVING HO-SUNG CHOI)
Speaking of guys with funky golf swings, the biggest surprise of THE MATCH came from the event's after-party at Topgolf, where Charles Barkley showed off a much-improved action:
And by much-improved, I mean he has an actual golf swing and not whatever the heck that was before. Good for him. To say it's been a struggle on the course in recent years decades for Chuck, who used to routinely shoot in the 80s at the Tahoe celebrity event, would be an understatement. The Year of Revivals in golf continues!
VIRAL VIDEO OF THE WEEK (ANGER MANAGEMENT DIVISION)
Tyrrell Hatton doing Tyrrell Hatton things:
"I know big picture your career is the greatest of all-time. I've seen you do things that are just remarkable. But just know I will not ever let you live this one down. I will bring it up every time I see you. I will wear this belt buckle every time I see you. It's not the Masters, it's not the U.S. Open, I know, but it's something. It's just nice to have a little something on you." — Phil Mickelson
THIS WEEK IN DUSTIN JOHNSON-PAULINA GRETZKY BROOKS KOEPKA-JENA SIMS PUBLIC DISPLAYS OF AFFECTION
While Sims seems to be at a wedding every week, Brooks has dodged bullets due to his day job. But not this time:
Even more reason for Brooks to lobby to get into THE MATCH next year.
Tiger Woods says he intends to be a playing captain at next year's Presidents Cup. Are you going to tell him "no"? Didn't think so. . . . The Belgian team of Thomas Pieters and Thomas Detry won that World Cup that you could have watched in addition to THE MATCH. Belgium — and the University of Illinois — are extremely proud. . . . Sports Business Journal reported the Pay-Per-View snafu cost Turner Sports about $10 million. Good thing the prize money wasn't too high, oh, right. . . . And finally, I was made aware that I'm cited on Ho-sung Choi's Wikipedia page: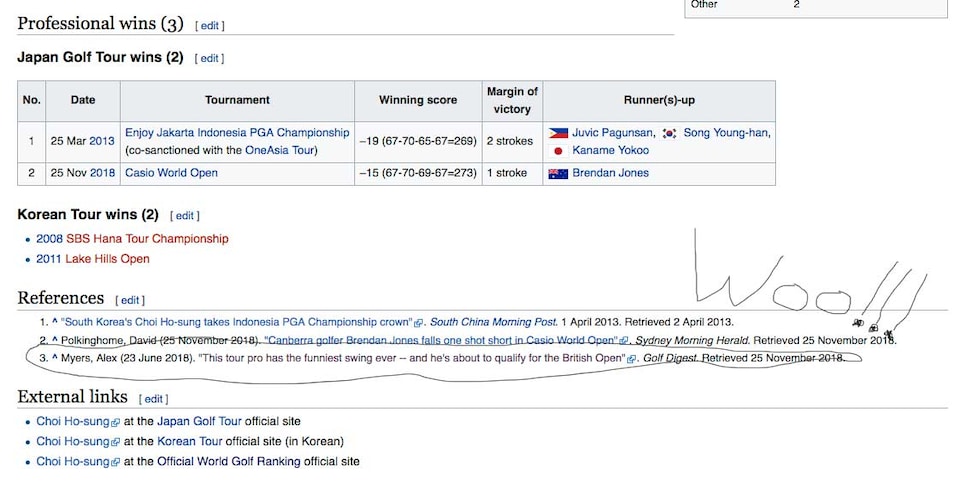 One of the proudest moments of my life.
RANDOM QUESTIONS TO PONDER
Which golf wedding had better food?
Where did Natalie Gulbis go for four hours?
How much of that $9 million did Phil blow in Vegas?