News
The 7 silliest complaints about The Match between Tiger Woods and Phil Mickelson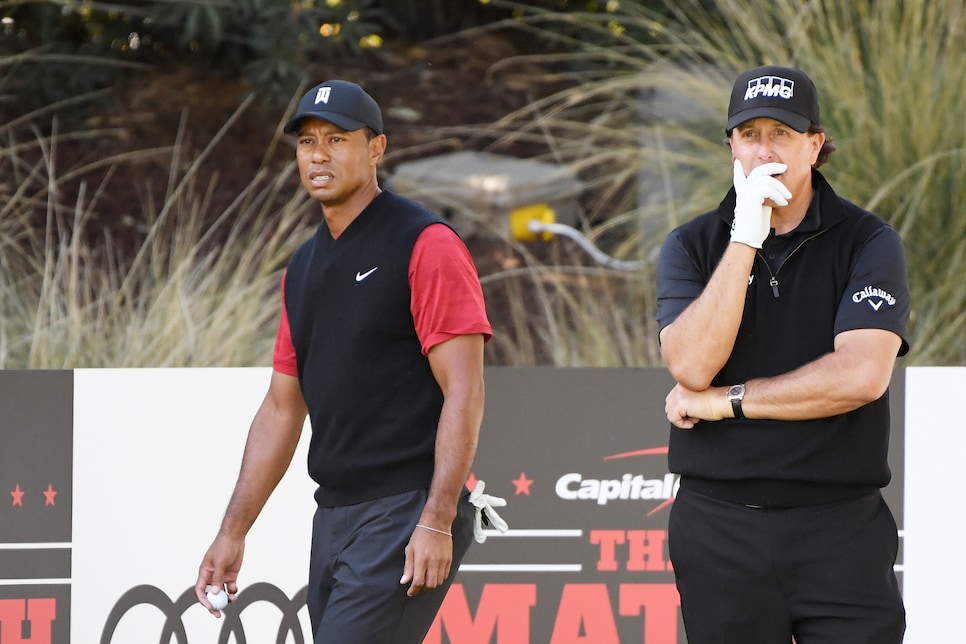 The Match between Tiger Woods and Phil Mickelson certainly had its flaws, from a lack of promised side bets to a mini-golf finish, but a lot of the complaints were over things that were either, A.) out of anyone's control, or B.) not worth complaining about. Here's a rundown of the seven silliest complaints we keep seeing.
1. "They didn't play well!"
It's true, Tiger Woods and Phil Mickelson didn't have their A (or even B) games, but they're not machines. You can't just flip a switch — especially during the off-season — and expect them to play their best. There's a reason "That's why they play the game" is a saying. You never know how things are going to turn out in a sporting event, let alone a round of golf. Remember that NCAA men's basketball final between UConn and Butler a few years ago? That was absolutely brutal to watch, but hey, it happens. Move on.
2. "It took away from the World Cup of Golf!"
If you are a golf purist and enjoyed watching the World Cup more because of the Metropolitan Club's fantastic bunkering, that's totally understandable (seriously, that bunkering looks glorious). However, complaining that The Match took away from that event is absurd. The World Cup was played in a different hemisphere so even with The Match going long, it didn't overlap with Golf Channel's coverage. And Tiger or Phil haven't played in it in nearly two decades, meaning they wouldn't have been in Australia even if they weren't in Vegas. So pipe down from Down Under.
3. "The money is obscene!"
Playing a round of golf for $9 million seems ridiculous. And regardless of who won, both guys were probably guaranteed to make more for four hours of work than the average person will make in his/her lifetime. But it's not like Tiger and Phil forced Turner Sports, Capital One or any other of The Match's sponsors to put up the money. And we'd like to see someone else turn down a payday that big. Also, appearance fees in golf aren't exactly a new phenomenon. Golfers get fat checks to show up at certain tournaments and plenty of other outings all the time. You think people played in Shell's Wonderful World of Golf for free?
4. "The money doesn't mean anything to them!"
Guys, you can't have it both ways.
5. "The announcers talked too much!"
It's true, they did, especially Peter Jacobsen. But when was the last time you let the announcers truly ruin your viewing of a sporting event? And if it was that bad, you could have turned the volume off and listened to the new Michael Bublé album instead. What? It's supposed to be really good. . . Also, as much as solely listening to a mic'd up Tiger and Phil for four hours sounded like a good idea, we're guessing there would have been complaints by the fifth Fred Couples story.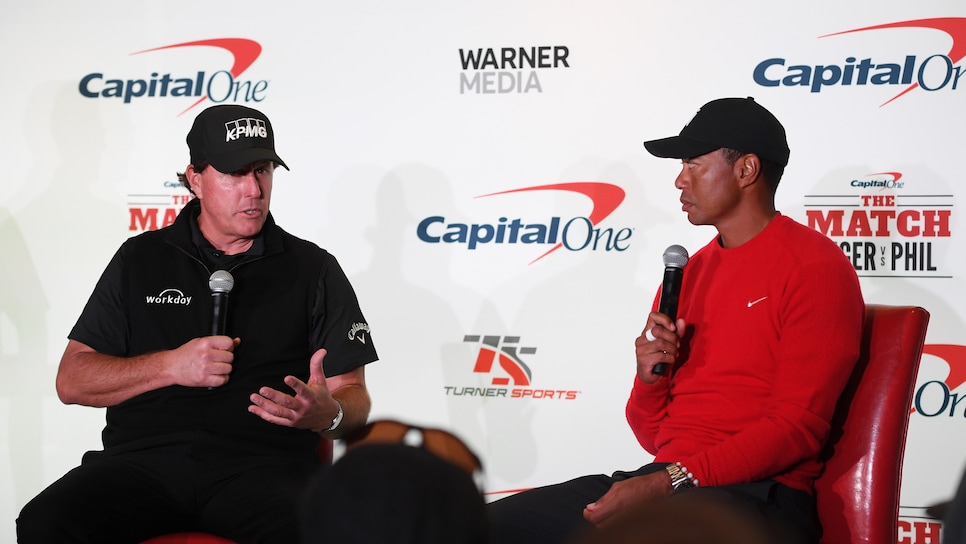 6. "They shouldn't have given so many putts!"
Tiger and Phil both gave generous concessions on testing (particularly with $9 million on the line) par putts to keep The Match going. In any other context, this would have been unanimously viewed as a sign of great sportsmanship (Remember when JACK gave that putt at the Ryder Cup 50 years ago?!) and what SEPARATES GOLF FROM OTHER SPORTS. Instead, people criticized Tiger and Phil for either being too nice or not caring enough about the money. You know, the same money they were complaining about them playing for.
7. "I'd rather see someone else play!"
Really? No, really? Sure, this matchup would have generated even more buzz during Tiger and Phil's peak years, but don't act like they're total chops now. Phil entered The Match at No. 27 in the Official World Golf Ranking and Tiger at No. 13. Also, keep in mind that Tiger would be No. 5 if only 2018 results were counted. And in terms of generating interest and headlines, they are still the top two in the sport by a mile. That's why this was The Match. The TV powers that be knew what they were doing. Well, except when it came to collecting all that Pay-Per-View money. . .
For more reaction to "The Match," including from our own Dave Shedloski who was at Shadow Creek, please listen to this week's Golf Digest Podcast: