News
14 ways to fix future Tiger Woods vs. Phil Mickelson matches (yes, there will be more)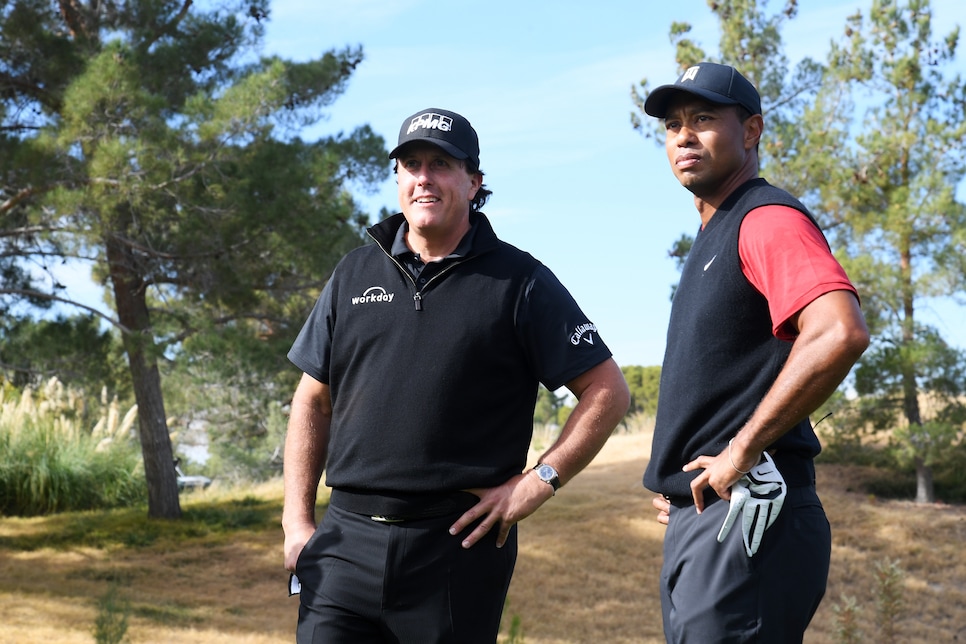 The Tiger Woods-Phil Mickelson showdown at Shadow Creek managed to both entertain and disappoint, delivering drama while simultaneously taking the air out of the proceedings. No matter where a viewer falls on these spectrums, it's indisputable that a) There will be another Woods-Mickelson match-up and b) There's massive room for improvement. Keeping these sentiments in mind, here are 14 ways to fix future iterations of Tiger vs. Phil:
Less in the booth is more
A three-person booth, a handful of on-course reporters (you'll see why in a second)...and that's it. A pre-game crew isn't warranted, particularly one where Capital One spokesmen non-golf personalities stop by and offer a whole lotta nothin'. There's an impulse to deviate from normal golf broadcasts, which we applaud and welcome. But welcoming a score of voices into the booth isn't innovation.
Ernie Johnson, bless his heart, was on the warpath when it came to narration, and a Twitter search of "Peter Jacobsen + mute" produces NSFW results. Take a page from the Vin Scully Playbook: dead air is perfectly fine. Sometimes, the moment even calls for it.
The VIP-only crowd at Shadow Creek played to the worst of golf's stereotypes: that it's aspirational, exclusive, posh. Open the event to the public and make it free to kids. A lively gallery will go ways in injecting a palpable buzz to the proceedings.
And we do mean lively. Encourage the fans to be as spirited as possible. Not that we're trying to replicate Phoenix Open-like rowdiness, but this shouldn't have the sanctimony associated with a major or tour event, so let the fans get a little loose.
However, if there are going to be more people on the grounds, they're going to need something else to watch besides one match. Meaning …
At least two, three being ideal. The big mistake would be making these traditional one-on-one bouts. Mix in a scramble or alternate shot, even a game of Wolf, tag on an in-group reporter and let these serve as interstitials rather than the forced convos between Tiger and Phil.
There's a chance, just like boxing, the undercards could be more compelling watches than the title fight. Conversely, as this year has testified, Tiger continues to be golf's needle. Whatever scenario you can concoct—Spieth vs. Reed, DJ vs. Koepka, top-flight juniors, DeChambeau debating a Modern Flat Earth Truther—Woods will still draw the most eyes.
Know why Charles Barkley endures as a prominent figure into his mid-50s? He's funny. Not athlete funny, funny funny. So while it's understandable fans were disappointed at the lack of engaging discourse between Tiger and Phil, the dirty truth is that's the norm, with Sir Charles a far outlier. Continue to have the players mic'd, on the off-chance anything of substance is actually said. But without smack-talk or organic banter, there's no need to hear every mundane comment or observation. And there's DEFINITELY no need to hear Phil's "I just did 40 minutes on elliptical" breathing, which continues to haunt our dreams.
More experimental camera angles
Natalie Gulbis promised us "camera angles never before seen in a live golf event." Then she disappeared for five hours, apparently with the production game plan in tow. The next match should roll out drone flyovers (was utilized on the first hole then conspicuously absent the rest of the day), rovers, 360-degree swing captures, and GoPros on caddies. Heck, give a few cameras to the gallery and let them go nuts.
I've seen office suck-ups give fewer putts to bosses than Woods and Mickelson bestowed on each other. Hard to buy the competitive slant when anything inside five feet was good.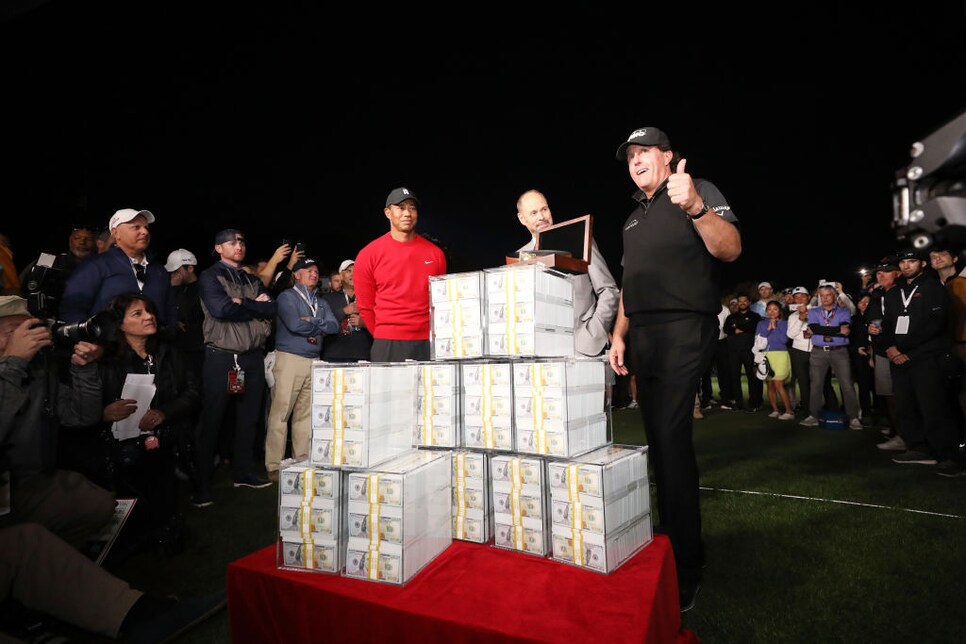 Even The Match's biggest proponents will concede the $9 million payday rang hollow. These guys are richer than some countries; no one is tuning in to watch them pad their bank accounts. Accentuate the charity angle and let the competition speak for itself.
Ditto the celebrity slapstick
Highlighting hard-hitting Twitter analysis from the likes of Chris Paul and Justin Verlander—particularly when Verlander and Barkley were trading "barbs"—brought the broadcast to a grinding halt. "Wait a minute, a Cy Young winner is watching this too? Woah, athletes are just like us!" Celebrity infatuation has its place; it ain't here.
The Golf Channel reported that the PGA Tour intervened and capped the amount of wagers at four. (And if you're wondering how the tour was involved, we recommend Dave Shedloski's eye-opening report on how the Match came to be.) At minimum, this action needs to be tripled. While we're here...
Mentioned above, the monetary figures didn't pack a punch. These bets need some juice. If Tiger losses a hole, he should rock Phil's full-sleeve button-down for a tournament or give the Mickelson clan a weekend on his yacht. A Mickelson defeat should have surrendered a stock tip or football parlay. Give the people what they want.
Again, this should be entertaining, and the broadcast desperately required levity. This doesn't require someone who dabbles in high-concept pieces, although Norm MacDonald thrives in this arena, and given he was at The Match, this certainly makes him a candidate. Pair a comic with Dan Hicks (a man who knows how to direct traffic, not cause it) and Geoff Ogilvy (an Internet favor) and you got yourself a viable booth.
Make it a 1 p.m. ET tee time. Avoids racing the sunlight, yes, but no need to drag this out into the night of a holiday weekend.