News
The Match, the future: If there is one (likely), here's what it might look like (Spieth-Thomas vs. Tiger-Phil?)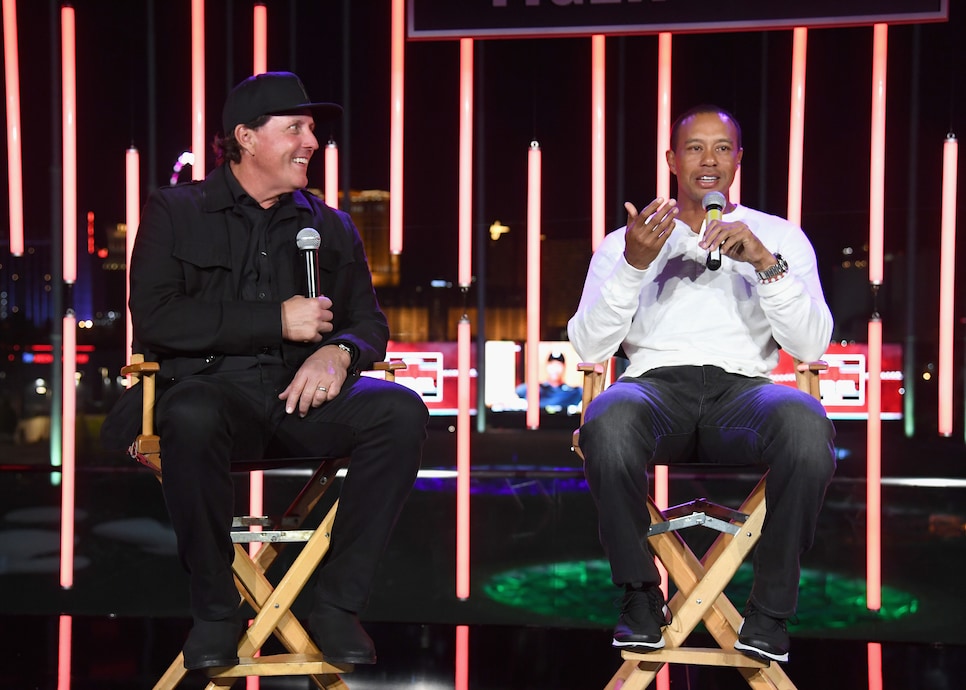 It certainly appeared to sell well enough. WarnerMedia's B/R Live platform was so inundated with subscribers who waited until the last minute to log in that it had to offer the program free for a limited time until the traffic jam subsided. "We are very encouraged by the initial subscriber numbers," a smiling Turner President David Levy said as Mickelson and Woods made the turn.
The numbers, not yet released, are everything. They will determine whether this experiment that mixed golf, the burgeoning business of sports gambling, the spectacle of Vegas and the use of multiple distribution platforms has a future.
Before it even began, some believed it should.
"This is different, and I like different," said Peter Jacobsen, who was tapped by Turner for 18th hole commentary beside Darren Clarke and host Ernie Johnson. "You know, I've seen some criticism of it. There's the question, is it right or is it wrong? I don't see it in those terms. I see it in terms of golf and entertainment and taking it to another level."
"I love this whole concept, and these two guys, who are the biggest names in our sport, trying to ramp up interest in golf in a unique way," added fellow PGA Tour player Pat Perez, who made his broadcasting debut beside the likes of Charles Barkley and actor Samuel L. Jackson on the pregame show. "I've been watching these two guys forever. I expect it to be amazing."
It would be difficult to argue that it delivered amazing. Even though both shot aggregate scores of 69, neither man was particularly sharp on a relatively benign layout, probably because of some rust mixed with nervousness. Mickelson admitted feeling pressure for days leading up to the event. Woods reportedly was a jittery Tiger from the time he arrived at Shadow Creek around 8:30 a.m., and he played to type as the taciturn personality whose showmanship is expressed in his game, not his gab. The naturally effusive Mickelson did his part with spurts of exchanges with his brother and caddie Tim, but with Woods struggling, he pulled in the reins on antagonizing chatter.
Talking smack was supposed to be a key element. Triple bogey.
Perhaps Mickelson's wife Amy gave a clue that the anticipated trash talk would not materialize when she said as the players headed to the first tee, "One of the most gratifying things about this is seeing the two of them doing this together, how their relationship has evolved. It will be fun to see what happens next."
The question going forward is this: Should there be a sequel? And the answer is obvious because, again, the encouraging numbers Levy referred to say there probably will be one. But it says a lot, and not good, when the HBO 24/7 program and the promotional trailers were vastly more intriguing than the 22-hole golf exhibition. The problem is, this still needs Tiger, who sells with reputation and popularity, and Phil, who is the showman.
But it will take more. Turner should take one more stab at getting The Match right, only have a team format. The rumors of an Asian duo taking on the Americans will not cut it. Bring us Justin Thomas, who is brash and jocular, and pair him with his loquacious buddy Jordan Spieth. There will be no dead air. There will be jawing. You have a generational hook. See how that sells.
Give us Perez, who will not be afraid to mix it up verbally. An example: When he was asked how he was selected for the broadcast team, Perez replied flatly, "I have naked pictures of Tiger." Yes, put him in there with the brashest and mouthiest player you can find. Ian Poulter maybe? Or pair the petulant Tyrell Hatton with emotional Bryson DeChambeau and let those two potential powder kegs loose with live mics. Northern Ireland has two well-spoken unfiltered talkers in major winners Rory McIlroy and Graeme McDowell. Heck, have a lottery and let two unknown Web.com Tour guys go at the pair.
The Match was billed as a show built into a golf match, not merely a golf show. If it's just going to be a new iteration of the defunct Shell's Wonderful World of Golf, then it deserves to go the way of it.