News
Tiger Woods vs. Phil Mickelson Match: The best and worst from Shadow Creek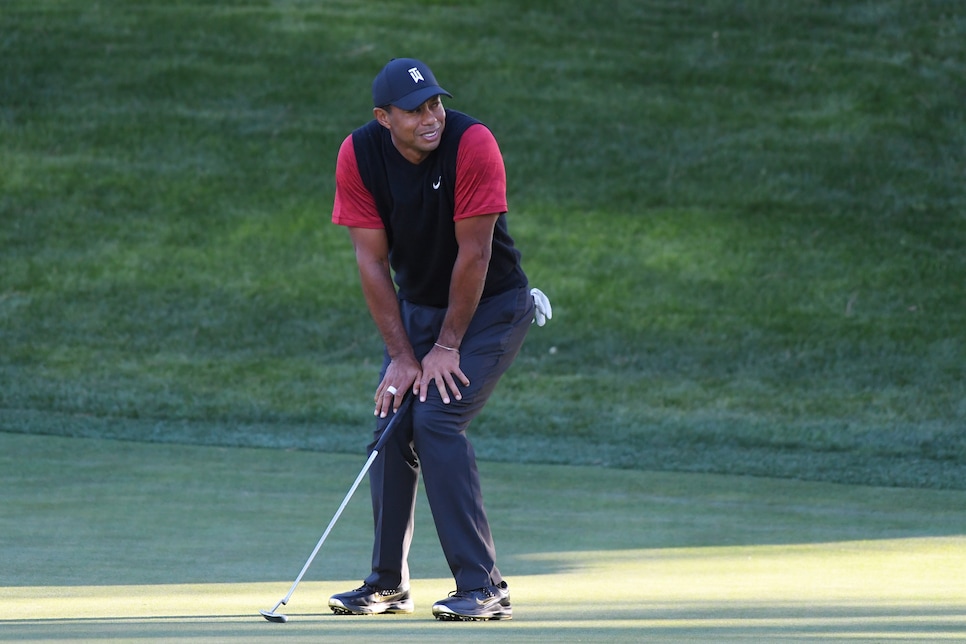 The spectacle that was the Tiger Woods-Phil Mickelson match is now in the books, and it was … well, it was something. It managed to live up to the hype while manifesting some of the biggest fears into reality. There were numerous awkward moments, yet moments that were genuinely entertaining. Fans were locked out of their pay-per-view purchases, and others got to watch it for free. And Tiger and Phil … well, to paraphrase the immortal Dennis Green, Tiger and Phil "were who we thought they were."
Here is a look at the best and worst from the Shadow Creek showdown:
The cat just won $9 million (minimum, if you're to believe the two are getting a cut of the PPV earnings). Not bad for a round of golf.
The first 14 holes were "competitive" in the sense that a YMCA Little Tykes' 0-0 soccer game is competitive. From the tee to second shots to the short game, everything was off. You know it's bad when Rickie Fowler, a player, ahem, not particularly known for closing, is throwing shade:
There was much not to like about the match (as you will soon read), and the cheese factor was off the charts, but damned if it still wasn't a captivating view thanks to its elementary premise: Tiger Woods vs. Phil Mickelson. Judging by web searches and social-media trends, it certainly kept its audience throughout the show. Easier said than done on a holiday.
Viewers were promised an innovative approach, a welcomed vow considering the sport's presentation has become somewhat stale. What viewers received was basically the same song-and-dance seen every weekend. At least, to those that could see it …
Viewers took to social media to air their grievances with the app, posting photos of error messages after buying the event. Then, unable to process the amount of traffic, Turner Sports told Golf Digest that some viewers received the pay-per-view for free. Given the experimental nature of this match, to say nothing of the consumer investment, this was an ill-timed bogey.
Birdie: Tiger's hole-out on the 17th
Watching Big Cat send Mickelson back to 2003 made this entire circus worth it.
Bogey: Tiger's play after the 17th
Too much adrenaline on his approach at the 18th. A bad drive on the 19th. Couldn't dial in a wedge from 93 yards multiple times. Safe to say the final hour won't be on Woods' Hall-of-Fame highlight reel.
All that for a 93-yard chip-off? Why not bring the lights to the 17th hole? Where was the windmill? Even the fiercest proponents of the match had to admit this set-up was contrived.
For those hoping for jabs and low-blows, we were greeted with talk about kids heading to college and how "great" this opportunity was. Somewhere, Patrick Reed shed a tear.
Bogey: Ernie Johnson and Peter Jacobsen
We love us some Ernie, but a play-by-play man is expected to direct traffic, not cause it. Sometimes less is more.
As for Jacobsen … listen, sports announcing is hard. Really hard. But fans, paying ones at that, deserve better than banality and the obvious.
There are two types of golfers: Those who were delighted when Pernice's name fell into the broadcast, and those who live vapid existences.
Let's just say the fan-favorite illustration was not doing its best William Tell impersonation today.
The strokes-gained guru was invoked more than Shadow Creek. Banner day for the #BigStats community.
We were told there were going to be side bets, and there were. But many were expecting more, and the ones presented were underwhelming, epitomized by a long-drive challenge on the back nine where both Tiger and Phil missed the fairway. Aside from a $1 million hole-out wager, which neither came close to dunking, this was a disappointment.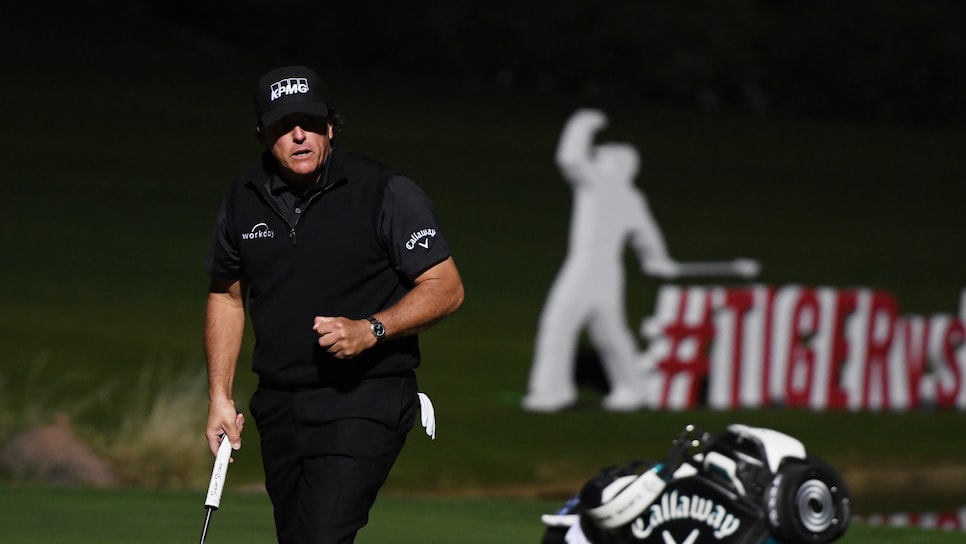 This will become old by tomorrow, but Phil casually dropping "side sauce" was better than anything Urban Dictionary could concoct.
Phil's huffing-and-puffing will forever haunt our dreams.
Fans took to Twitter worried she got lost in the desert. Not that we needed more voices, but after introducing the event, the LPGA personality was conspicuously absent until the 18th hole. It was odd, to say the least.
While Ernie and company tried their best to sell the product as Tiger and Phil hacked it up, Sir Charles summed up the front-nine eloquently: "This has been some crappy golf." Long live Chuck.