The Loop
Tiger Woods' media day mishap suggest he no longer enjoys showing off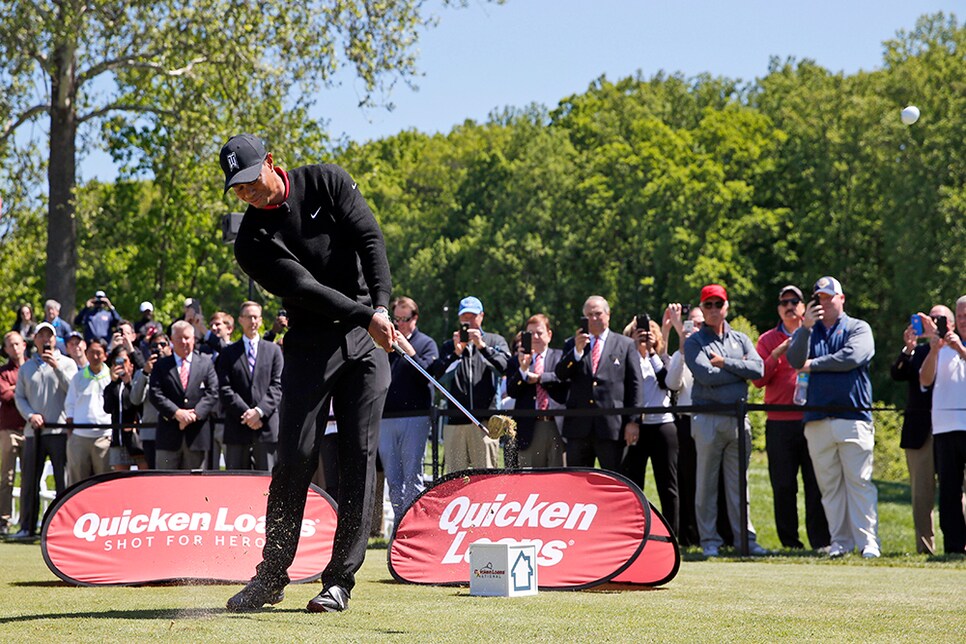 What are we to make of Tiger Woods dunking three straight balls in the water from 100 yards during an ad-libbed closest-to-the-pin contest with two hackers at last week's media day for the Quicken Loans National?
Well, to paraphrase Dr. Freud, sometimes—even when struck by the most talented player of all time—a mishit wedge is just a mishit wedge.
Still, perhaps unfairly, in the moment it seemed like more. Even though Woods was clearly stiff and his presumably healing lower back may be far worse than he has let on, it was a 100-YARD WEDGE! One in the water was excusable, but three in a row? With each plop from the forward tees of the 10th hole at Congressional Country Club, any ambitious projections for Woods' near present or even the distant future went fizz-fizz. And the possibility of an imminent end got stronger.
It was the latest embarrassing moment for Woods the golfer, who has seen them mount since his five-win 2013 season ended with Zach Johnson stealing what would have been a meaningful victory after miraculously holing out a wedge on the 72nd hole at another tournament Woods' hosts, the World Challenge. Tiger's injury plagued 2014 season was a complete washout, and in 2015, he reached new competitive depths, including shocking bouts with chip yips and scores in the mid-80s.
Amid such an immeasurable mix of physical impairment, psychic wounds and simple entropy, a unified theory that better explains the Tiger conundrum has been lacking. But Paul Azinger, one of the game's original thinkers and a former major champion, has a profound knack for getting to simple and authentic truths about the game and its players. His big-picture take on Woods: He's stopped being a show-off.
According to Azinger, all tour pros, and especially the best ones, are show-offs. From an early age, putting their talent on display has garnered them praise, prominence and, most important to a competitive golfer, the admiration (and even awe) of their peers. Years of being reinforced by this process builds tremendous confidence and an abiding gratification. Sometimes great players actually do love the game for itself. Very often, though, what they really love is the feeling they get from successfully showing off.
"He can't top what he used to do, and he knows he's being judged on every shot," Paul Azinger says. "It's taken away his ability to show off. Unless he can somehow get that back, I believe it's going to cost him his will to keep playing."
"I was a huge show-off," Azinger says. "Especially when I was at my best, I loved showing people how good I was. But when what I was showing off stopped being as good as what I used to show off, and when I realized I was being measured against that old standard, I started thinking less about showing off and more about not embarrassing myself. When you lose that confidence that you will impress people or your peers, then it becomes uncomfortable. You feel way more pressure. And the game stops being fun.
"Nobody liked to show off more than Tiger. Not in a bragging way, it's just that he knew how good he was, and the effect it had on people. He fed on that, and it was one of the reasons he kept getting better and better. It was like an elixir."
These words jibed with conversations I had with Earl Woods, who would say, "Tiger is so good in his biggest moments because that's when he knows he can really show off. He loves that."
But in Azinger's opinion, Woods stopped loving those moments. "What I went through, Tiger has gone through multiplied by a hundred. He can't top what he used to do, and he knows he's being judged on every shot. It's taken away his ability to show off. Unless he can somehow get that back, I believe it's going to cost him his will to keep playing."
Think about it. Since returning from his personal difficulties in 2010, Woods has been playing defense with his own image, constantly citing injury or swing changes with at least some intent of averting harsh judgment. It has put him inside a perpetual bubble of pressure, susceptible to symptoms of performance anxiety that have manifested with Woods' increasing difficulties with opening tee shots, his chip yips and, yes, 100-yard wedge shots covered live from his media day on Golf Channel.
Woods had been nearly as stiff in his answers to reporters as he would be with his swing. Asked yet again about his chances of winning four more major championships to match Jack Nicklaus' career record of 18, Woods' response was halting, diffuse and lacked conviction.
"His major championship record I think is certainly still attainable," he said. "I got him on the regular ones already. But the major one, that's certainly up there." Referring to Sam Snead's record of 82 PGA Tour victories, a mark he trails by three, Woods said, "I'm No. 2 on both lists. It'd be nice to end up at [No.] 1 on both lists."
It was a friendly gathering, the mood and the setting such that much follow-up would have made Woods more uncomfortable. But when it was time for him to hit a short wedge shot from a perfect lie, the moment—for those present and watching on television—got tense.
When Woods' second ball went in the water, he remained outwardly casual. Even so, there was a slight strain in his voice that betrayed an inner shock as he said "Alright, that's good for me." He was about to walk away when another another ball was tossed to him. "Aw, c'mon," he said, slightly surprised and aware that on his third shot, the stakes of public embarrassment would be even higher. Over the ball, Woods went into grind mode, imploring himself with a softly intoned "C'mon, Tiger."
More than ever, it's impossible to know what Woods is thinking as he gets ready to swing a golf club. But in that moment, one thing was certain. He was not showing off.