The Loop
Jim Nantz's ridiculous backyard, Larry Fitzgerald's controversial handicap, and Kelly Rohrbach's only flaw
Welcome to another edition of The Grind, where we can sympathize with Larry Fitzgerald. On the golf course, at least. Last year, I came under a bit of fire for winning my annual golf trip, the HGGA Championship, in dominant fashion like Fitz -- Can I call you Fitz, Larry? I feel like we're basically brothers taking on the handicap haters. The grief I took was so bad it almost wasn't worth winning … Kidding! Winning is awesome. Am I right, Fitz?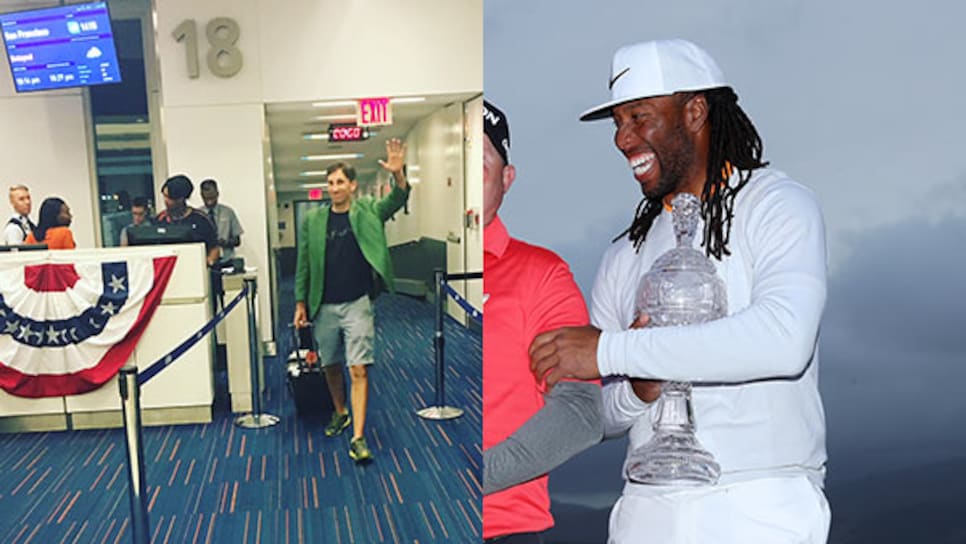 Ted Potter Jr.: There are successful homemade golf swings on the PGA Tour and then there's whatever this guy does. Seriously, most of the amateurs at Pebble had better-looking golf swings. What an amazing performance by this former Florida mini-tour legend. Not only to win at Pebble Beach, but to hold off a Hall-of-Fame threesome of Phil Mickelson, Dustin Johnson and Jason Day (plus Chez Reavie)? And to get to share the spotlight with my main man Fitz?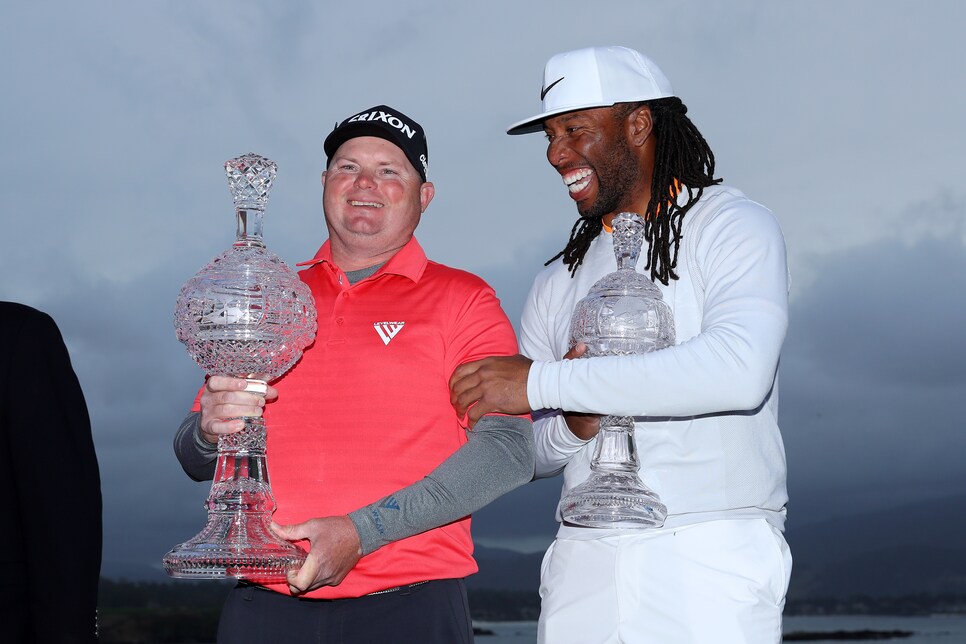 Jim Nantz's backyard: Golf fans got their best look at Nantz's Pebble Beach backyard golf hole, which has become the stuff of legend, this past week. First, Dan Patrick's crew visited the spot and captured this magical moment of Nantz announcing his own shot:
"A playoff for the green jacket. … Just a whisper of wind." Perfect. Then Nantz's CBS Golf partner, Nick Faldo, who also happens to be a six-time major champ, made a hole-in-one in front of a pretty decent crowd to get his name on Nantz's Pebble Plaque:
Well done, Sir Nick. Now you've really accomplished everything possible in golf. And "Casa Nantz" sounds like a great idea for a reality TV show.
Goats as caddies: Not all the time, of course, but one seven-hole Oregon golf resort is giving golfers the opportunity to have a goat as a looper. This is really happening, folks.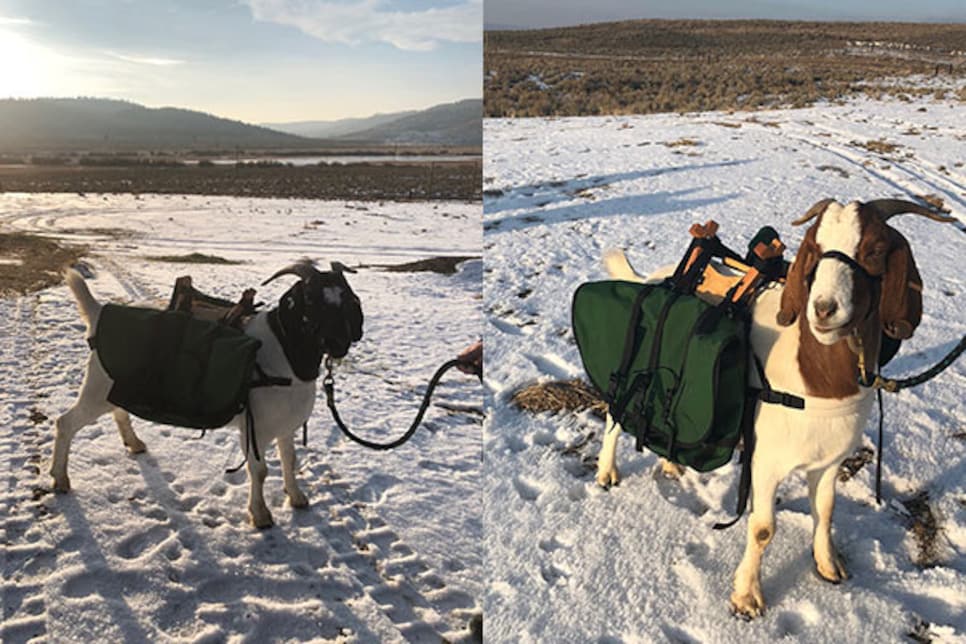 You're probably on your own when it comes to club selection, but it looks like it could be fun. Speaking of trying things …
Dave Coupland: As in, I actually bought shares of this tour pro last year. And I wrote about the experience.
Please give it a read, because I don't want to spoil the ending. But I will tell you that Dave did NOT win the British Open as I hoped. You never know about this year, though.
Kelly Rohrbach's driver: A down-to-earth supermodel who plays golf? It doesn't get any closer to perfection (Other than my wife, of course. She's probably not reading, but you never know). But we found out at Pebble that Kelly actually has a flaw in the form of … an old driver. And our equipment editors absolutely let her have it.
Burn. Those two really know how to make a lady swoon around Valentine's Day.
Ray Romano: We've come to expect celebrity golfers (and amateur golfers) to hold up play at Pebble Beach, but nearly killing one of the PGA Tour's biggest stars? That's not good. Thankfully, Jordan Spieth has some pretty quick reflexes:
Julio "The Machine" Bell: But the most glaringly bad amateur golf performance came on the Web.com Tour with this curious sponsor's exemption, who shot 93-105. The 52-year-old is a former boxer who used his local business ties to get into the event in Columbia. As punishment, he should officially have to change his nickname to "Bogey Machine."
The PGA Tour heads to Los Angeles for the Genesis Open, AKA that event at Riviera where Tiger Woods is finally playing again and where he made his PGA Tour debut at 16. You will hear about that a lot, but this video of Mike Tirico breaking down Woods' opening round is gold:
Random tournament fact: Dustin Johnson ascended to No. 1 in the Official World Golf Ranking with his win here last year. DJ's 52 consecutive weeks in that spot is the ninth-longest streak, and he's just 10 weeks away from jumping into the top five. Of course, he's still nearly five years away from matching Tiger's record of 281 consecutive weeks.
RANDOM PROP BETS OF THE WEEK
— Larry Fitzgerald will return to Pebble Beach with a 10.6 handicap index next year: 1 MILLION-to-1 odds
— Tiger will be shown on TV more than the rest of the field: Even odds (Actual bet!)
— Tiger will be shown more than Ted Potter Jr.: LOCK
Hmm … Pretty freaky. And Graham isn't alone on tour when it comes to believing we're not alone in this solar system:
Mulder and Scully need to investigate this pronto.
Not only is Billy Hurley III running against Jordan Spieth for chairman of the PGA Tour Player Advisory Council, but he also ran the greatest political campaign attack ad in history. This is utterly brilliant.
Billy's video was so good, he even won over his opponent!
Then again, this could be like "Welcome to Mooseport" when Ray Romano and Gene Hackman promise to vote for each other for mayor, but wind up voting for themselves. Yes, I just managed to find another Jordan Spieth-Ray Romano connection. And yes, I'm one of the 17 people who have seen "Welcome to Mooseport".
"Yeah, it was worth it. As long as people got a kick out of it, it was worth it." —Adam Stalmach, AKA this year's Waste Management Phoenix Open streaker. Young Mr. Stalmach, who was apparently drunk on a delightful combination of Coors Light and chardonnay, said this despite spending five days in jail, being fined $1,500, and losing his job. Wow. To all of this.
THIS WEEK IN GREG NORMAN BEING GREG NORMAN
"Casa Nantz" would be a big hit as a reality TV show, but just following around the globe-trekking Norman with cameras 24/7 might be even better. Check out how The Shark celebrated his 63rd birthday:
THIS WEEK IN CELEBRITIES (NOT AT PEBBLE BEACH) PLAYING GOLF
The Celtics had a bit of a reunion on Sunday to honor Paul Pierce, but Ray Allen played golf instead:
Congrats to George Lopez on the ace, by the way. But well done, Ray. We just hope you didn't get busted for giving another excuse for why you weren't in Boston …
Tiger Woods might play in next month's Valspar Championship for the first time. When you're not in World Golf Championships anymore, you have to expand your horizons when it comes to scheduling. … Bubba Watson will play in Friday's NBA All-Star celebrity game. The game is going to be like the AT&T Pebble Beach Pro-Am, except all of the players stink. … A house on the 18th hole at Pebble Beach is on sale for $22.75 million. If you ever wanted to one-up Jim Nantz, now is the time. … And finally, these are the tacos I created in the work cafeteria on Taco Day: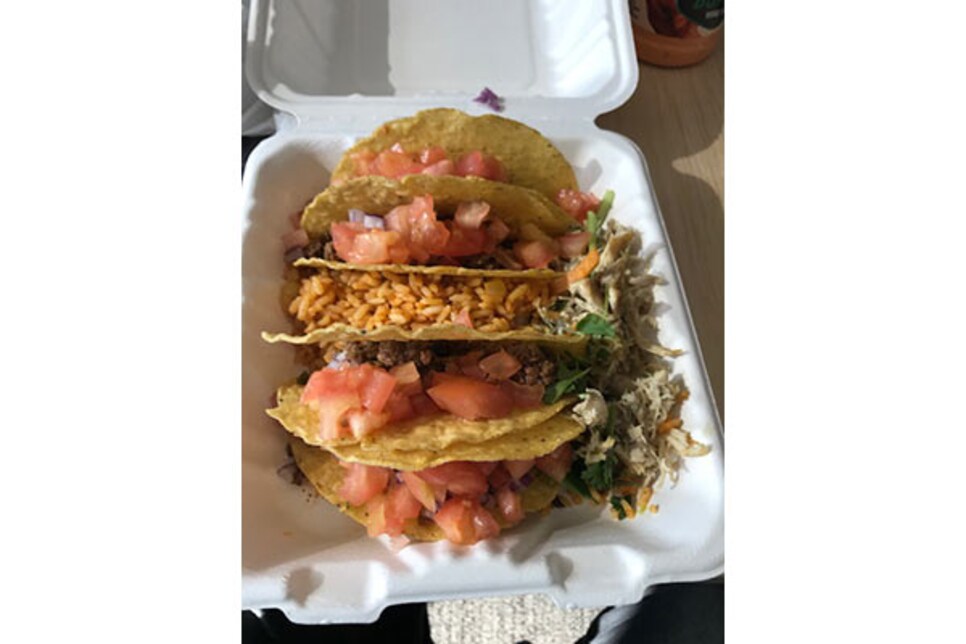 You better believe they tasted as good as they look.
RANDOM QUESTIONS TO PONDER
Why doesn't the cafeteria have Taco Day more often?
Why didn't Jim Nantz have an Augusta National replica built in his backyard?