The Loop
Larry Fitzgerald won the Pebble Beach Pro-Am by so much that people are questioning his handicap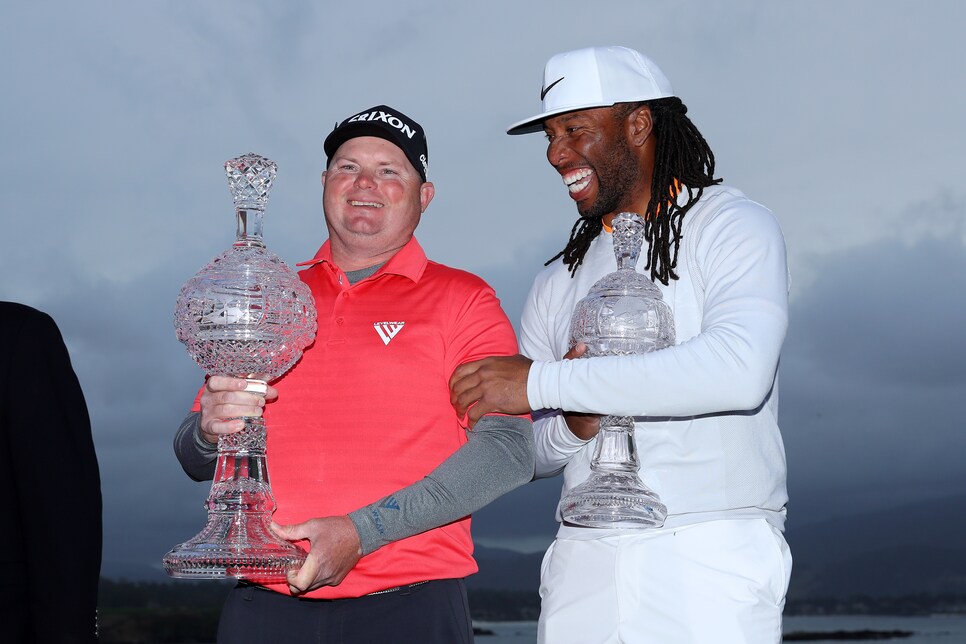 Larry Fitzgerald didn't just win the pro-am portion of the AT&T, he ran away with the title like a wide receiver waltzing into the end zone for a touchdown after the defensive back covering him fell down. The Arizona Cardinals star teamed with Kevin Streelman to finish at 41 under par, seven shots clear of second place.
First off, congrats, Larry. But to the victor of a tournament using the USGA handicap system comes the inevitable skepticism of your handicap index.
Seriously, when has someone won a net event and not taken some ribbing for being a sandbagger? My friends and I spend all year questioning the handicap of whomever we've deemed the favorite to win our annual golf trip. And when that person doesn't win, we move onto the person who did win and declare we're not letting them come on the trip next year unless their handicap goes down significantly. It's human nature. So are the questions surrounding Larry legit? Let's examine.
Fitzgerald entered the tournament with a 10.6 handicap index, which got bumped up to a 13 course handicap for the event. That figure, of course, means nothing unless you know more about his golf history. And thanks to GHIN.com, this stuff is easy to look up. Here's a look at the previous 20 scores on Fitzgerald's card that are counting for his latest handicap revision: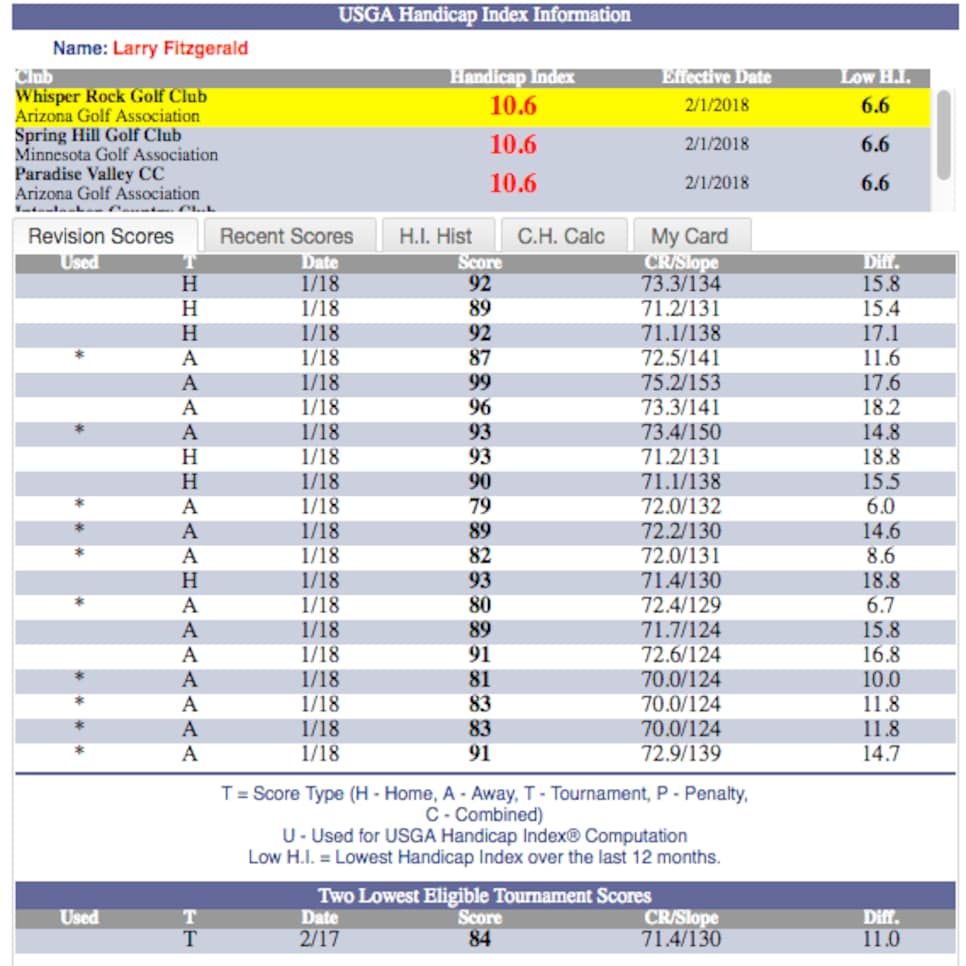 A person's handicap index is calculated by taking the 10 best/lowest differentials in that sample of 20 and then multiplying that average by .96. Whether this is the best way to assess a person's playing ability is a different question, but Fitzgerald (that's a nice foursome of country club memberships, by the way) is the focus today.
Nothing in those scores screams Fitzgerald isn't a 10.6 handicap because it's a mathematical formula. But it is interesting to note that of those 20 counting scores, Fitzgerald only posted a sub-87 six times with a 79 being his only sub-80. Meanwhile, he has 10 scores in the 90s during that time period, including a 99. And if you played golf with a 10-handicap who shot a 99, you'd say he's not really a 10-handicap and mean something totally different. However, things get more murky when you look at Larry's handicap history: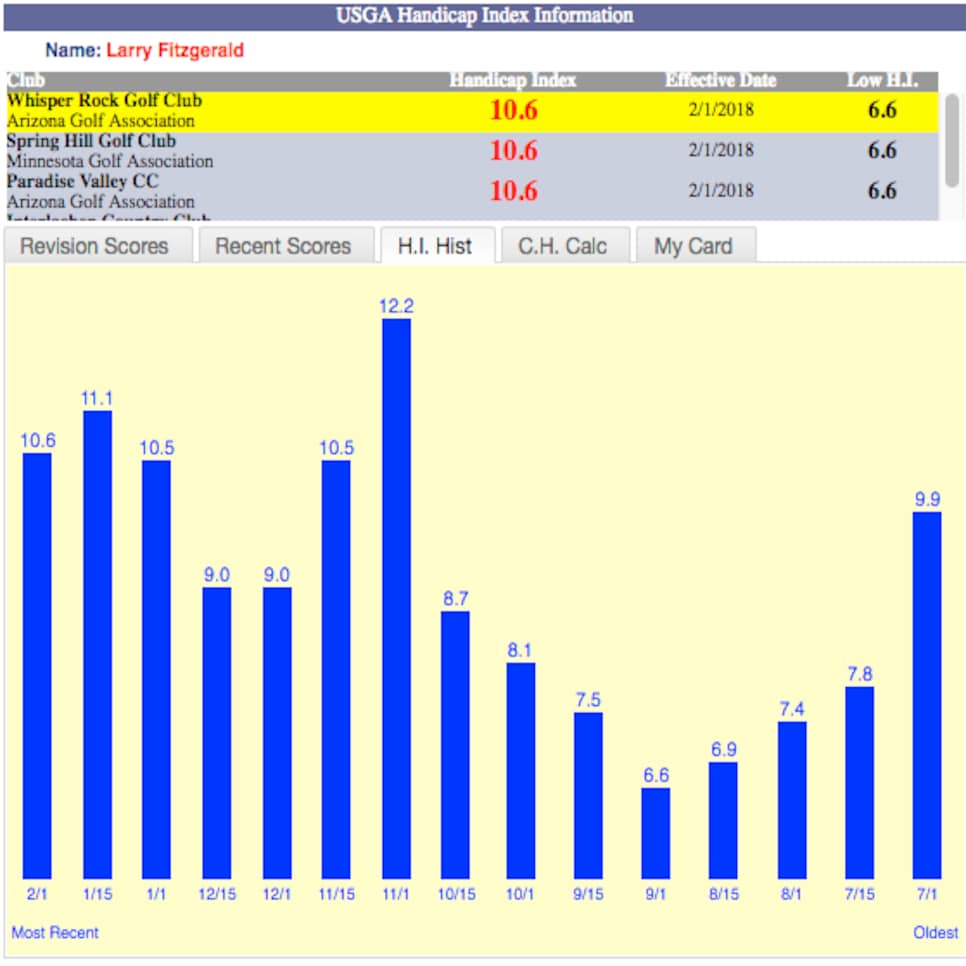 That chart is more volatile than the stock market. And as you can see, Fitzgerald was a 6.6 handicap (a full FOUR shots lower) as recently as September. And our equipment editors who hung out with him at the 2016 Golf Digest Hot List place him closer to a 6 than a 10. And there were shots like this:
Before the golf mob drags Fitzgerald to the town square to tar and feather him, though, we should point out a few things. For starters, Fitzgerald's low handicap index coincides with the beginning of the NFL season. After that, his handicap going up makes sense when you consider he wasn't playing as much, and the punishment of playing pro football at the highest level takes a toll on the body.
Also, while the swings in Fitzgerald's handicap seem particularly wild, consider how much golf he plays when he's not in season. The Arizona Cardinals' campaign wrapped up on Dec. 31 because the team didn't make the playoffs and Fitzgerald has already posted a staggering 32 rounds in 2018. Not including the four he played at Pebble Beach. So it's a lot easier for Fitzgerald to see his handicap change than it is for Joe Hacker, who plays once a week if he's lucky.
Fitzgerald shot a (net) 28 under par for four rounds (Streelman was 13 under on his own ball and finished sixth), which initially makes it look like he bettered his expected par (At Pebble Beach, that number was 85) by seven shots per day. That's not necessarily the case, though, because he could have had bad holes covered up by Streelman making pars. We'll get a better idea of what Fitzgerald actually shot when/if he posts these four scores, but we'd really need to see his complete scorecards to see just how impressive -- or shady -- his performance was.
It's a shame that Fitzgerald's win comes under a small cloud of suspicion, but again, anyone who wins a net event would face the same scrutiny. Just 10 years ago, it was famed Las Vegas gambler Billy Walters who was taking flack for winning this event by a record 10 shots with Peter Jacobson. OK, so Fitzgerald probably won't be thrilled to be compared to someone who was recently sentenced to five years for insider trading. . .
Anyway, we're happy for Larry, because let's be honest, you don't win a lot of trophies playing your whole career for the Arizona Cardinals. And if you want to tell the 6-foot-3, 220-pounder who is also one of the toughest wide receivers in NFL history that he's a sandbagger to his face, be our guest.