News
How Ted Potter Jr. unexpectedly wound up being the one walking away with the title at the AT&T Pebble Beach Pro-Am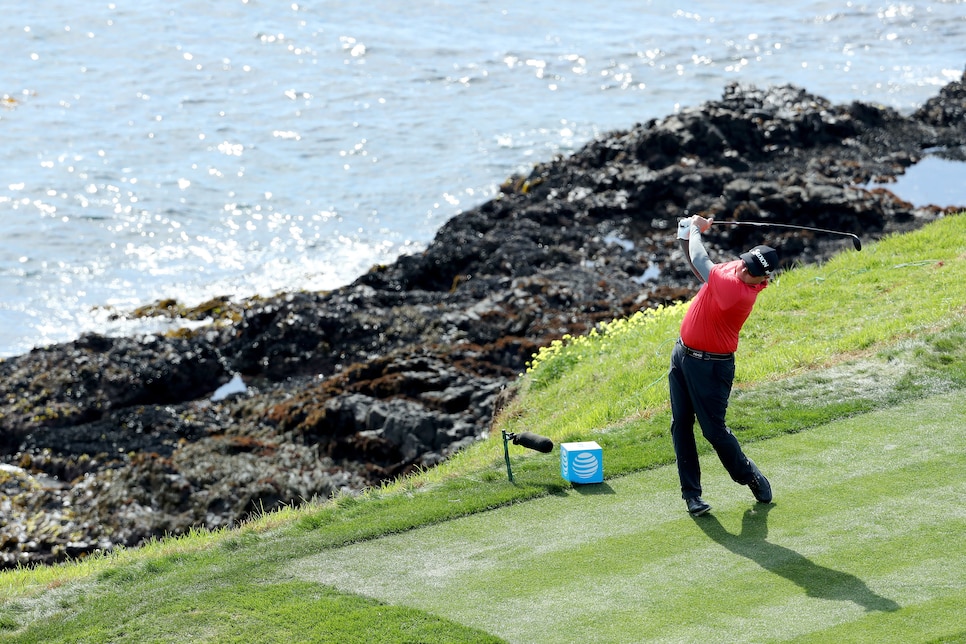 Photo By: Warren Little/Getty Images
PEBBLE BEACH — A tale of the tape between the 54-hole co-leaders at the AT&T Pebble Beach Pro-Am surely would have proved to be a futile exercise, one that would have revealed the obvious. By any measure one could conjure, Dustin Johnson owned a significant advantage over Ted Potter Jr.
Tale of the tape? The golf cognoscenti likely was pondering the estimated amount of tape a bruised and battered Potter was going to require upon exiting Pebble Beach Golf Links. What chance did the unassuming left-hander, ranked 246th in the world, have against World No. 1 Johnson, the human howitzer?
Sure enough, it was no contest.
Ted Potter Jr. won going away.
In one of the biggest upsets in memory in a head-to-head duel on the PGA Tour, Potter plodded his way to a careful three-under-par 69 on a crisp and breezy day on the Monterey Peninsula. In the process, the 34-year-old registered a three-stroke victory over Johnson, Phil Mickelson, Jason Day and Chez Reavie. The son of a golf course maintenance worker who had a club in his hands even before he could walk, Potter finished at 17-under 270 for his largest career paycheck, $1.322 million, slightly less than half his career earnings to date.
"It's truly an unbelievable day," said Potter, who doubled his PGA Tour victory total to two—coincidentally, the same number of steel plates inserted in the right ankle he broke in 2014 that derailed what finally was looking like a blossoming career. "I will remember this day forever."
As well he should. Aside from his victory in the 2012 Greenbrier Classic in his rookie year, Potter's most memorable triumph was beating Matt Kuchar in the Masters Par-3 Contest the following year. This win gives him another shot at Augusta National (short and big course) as well as starts in the Players and PGA Championship.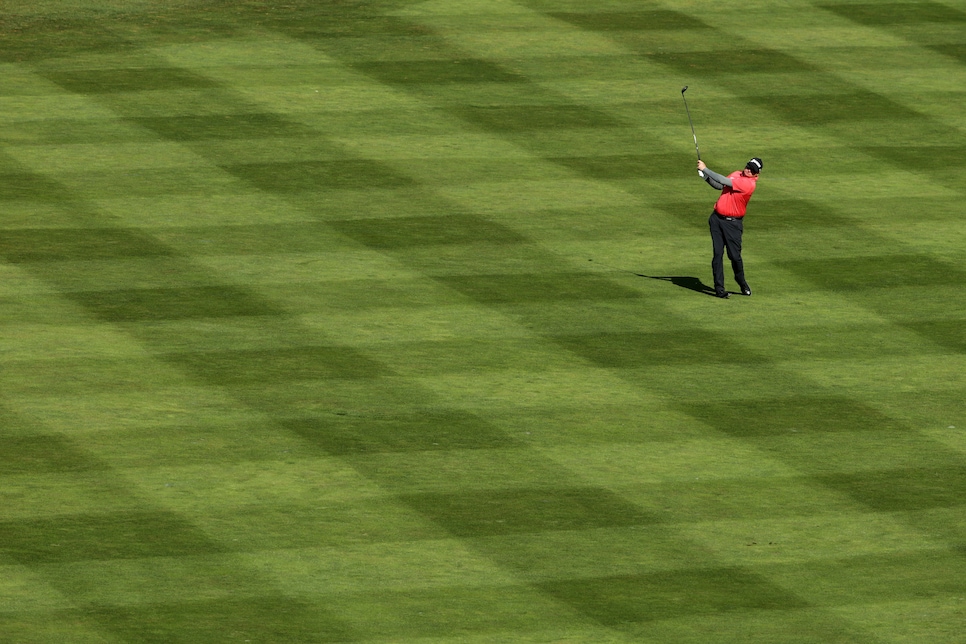 Potter's voice cracked several times as he recalled his difficult comeback the last few years as well as his bumpy journey to this point. He turned professional after high school in his native Florida and racked up close to 60 wins on various mini-tours, he estimated. But his Web.com Tour career got off to an inauspicious beginning as he missed the cut in all 24 starts in his rookie year in 2004 and he played the weekend only three times in his first 44 events. Before Sunday, Potter had only posted three top-10 finishes and 37 made cuts in 83 starts.
If nothing else, the soft-spoken left-hander, who never has had help with his swing except from his father, Ted, and his caddie, John Balmer, is a hardened competitor. "It definitely helps to draw from past experience coming down the stretch," Potter said. "It doesn't matter what kind of tournament it is. … So, I think I know how to control myself and the nerves coming down the stretch. It's just that you still got to execute the shot."
A natural right-hander who turned the golf club upside down (a là Mickelson) to stand opposite his father and copy his swing, Potter began the day with a shaky three-putt bogey on the par-4 first. It's what you might expect from a guy playing with his first 54-hole lead and who in his last event, at the Farmers Insurance Open, cratered to a final-round 82.
When Johnson unleashed a 321-yard laser tee shot at the par-5 second, and Potter answered with a poke of 273 yards with his whippy sawed-off swing, it appeared that someone was in for a long day. Who figured it would be Johnson?
"I'm sure everyone knew Dustin probably was going to win the golf tournament," Potter allowed. "What do I got to lose, really? Just go out there and try to play the best golf I could today and see what happens. Why put more pressure on myself to say I'm playing against the World No. 1? Just go play golf."
Potter calmly canceled Johnson's stress-free two-putt birdie with a birdie of his own, getting up and down from behind the green, and he did the same at the par-5 sixth despite giving up 52 yards off the tee to Johnson's 317-yard 3-iron.
The turning point came at the iconic little par-3 seventh when both men flew tee shots over the green. From roughly a few paces right of where Johnson pitched past the hole and failed to get up and down for par; Potter chipped in for birdie, his fourth in six holes and last of the day. The two-stroke swing gave Potter a two-shot lead that he protected with an array of steady par saves and high-percentage plays.
He was most proud of how he handled the pressure as the round progressed and how he kept Johnson, who admittedly wasn't his sharpest, at bay.
"I think the way I finished the tournament coming down the stretch on the back nine. I struck the ball well and hit a lot of my targets out there coming in with the pressure on me," the Ocala, Fla., native said. "I just hit a lot of quality golf shots coming down the stretch knowing I had to."
"I played OK," said Johnson, who closed with a 72 and missed a chance to win this event for a third time. "Definitely a few iron shots cost me a couple of bogeys. I would have liked to put a little more pressure on Ted."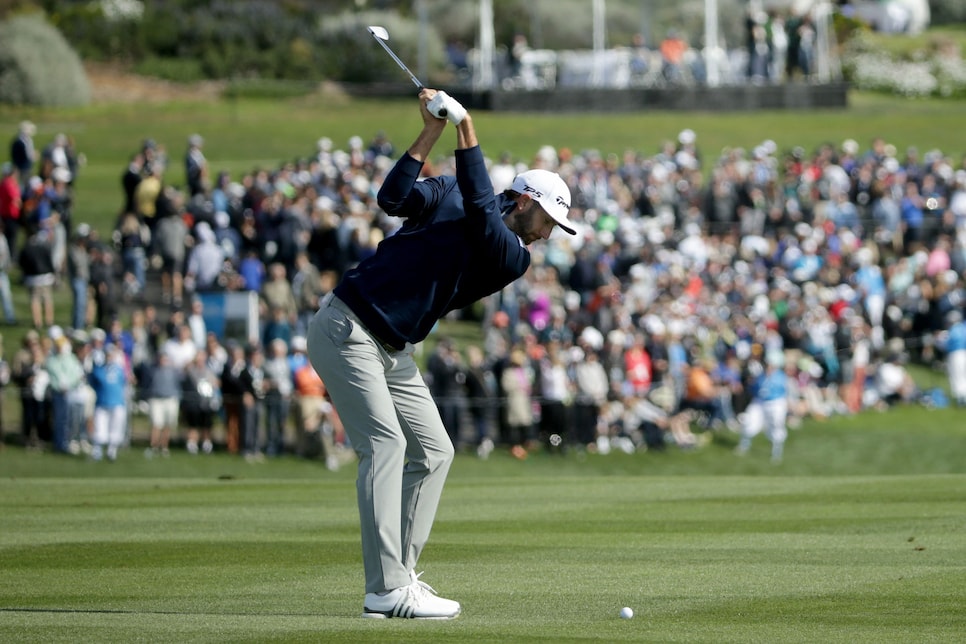 For the second time in three years this storied tournament produced an improbable winner. Vaughn Taylor, who hadn't won in 11 years on the PGA Tour, outlasted Mickelson in the 2016 edition after getting in as an alternate. He was 447th in the world at the time.
Potter, who lost nearly two full seasons in 2015 and '16 because of the aforementioned ankle injury, stymied not only Johnson, but also Mickelson (who shot 67 and still is winless since the 2013 Open Championship), former No. 1 Day (70), the suddenly dangerous Reavie (68) and World No 2 Jon Rahm, who started the day three back, climbed within two of the lead, and then drifted back with an inward 42 and four-over 76.
None were a match for the unassuming Potter, who led the field with 24 birdies and played his final 46 holes in 15 under par after suffering four straight bogeys on Friday at Spyglass Hill that dropped him to two under par.
That's quite a bounce back, but that's something Potter has long become used to. He couldn't play for five months as he waited for his ankle to mend with the help of two steel plates and 12 screws in it. The downtime was killing a man who loves the game, loves his job. The idle time allowed some doubt to creep into his mind.
"It was a struggle there. You don't know what is going to happen to your golf game," he admitted.
He still has a bit of pain in his ankle. But his golf game is sound. Ted Potter might never achieve the consistency he expects of himself, but his flashes of brilliance are good enough.
It's a wonderful tale. Check the tape.