News
Ted Potter Jr. 'thought' he might shoot 66, posts 62 instead, ties Dustin Johnson for AT&T Pebble Beach Pro-Am lead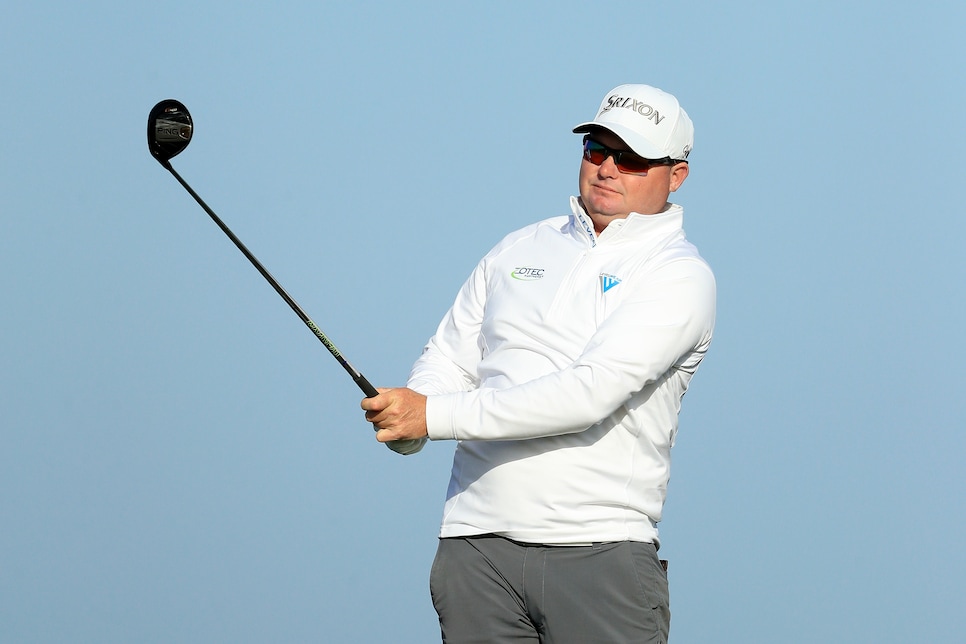 PEBBLE BEACH — The vicissitudes of golf are such that a man can wake up and believe, for no particular reason, that he can shoot a 66 that day, a score that he had managed to post only once in his last 34 PGA Tour starts dating to 2014.
Such optimism seems only slightly short of insane, but that's how Ted Potter, Jr., felt Saturday morning before his third round of the AT&T Pebble Beach Pro-Am. There was no revelation that struck him, no omens to draw on, no epiphany in his game that initiated the confidence with which he challenged Monterey Peninsula Country Club.
"I just thought I might be able to get to double digits, put myself in position for a nice finish," he said of his goal for the afternoon.
After rounds of 68 and 71 at Pebble Beach Golf Links and Spyglass Hill, respectively, the one-time tour winner from Ocala, Fla., would need a 66 to reach double digits under par for the tournament. True, he had fired a six-under 66 to open the Farmers Insurance Open at Torrey Pines in his last start, which placed him one off the lead. Then he imploded with 75, 74 and 82 to end up T-73.
Not exactly a string of confidence builders.
But the portly left-hander got off to a hot start with birdies on his first four holes. Then he made another birdie and an eagle to go out in seven-under-par 30 on the back nine. He turned to the front and sank a long putt from off the green at No. 1. Then he dribbled in a 35-footer at the second. He birdied Nos. 4 and 6.
Forget 66. He was on his way to 59.
"Thought about it," he said.
Bogeys on his final two holes squelched that. Still, his nine-under 62, pulled out of nowhere except some glass-half-full province of his golfer's brain, was a stellar piece of work that left him in a tie for first at 14-under 201. His reward is a tee time at 9:35 a.m. PST in the final group with his pro-am partner, Seattle businessman Sean Kell, and World No. 1 Dustin Johnson, who turned his last 54-hole lead into an eight-stroke romp in last month's Sentry Tournament of Champions.
No one would ever mistake Potter for the ridiculously lithe and athletic 6-foot-4 physical specimen he is paired with, a guy playing with supreme confidence. But just as there are no numbers on a scorecard, there also are no mirrors.
Taught golf by his father, just like Johnson was by his dad, Potter has enough game to add to his lone tour win at the 2012 Greenbrier Classic. But it's been awhile since he has had such a prime opportunity, and that could be an issue.
"I feel good about my game right now. Obviously, I played well today, and as long as I can just keep the nerves under control I'll be fine," he said.
"I haven't been in contention too much, really. I've had some good tournaments, but I need to get there more often to get comfortable there," Potter, 34, added. "Tomorrow will be a good test for me and to see how it goes. But I've been working on my swing and trying to get everything right there, and the swing's getting to the point where I feel good about it. Now it's just getting comfortable playing at a high level."
The swing went awry at Torrey Pines, the fade that he fights becoming a slice that cut up his scoring chances and sent him spiraling down the leader board. But he should cut himself some slack. He really hasn't been the same since he broke his ankle stepping off a curb in 2014, an injury that required two surgeries. Potter lost all of 2015 and only made two tour starts in 2016. He returned to the Web.com Tour last year and regained his PGA Tour status by finishing 10th in earnings on the strength of six top-10 finishes, including a pair of seconds.
The ankle still bothers him. "It still gets sore at the end of the day, but I can swing the golf club and I can get around 18 holes, so I feel good about that," he said. "But it's still going to be awhile before it's like 100 percent. But it feels good enough to play at this level."
If it can hold up for at least one more day, he'll have quite a comeback story. But this is an opportunity he has been working towards his whole life. He began playing golf when he was 2. "But I've been holding a club before I could walk."
At 19, he turned pro after graduating from high school.
"I've never been into schoolwork and stuff like that," he admitted.
He's endured a long learning curve, sure, but he can draw on some past successes, be they mini-tour wins or his victory at the Greenbrier. In 2013, Potter held the 36-hole lead at Pebble before posting a T-16 finish.
"Yeah, it's good. That's another thing, I've played well here in the past and I think that helps, drawing on past experience," he said. "It's definitely a fun week, it's a relaxing week. You got amateur partners and just go out there and talk with them and just kind of enjoy the moment out there. And you got beautiful views, and, I mean, it's just a great place to be."
Indeed, it is. And no one would have seen it coming. Except Ted Potter, who had visions of doing something special Saturday and made it happen. No one can explain it. No one could even try. Ted Potter couldn't explain it either.
"I don't know. I just wanted to shoot a good score and see what happens," he said.
Golf happened. That's all.