News
I bought shares of a tour pro for one year. Here's what happened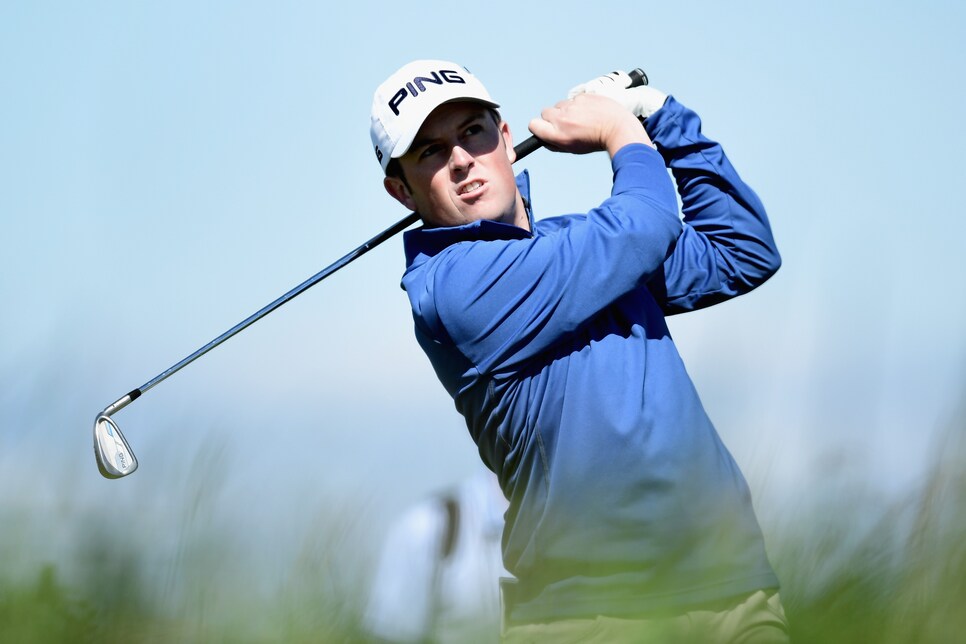 Photo By: David Cannon/R&A
I can remember gambling on sports as far back as fifth grade when my mom caught me betting on a Bills-Dolphins game and made me give back the $5 I won from a friend (You know who you are, and you still owe me as far as I'm concerned). I've also dabbled in buying stocks, although my understanding of the market doesn't go much deeper than knowing Apple usually reports impressive quarterly earnings.
This is all to say that the concept of buying shares of a professional golfer has a natural appeal to me. Although still probably not mom-approved, it's a more grown-up form of gambling than betting on the spread of a game. And financial planners always stress how important it is to diversify your portfolio. What's more diverse than investing in a British golfer you've never heard of?
I'd never come across such an opportunity, though, until last year when I happened to see a retweet of a tour pro named Dave Coupland. Dave was looking for investors in himself, and I was immediately intrigued.
I did my due diligence (Translation: I read Dave's bio on his website) and learned the 31-year-old had spent his time as a pro between the PGA EuroPro and Challenge Tours. He had also qualified for two British Opens, including the previous year's tournament at Royal Troon. Coupland, who hails from the tiny town of Boston on England's east coast, had earned some status on the European Tour by finishing 38th as a rookie on the Challenge Tour in 2014, and he picked up his biggest pro check to date (£24,510) the following year at the Lyoness Open. But that's the closest he's come to playing full time on the big stage.
"I've stayed very still, and the standard got tougher," said Coupland in a candid assessment of his career. "If you're not careful, you can end up in limbo."
But Buy low, sell high is all I could hear as I read Dave's resumé. And "I WIN, YOU WIN!" seemed like a pretty good deal to me. So why would this golfer turned golfing commodity offer up a cut of his earnings? Because being a tour pro is ridiculously expensive, and often, this is the only way to make the dream of playing golf for a living feasible.
"It's common," Coupland said of player shares on the EuroPro and Challenge Tours. "A few guys I know did it before, and I discussed it with them and thought why not give it a shot?"
Why not give it a shot is also what I thought when I saw the seemingly reasonable price of £100 per share. And once I let the idea creep into my head, the fear of missing out on a good bet that often fuels gambling decisions (What if he gets back into the British Open and wins?!) took over. I definitely needed a piece of the action. Let's make it two shares, I decided.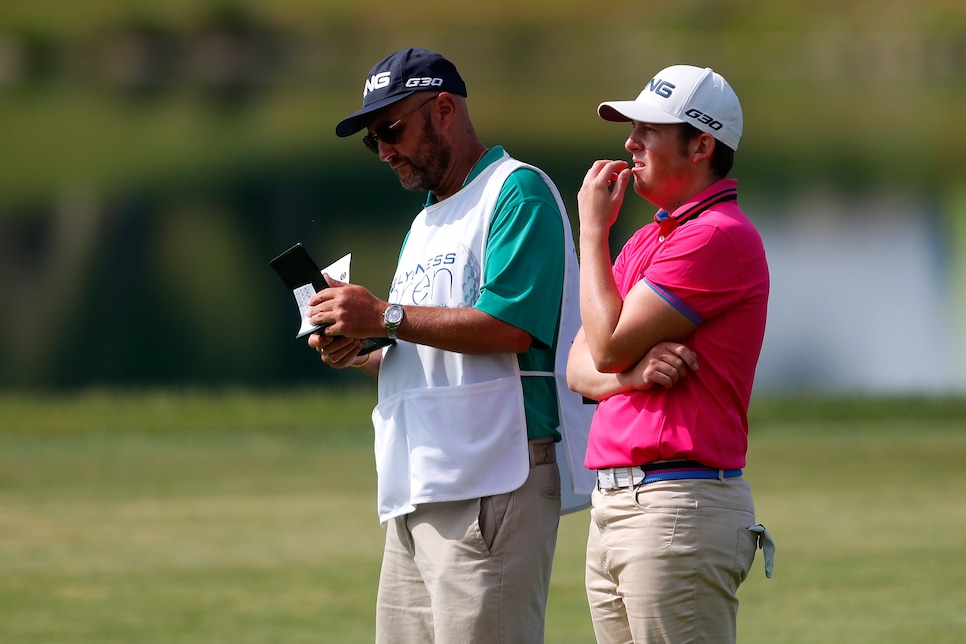 Wait, was this dumb? Was I just throwing my money away by pouring it into a tour pro? A quick Google search produced a 2012 Golf Digest piece by Peter Finch on the subject with the headline, "The Worst Investment?" Oh boy … But I've seen what investing in a small startup can turn into. I watch Shark Tank every week. Maybe Dave Coupland is my Scrub Daddy?
My next order of business was finding a way to justify risking that much. At first, I considered trying to turn it into a work expense for this story, but again, what if I wound up winning some serious cash? I didn't want to be forced into forking it over to the company. Instead, I figured I could re-allocate the $250 I was about to spend on renewing my air conditioning service plan. I could put that off for one year, right? What's the worst that will happen? As far as I can tell, all they really ever do is stop by once and tell me my AC is running OK. Plus, there are plenty of great golfers out there who owe their start to some sort of sponsor/investor structure. Zach Johnson is forever grateful for a group that staked him when he was a young pro and now he has a green jacket AND a claret jug. (OMG, Dave Coupland is definitely winning the British Open!) And just like that, I had talked myself back into those two shares.
Despite a somewhat late start in soliciting investors—I didn't buy-in until March 31, for example—Coupland was pleasantly surprised with the results. Overall, he sold 52 shares at £100 a pop. That included three shareholders who purchased 10 shares each, something that also got them sponsorship placement on his golf gear. Not surprisingly, I was a rare investor who had no previous connection to Dave. Most were family members, friends or members at Woodhall Spa Golf Club, where Coupland plays out of. But I was happy to be a minority owner in DC Golf Investments. And Dave was happy to take my check.
Armed with a fresh injection of capital, Coupland set up a budget that included entry fees for tournaments, gas money and hotel bills, which he tried to keep to under £200 per week. (Again, being a tour pro is really expensive.) And at the end of the season, Coupland would tally up and divide all his tournament earnings and deposit the money into a separate bank account. It was all very thorough. And official. Here's a look at most of the contract I signed, which included everything from where my money was going to a provision that Dave would "practice on non-competitive days and train to maintain an appropriate physical condition":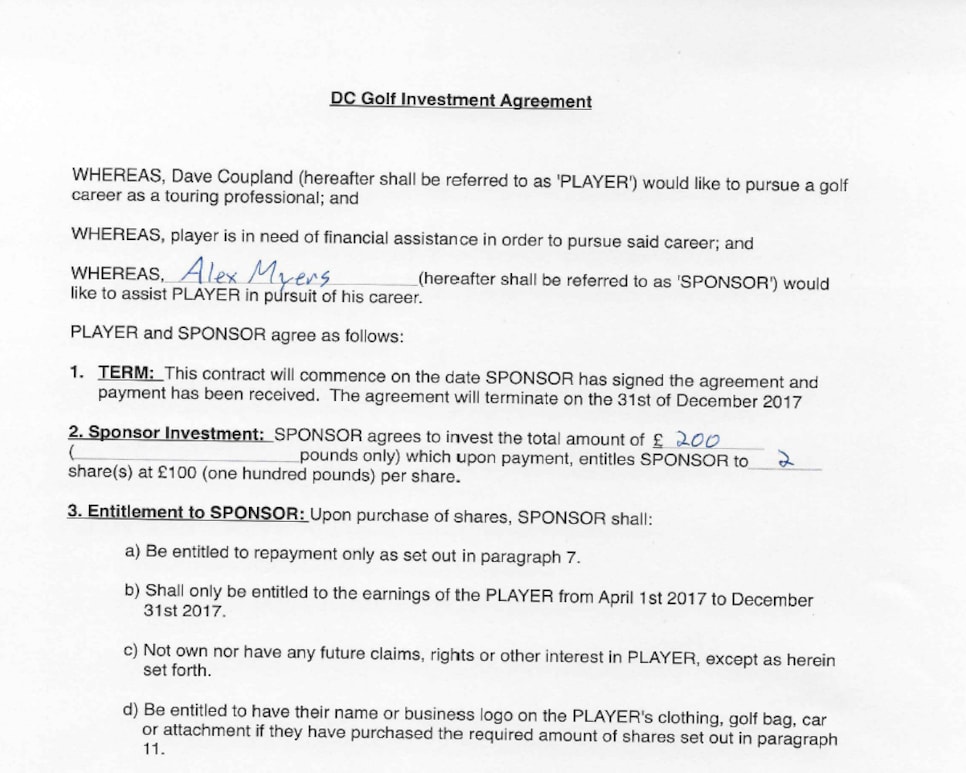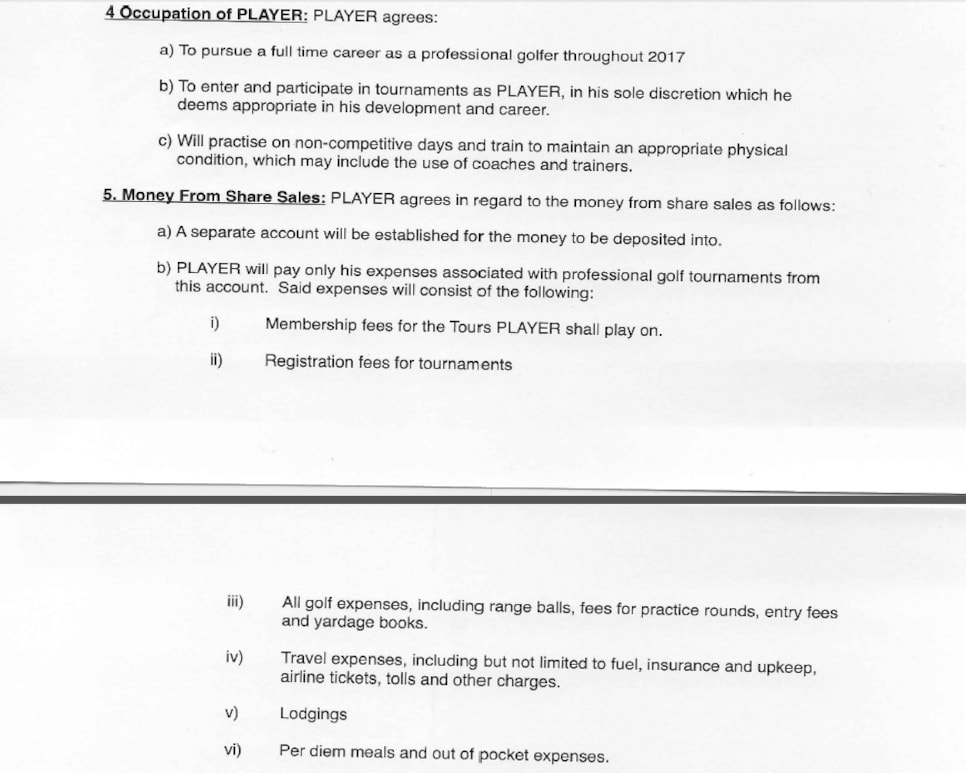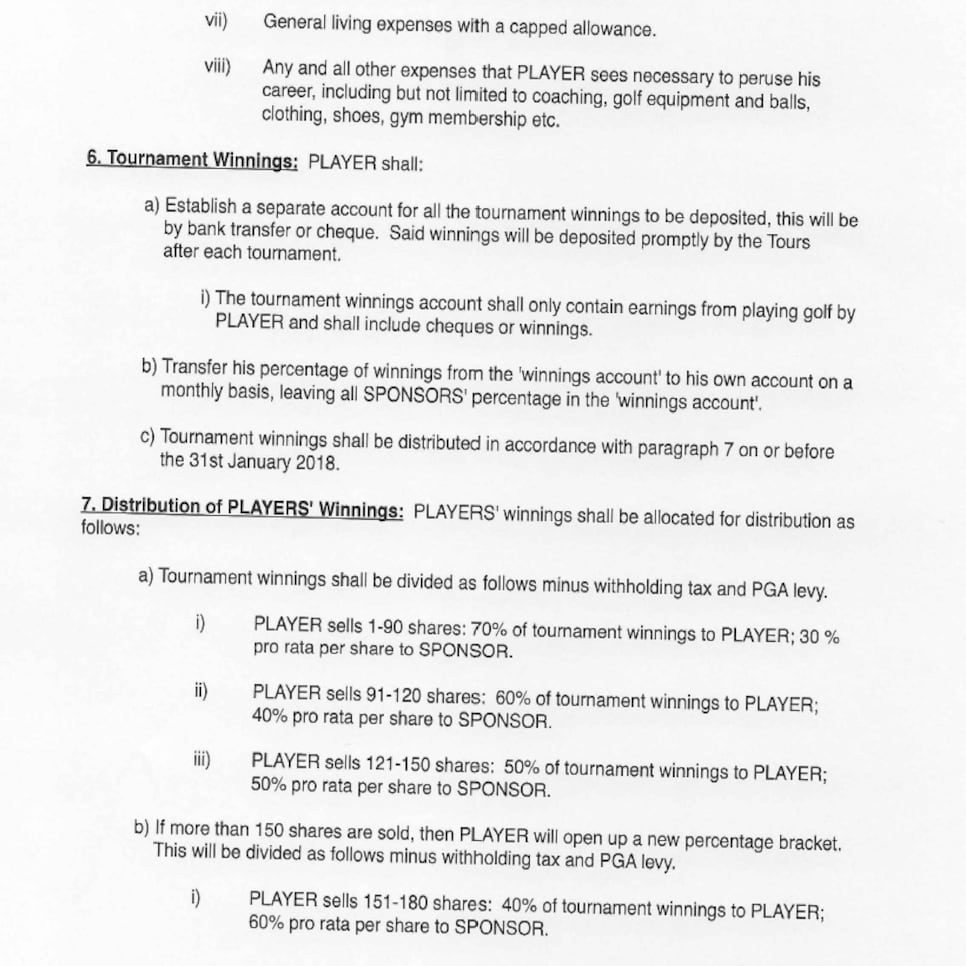 As with any stock purchase, there's a tendency to constantly monitor your investment at first. At work, I frequently refreshed Dave's Twitter feed, where he kept investors appraised of his play—and time in the gym. While at home, my wife caught me checking tournament scores on my phone in the middle of the night a couple times. Although, I'm still not sure she believed that's what I was doing … (Side note: She also doesn't know about the $250. Or the risky decision regarding our air conditioning. So please, let's keep all of that between us.)
Throughout the season, Coupland had several close calls on the PGA EuroPro Tour, including a T-4 at the Great National Hotels Irish Masters in May and another T-4 at the Pentahotels Championship in August (No, not every event on the HotelPlanner.com EuroPro Tour is sponsored by a hotel chain). And alas, Dave didn't win the claret jug after just missing out on qualifying (You're lucky, Jordan Spieth).
Despite not finding the winner's circle—something especially crucial on a tour where total purses are about £50,000 and prize money is weighted heavily toward first place—his consistent play earned him a 15th place finish on the EuroPro Tour's order of merit. Not bad, but also not quite his goal of a top-five spot, which would have earned him full-time playing privileges on the Challenge Tour in 2018. As Coupland's season wound down, I knew there wouldn't be a huge payday coming. However, being a part of his journey—even a small, small part—was strangely satisfying.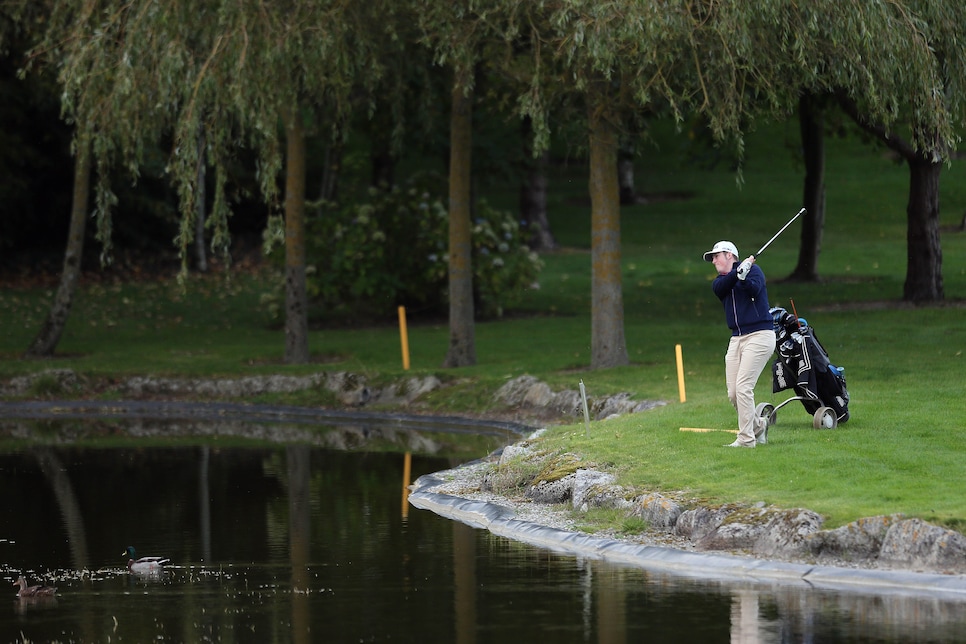 As an investor, it's not like I influenced his schedule or any club selection, but I got excited each time Dave put himself in contention, and even a little proud whenever he earned a paycheck. And I can only imagine how exhilarating it would be to watch Coupland come down the stretch of a tournament in contention. I know, I know, as a golf writer there's no cheering from the press box, but what about from the owner's box? I also wondered if playing golf with people like myself pulling for him—even if mostly for selfish reasons—made Dave feel any different on the course?
"Sure. Especially if you get your head down," Coupland said. "A few bad breaks a few bad bounces, and you think why is it happening to me? I try to snap out of that. I'm not just playing for myself here, I'm playing for my supporters. It can have a positive effect on things."
With Coupland's season complete, it was time for this tour pro to put down his clubs and pick up a calculator to crunch the numbers. Coupland computed each share was now worth £63.93 (His total number investors also figured into the math as stated in the contract). So my two shares purchased for £200 were now worth £128 pounds or about $170 for a paper loss (You like that stock-market lingo?) of around $80 (A slight increase in the exchange rate helped cushion the blow). Here's the spreadsheet Dave sent out to his investors breaking down his prize money (after a withholding tax and a PGA levy) and payouts: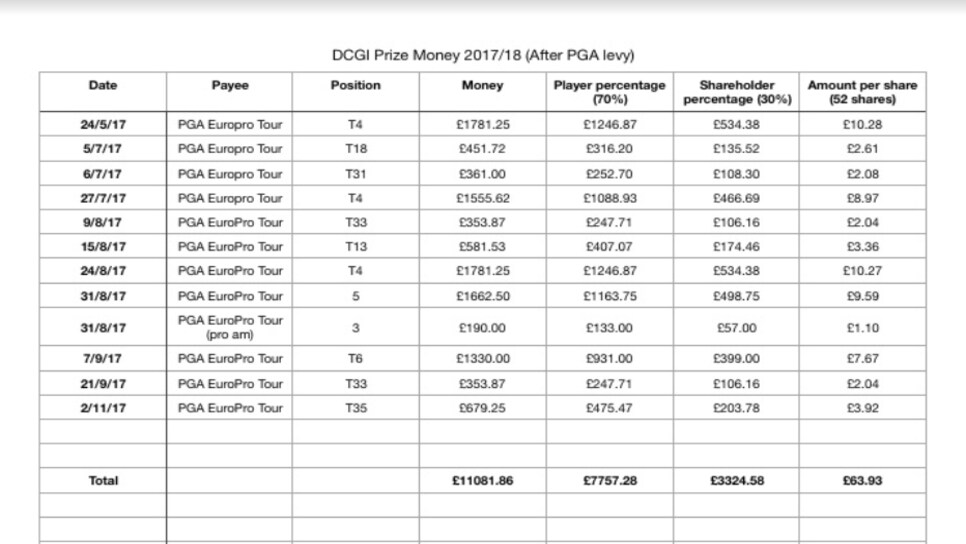 But you can't put a price on the proper British slang I picked up following Dave throughout the past year:
Knackered! Love it. So based on that, plus the entertainment value/emotional equity I got from investing, I'm declaring the venture a cracking success. The experiment was certainly worth it for Coupland as well. And he'll have even more backers in 2018.
"Since I've done it, people are coming to me and asking about it," said Coupland, who will spend most of 2018 on the PGA EuroPro Tour again after failing to advance to the final stage of European Tour Q School. "So it's having a bit of snowball effect."
I was thinking about cashing out, but Dave's decision to let all of his backers re-invest their shares for the original value as a thank-you was too tempting to pass up. Who knows? Maybe this summer we'll swig victory champagne from the claret jug together at Carnoustie. Or maybe I'll just pop open a celebratory beer at home when we turn a profit for the first time.
"Hopefully, I'll triple your money this year!" he said.
Sounds like a plan, Dave. Besides, my air conditioning is still working just fine.