Book Excerpt
The Cup They Couldn't Lose: The deeper meaning of a Ryder Cup rout
In his new book, Golf Digest contributor Shane Ryan explores what was at stake during the 2021 matches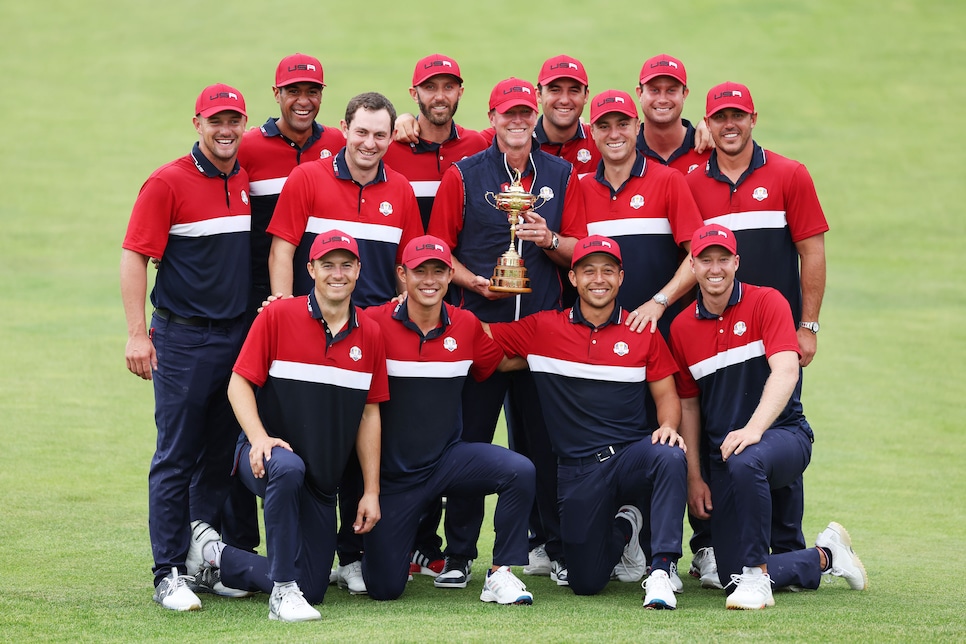 Photo By: Richard Heathcote
Editor's Note: Golf Digest contributor Shane Ryan's new book, The Cup They Couldn't Lose: America, the Ryder Cup and the Long Road to Whistling Straits goes on sale May 10 (Hachette Books, $29 hardcover). The book explores the modern history of the matches between the U.S. and Europe that led to the showdown at Whistling Straits in 2021. In this excerpt, Ryan sets up the historical challenge U.S. captain Steve Stricker and his team faced in Wisconsin.
"You've probably heard this in press conferences, where losing captains and players will say, 'Well, the other guys just played better.' Can you imagine if someone said that in the defense world? The general has to go and explain why he lost the war, and he says, 'Well, the other guys just fought better.' Or in the business world, the CEO has to explain why he lost a million dollars and he says, 'Oh, the other guy just sold more widgets.' I got tired of hearing it. Yes, there's variance in results. Yes, there's unpredictability. But the Ryder Cup fundamentally is an organizational and a management challenge. It's a collective action problem. How do you channel the talents and abilities of a large group of people into a common goal? The reality is that winning Ryder Cups is making lots and lots of right decisions enough times to increase your chances of winning." —Jason Aquino, founder of Scouts Consulting Group, Team USA's strategic analysts
"You know, if I could put my finger on it, we would have changed this shit a long time ago." —Jim Furyk
On Saturday at the 2021 BMW Championship in Maryland, another merciless scorcher of a day in a long, hot August, I sat on a stone wall by the clubhouse and waited for Kevin Kisner to finish his round.
I'd alerted the PGA Tour's media officials that I wanted to speak with him, but I was dreading it, and they weren't thrilled about having to ask. Two weeks earlier, Kisner had won the Wyndham Championship in Greensboro, N.C., reviving his hopes of making the Ryder Cup team for the first time. The great irony of Kisner's career is that he is one of America's best match-play golfers but has never made a Ryder Cup team. He checks all the boxes—smart, combative and with the kind of relentless game that wears his opponents down. He holds a 16-6-2 career match-play singles record, with a win at the 2019 WGC-Dell Match Play and a second-place finish a year earlier, and a 2-0-2 mark the one time he played a Presidents Cup. His list of conquests reads like a who's who of great match-play golfers: Matt Kuchar, Francesco Molinari, Louis Oosthuizen, Tony Finau, Dustin Johnson, Patrick Reed and Ian Poulter.
But he's never managed to play well enough at the right time to qualify for the Ryder Cup, and though he's seemingly in the discussion every year, he's also failed to earn a captain's pick. If he were European, it's possible he'd be a Poulter-like figure, because his skill and résumé would have landed him on several European teams, and their captains tend to value match play as a distinct discipline. In America, he has been lost in the depth of talent and the inability of captains to see his value.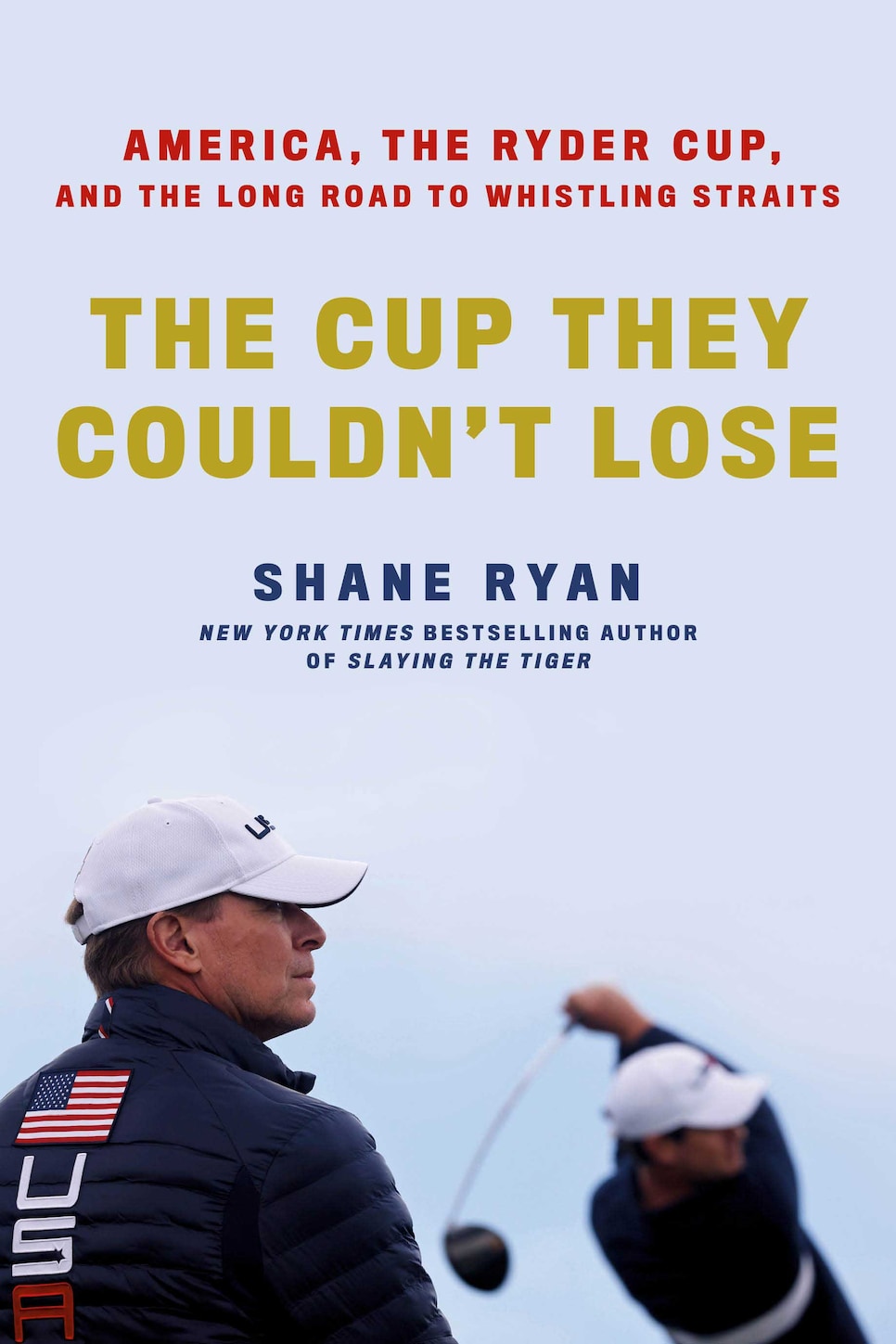 History seemed to be repeating itself in 2021. A few days after his win in Greensboro, I was the only media member to show up for his virtual press conference, which clearly annoyed him—"Thanks for valuing my time," he grumbled—and almost as quickly as the Kisner Ryder Cup buzz grew, it seemed to fade. He missed the cut at The Northern Trust the next week to start the PGA Tour's playoffs, and while I waited for him by the clubhouse at the BMW at Caves Valley Golf Club, he was on his way to finishing in a tie for dead last.
We didn't yet know that Steve Stricker, the U.S. captain, was focused on players that fit the profile of Whistling Straits, which rewarded length, and that Kisner, a shorter hitter, wasn't on his radar. But the writing was on the wall, and it was another piece of sad irony—in this case, Stricker was smart in his thinking, but in 2018, when Kisner's profile fit Le Golf National to perfection, captain Jim Furyk used his picks on long hitters who spent the week flailing around in the thick Paris rough. Always, it seemed, Kisner was on the wrong end of Ryder Cup fortune. (Later, Furyk recognized that Kisner was exactly the kind of player he needed in Paris.)
I liked Kisner—he was generous with his time in 2019 when I picked his brain on the art of match play, and he's funny in an aggressive, bust-your-balls way. When we spoke at Bay Hill that year, he told me to meet him during the Wednesday pro-am, and when I caught up to him on the course, he turned and flashed an angry glare.
"What the hell are you doing here?" he hissed.
My stomach sank, and I thought of a thousand ways to explain myself and apologize, but in the end I just stared at him dumbly. He broke out laughing—this was his idea of a good joke. Later, in the middle of our interview, he spotted a friend near the ropes and shouted a greeting in his South Carolina drawl: "What's up, pencil dick?" And when our interview entered the ninth minute, he groaned. "God, are you writing a fucking novel?"
But in the midst of that banter, he gave me the best schooling I've had in what makes match play so different from stroke play. He spoke of how it benefits people like him who have a cutthroat mentality when it comes to one-on-one competition, and how that mentality is underused in golf, where the vast majority of tournaments are one-man-against-the-field stroke play; how being a shorter hitter, a liability in stroke play, can become an advantage when the shorter player hits his approach first and puts pressure on the opponent (I watched Ian Poulter drive Rory McIlroy out of his mind doing this over and over in a 6-and-5 victory at the 2021 WGC-Dell Match Play); how the tension on every single hole rewards grinders who aren't afraid of the heat; how a sense of momentum is critical; and how the ability to do something unexpected, like chipping in from off the green, can devastate an opponent who isn't mentally prepared.
At the end of our conversation, he gave me the best description I've ever heard of the difference between match play and stroke play.
"It's like having a ten-footer to win on the last hole of a stroke play event six times per round," he said. "You feel like this has to happen right now."
If there was one player I wanted to see in the Ryder Cup, it was Kisner. But that Saturday at the BMW, as I tracked his increasingly mediocre round on my phone, I got the distinct sense that I was about to see his dark side up close. And for what? To pile on, and remind him that he wasn't going to make the Ryder Cup team?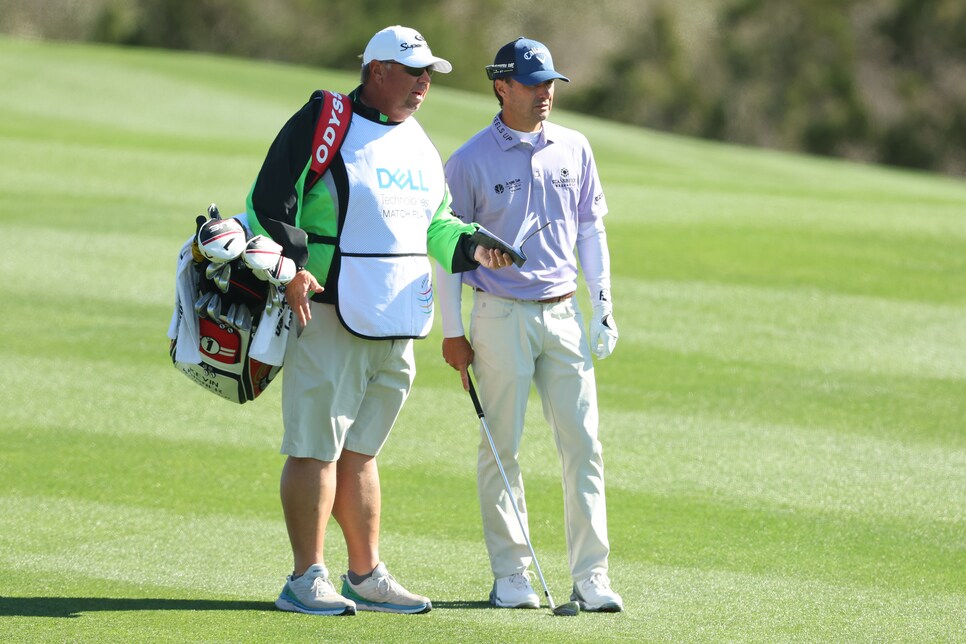 Despite a stellar record at the WGC-Dell Match Play, Kevin Kisner has yet to play for the U.S. in the Ryder Cup.
Michael Reaves
In a moment that contained both wisdom and cowardice, I went back to the Tour media official and called an audible: Stewart Cink was also in Kisner's group, and if possible, I'd like to speak with him instead.
A few minutes later, Cink ambled over. He had shocked the golf world by winning the RBC Heritage at Hilton Head earlier in the spring at age 47, with his son caddieing, and now he was making his deepest playoff run in a very long time. More importantly for my purposes, he had played in five Ryder Cups, losing all but one of them, and though he seemed like an obvious choice for a future captaincy, he was clearly outside the clique that now dominated the U.S. order of succession. It was almost certain that he'd never get his chance.
"You and I are both on the same part of the pipeline," he admitted a bit ruefully. "I think if convention had stayed the same as it was 15 or 20 years ago, I probably would have been in line. I played a lot of Ryder Cups, I won a major championship. But when the task force came about, conventions started to break down. It's not necessarily a bad thing. But it's a bad thing for me."
The one Ryder Cup his team won came in 2008, when Paul Azinger instituted his famous "pod" system, taking a page from the U.S. Navy SEALs by placing his players in smaller units of four to foster camaraderie. The philosophy turned out to be a stroke of genius, effective and empowering, and every player on that team still brims with good memories of how they crushed Nick Faldo and the Europeans that weekend in Kentucky … especially after being crushed themselves in the three preceding Ryder Cups. Cink was no different, and after he finished listing the virtues of Azinger's approach, I asked a question that had been bothering me for a long time.
"Does it ever seem strange to you," I asked, "that you lose three in a row coming into this, Azinger does this new thing, it works perfectly. … Does it seem strange that you don't just keep doing it?"
He paused, and I got the sense that I had asked the right question. The silence lingered, and he shook his head like someone who had thought of this question many times but never the answer.
"It's one of the strangest things in my whole career."
A month later, in the media center before the start of the 2021 Ryder Cup in Wisconsin, a lot of very smart people were ignoring the facts on the ground. The American team assembled for Whistling Straits was superior on paper; it was already obvious that Steve Stricker was at least competent as a captain—perhaps much better than competent—and the home team had the advantage of a partisan crowd that, thanks to the pandemic, would be almost bereft of European supporters. Every factor pointed to an American win, and to analyze the problem objectively was to arrive at the inevitable conclusion that it probably wouldn't be close.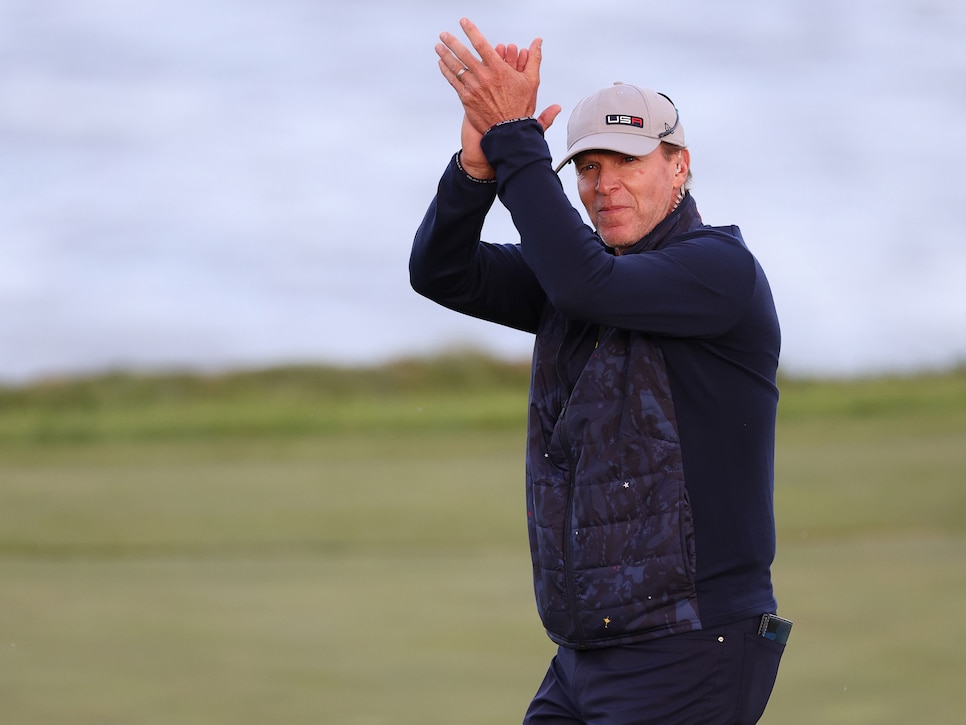 At Whistling Straits, Steve Stricker enjoyed the benefit of a superior (on paper) American squad to the European as well as playing at home in Wisconsin.
Richard Heathcote
Clear as the outcome may have seemed, it was impossible for many to believe. There was an underlying sense that Europe would find a way, for the simple fact that they always found a way, and the Americans would implode because they always implode. I predicted the U.S. blowout on the record, but the minute that prediction was published, I was consumed with doubt—I had missed something, I was sure, and was setting myself up to look like an idiot.
Why were we all so scared? Why was Team Europe in our heads?
If you ask that question, you might as well ask a few others: In the eighteen Ryder Cups between 1983—the start of the modern competitive era—and 2018, why did Europe win twelve Ryder Cups to just six for the Americans? Why did they amass a 158.5-129.5 edge in pairs matches, while the singles were almost dead even, with America leading by a single point, 108.5-107.5?
If America routinely has the advantage in terms of talent, tournament wins, world rankings, and success in the majors, how have they only just managed to eke out a .500 record in singles, and how are they routinely pounded into submission in pairs matches?
The answer is as simple—and complicated—as history.
It can be hard to remember today, but for the first 56 years of the Ryder Cup, America dominated. By the time the United States won in 1983 at PGA National in Florida, their record was a gaudy 21-3-1. The talent deficit was massive, and so were the margins.
None of it was surprising, considering the superior state of American golf. The only remarkable fact about those early days was that the Ryder Cup survived at all. Had this relentless slaughter taken place in the modern era, when sporting events depend for their lives on ad revenue and TV viewership, and top professional golfers are loaded with lucrative opportunities that eat up their time and energy, an unpaid exhibition without a hint of competitive balance would have died a swift death.
Instead, the Ryder Cup seemed bound for a very slow death, and the 50-year anniversary found the event in a state of near ruin. Those who saw the problem most clearly had some tricks up their sleeves, like adding Irish golfers to the British team and decreasing the number of matches to create parity, but nothing worked. Americans became increasingly indifferent, and the British governing bodies became increasingly desperate. Finally, the Great Britain and Ireland team expanded to all of Europe, incorporating nations like Spain and Germany, who were entering the global golf conversation with emerging superstars like Seve Ballesteros and Bernhard Langer.
Their high hopes sputtered out. Continental Europe didn't have enough to offer, at least not yet, and at the start of the 1981 Cup, the British golfer Howard Clark was shocked to overhear his captain, John Jacobs, asking the Americans to "go easy on us." Confidence was non-existent. By the early 1980s, the British PGA lost its principal sponsor, top American players were pulling out for dubious reasons—a sure sign that whatever prestige the event retained was leaking away fast—and the Ryder Cup was on death's door. The modern era was rearing its head, and it didn't have space for a lopsided exhibition that couldn't make anyone rich.
What happened next was one of the greatest turnaround stories in the history of sport. A new sponsor gave the Europeans a short lifeline, and they chose a 38-year-old English golfer named Tony Jacklin as Europe's next captain. They needed the situation to change fast, and somehow, it did. Jacklin delivered so quickly, in fact, that the results are mind-boggling to review today. In 1983, he led his team to America, where no foreign Ryder Cup team had ever won, and lost by a single point. In 1985, at the Belfry in England, his team won for the first time in 28 years. In 1987, they went back to America and accomplished the unthinkable, winning in the belly of the beast.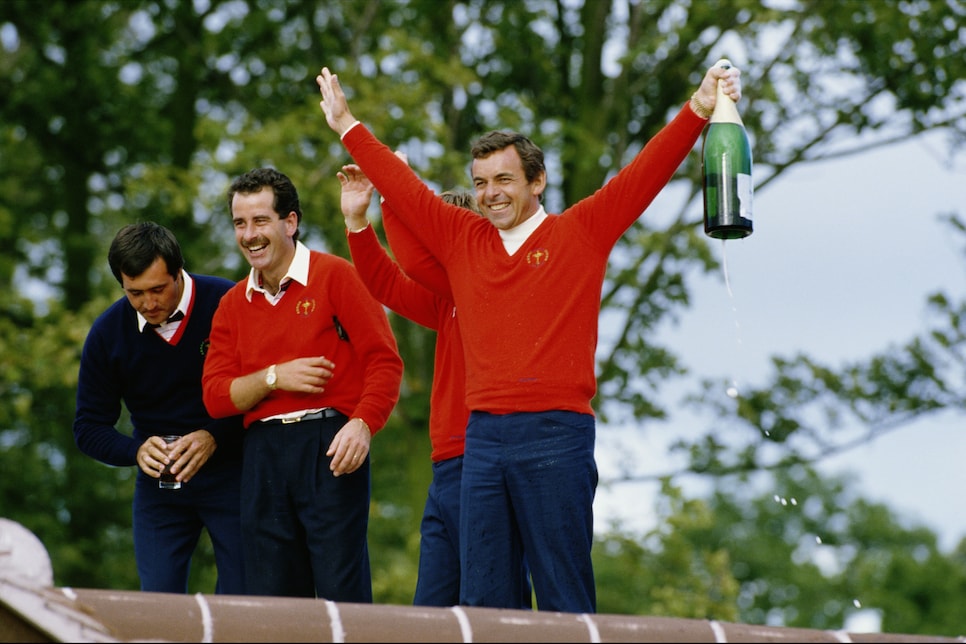 With Tony Jacklin instilling a new confidence, Team Europe reversed its Ryder Cup fortunes in the 1980s and won 12 of 17 matches.
Simon Bruty
By 1991 in Kiawah Island, the tension was so high, and the two teams loathed each other to such a degree, that the Ryder Cup became irresistible. After a dramatic and controversial Sunday that included the first really passionate gallery of American Ryder Cup fans, the United States won back the trophy.
You might expect that an era of parity would ensue. Instead, the pattern of utter domination reasserted itself, but with the two teams flipped. Between Jacklin's first victory in 1985 and the 2018 romp at Le Golf National in Paris, Team Europe won 12 Ryder Cups out of 17. How do you go from 3-22 over the first 56 years to 12-5 over the next 33? How do you stun the world's greatest players so thoroughly that it takes them literal decades to recover?
How do you stop history in its tracks, and then reverse it?
It's a question that has been endlessly debated, analyzed, and picked apart. The one constant is that most Americans with any influence tend to get the answer wrong, and the ones who get it right are treated like heretics. Meanwhile, decades pass, superstars come and go, and the losses mount.
All of it, inevitably, leads to another question that every American captain must face. It's a question that becomes more urgent with time, and one that landed with particular force on the narrow shoulders of Steve Stricker:
How do you reverse history again?
Welcome to the mystery of the Ryder Cup. Welcome to the 40-year story that culminates on the western shores of Lake Michigan, and a course called Whistling Straits.