The Loop
The best shot from every year of Tiger Woods' professional career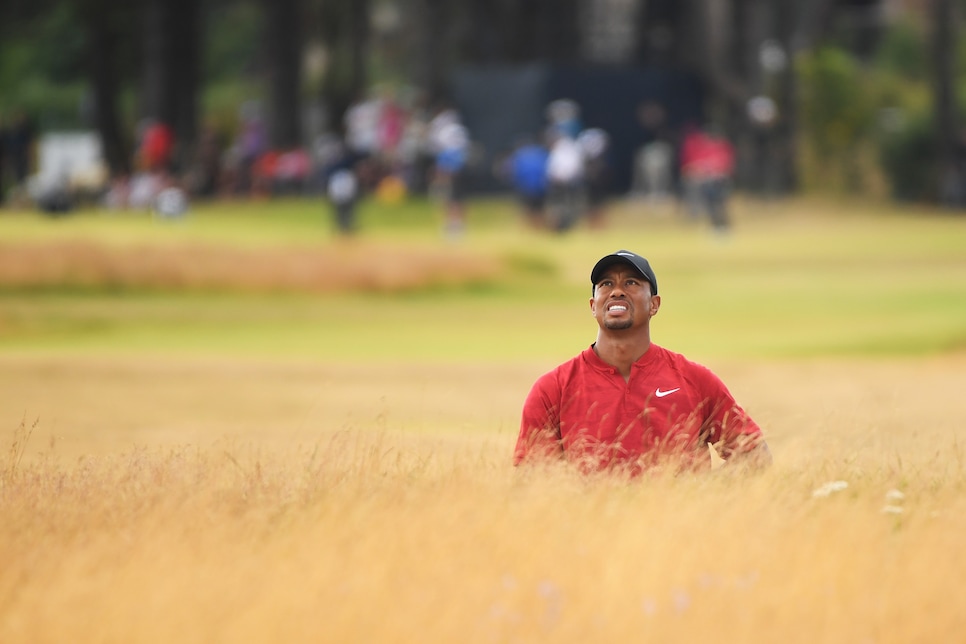 This year's Hero World Challenge is a much different week than it's been in recent years for Tiger Woods. Prior to his 2014 and 2016 appearances, he fielded countless questions revolving around off-the-course issues, his health and whether or not he was truly ready to return to the PGA Tour.
This week's Hero press conference had a new dynamic, as Woods was asked to reflect on his remarkable 2018 comeback season, rather than vaguely discuss the future of a career many though was over based off his 2015 and 2017 seasons. On Tuesday, one question in particular yielded by far his most thoughtful answer of the presser, as Woods was asked what he thought his best shot of 2018 was. Have a listen:
Woods hit plenty of vintage shots in 2018 (a few at the PGA come to mind), but his case for the approach on 10 at Carnoustie is a strong one. It also had us reminiscing about all the epic shots he's pulled off in a big moment during his career, so we went back and plucked what we feel is the best shot from each of Tiger's seasons as a professional. Yes, there will be plenty you've seen on various top 10 lists before, but we hope there are a few pleasant surprises.
1996 - Hole-in-one, 14th hole, Greater Milwaukee Open
This was a pretty strong way to follow up the famous "Hello World" quote, we'd say.
1997 - Hole-in-one, 16th hole, Phoenix Open
Outside of his front-nine 40, you could put any swing Tiger made at the 1997 Masters here and no one would disagree. But come on, an ace at the 16th at Phoenix back when it was (whispers) actually a genuinely cool scene that had yet to be ruined? Can't beat it.
Third shot, 8th hole, Masters
Again, you could pick any shot from this week, but this one caught our eye during research for this list. You heard what Ben Crenshaw said. Off the pine straw, up the slope, down the slope, to a couple feet. Yes, he did make the birdie putt.
Tee shot, first playoff hole, Mercedes Championships
1998 - Approach from bunker, 18th hole, Doral-Ryder Open
A "down year" for Tiger in '98 began with a T-2 at Mercedes, T-3 at the Buick Invitational, a solo second at the Nissan Open and a T-9 at Doral that included this preposterous shot from a fairway bunker on the treacherous 18th hole.
Birdie chip-in, 17th hole, Open Championship
Under the circumstances, this was probably the best shot he pulled off that year, but the degree of difficulty on the Doral shot, and to nearly hole it on the fly, gives it a very slight edge in our opinion. He won neither event, so that helps our case (we think).
1999 - Par chip-in, 14th hole, Memorial Tournament
The flub, the refocus, the fist pump. One of the best bounce back shots ever.
Second shot, hole?, event?
Had trouble finding where this 274-yard 2-iron was hit and in what round, but my best guess is the PGA at Medinah. I could be way off, all I know is that it's the best sounding shot I've ever heard.
2000 - Bunker shot, 18th hole, Canadian Open
Entire world: "How the hell did he pull that off?"
Tiger: "I hit it over the green, so it wasn't really that good." Cool man.
Shot in the dark in playoff, 18th hole, WGC-NEC Invitational
You could pick a million shots from his 2000 season for this section, but we'll go with the one he couldn't even see and still put to a foot.
2001 - "Better than most" putt, 17th hole, Players Championship
You guys ever see this putt? Ever hear this call? Pretty wild.
Eagle chip-in, 18th hole, World Cup
There was some debate in the Golf Digest office (mainly from Alex Myers) that this shot should be swapped with the Players putt. You could definitely make the case.
2002 - Bunker shot, 18th hole, PGA Championship
Google this shot and you'll see comments from multiple fellow tour pros proclaiming this to be Woods' best shot ever. Oh yeah, Tiger himself considers it his best shot ever, too. As for Golf Digest's Ryan Herrington (over Woods' left shoulder below), he was unimpressed: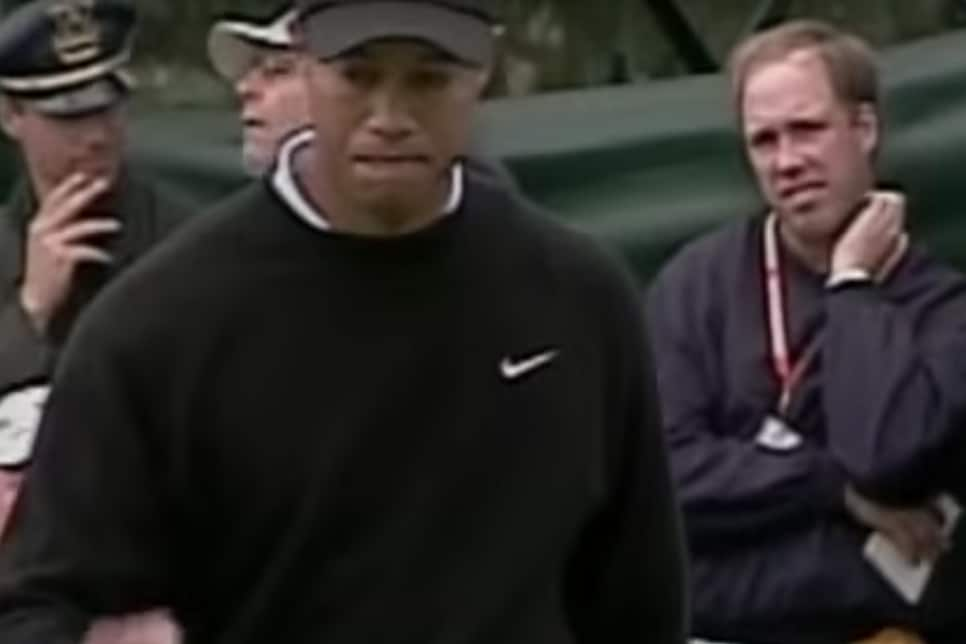 Second shot, 13th hole, U.S. Open
Much like that 2-iron from 1999 at Medinah (?), we simply had to include this one just based off the sound, result, and peak Tiger club twirl.
2003 - Massive slice 3-wood, U.S. Open
While it was a major-less season, he still notched five wins. But we promise you no shot in any of those victories was as absurd as this one.
2004 - Eagle, 18th hole, U.S. Open
A swing change in 2004 saw Woods struggle mightily (only ONE win), and it was slim pickings in terms of heroic shots from this slump of a season. This eagle hole-out on the iconic 18th at Shinnecock, where he finished T-17, will have to suffice.
After very careful consideration and pouring over hours of tape, we decided this was his best shot in 2005. No one said making this list would be easy.
2006 - Eagle, 14th hole, Open Championship
The white mock turtleneck produced some epic shots.
2007 - Eagle putt for 28, 9th hole, Tour Championship
This was the only shot we had trouble finding video for, but we were able to find this Facebook post (click here to watch).
Tee shot, 13th hole, U.S. Open
This one came in a losing effort, but it sparked a late charge that nearly got him into a playoff with Angel Cabrera.
2008 - Eagle putt, 13th hole, U.S. Open
Yes, the putt on Sunday at 18 is arguably his greatest highlight, but are you really going to say this putt wasn't more impressive? Keeping this on the green would have been impressive, let alone burying it. Also, the eagle chip at 17, the second shot into 18 and the eagle putt in the above video are all honorable mentions, as is the putt on Sunday:
And the putt at Bay Hill:
2009 - Approach/GOAT club twirl, Presidents Cup
2010 - Second shot, 18th hole, U.S. Open
In my humble, no-one-asked for opinion, this is the greatest shot he's ever hit (it would be if he went on to win). The situation, the stepping off and still executing, aiming over the ocean and cutting it back, the all-khaki outfit (!!), the fact this moment was the one he was definitely BACK after the Thanksgiving scandal until he wasn't, it's all just too much too handle. And the reaction from both he and the crowd was an all-timer.
Snipe hook, 9th hole, Masters
A legendary shot that doesn't get talked about nearly enough.
Never forget Tiger showing up at Augusta for his first event post-scandal and tying for fourth.
Eagle, 12th hole, Ryder Cup
All things considered, while winless, he still had an OK 2010 season.
2011 - Pimp step, 15th hole, Masters
No player in the midst of T-4 finish has ever dripped this much swagger.
2012 - Chip-in birdie, 16th hole, Memorial Tournament
"I don't think under the circumstances I've ever seen a better shot." -- Jack Nicklaus
Second shot, 18th hole, Honda Classic
Second shot, 12th hole, AT&T National
2013 - Third shot, 15th hole, Masters
He may have won five times that year, but we all know this was the best shot he hit... and it cost him. BIG time. Moving on...
2015 - 3-wood from the rough, Quicken Loans National
The guy shot 85 two months earlier and not only is he attempting this, but people are standing right in front of him like this is 2000 Tiger.
2016/2017 - Bunker hole-out, Hero World Challenge
Not a lot to choose from in 2016 and 2017 ..
Tiger says the bunker shot on 10 at Carnoustie, and we agree with him. But we'll offer up his second on the 9th hole on Sunday at the PGA as a competitor: