Caddie tales
Who's Scottie Scheffler's caddie? 9 things you might not know about Ted Scott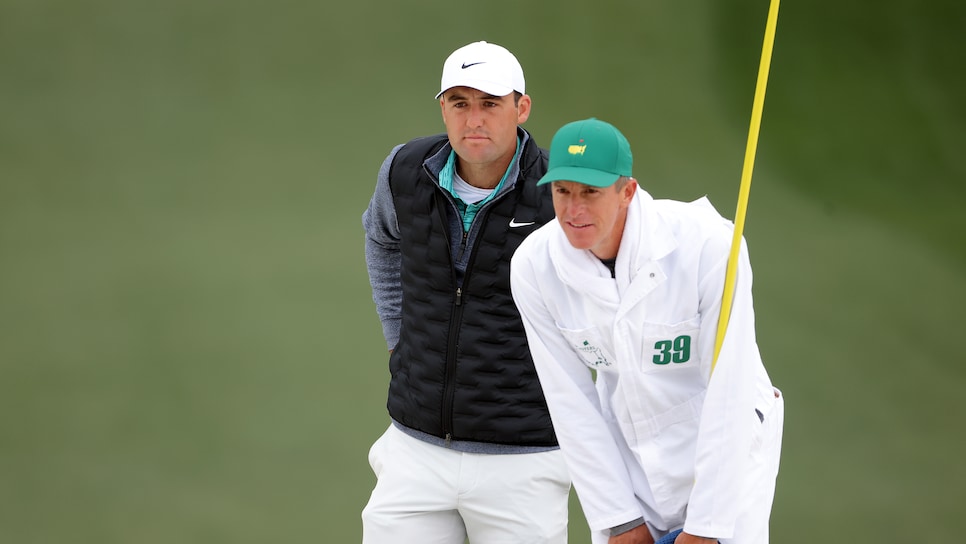 AUGUSTA, Ga. — Scottie Scheffler was in perhaps the most difficult spot in golf on Sunday. Sleeping on a 54-hole lead at Augusta National has proven challenging for some of the game's greats, but fortunately for Scheffler, he had help from one of the most respected caddies in golf. Ted Scott—who helped Bubba Watson win the 2012 and 2014 Masters—knows Augusta National as well as any other caddie, having looped for Paul Azinger and Grant Waite before Bubba.
As Azinger said on Sunday: "It's no coincidence Teddy's in this spot once again."
Teddy, as most people call him, is one of the more well-known caddie names in the biz, but we bet there are some things about him you might not know. He's also one of the more interesting caddies out there.
In addition to being a ridiculously good "fooser," he brought Azinger into the world of foosball. So much so, Azinger—as one of the best players in the world—had some interesting experiences seeking out foosball games on the road.
"There was underground foosball," Azinger says. Azinger and Scott would connect with people on the internet in different cities and find foosball games.
He describes one particularly interesting setting he attended: "It was like a crack house for foosball players.
"It was a little bit like 'Silence of the Lambs' walking in the basement going down there to play foosball. There was 25 people in there, nobody smoked downstairs, it was really hot, had this eerie lighting, concrete block walls, and here I roll in, here comes the captain, and I promise you, not five people knew who I was. They were all totally sweating and totally into their foosball deal."
2. Scott was set to focus on golf instruction before Scheffler called him.
When Watson announced he and Scott were splitting in fall 2021, Scott considered himself to be retired from caddieing.
As his friend Paul Tesori tells it, Scott, a Lafayette, La., native, was all set up to go all in on his golf-lesson business—and had done all the legwork to be serious about teaching. Scott taught off and on since he was 27, coaching various amateur players around the world.
Then, of course, Scheffler called … and coaching is on the back burner for now.
3. A good player himself, Scott is said to be about a plus-4 handicap.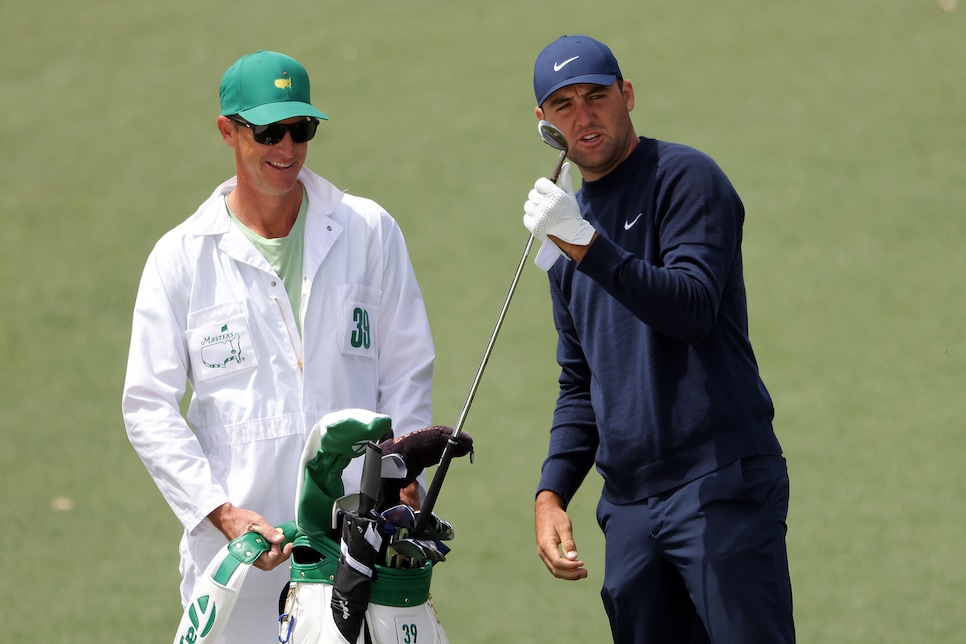 Scott played the mini-tours for a bit but never quite made it. His acumen as a player (with a coaching pedigree) has helped provide an extra set of eyes to Scheffler's swing coach, Randy Smith. Seeing all of Scheffler's swings, Scott reports back to Smith on how Scheffler's swinging.
4. Joke-telling might be Scott's most underrated skills.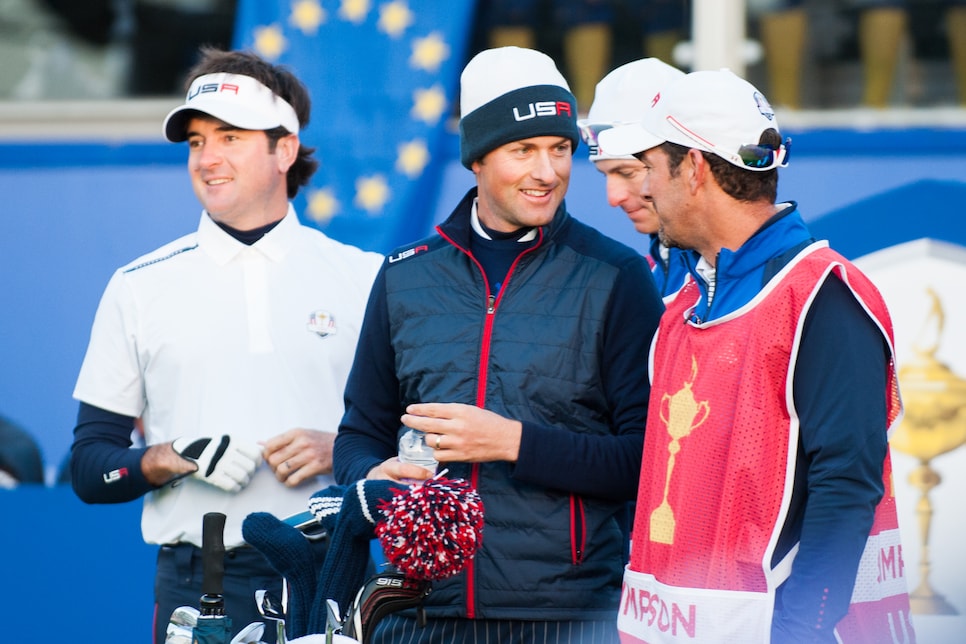 Montana Pritchard/PGA of America
"He's the best Louisianan joke-teller of all time," says Tesori, current caddie of Webb Simpson.
Tesori recalls the 2014 Ryder Cup, when Tesori and Scott were caddieing for the team of Webb/Bubba. They were down early in their match, and the atmosphere was cold but raucous at Gleneagles.
Sensing the group was tight and needed to loosen up a little, Scott decided it was time to tell a joke.
Tesori: "It was on the fifth hole, and Scott leaned in and goes: 'Hey guys, I got the key to today's match.' We were like, OK, OK, sure. And Scott goes, 'No no, look, I have the key right here.'
"He proceeds to take out his hotel room key and show it to all of us. Of course, we all laughed, and it was exactly the type of thing we need to lighten the mood."
5. As much as Scott's a talented joke-teller, his best skill is knowing exactly the right thing to say.

You'd expect any caddie to be skilled at that. But in particular, Tesori says, Scott has an uncanny ability to sense the moment. "He is a great communicator," Azinger says."
Tesori added: "Ted's got an amazing ability to be perfect in the moment. If the moment calls for something light-hearted said or done, he's able to do it.
"He could be the life of the party, but he could also be serious and go deep with you, too. He's one of the funniest human beings I've ever been around."
6. He once taught himself to play piano—just being on the road—over a four-month span.
According to Tesori, he's taught himself how to do most things. Scott is also apparently a heckuva dancer, per Tesori, but we need more details on this one …
7. When Tiger Woods pulled off his incredible 6-iron shot from the fairway bunker over the water on the 72nd hole to win the 2000 Canadian Open, Scott had a front-row seat.
Scott was on Grant Waite's bag at the time as a young looper on the PGA Tour when Tiger edged Waite by one stroke … thanks to Woods' legendary shot.
8. When Scheffler called Scott about working together, Scott had questions for the young Texan.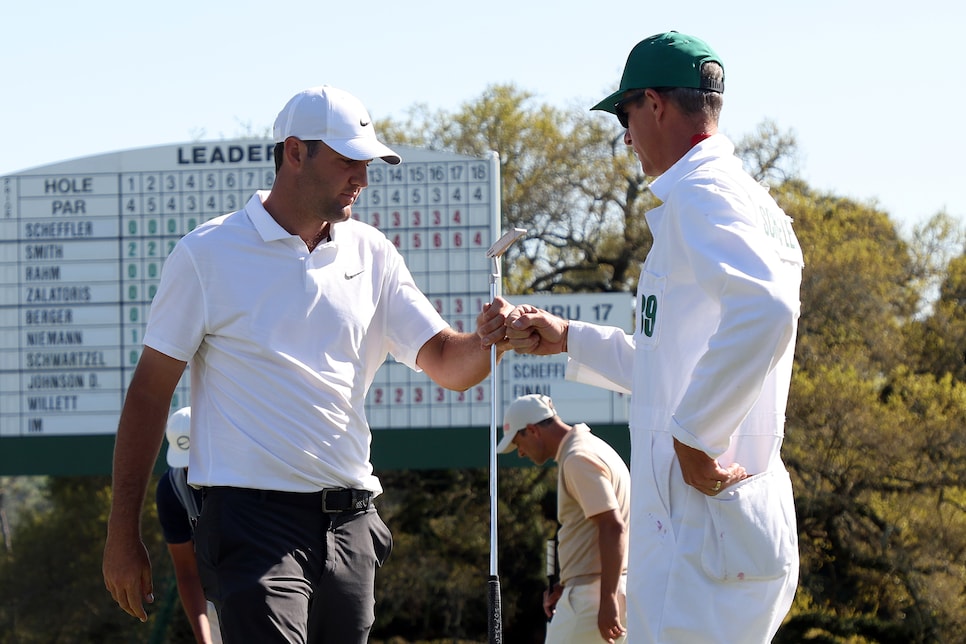 Tesori relates the story of how Scott had as many questions for Scheffler as the future boss would have for his looper.
"Teddy and Scottie talked for quite awhile before they went to work for him," Tesori says. "Scottie's young and has had a bit of a habit of getting a little angry on the golf course, and maybe even a little angry toward his caddie.
"Ted being a veteran, almost 50 years old, being out here for so long, he was able to say: 'I want to come work for you, but you have got to promise me that you're going to work on these areas.' And not only did Scottie say yes, he has absolutely done it."
9. It was a 15-year run for Watson and Scott together before they split.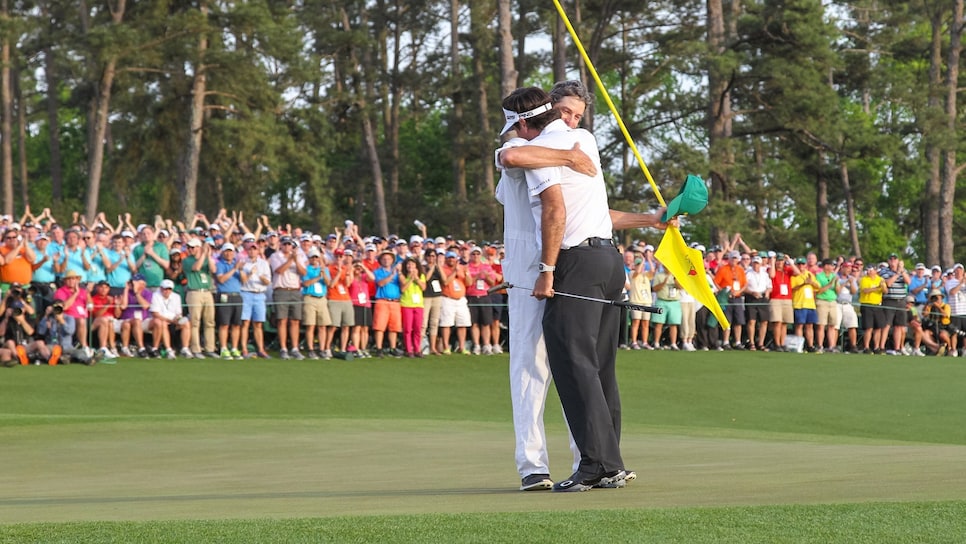 "I have no regrets, and I don't think he does either. He has made more money now without me. He needed 10 more years. I haven't told anybody, but I had some struggles this offseason. Wrote a book about some struggles. My wrist, I had a wrist injury all last year. Had some PRP [platelet-rich plasma].
"So, I called [Scott] and told him, 'Look, man, I'm 43 years old. I don't know what I'm going to do. My wrist is killing me.' He is like he needs 10 more years, and I gave him … I felt like a nice retirement package when we split up. But we split up mutually."
On his current relationship with Scott, Watson said: "We're still friends. We still text each other, so behind the door he might not be friends with me, but he has made more money, so now I guess he's happy he left."