Tour Life
Masters 2022: Scottie Scheffler's Saturday night sounds like every other married couple's Saturday night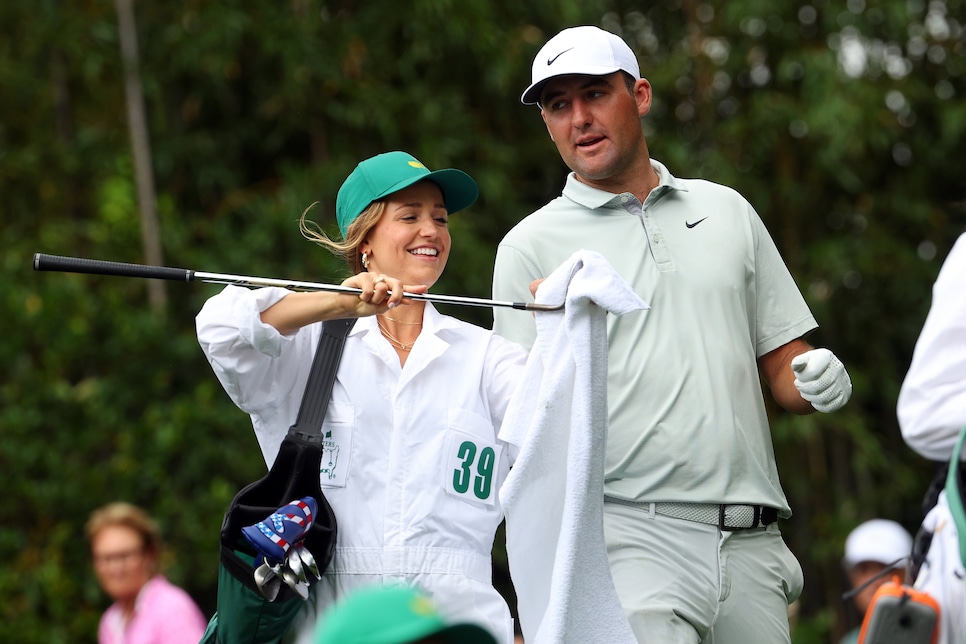 AUGUSTA, Ga. — After seizing the 54-hole lead at the Masters, what does Scottie Scheffler plan on doing Saturday night? Not much.
The 25-year-old certainly lived up to his reputation of being an old soul in his post-round press conference. After beginning the week sharing a rental house with "Sam Burns and his whole crew," Scheffler seemed happy about being home alone (Burns missed the cut) with his wife, Meredith, for a big night of. . . Netflix and chill. Well, make that Peacock and chill.
"This will be a little bit quieter night for us," said Scheffler, who holds a three-shot edge over Cam Smith going into Sunday when both will be trying to win their first career major championship. "Probably just watch The Office, get some dinner."
So, basically, the Schefflers' Saturday night sounds just like every other married couple's Saturday night. Not that there's anything wrong with that. Sounds like a nice way to unwind—especially after that 18th hole today.
The World No. 1 revealed "The Office" is his No. 1 TV show (great choice), but that hasn't always been the same for Meredith.
"So, my wife used to not like the show, and it's by far my favorite show," Scheffler said. "I love it. She used to watch random episodes with me and she's like, 'This show is stupid, why do you watch that?'" I finally convinced her to start it from the beginning, and she loves it and she's cracking up."
Phew. It's a good thing Meredith came around because as we all know, in modern love, the key to any successful relationship is liking the same shows.
"Tonight, I'm looking forward to just chilling," Scheffler added. "We are starting, I think we are like two episodes into Season 4. I'm just looking forward to sitting back and giggling a little bit and eating some good food."
Ooo Season 4 is particularly great. Just wait until you get to the episode when Michael Scott (literally) declares bankruptcy, Meredith. It's a classic.
OK, I'll let you two get to it. Sounds like you've got a big night of binging ahead. Oh, and a potential nice little Sunday on tap as well.