Masters 2022
Masters 2022: Bubba Watson explains why he split up with caddie Ted Scott, who is an Augusta winner yet again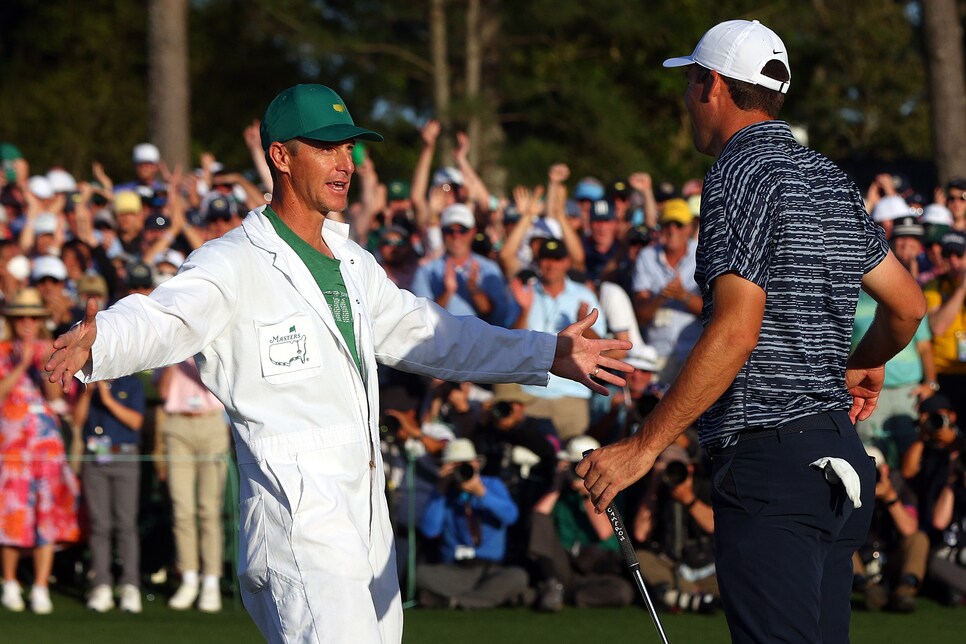 Caddie Ted Scott celebrates Masters win with Scottie Scheffler.
Andrew Redington
AUGUSTA, Ga. — Bubba Watson could view it with a tinge of melancholy. In late September of last year, Watson announced on social media that he had parted ways with caddie Ted Scott, who'd seen him through all of his 12 PGA Tour victories, including two Masters. On Sunday, Watson was simply a bystander for another of Scott's shared victories at Augusta National—this one while he toted the bag of 25-year-old Scottie Scheffler.
Yet Watson seemingly only happy for his former looper after the golfer said it was he who suggested that Scott find a younger player who could employ him for the next decade.
"I have no regrets, and I don't think he does either," Watson said on Sunday after shooting 71 in the final round to finish at seven over. "He has made more money now without me. He needed 10 more years. I haven't told anybody, but I had some struggles this offseason. Wrote a book about some struggles. My wrist, I had a wrist injury all last year. Had some PRP [platelet-rich plasma].
"So, I called [Scott] and told him, 'Look, man, I'm 43 years old. I don't know what I'm going to do. My wrist is killing me.' He is like he needs 10 more years, and I gave him … I felt like a nice retirement package when we split up. But we split up mutually."
It's been a huge windfall for Scott. While Watson has played only five times this year, with a T-14 in Phoenix as his best finish, Scheffler now has four victories in his last six starts. And there is this bank-roll bonanza pointed out by @JustinRayGolf from his colleague @PhilAllenTFG: In nine starts with Scott on the bag, Scheffler has made more than $9 million. In his previous 62 starts, he made $8.5 million.
On his current relationship with Scott, Watson said: "I say we're still friends. We still text each other, so behind the door he might not be friends with me, but he has made more money, so now I guess he's happy he left."