Winner's Bag
Masters 2022: The clubs Scottie Scheffler used to win at Augusta National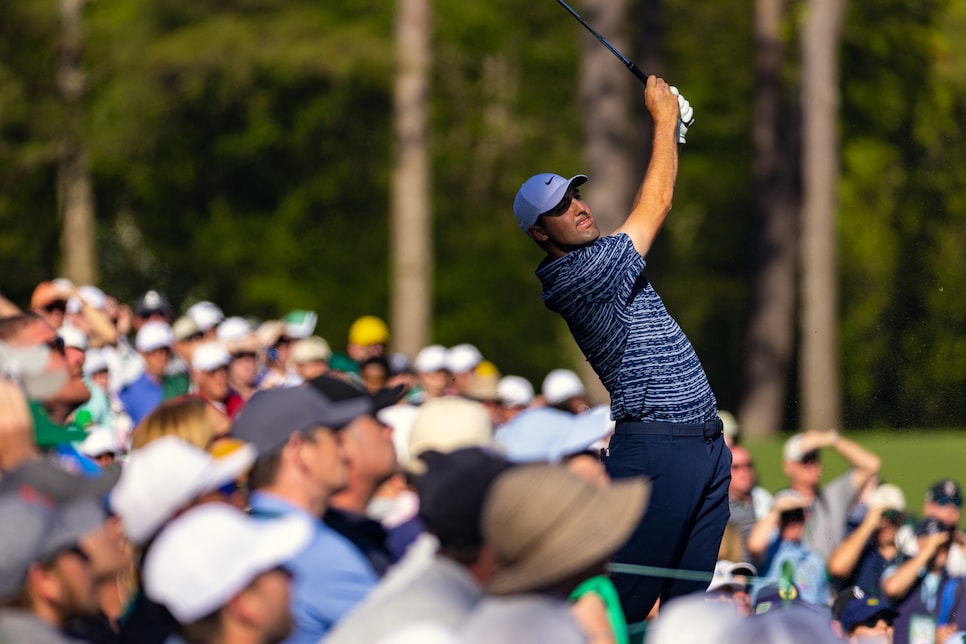 Scottie Scheffler got his first PGA Tour victory on Super Bowl Sunday, but his latest win came at what many consider to be the Super Bowl of golf—the Masters—for his first major championship, outlasting Cameron Smith, who early on had cut the lead to one before imploding later, and Rory McIlroy, who put on a Sunday charge but was never really a threat.
Only four times since 2002 has a player won the Masters while ranking outside the top seven in greens in regulation, and Scheffler continued that trend, ranking T-5 while hitting 68.06 percent of his greens.
Scheffler's irons are based off five-time Masters champion Tiger Woods' clubs. "I grew up playing Nike clubs like Tiger so these had a special appeal to me," Scheffler recently told Golf Digest. "I figured if he was using the irons they had to be pretty good. I tested them last winter and I found that I could adjust the flight a little bit more with these than what I was playing. I could flight these both lower and higher than my previous irons, so it gives me more options going into greens."
Scheffler's TaylorMade P7TW irons have True Temper Dynamic Gold X100 shafts and Golf Pride's Tour Velvet grips. But it wasn't just his work into the greens that assisted Scheffler's run to the green jacket—it was his game around the greens, too.
All week Scheffler displayed a deft touch, including on Sunday when he made a nifty up-and-down at the first before hole a pitch for birdie on No. 3 where he knocked it into the hill fronting the green, having it pop up and roll into the hole. Scheffler uses Titleist Vokey SM8 wedges with True Temper Dynamic Gold Tour Issue S400 shafts, including a 61-degree WedgeWorks model that he uses almost exclusively around the greens. In all, Sheffler got up and down six of seven times he missed the green Sunday, including the hole-out.
That Scheffler has such a solid short game is no surprise. As a youngster he often would get hand-me-down clubs from tour pros such as Anthony Kim and Justin Leonard at his home club of Royal Oaks in Texas. Among them was a wedge that Scheffler practiced with so much that the grooves were completely eliminated from the center of the face.
How Scheffler tested his 8-degree TaylorMade Stealth Plus driver also served him well, particularly during breezy conditions on Saturday. Scheffler says that after testing the Stealth Plus on the range and having it pass "the eye test," he went on course and tested into a 30 m.p.h. headwind. "That was a good environment to test in," he said. "Testing on course is much different from testing on the range."
Scheffler's ball is Titleist's Pro V1, which he marks with two small green dots and a black line. He also uses only high numbers (5 through 8), for which has a very good reason. "It's easier to identify," he said. "I've just hit the wrong ball a few too many times."
At Augusta National, he hit the ball a few less times than everybody else, leading to a green jacket and a career-altering win at the Super Bowl of golf.
What Scottie Scheffler had in the bag at the 2022 Masters:
Wedges: Titleist Vokey SM8 (50, 56 degrees); Titleist Vokey WedgeWorks prototype (60 degrees)