Takeaways
Tony Finau did exactly what he was supposed to do on Sunday, and it still wasn't enough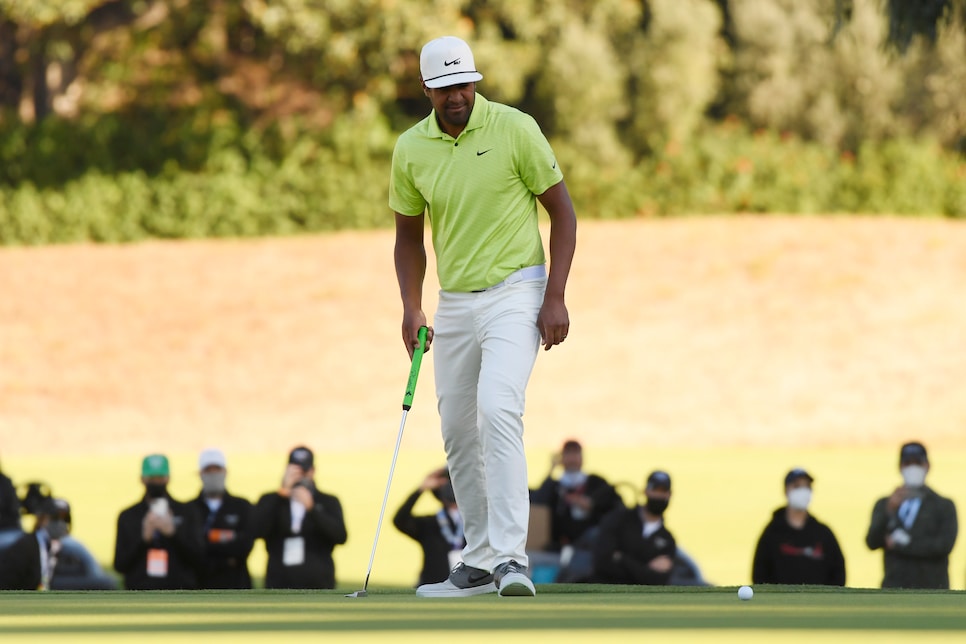 The ending of the Genesis Invitational on Sunday was anything but pretty, but everything that preceded it was all you could ask for and then some. Max Homa and Tony Finau, two beloved PGA Tour pros, battling it out down the stretch at an iconic golf course—and then meeting in a sudden-death playoff. Golf tournaments don't get much better.
Here are five takeaways from a wild final day at Riviera Country Club.
Tony Finau finally did what he needed to do to win—and he still lost
Ever since his lone PGA Tour victory at the 2016 Puerto Rico Open, and subsequent love affair with finishing inside the top 10 but not winning, the rub on Tony Finau has been that he can't close on Sundays. To be fair, you could say that about everyone not named Tiger Woods. The fact of the matter is that it's extremely hard to win on tour, and only one guy out of 100-plus wins each week.
The difference with Finau, of course, is that he constantly puts himself in contention, so much so that you'd think he'd luck into one sooner or later. That simply hasn't happened, and it's earned him the dreaded "choker" label. That was sort of debunked after one of his latest close calls at last month's American Express, when the folks at Data Golf pointed out that Finau was actually overperforming expectations on Sundays, historically. His final-round numbers were just fine, but "just fine" gets you a lot of runner-ups and T-4s. "Just fine" will get you beat more often than not on the PGA Tour, where winners routinely shoot five or six under on Sundays.
Finally, at long last, Finau did exactly that on Sunday at Riviera. He shot a seven-under 64. He CLOSED. He shot a damn number to come from behind and steal the tournament a la Si Woo Kim at AMEX, like Brooks Koepka at Waste Management, like Daniel Berger at Pebble Beach. Finau did what guys who win do … and it still was not enough. It almost wasn't enough to even force a playoff, but Max Homa's short miss on the 72nd green at least got Finau that far.
In sudden death—we hate to say it—Tony reverted to the guy who couldn't close. His birdie effort to win on the 10th was, let's just say, timid (translation: it was awful). He followed that with a pull hook off the tee at the par-3 14th, which ultimately resulted in a bogey. To be honest, it would have been better had Homa just ended it in regulation, saving Finau—and all of us rooting for him to finally pull one out—the pain and added scar tissue of him throwing it away in the playoff. Brutal, brutal stuff, but Finau, being the immensely-upbeat-to-a-fault guy he is, took it in stride.
"As I look back on the week, next couple days there will be a lot to grow from," Finau said. "Today's round was pretty special for me. Made some key putts in regulation to keep myself in it. I fell short, but a lot of positives."
He's not lying, at least about the "in regulation" part. The playoff was anything but special, but more Sunday 64s, 65s and 66s simply have to bring that an elusive second victory sooner or later. The problem is we've been saying "sooner or later" for years now. Sooner or later it won't be sooner or later.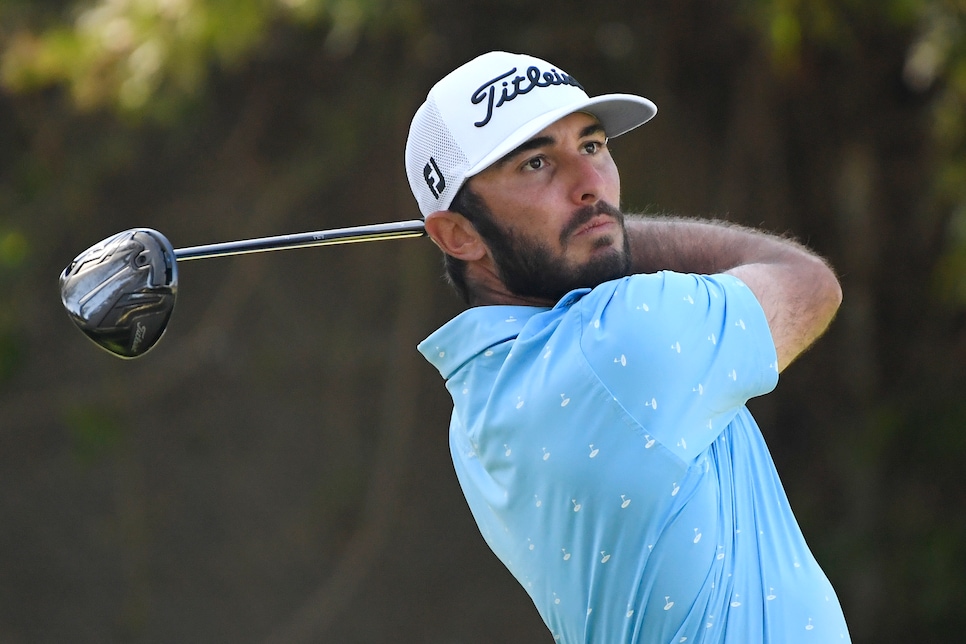 Max Homa's plan was to play like Tiger on Sunday, and he executed
Our Daniel Rapaport will have the full, on-the-scene Homa story this evening, but we've got to give the winner some love here, too. The money quote from his post-victory interview—"My plan was to play like Tiger today. Fat of the green, lot of strategy, trust yourself. I did that. Didn't make a bogey all day, going back to the restart, which is pretty darn good in my opinion." Yeah, we'd agree, Max. No bogeys in your final 24 holes of the week at Riviera is golfing your ball, as they say. Spoiler alert: Playing like Tiger yields good results. Who would have thought.
For Homa, that's two tour victories, one at Riviera in his home state, and the other at Quail Hollow. Those are two real deal tour wins. Marquee golf courses that require marquee golf. If you needed any more proof that this guy is a world-class grinder, this win solidifies it. With the win, Homa gains entry into next week's WGC-Workday at Concession, where he'll look to improve upon his new career-best 38th spot in the Official World Golf Ranking. Next order of business: Start the "Is Max Homa a sneaky Ryder Cup pick?" narrative.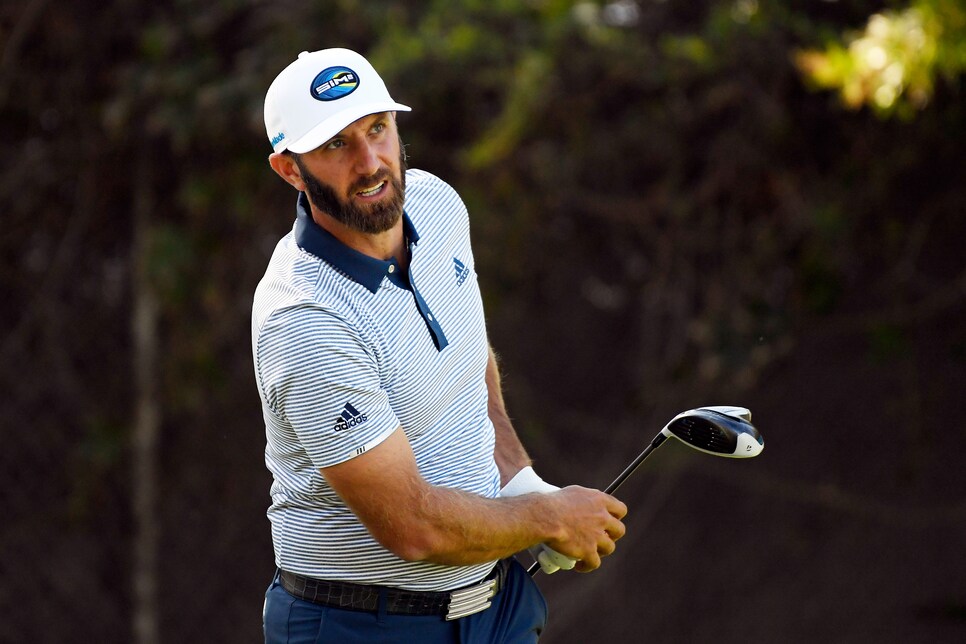 Dustin Johnson, confirmed human
After making two birdies on his first six holes, it was starting to feel inevitable. Dustin Johnson was so obviously going to grab hold of this tournament and squash poor Sam Burns like a bug. Hell, he was never going to lose a golf tournament again. He's the low-key GOAT.
Almost instantly, we (and DJ) were reminded that golf is not that easy, no matter how easy he makes it look on a consistent basis. Bogeys at No. 9, No. 10 (where a mediocre chip that hit a tree would have received audible gasps from the crowd had there been one) and No. 12 all but ended his chances, and the World No. 1 had finally become human again. Still, his T-8 keeps alive this ridiculous run in his last 14 worldwide starts: 1-MC-WD-T12-T2-1-2-T3-T6-T2-1-T11-1-T8. Incredible.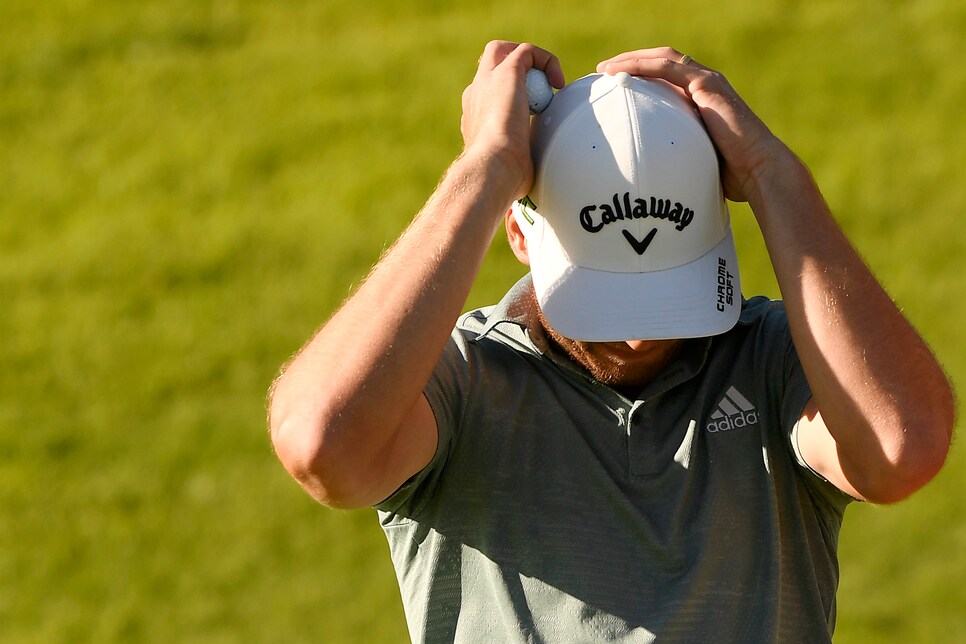 Prediction sure to be wrong: Sam Burns will win in Florida
That's right, folks, I'm laying down a marker. We've not seen the last of Sam Burns, who held up pretty damn well if you ask us on Sunday, save for one little hiccup stretch at 14 and 15. But the way he responded to that, with laced drive at 17 that led to a birdie, and a solid birdie chip effort at 18, should tell you all you need to know about the kid. He's contended multiple times already this season, come up short each time and then has quickly come back for more each time. He won't be at Concession next week, but he'll likely play in all three Florida swing events—Bay Hill, Players, Honda. I'm willing to bet he picks off one of those. He loves bermuda greens, has some solid career history in the Sunshine State and is clearly poised for a breakthrough.
Does Riviera ever disappoint?
The answer is a resounding no, though we can't help but wonder just how great this finish would have been with fans in attendance. The scene on 18 would have been a wild one after Homa's short miss, and the crowd would have been in shambles trying to figure out who to root for in the sudden-death playoff. We may never see a playoff with two nicer dudes going up against each other, and it provided some serious drama, particularly with Homa's shot from up against a tree on 10. Again, fans would have really added to that scene. What a shame. Still an A+ tournament all around, though. Can't wait until next year to do it all again (with fans, god-willing).