News
Jon Rahm makes his presence felt and three other Saturday takeaways from the Zozo Championship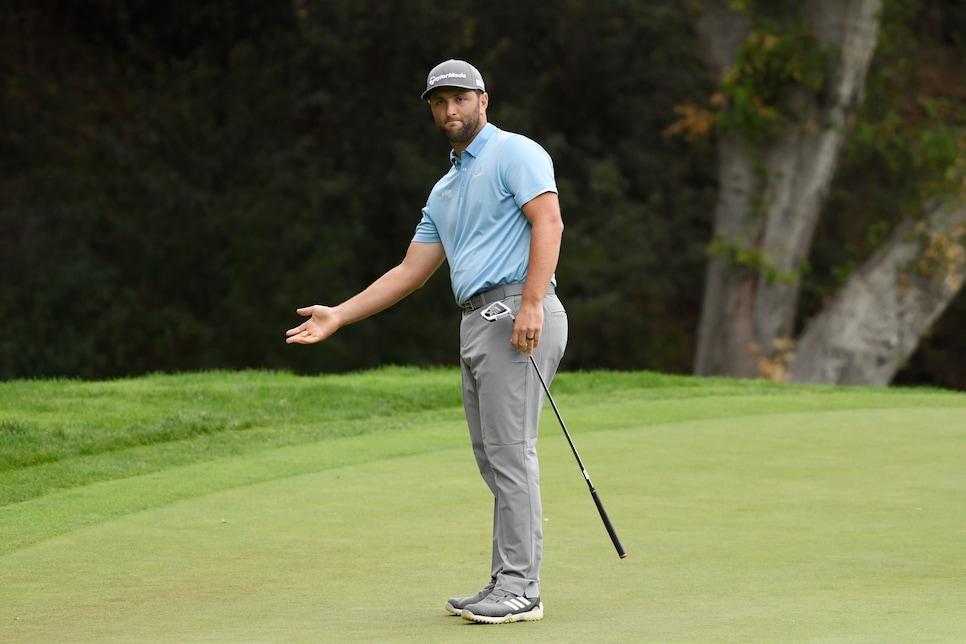 Jon Rahm reacts to a missed birdie putt on the ninth green during the third round of the Zozo Championship.
Harry How
Justin Thomas vs. Jon Rahm on Sunday. Other than world peace, the Monday after the Super Bowl becoming a holiday and endless riches, what more could you possibly ask for?
That's what the 2020 Zozo Championship at Sherwood Country Club has given us, World No. 2 vs. World No. 3 in the final group with 18 holes to play. Sure, there are a number of other guys in contention worth watching and discussing, but JT-Rahm is a main event if there ever was one. Sunday will be a two-TV type of day for the avid golf fan who also has a bunch of fantasy football players to follow.
Here are our takeaways from Day 3 at Sherwood.
Jon Rahm makes his presence felt
There are "moves" and then there are nine-under 63s. The former usually just barely gets you into contention. The latter usually vaults you all the way to the top of the board, depending on how far back you were to start.
Rahm was five back entering Saturday's third round, and his nine-under 63 jumped him 20 spots up the leader board. Incredibly, he's still one off the lead, but he will be in the final group with leader Thomas, setting up an epic duel between two of the top three players in the world.
With a win or a solo second, Rahm would take over the No. 1 spot in the world, according to OWGR Twitter guru Nosferatu. That is, of course, unless Thomas wins. This duo would simply swap spots, and Dustin Johnson, who has been out two weeks due to his COVID-19 diagnosis, would remain No. 1. Just a few important things on the line for these two on Sunday. Clear your evening schedules.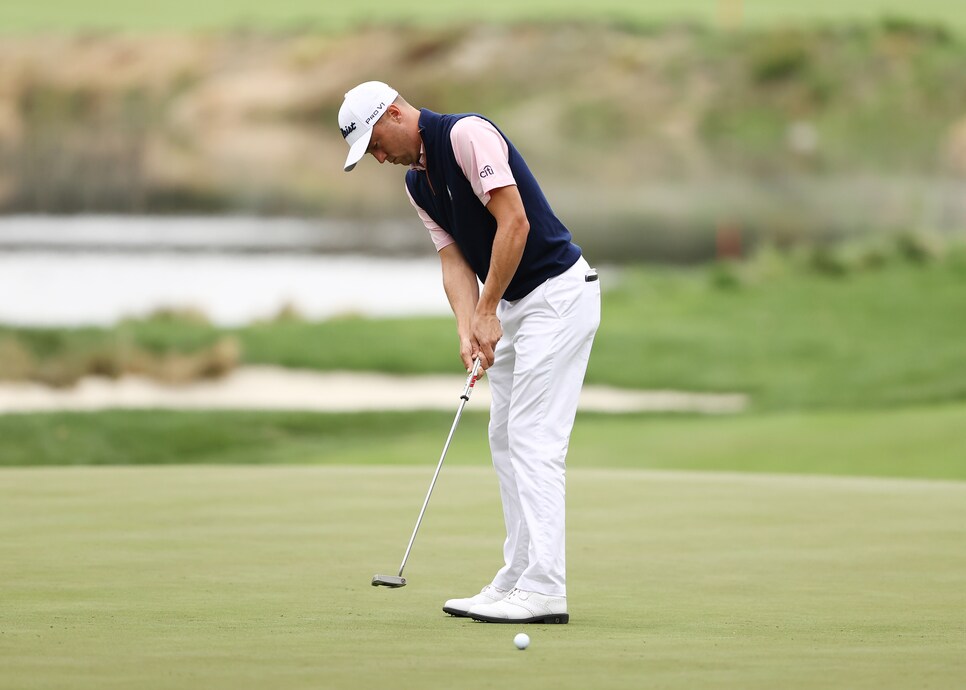 Justin Thomas putts on the fourth green during the third round of the Zozo Championship.
Ezra Shaw
Nobody scrapes rounds together like Justin Thomas
Perhaps the most impressive thing about peak Tiger Woods (among many impressive things) was the way he put good rounds together without his A game. Like an ace pitcher, Woods would somehow find a way to go seven innings strong without his best stuff more often than not. Thomas has that same "scrape it together by any means necessary" gene, and it's probably a big part of the reason he's already racked up 13 PGA Tour victories before turning 28. When your'e bad rounds are still good, you're going to win a lot.
It's hard to call a five-under 67 "bad," but Thomas' third round certainly wasn't his best. He lost strokes on approach, had his worst day of the week around the greens and hit just nine of 13 fairways and only 13 of 18 greens. Despite the so-so numbers, he still made six birdies against just one bogey. If that was his "bad" day, he should grab win No. 14 with ease on Sunday.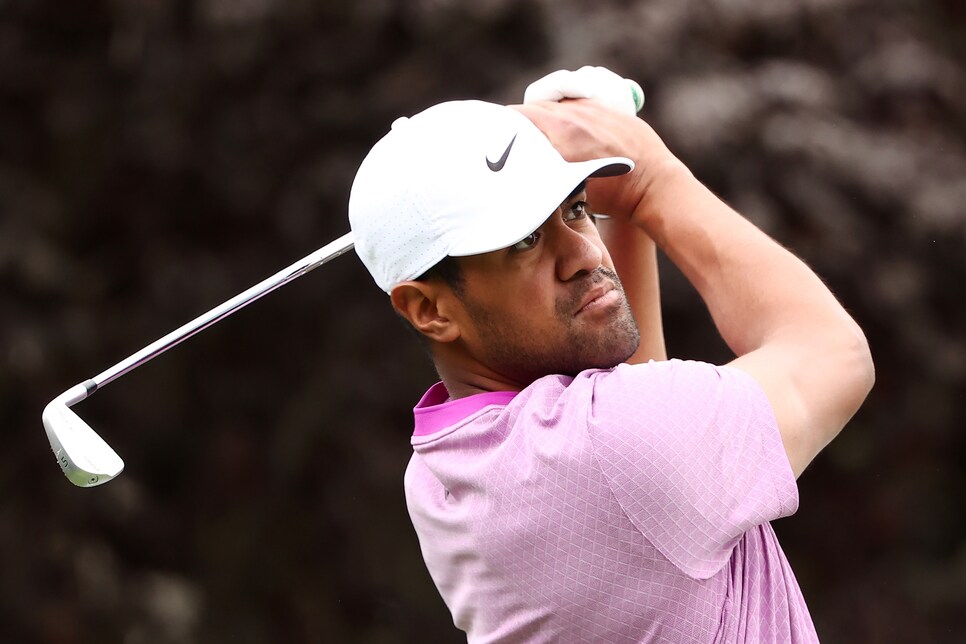 Tony Finau plays his shot from the first tee during the third round of the Zozo Championship.
Ezra Shaw
It would be completely unfair to expect anything out of Tony Finau this week. The man just had COVID-19, and, by the sound of it, the virus hit him hard. He was certainly not asymptomatic, and from what we know about the virus' lingering effects, Finau probably still isn't close to 100 percent.
And yet, for 49 holes, Finau looked like his normal, top-20-player-in-the-world self. After posting rounds of 69 and 64, Finau went out in 31 on Saturday, then made a wildly impressive eagle at the par-5 11th to reach 17 under:
Two holes later, he birdied the par-5 13th, giving him a share of the lead at 18 under. Yes, there was still a ton of golf to play, but for a brief moment it felt like it was finally shaping up to be Finau's week.
He then proceeded to absolutely mangle his scorecard with a triple-bogey 7 at the par-4 14th, having badly pulled his drive and then hitting his second into a penalty area. With a chance to get a shot back at the par-5 16th, he made bogey. Finau played his final five holes in three over, finishing with a three under 69 that puts him five back of Thomas. Had he played them in even, he'd be in the second-to-last group, two off the lead. It shouldn't be another "what if" week for him, because just getting through four rounds would have been impressive enough. But it could turn into his latest and greatest "close call," which he's got too many of already.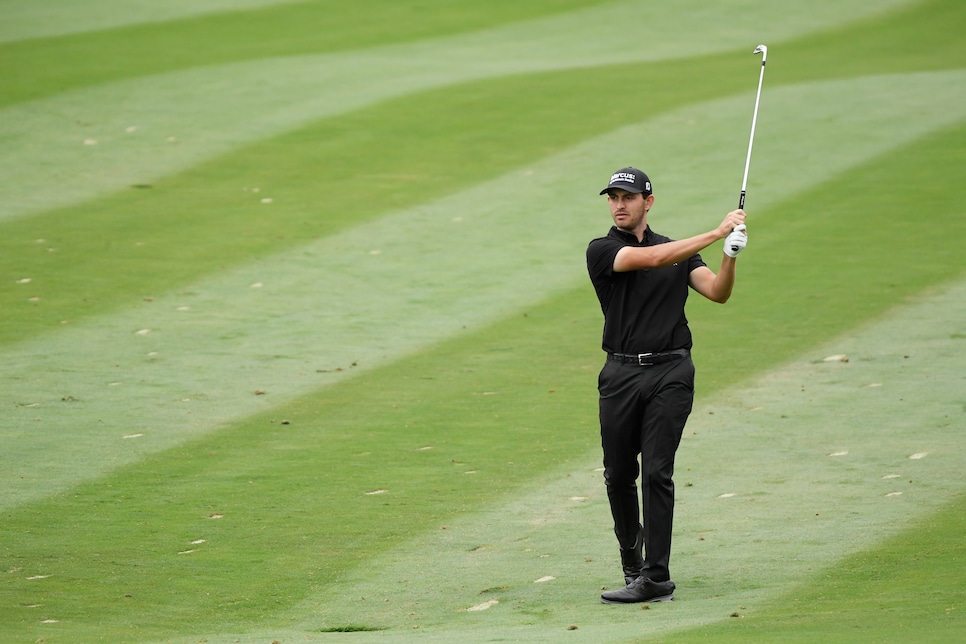 Patrick Cantlay plays his second shot on the ninth hole during the third round of the Zozo Championship.
Harry How
Patrick Cantlay is pitching a perfect game
Sorry for two baseball references, but the World Series is on. Just being festive.
As the scores have shown, it's another birdie-fest on the PGA Tour this week at Sherwood. That said, there is still a ton of trouble lurking at every corner of this Jack Nicklaus design. The par 3s are impossibly hard, and the rough is ankle deep. There are a ton of birdies out there, but there are plenty of bogeys too, just ask Finau.
Patrick Cantlay didn't get this memo, as he's made ZERO bogeys through 54 holes. Cantlay has shot rounds of 67, 65 and 68, putting him at 16 under, three back of Thomas. You're not supposed to talk about a perfect game as it's happening, but we had to point this out. Should he go on to win AND not make a bogey on Sunday, he'd pull off the rare feat of winning a tournament while going bogey-free. J.T. Poston just accomplished it last season, but he was the first to do it since Lee Trevino pulled it off back in 1974.