News
If there is a textbook shot for hitting off the cart path, Justin Thomas just did it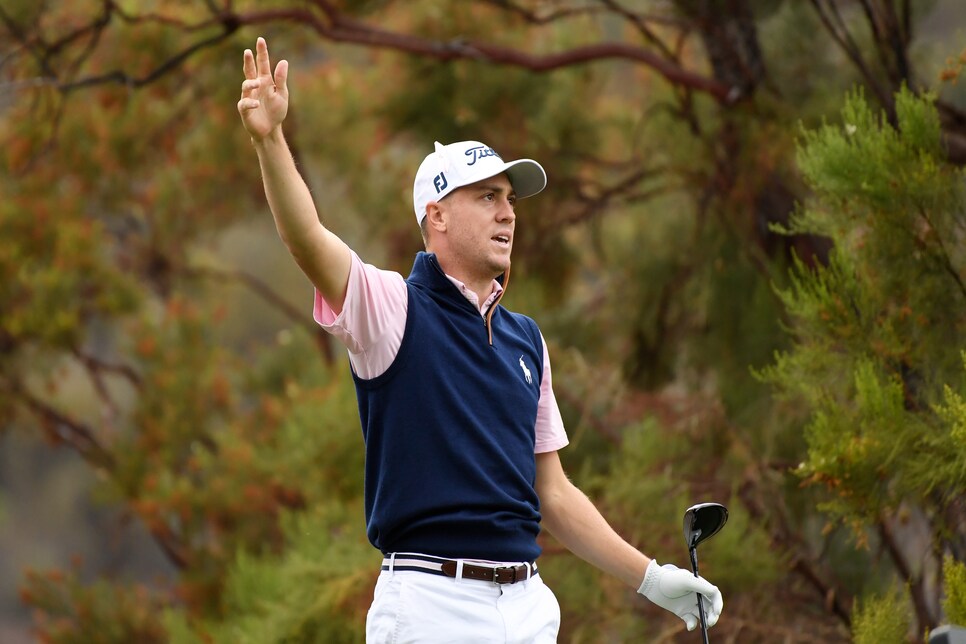 Justin Thomas reacts to his sliced tee shot at the par-13th on Saturday in the Zozo Championship.
Harry how
Hit an iron off the cart path or from a bed of small leaves? You figure that most golfers would choose the latter. Heck, even caddie/broadcaster Jim (Bones) Mackay would have made that call for the man he loops for part-time when he's not holding a microphone.
Mackay happened to be the on-course reporter on Saturday at the Zozo Championship when Justin Thomas found himself in a tough spot with a wayward drive on the par-5 13th hole at Sherwood Country Club. With the TV compound affecting his shot line, Thomas got word from an official that he could take a drop to the left, but he'd be on the cart path.
"I don't think he's going to take relief," Mackay said, noting that the cart path slope was a bit steep and slippery. "I think he's ultimately play it from where the ball lies."
Bones doesn't misjudge much, but seconds later Thomas decided to drop on the cart path, getting to pick his exact spot to place the ball. He then lined up and—with viewers expecting to see sparks fly—hit one of the nicest clips off concrete you'll ever seen, rifling the ball 184 yards and back into the fairway.
The Golf Channel replay of the shot was great. The closeup showed Thomas' 7-iron never touching the ground as he caught the ball perfectly. (That's how good these guys are.) Even better, they came back from a break and showed Thomas gleefully showing a laughing Mackay that there wasn't a scratch on the club.
Unfortunately for Thomas, he couldn't back up a tremendous shot with just a good one. He flared his approach to the green and could only make par to remain one shot off the leaders.