News
The 9 worst ways to make bogey, ranked from mildly frustrating to rage-inducing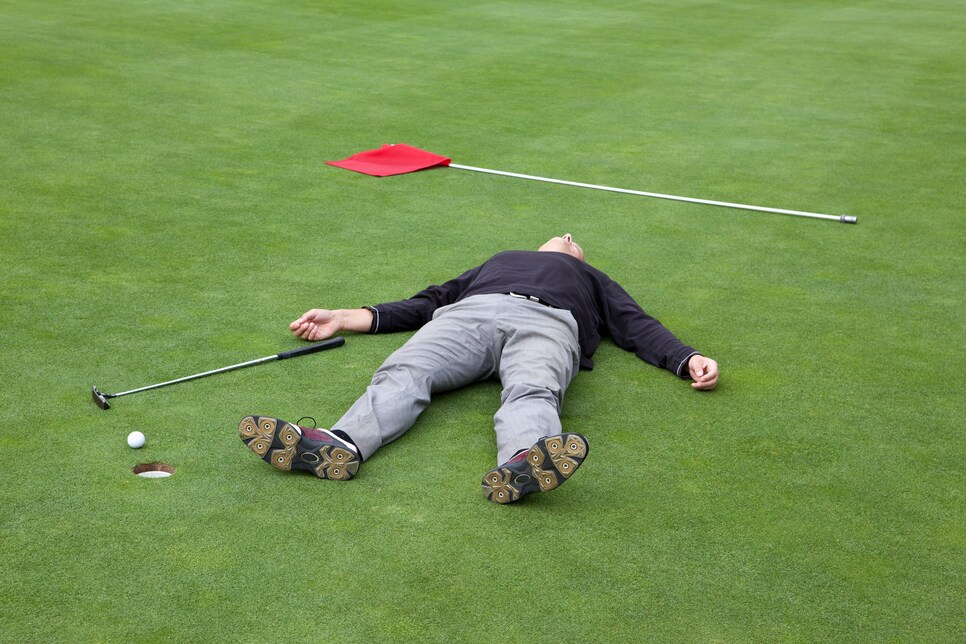 On the PGA Tour, where living under par is a way of life, bogeys are rare intrusions. For us mere mortals, bogeys lurk at every corner on our home courses. "Playing bogey golf," and "I can't get off the bogey train" are phrases you're bound to hear at least once every round, whether it comes out of your mouth or someone else's.
Of course, not all bogeys are created equal. Some can be momentum-killers, while others can spark an eight-par streak reminiscent of Club Pro Guy's run at the 1998 Yucatan Masters. Ultimately, every bogey brings its own level of frustration, from "OK, just shake it off" to "I never want to play again." We ranked 9 of these unique situations below, with accompanying frustration levels. Apologies if any (or all) of these hit too close to home.
9. The dreaded "good" bogey
You know the one. It always happens on a hole you've completely butchered, one you've lost interest in after the third or fourth crap shot. It's probably after you've split the fairway off the tee, then chunked and/or bladed your approach. Finally, you reach the green with your par effort, leaving yourself a 35 footer for bogey, also known as "the next one is good" for double. Instead, BANG! You hole the bogey putt, which you didn't even read or care all that much about. "Good bogey," says everyone in your group.
Frustration level: Yippee. Confetti comes down like you're the New York Knicks after avoiding a playoff sweep.
8. Bogey on the hardest hole on the course
Ahh, if it isn't your arch nemesis, the No. 1 handicap hole on the course. Maybe it's a beast of a par 4, or a three-shot par 5 that you rarely reach in four. Week after week, day after day you try to conquer it, but it's now so far in your head that you get into full "just give me a double" mode before you even reach the tee box. But on this day, you fight hard for that bogey 5. Maybe someday you'll par it. Dream big.
Frustration level: You're not mad. You're actually laughing ...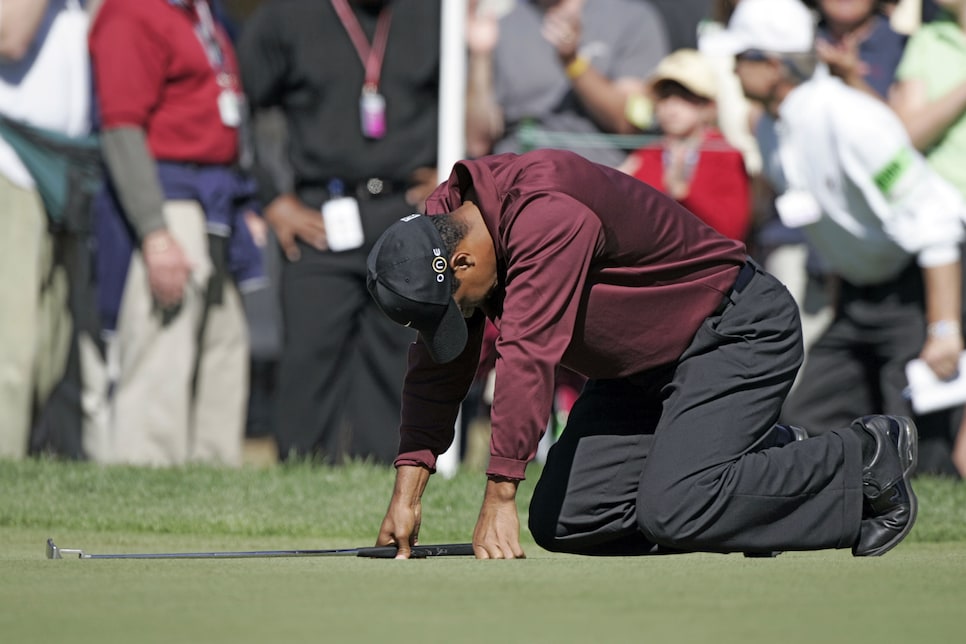 7. Three-putt bogey from long distance
The silver lining in any three putt bogey? It means you hit the green in regulation. Unless you're a low single-digit handicapper who hits 10-plus greens a around, that's always something to be proud of. In this situation, we'll assume you're outside of 20 feet. A legitimate birdie look, but one most of us choppers are just trying to get close to the hole in order to hear a "that's good" from your playing partners. The reality is, birdie putts either get you a little too jacked up or a little too tentative, leading to a juiced putt past the hole or a deceled stroke that leaves you well short. Now, you've got a testy par putt from five to eight feet, outside the circle of trust as they say. You miss, walking off with bogey. It hurts, but again, you have to take the positive—you hit two great shots and picked up a GIR. That's a confidence booster, even if your confidence feels shattered after the three-jack.
Frustration level: An under-your-breath F-bomb as you walk off the green.
6. Bogey after a great short-game shot
You missed the green, your ball either finding a greenside bunker, the rough, or a closely-mown area. Par is going to require some work, but you relish the challenge. Maybe you open up the face and flop one close, or you blast out a perfect sand shot, or you clip a tasty bump-and-run that starts on line and rolls up to a few feet. Hell of a shot, pards. Time to go clean up the four-footer, take your par and sprint to the next tee. Aaaaaaand you yanked the putt. Such hard work, such determination, such mental fortitude to recover from your poor approach and execute a 10 out of 10 short-game shot to save par. And you leave with another bogey to keep the bogey train operating at full speed. Pretty crushing, but like the three-putt bogey from long distance, at least you can take a positive. Your around-the-green play is sharp. The par putts will fall... eventually.
Frustration level: "God I f---ing suck" to your partner.
5. Three-putt bogey from inside 15 feet
A close cousin of the long-distance three-putt, the three-putt from 15 feet or less once again signals your tee-to-green play was elite on that particular hole. To have less than 15 feet for birdie, you are really golfing your ball. Once again though, you take a trip to JUICE-town or Decel-ville, leaving yourself with a "We might need to see that" length putt. Yoink. Another short miss, another box on the card. Sure, you hit two great shots to get there, but you were not rewarded. Sickening stuff.
Frustration level: If your partner even makes eye contact with you, there's going to be a problem.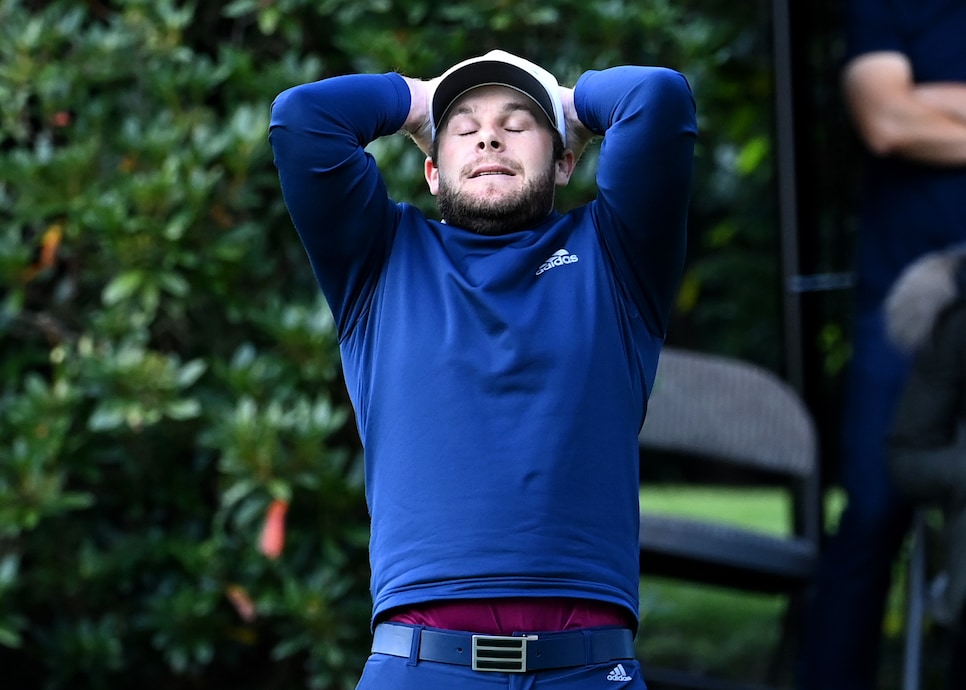 4. Bogey with a wedge in your hand on your approach
There's a saying my dad has reiterated via David Feherty for the past few rounds we've played, probably because I often miss the green from 100 yards out with a wedge. It goes: "missing a green with a wedge is like missing your mouth with the fork." Amen to that. We've all been there, whether it's a par 4 or a par 5. You've got 105 left. Stock 56-degree. It's freaking go time. This one is spinning back to five feet and we're making bird. NOPE. Instead, you chunk it, skull it, block it or pull it like it's a damn BOP-it. It pisses you off so much that you completely lose focus on the next shot, which leads to a bogey 1 billion trillion percent of the time. There is nothing positive to take from this one. You just wasted two or three strokes. You stink and everyone hates you.
Frustration level: Putter slam into the bag and a lonely storm to the next tee.
3. Bogey from just off the green on a short par 4 or par 5
The situation: it's a drivable par 4 that you can almost reach in one or a short par 5 that you can reach in two. You don't quite drive the par 4 or hit the par-5 green in two, but you find yourself just off the green, setting up an eagle chip and what should surely be a birdie, a par at the absolute WORST. Whoops. You botched the chip and three-putted, or worse, botched the chip so bad you didn't even get to the green in regulation. For shame. Opportunity squandered. Perhaps it's time to consider a new hobby.
Frustration level: You become everything you hate - you become the person who brings the entire group down with your pissy mood.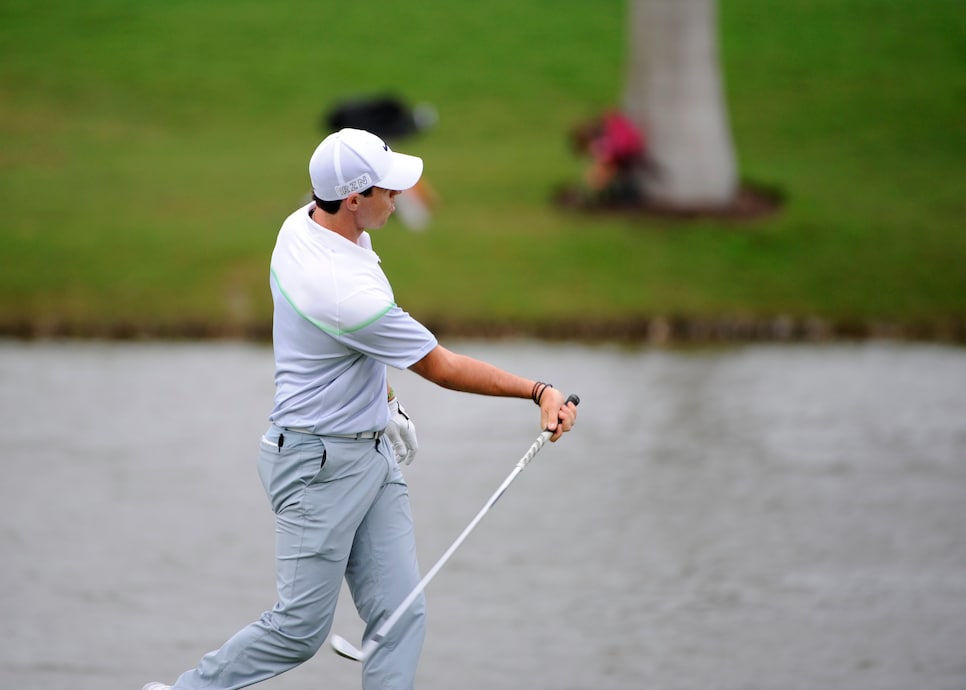 2. Three-putt bogey from five feet or less
Again, you've hit a few exquisite shots to find yourself in this situation. Rejoice. A real-deal birdie opportunity. No way you're making any worse than par. Inconceivable! Ha, just kidding. Another yank or push followed by a quick rake that lips out and you've somehow done it again. Quitting the sport, moving out of the country and changing your name are all viable options.
Frustration level: Full helicopter putter throw into the lake, like Rory at Doral
Yes, this one is incredibly unique and frankly, a once or twice in a lifetime occurrence. It means you've driven the short par 4 or hit the par-5 in two. You've got eagle on the brain. Birdie is but a formality. Par might as well be bogey. You four-jack, mangling what could very well have been a career hole. No one even knows what to say to you. They just hope you don't do something you're going to regret.
Frustration level: Sergio Garcia-levels of damage to the golf course. Inflicting pain on yourself and potentially others if they say the wrong thing. Crawling in a hole and never coming out. Etc. etc.