Instruction
Golf instruction truths: How to keep your swing sharp in the offseason
It's October, and many of us are preparing to put the clubs away for an extended period. Does practice this time of year serve any purpose?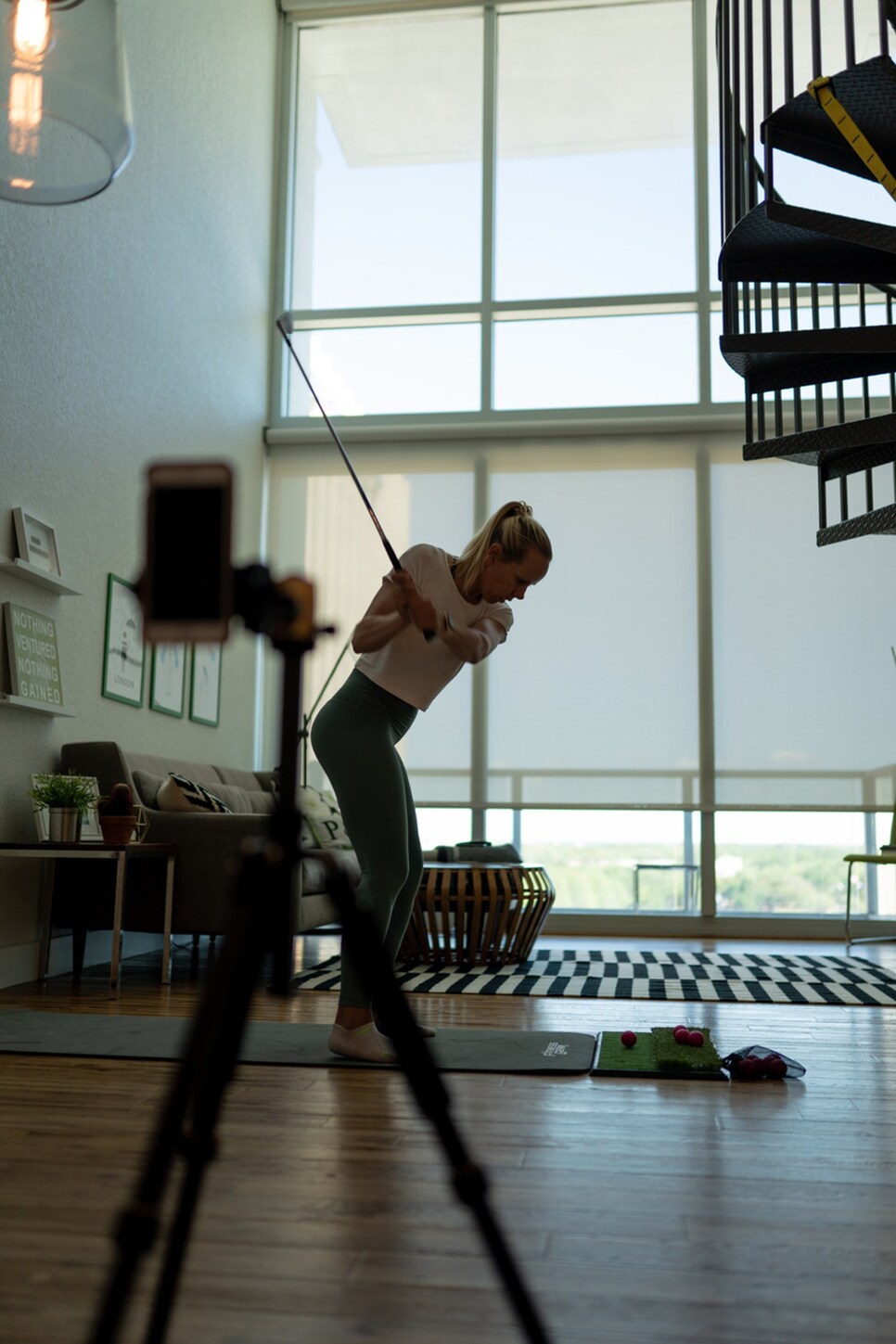 LPGA major winner Pernilla Lindberg works on her swing indoors during quarantine.
You're just finishing up a triumphant summer of golf. Perhaps your handicap is down, you shot your best score in years, and now you're bummed the leaves are changing. How do you preserve the skills you developed as you begin to prepare for winter "hibernation?"
"It goes without saying you need to be preserving the keys that made your season work out so well, but what often gets overlooked is that simply doing the mechanical drills and swing stuff can get your swing very 'internal,' " says Najar.
"This is a target and a feel game, and if all you do is spend five minutes every day feeling the club in your hand, getting in your setup and connecting what you do to a target, you'll be astonished at how much you retain in the spring."
The trick? Put a coin out in front, toward a target on your wall. Then, go through your routine (and make it consistent!), stepping into your stance as you line up that intermediate target with the target farther away.
"When you see players at any level playing well, it's because they're connected to the target, not bogged down in their swing," says Najar.
Fellow Golf Digest 50 Best instructor Michael Jacobs runs his coaching studio at Rock Hill Golf & Country Club on Long Island, in New York. Like Najar, he says full swings at a real ball are overrated, and you can improve other ways.
"I like to have my students work on low point control," says Jacobs. "That means making small swings, chipping it on tight carpet and striking it clean. If you can't do that—you're blading it or hitting it fat—it means you don't have control of where your swing is bottoming out."
The fix when that happens? Slow it down to almost a stop, and make slow movements that rehearse where clean contact is. Pantomime slow downswing movements until the contact improves, then slowly add more and more speed.
"So many players make hundreds of swings into a net, and without a plan and an assessment of the quality of the contact they're making, they're just getting better at hitting it bad."