News
As far as club tosses go, this one from Tyrrell Hatton might be the most flawless you'll ever see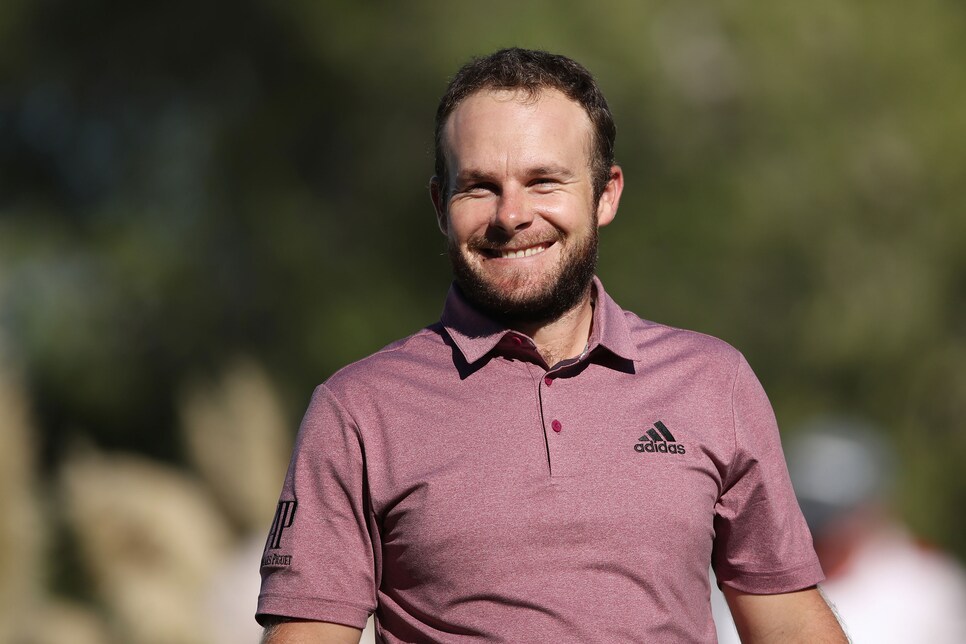 It wasn't all frustation during the third round at the CJ Cup for Tyrrell Hatton.
Christian Petersen
Few modern-day tour pros can match Tyrrell Hatton's potential to spontaneously combust at any moment on a golf course (metaphorically speaking, of course). Never mind that Hatton is playing the best golf of his life in 2020, a fact solidified with his sentimental triumph last week at the BMW PGA Championship at Wentworth that moved him inside the top 10 in the World Ranking for the first time in his career. That isn't going to stop the 29-year-old Englishman from showing his emotions.
Suffice it to say, they were on display in their full glory again Saturday during the third round of the CJ Cup at Shadow Creek.
Let's set things up a little: A jet-lagged Hatton, still pumped after his European Tour win, rode that emotion to a first-round lead in Las Vegas on Thursday with an opening 65. He cooled off a bit on Friday with a 68, but was still hovering not too far from the leaders on Saturday.
During the third round, Hatton made the turn in one over and needed to get things going. Having found the fairway the par-4 10th, Hatton had 131 yards to the hole and seemed to be in a good spot to try to play aggressively.
But then things did not go as planned …
The clip doesn't stay with the shot long enough to let you know it came up well short of the green, only flying 124 yards and leaving him a delicate chip shot. Of course, that can be inferred with the club throw that followed, the most nonchalant toss we've seen in quite some time. ShotLink didn't put a number on that distance, but we're going to ballpark it a about 15 yards.
Hatton proceed to hit his chip only to 11 feet, but managed to make the par putt. He finished the day one-over 73, leaving him in a tie for sixth place, five back of leader Russell Henley.
We're excited to watch Hatton play again on Sunday to see it he can make up ground and sneak into contention. But we admit we're curious to see what his reaction will be if he's unable to pick up any ground in the final round.