News
Tyrrell Hatton handles his nerves, takes next step in his career with four-shot win at the BMW PGA Championship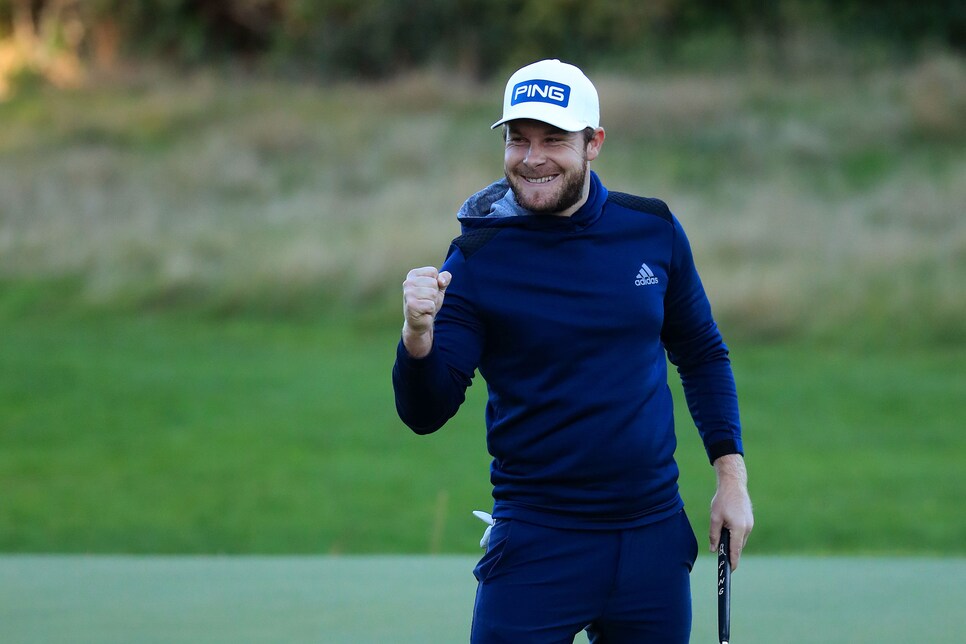 Tyrrell Hatton celebrates on the 18th green after victory at the BMW PGA Championship.
Andrew Redington
Momentarily caught but never passed during the final round of the BMW PGA Championship, Tyrrell Hatton eventually more than reasserted his three-shot overnight edge to claim the European Tour's premier title. The Englishman's closing five-under 67 gave him a 19-under 269 total over Wentworth's West course, four clear of runner-up Victor Perez. As a reward for his exertions at an event he first attended as a 4-year-old in 1996, Hatton earned €1,147,500 and moved into the top 10 on both the tour's Race to Dubai points list and the World Rankings.
Although he admitted to struggling with the rhythm of his swing over the course of Sunday's final round, the now five-time European Tour champion gave what was generally a near-textbook example of how to play with a lead. Only midway through the back nine did the sometimes volatile Hatton look to be wobbling slightly.
Any moments of doubt came at the 12th and 13th. At the former an errant drive was closely followed by a misjudged third from 72 yards that came up short of the putting surface. No matter. The chip was stiff to the pin and par was saved. And at the latter, another less than accurate tee shot was at first retrieved by a nifty approach that followed a free drop off a path, but then squandered by three-putts from long range. Suddenly, the advantage over Perez was down to a single stroke. Game on.
Things stayed that close for only a couple of holes. Indeed, Hatton could have extended his edge at the short par-3 14th, where a 10-foot putt for birdie lipped-out extravagantly and provoked one of the soon-to-be champion's patented outbursts.
"How does that not turn in?" he loudly exclaimed. "That's ridiculous. I can't hit a better putt."
Still, perhaps no one in the golf world transitions between tantrum and tranquil more smoothly than Hatton. One hole later, after a brilliant drive and approach, a 12-footer for birdie disappeared into the cup. Not long after that, a wild drive from Perez at the par-5 17th led to a dropped shot and effectively ended the contest. Although there was time for one more twist. Standing in the middle of the 18th fairway, Hatton fatted his second shot to the par 5 and was fortunate to see the ball narrowly miss the water in front and along the left side of the green.
Cue another expression of disgust, albeit one laced with relief.
"I don't think my backswing got more than halfway before I tried to start my downswing," Hatton said to his caddie, Scotsman Mick Donaghy, with a wry smile. "That was so bad."
Still, the chip-and-putt birdie that ensued was a nice way to finish a memorable week for a man who grew up in nearby High Wycombe and now lives even closer to Wentworth in Marlow. It was also a complete contrast to the final round he played here in 2016. On a day when a two-under-par 70 would have been good enough to secure victory, Hatton "got in his own way" and shot 75.
No one did this time though. Although Hatton did admit to being even more nervous than he had been when making his Ryder Cup debut in Paris two years ago, he also claimed to have gained patience over the last four years and the knowledge that a lot can happen over the course of 18 holes.
"This is a dream come true for me," said Hatton, who was 14- under par for the par 5s and made only five bogeys all week. "Walking around here as a very young kid, I always knew I wanted to be inside the ropes when I grew up. This is a massive event for me. So to win is a special feeling. Part of me is sad that I didn't get to experience the crowd and the grandstands on the 18th hole, but it's still amazing to win here. … Today was actually the worst I swung the club all week. I'm just delighted to have ground it out and got over the line."
Before making what will be his fourth appearance in the Masters next month—where his best finish is T-44 in 2018— Hatton will return to the PGA Tour next week in Las Vegas at the CJ Cup. He will then play outside Los Angeles at the Zozo Championship and in the Houston Open prior to Augusta.
Speaking of which, a little lower on the leader board, former Masters champion Patrick Reed pulled up in a tie for fourth place alongside Andy Sullivan, whose 65 was the low round of the final day. Four birdies and an eagle to finish at the 18th littered Reed's card, but two dropped shots meant he was never nearer than arm's length to the leader. Arnold Palmer in 1975 at Royal St. George's remains the only American to win the BMW PGA.
Still, working on some new moves in his swing, Reed was happy enough with his week's work. With six events including the Masters still to play, he remains the leader on the Race to Dubai.
"The biggest thing this week was coming over and testing out my golf game," he said. "I feel like I played pretty solid. Today was a little sloppy. Today there was some tee shots and some iron shots that were careless and some putts that were not very good. But that being said, there was a lot more good than there was bad. It definitely showed that I was doing the right things and moving the right direction. Hopefully, by the time we get to Dubai, I'm still in the driver's seat and everyone is having to chase me."
Which will make a change from this week. Everyone, including Reed, was visible only in Tyrrell Hatton's rearview mirror.