News
Masters 2020: Paul Casey's first-round 65 might not be enough to hold the first-round lead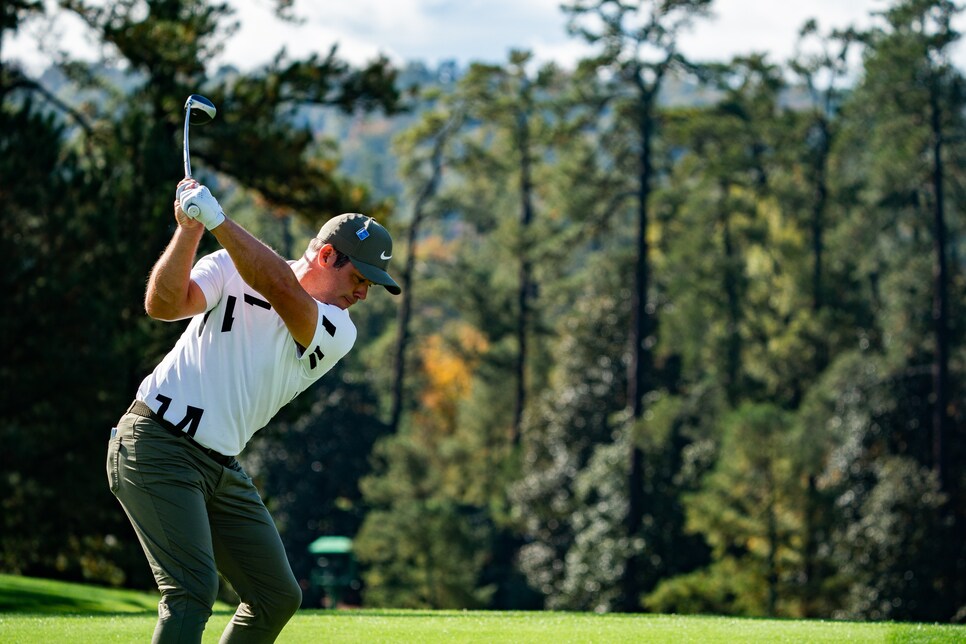 Paul Casey opened the Masters with a seven-under-par 65.
JD Cuban
Nineteen months ago, Paul Casey opened his 2019 Masters with a nine-over 81. Not surprisingly, he went on to miss the cut, something he hadn't done at Augusta National since 2013.
Anything—a 75, even par, a 70—would have been a massive improvement. The Englishman took it a step further, shooting a seven-under 65, his career-low opening round in a major championship.
Casey's Thursday explosion seems somewhat surprising given his recent results—MC at Shriners, T-69 at the CJ Cup, T-35 at Zozo—but it shouldn't be given his majors history. The four-time PGA Tour winner has 10 top-20 finishes in his last 22 major starts, including this year's PGA Championship and U.S. Open. Prior to those two finishes, though, Casey was going through a rough stretch, something he attributed to a lack of energy from spectator-less tournaments. That was no issue on Thursday.
"You know, this is something I've looked forward to," Casey said. "I was vocal earlier in the year at Harding Park about not enjoying golf in a pandemic. I'm acutely aware of—I'm in a very fortuitous position. I still get to be a professional golfer and play championship golf, but I didn't know how the fan-less experience would be. And so far, I've not enjoyed it, and I've lacked ... I felt like the lack of energy for me. I've had nothing or very little to draw from being out playing tournament golf.
"The Masters, though, this week it still has a buzz to it. There's an energy and a little bit of a vibe. Yes, it's clearly a lot less than what we are used to, but there's something about this place that is still, I felt excited to be here."
For now, Casey is the solo leader by two, but first-round play has yet to be completed. Incredibly, he may be playing from behind when he gets his second round underway. Justin Thomas, who went out late in the afternoon thanks to a lengthy weather delay Thursday morning, went five under through 10 before play was called. He'll begin his Friday in the 11th fairway.
Here are three other takeaways from the first round of the 2020 Masters.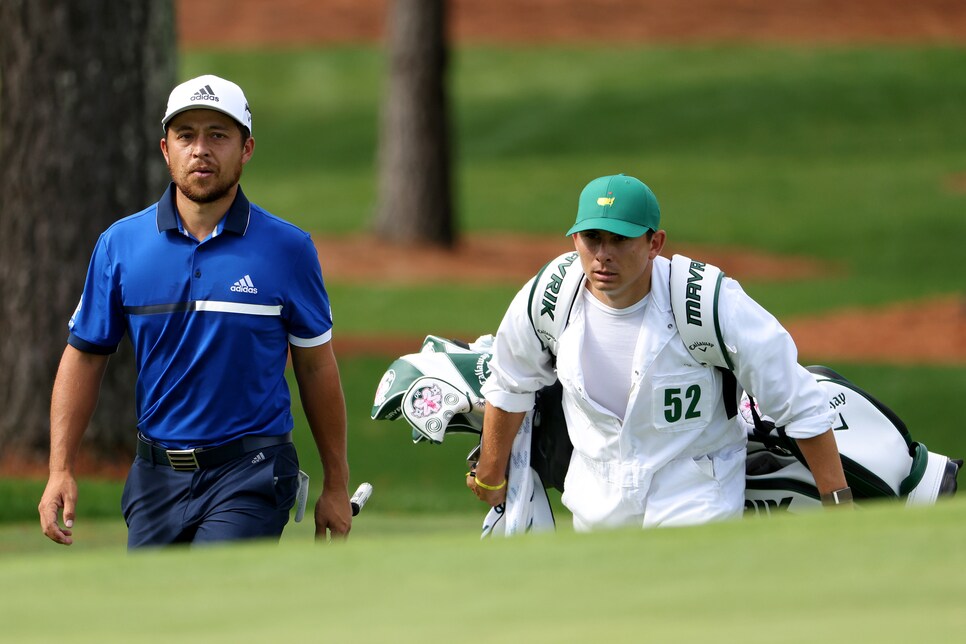 Xander Schauffele walks up the seventh hole during the first round of the Masters.
Jamie Squire
The rain made Augusta National play (gasp) easy
When the horn sounded, halting first-round play late Thursday evening, 32 players were two under or better. Twenty are three under or better. Twelve are four under or better. We knew the rain would make it play much softer and longer, but that made it much more receptive, too. Just ask some of the contenders.
"Fairways are easier to hit, obviously, because they are soft," said Xander Schauffele, who shot a five-under 67 on Thursday. "And then the greens are kind of tricky. A good number are going right at the pin. It's pretty hard to short-side yourself, even out here at Augusta, which is kind of strange to say.
"So a lot of it felt wrong, in all honesty."
Louis Oosthuizen, who has a runner-up and three other top 25s at Augusta in his career, echoed Schauffele's sentiment after posting a four-under 68.
"It's probably as easy as it's going to play today," the South African said. "I hit 4‑irons to the greens where it plugged, I hit 7‑wood into a green and it plugged. I don't think we'll ever get an opportunity to go at pins like that. Very different to what we're used to playing."
For fans of carnage, another birdie fest, especially at such an iconic venue, isn't ideal. But don't fear, the sun is expected to shine and temperatures will be in the high 70s to low 80s the rest of the week. The course should dry up nicely for the weekend, and if the wind picks up, there will still be plenty of Masters drama. Remember when we all freaked out over the low scores on Thursday at Winged Foot, and then all hell broke loose? Patience, people, patience.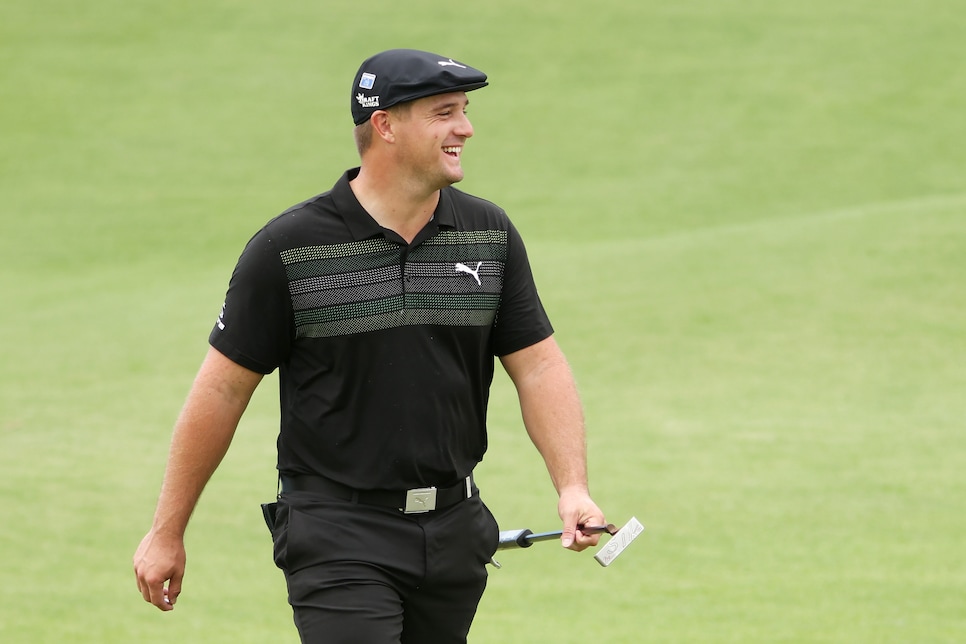 Bryson DeChambeau looks on during the first round of the Masters.
Jamie Squire
Bryson DeChambeau showed some impressive fight
Giving DeChambeau credit for anything is not exactly a popular thing to do these days, but we have to tip our cap. The U.S. Open winner's quest for a green jacket could not have gotten off to a worse start. He needed a provisional tee shot at No. 11 (though he didn't need it), then another provisional after his approach shot at No. 13 (didn't need it), where he made double bogey. Based off his previous reactions to adversity on the golf course, his opening round had the potential to become a complete trainwreck.
But Bryson stayed calm and stuck to his plan. He played the remaining 14 holes in four under, finishing with a two-under 70. If that was his worst round of the week, he's going to be just fine.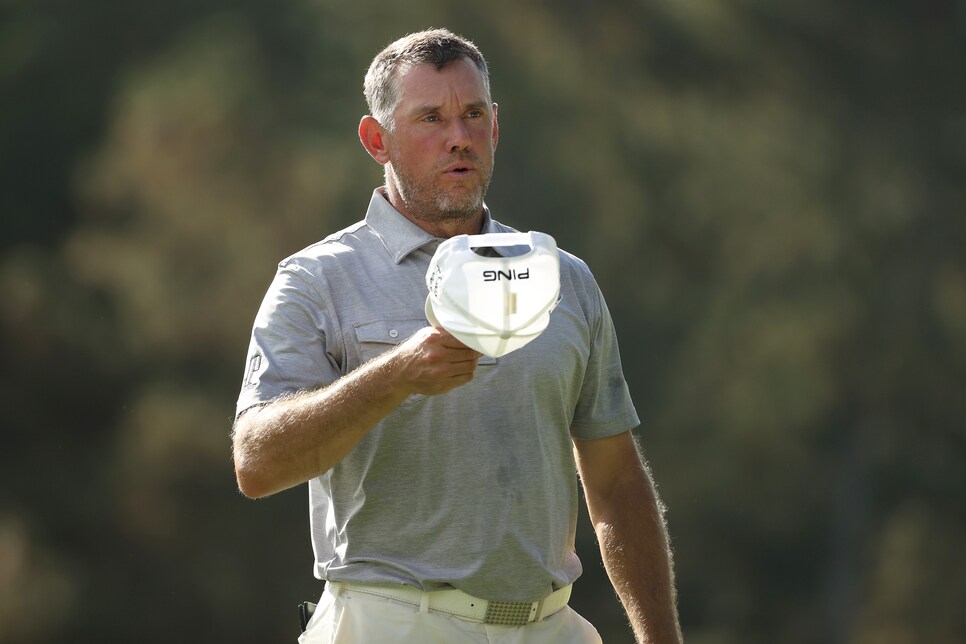 Lee Westwood has put himself in early contention at the age of 47.
Patrick Smith
(whispers) We're very much here for a Lee Westwood coronation
We know, no cheering in the press box. Unless it's for Lee Westwood, who continued his domination of Augusta National with a four-under 68 on Thursday at the young age of 47. OK, so domination is a bold word to use considering he's never won, but his record there might be even better than some guys who have won a green jacket: 15/18 cuts, six top 10s, two runner-ups, $3.4 million in earnings, second most for a non-winner behind only Justin Rose. If you couldn't tell, he loves the place.
"This is my favorite golf course in the world and my favorite tournament, thereabouts, with the Open Championship," said Westwood. "Just to be a part of it and see the traditions, although a lot of the traditions are missing this year. You know, just drive down Magnolia Lane and experience everything, and just to play the golf course. You don't get many opportunities to play the golf course, and like I say, it is my favorite golf course. It's always a joy to be out on it really."
While he has played Augusta plenty, Westwood has clearly missed the course dearly. This is his first Masters appearance since 2018, when he managed to tie for 18th a year after finishing runner-up to fellow countryman Danny Willett. There was a time when he knew he'd be back every year, but unless you actually win at Augusta, an invite is never guaranteed.
While he should have a handful of opportunities still at the Open Championship left, there's an argument to be made that this could be his last real chance to win a major. He's put himself in position, and his form and course history are good. Forgive us, but we're cheering on the veteran to cap off a Hall-of-Fame career this week with a win, which would make him the oldest Masters champion ever. OK, let's not get too far ahead yet.