News
Masters 2020: Here's how the tournament can get back on schedule for an on-time Sunday finish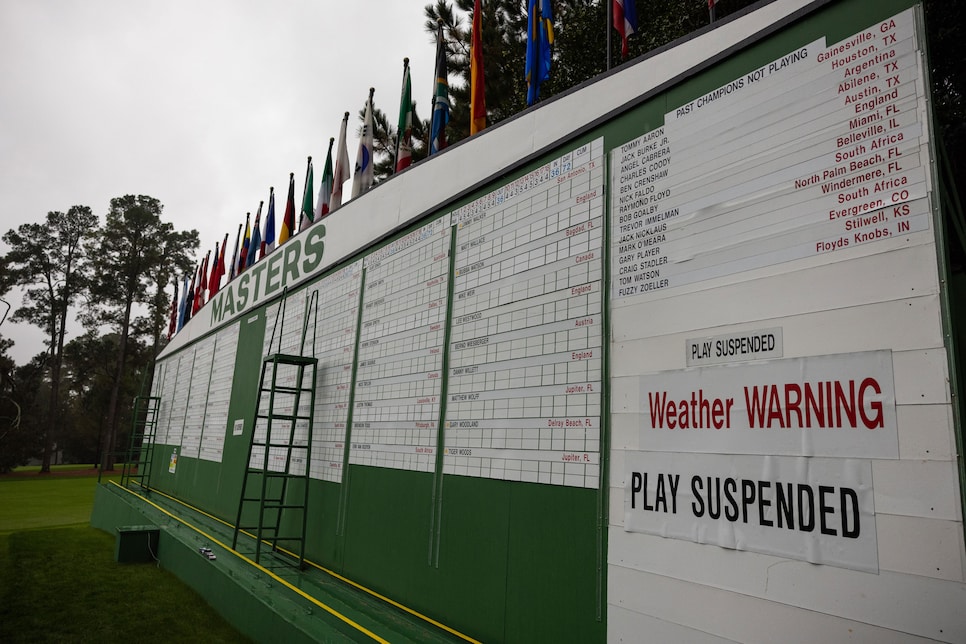 Let's touch on the bad news first. A half hour after the start of the first round of the 84th Masters on Thursday, play was stopped due to thunderstorms moving through the area. It wasn't until 10:20 a.m., about two hours and 45 minutes later, that the players returned to the course and resumed the round. Which meant that the tournament was unfolding in the exact scenario officials were hoping to avoid, given the daylight challenges of playing in November. With sunset at roughly 5:30 p.m. in Augusta, Ga., the early stoppage guaranteed that the first round would not be completed on Thursday (the first time since 2006 that a Masters round did not end on time) and would push Friday tee times back as well.
So now the good news. With only 92 players in the field, a cut line at the top 50 and ties, and an improving weather forecast, there is time for the tournament to get back on schedule and still have an "on-time" finish of roughly 3 p.m. on Sunday afternoon.
Mind you, it will take a little work.
First, the 44 players who did not finish their opening rounds on Thursday will return at 7:30 a.m. Friday morning to wrap things up. These players are all part of the originally scheduled Friday morning wave, so quickly after they finish Round 1 they will go back on the course to start Round 2, the first threesomes going off at roughly 9:30 a.m. In turn, the afternoon wave will begin play at approximately 1:35 p.m., 2½ hours later than originally planned, which means that a handful of players likely will not complete the second round before nightfall Friday.
So … the back-up then moves into Saturday, with the second round presumably resuming again at 7:30 a.m. When it's done, the cut will be made, and officials will then have to decide if they need to implement another split-tee start for the third round or go out in twosomes off the first tee, as originally planned. The decision will be based on overriding goal of finishing play by nightfall and being back on schedule.
Of course, all of this is contingent on no additional weather delays. However, the early week forecast of 30-40 percent chance of rain on Friday has been reduced to only 10 percent. And Saturday (sunny, 72 degrees, zero percent chance of rain) and Sunday (80 degrees, 10 percent chance of rain) look equally promising.
Playing catch-up isn't unheard of at the Masters. In 2005, a similar scenario played out in that the first round was stopped due to weather and it pushed each round back into the next morning. Come Sunday, you might recall, Tiger Woods played the final nine holes of his third round, making four straight birdies to go from being four behind to start the morning to three ahead with 18 holes to play. Then he shot a final-round 71 to reach a playoff with Chris DiMarco, before winning his fourth green jacket in extra holes.