Takeaways
A clear bad side of 'the draw,' Tringale ties course record and Jordan Spieth eyes St. Andrews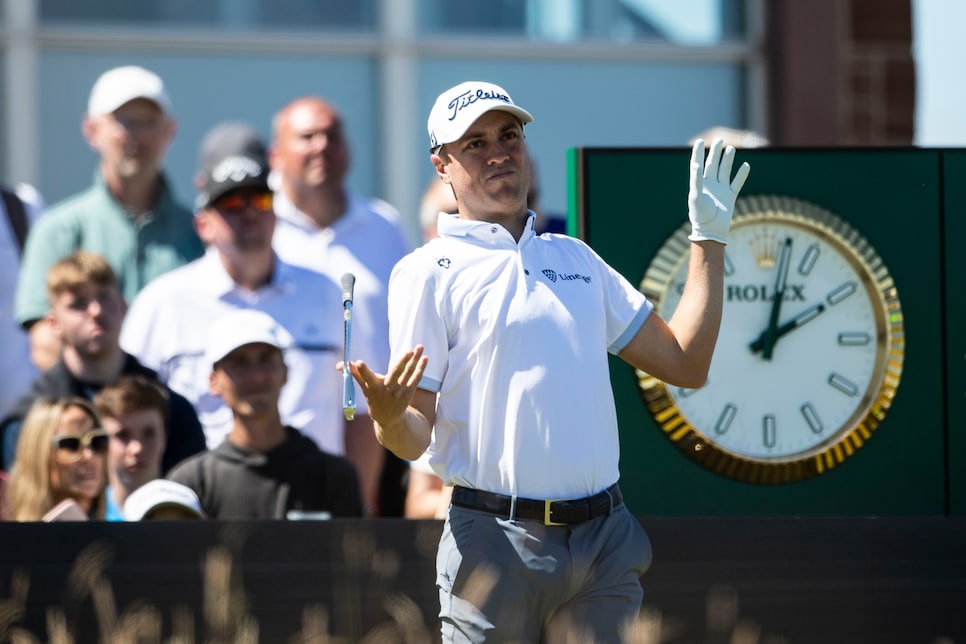 The draw, the draw, the draw. It's something that's discussed on a weekly basis in golf, particularly in gambling circles, but it takes on new meaning when the best players in the world go across the pond. The weather is just a tad different over there.
The weather was extremely different for each wave on Thursday at the Genesis Scottish Open, where the afternoon wave was clearly on the wrong side of the draw. (By the way, if you drink every time you hear "the draw" this week and next, well, RIP in peace.)
On a somewhat benign morning at the Renaissance Club in North Berwick, we saw a course-record-tying 61 (more on that in a minute), a 64 (more on that in a minute, too), a 65 from LIV golfer Justin Harding (more on that awkwardness here), plus 10 rounds of 67 or better. In the afternoon … not so much.
Kurt Kitayama was one of the few that battled through the afternoon elements, posting the only 67 of anyone who teed off after 12:25 p.m. local time. It was a struggle for everybody else, including Justin Thomas, Collin Morikawa, Xander Schauffele and Hideki Matsuyama, who combined to go nine over on the day. U.S. Open winner Matt Fitzpatrick gutted out a one-over 71, as did his playing partner Will Zalatoris, the U.S. Open runner-up. Despite their stature, they are among the longest hitters in the game. Neither reached the par-5 16th hole, measuring at 576 yards, in three shots. Brian Harman, one of the shorter hitters on tour, failed to reach the 16th fairway with his tee shot.
The good news is, the afternoon guys should get a breather on Friday, which could end up being a carbon copy of Thursday. Of course, they have to play catch up now, hence why they were on the bad side of the draw. Drink.
We see you, Cameron Tringale
As you may have guessed, Tringale was in the morning wave, and he took full advantage. The somehow-still-winless ATM machine of a tour pro tied the Renaissance Club's course record with a nine-under 61, which was looking a hell of a lot more like an even-par 70 when he began his round with four straight pars. A simple but important mindset change flipped the vibes rather quickly, however.
"I got off to a slow, uncommitted start," Tringale said. "I decided if you're going to be out here, let's make some positive swings. Started to hole a couple putts. Honestly that's what happened. My putter was en fuego. Middle of the round, my striking matched my putting. It's the only way it can happen."
It sounds simple, because it is. On a links golf course, where wind gusts and bad bounces are just part of the deal, there's no sense in making uncommitted, doubt-creeping-in-type swings. Pick a target, commit and fire away. The putts will eventually fall next, and fall they did for Tringale, who'd been quiet since the winter before posting a solid T-14 at Brookline.
"I wouldn't say my game's necessarily been trending," he said. "I've had some flashes of brilliance in the last couple months, but this was a special day for sure."
A special week on the horizon, perhaps?
"It would mean a whole lot," Tringale said. "I haven't had a professional win on my own, and obviously Scotland is where golf started, so this place is special. Everyone here has appreciation for the game. It's unique and I would say it would be a good tune-up for St Andrews."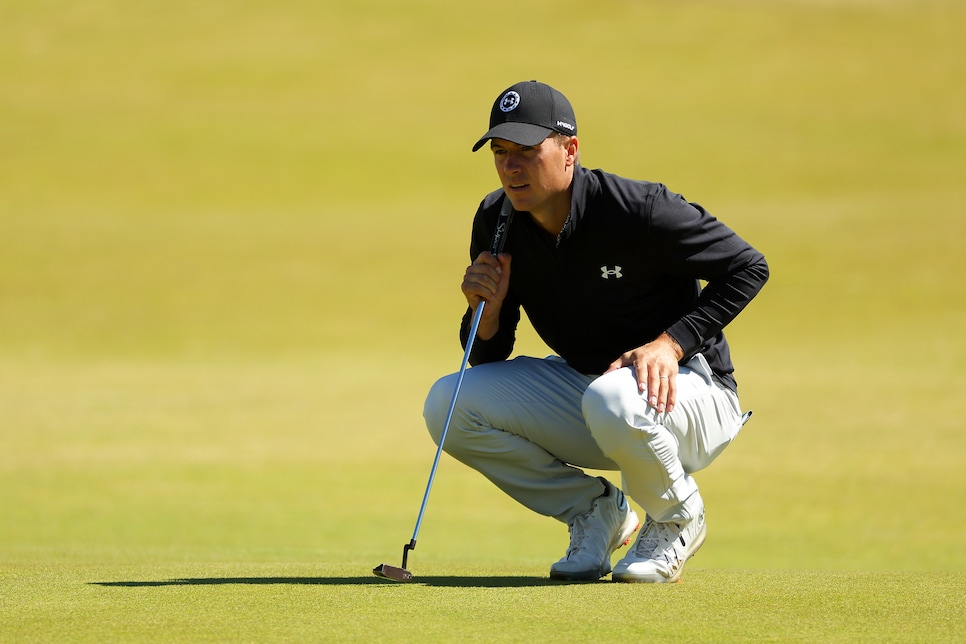 Spieth's got St. Andrews on his mind
By going out in four-under 31 on the back nine, which included a stretch of five straight birdies beginning at the 13th hole, Jordan Spieth sounded the usual Jordan Spieth Golf Twitter alarms. It's over! Vince Carter GIF! The guy LOVES links golf! By coming home in two-over 37, he took a decent amount of air out of that balloon.
As the day wore on, though, that score got better and better, and it's positioned Spieth at T-15, just four shots out of solo second. It also shifted the post-round conversation with the media to "soooo ... next week?" Spieth was happy to oblige, admitting that he's glad he came over to Scotland for a quick Open tune-up, something he hadn't done since 2015, the last time the Open was held at the home of golf.
"I think just focusing on the fact that it's a tournament itself and trying to win the golf tournament is the best thing I can do for this week and next week," said Spieth. "So I like playing in the majors. I haven't played into the Open since 2015, and played some really good Opens since then, so it has not really been totally necessary but it's really nice to get on links grass. There's certainly some shots today I'm glad I didn't try to hit the way I did next week because I played them incorrectly or something like that. You almost need to get over here and get on this turf."
When asked how much he's looking forward to it, Spieth gave a typically great Spieth answer.
"I think the Open at St. Andrews is arguably the best golf tournament we play," he said, adding, "I just think the history of it, playing in the town, the idea that it could be the easiest or the hardest venue that we play depending on the day. Maybe it's just I remember watching certain ones growing up, and so the holes, the kind of scenic holes starting and finishing really kind of hold onto, and then it was a really special tournament for me back in 2015 trying to go for a third in a row and just kind of the crowd, you know, the putt I made on 16 and kind of the finish, it was really fun contending in that major and having a chance to win."
As good as this Scottish Open already is and as big as it feels, Spieth seems to speak for all of us in saying that next week can't get here soon enough.
Morning golf: still undefeated*
Why the asterisk, you ask? Well, morning golf, or "coffee golf" as it's better known on Golf Twitter, is … kind of available to golf fans every week? If you fork over the dough for ESPN+, you can watch golf over coffee just about every tournament starting with the Florida swing, and the DP World Tour provides morning golf in droves. But there is a massive, massive difference when it's morning links golf*, and it's the week before you'll be getting more morning links golf* in the form of a major championship. Something about waking up to the browned-out fairways, the brutal lies in pot bunkers, the massive gusts of wind that knock out half the field (mentally) and the variety of shots being played and talked through and thought out just gets you engaged right from the start. It's a little different than featured group coverage from the Honda Classic, if you know what I'm saying. Drink it in, folks. Savor it.